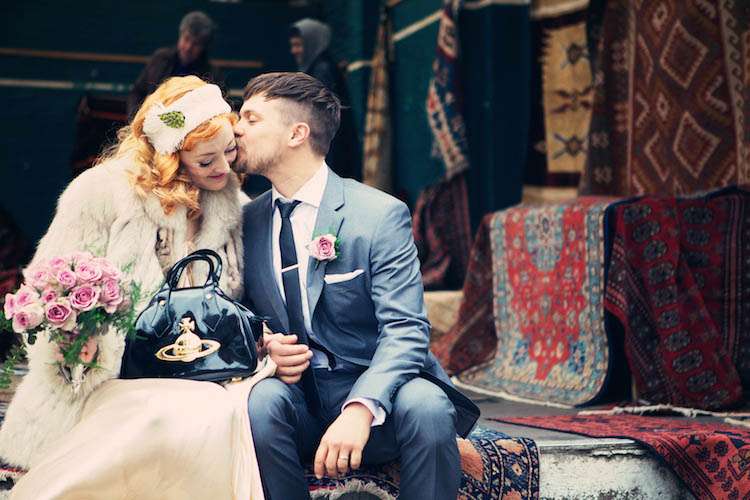 I sneak peeked Sophie & Barney's wedding on Twitter and Facebook as soon as their photographer Lisa Devlin emailed me to ask if I wanted to blog them – hello!? Look at these two…Like she even had to ask!!
The best bit though? Sophie & Barney found Lisa via Rock n Roll Bride – I love love love featuring the weddings of bona fide Rock n Roll Bride readers! Oh I can hardly contain my excitement over this one…
"We did everything we wanted do and didn't care if anyone else thought it was right," the couple explained. "We put together all of our loves and didn't worry about a colour scheme or any thing particularly weddingy, we love autumn and Halloween and London and glamour and silliness and fur and penguin books and skulls so we chucked them all in. Is that Rock n Roll??!"
Simple answer – yes!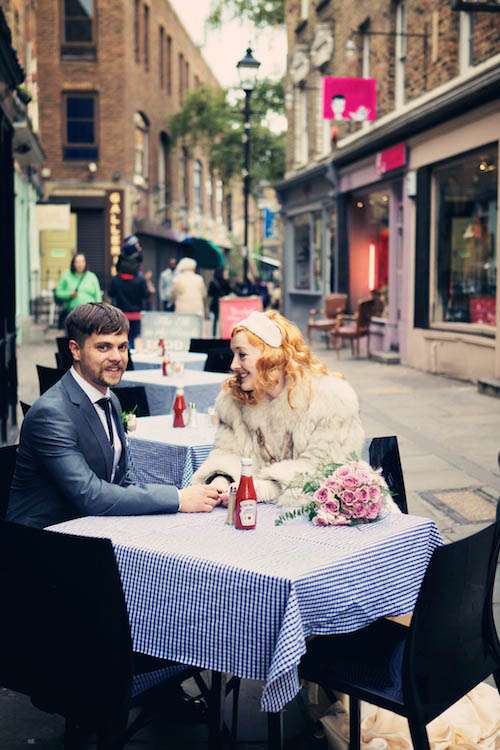 Sophie looked every bit the Rock n Roll princess in a genuine vintage dress which she bought from My Sugarland in North London. "It was the first and only dress I tried on," said Sophie "and its beyond special having been a museum piece and nearly 100 years old! It was covered in mould and little rips, I owe Zoe at My Sugarland a massive thank you because she helped my Dad see beyond the grubbiness of it and talked him into buying it for me! She also passed me on to the wonderfully stern but kind Jacqueline Byrne who used to be a seamstress for the Queen no less (!) who tidied the dress up perfectly, even recovering all the buttons on the sleeves." With her perfect dress, Sophie wore a custom made headdress from Lilly Lewis which she customized with a brooch belonging to her Mother. She also also wore her Mother's silver fox fur jacket which was a gift from her Dad on the day she was born!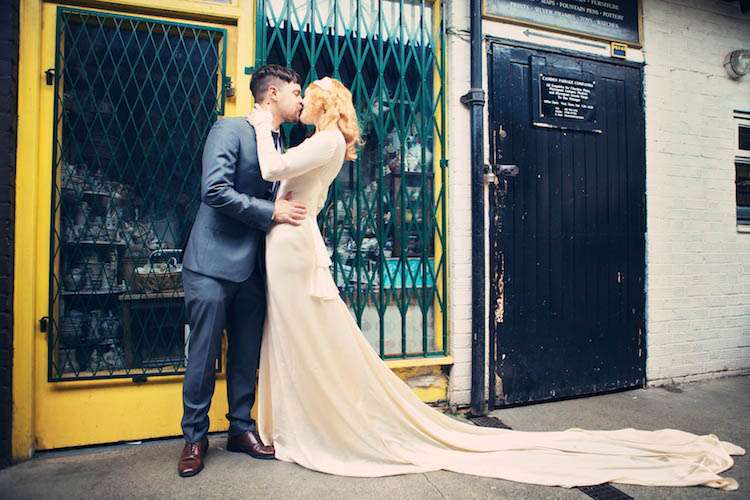 On the morning of the wedding, Barney surprised his bride with a Vivienne Westwood handbag as a wedding present (my kind of guy – Gareth take note!) Sophie told me she almost walked down the aisle with her flowers in it but her Mother said no! hehe (ps best photo ever! Reminds me of some photos Lisa took of me when we met up…)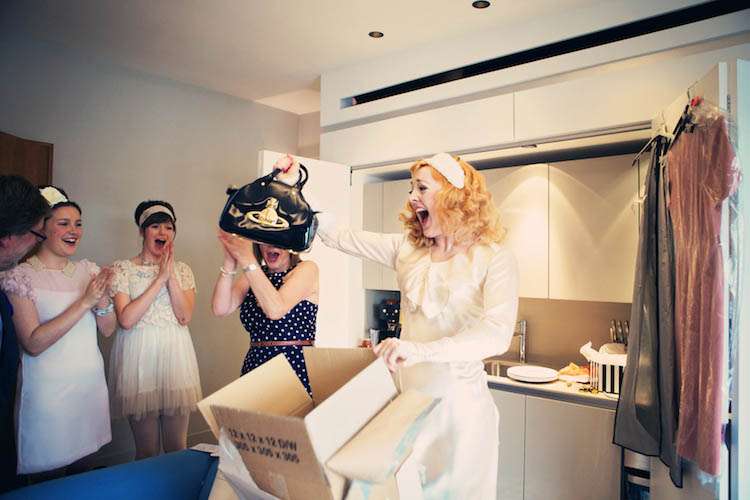 Sophie dressed her bridesmaids in different high street and vintage dresses to keep in with the laid back vibe. Vintage touches were added with their accessories, including an amazing 20's pearl collar necklace and brooches from different decades collected by the bride ever since she got engaged. She also collected antique lace and made hairbands for them all.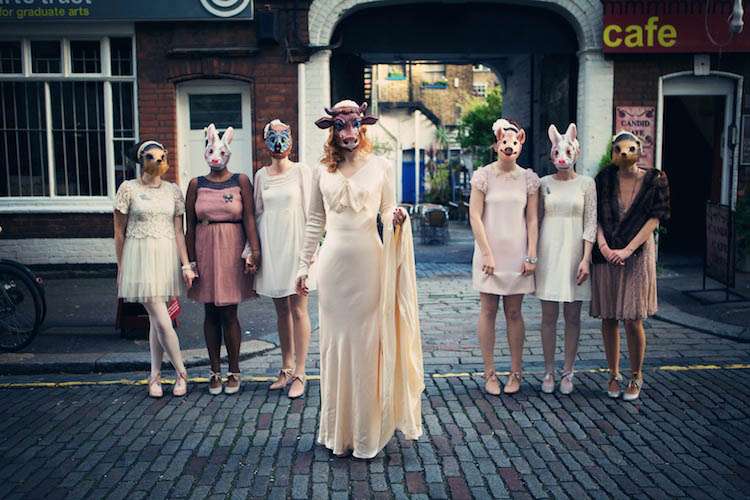 The couple saved money by decorating the venue themselves. The collected 115 old penguin books from charity shops and Sophie's Mum covered them. A lot of work but totally worth the effort – they look fantastic dotted around the venue don't they? Before the wedding both Barney & Sophie went down to a local market and bought pumpkins and pomegranates to decorate the venue with. Everyone they know had also been collecting glass jars for the humbugs that we covered with black lace and put on the table. They also screen-printed the cameos to put on the back of the chairs. Originally Sophie had planned to not have any flowers at all, but at the last minute she feel in love with some "mouldy looking bruised roses" and her Mum bought them for her and made them into her bouquet. The finishing touch to the decor really is the incredible 'Til Death Do Us Part' cake by Brighton based Choccywoccydodah. Magnifique!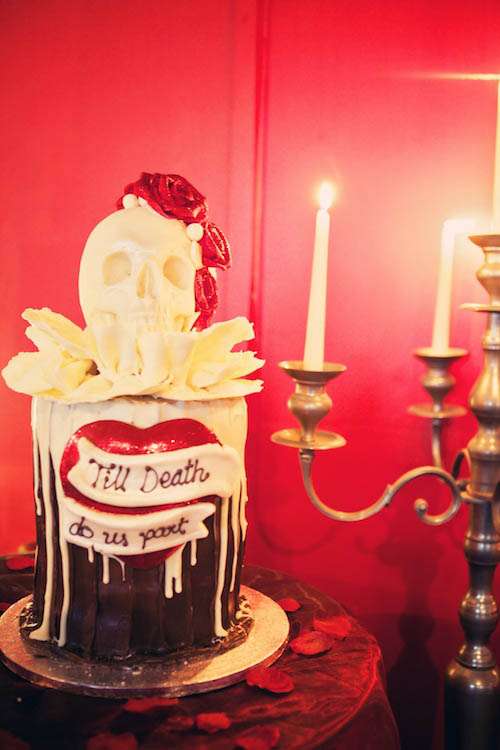 Music was a big part of this couple's day with a number of entertainers lined up for the evening reception, "It was started by the wonderful Ellen playing tunes from the 30's-60's. Honky Sausage, a fantastic Ska and Swing covers band that do the most original sausage based meat raffle in the world! Next came the Fantastic Ryan Knowles with some dancey beats, followed by the effervescent Miss Sami Fitz who closed the party with some absolute classic party tunes!" the couple explained.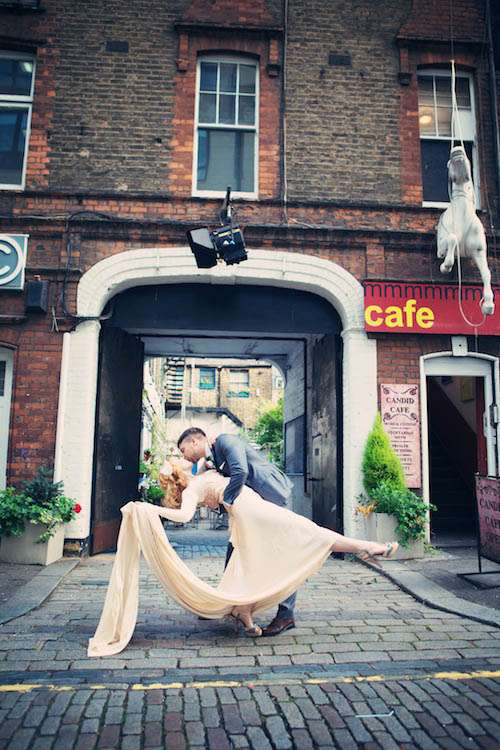 HUGE thanks to the fabulous Sophie & Barney (who I hear is a particularly big Rock n Roll Bride fan!) and their photographer Lisa for sharing this incredible day with us today