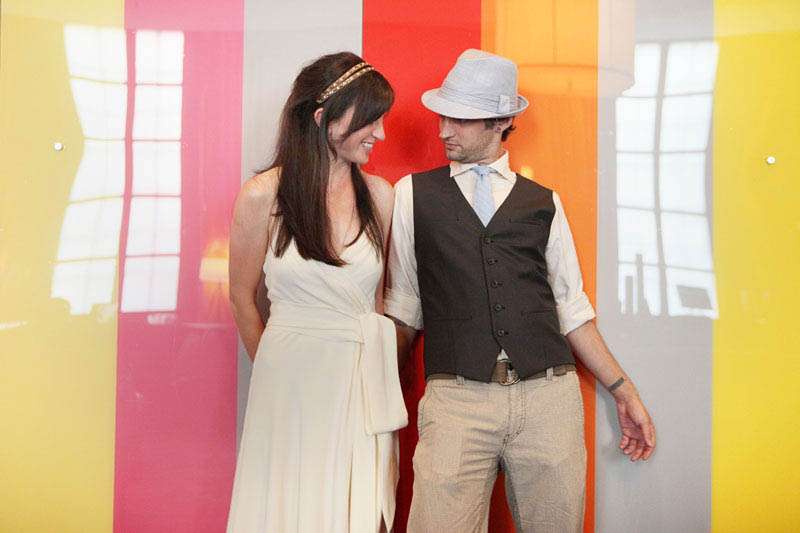 I loved Scott & Ashley's wedding as soon as I saw it…and I loved it (and them!) even more once I got chatting to the bride and their photographer Jeremy Lawson about all the amazing little details of their day.
"Our inspiration came from our love of the vintage," the bride began. "We listen to records at the house, shop for clothes at retro themed consignment stores, and stay glued to TCM. We sort of envisioned a party that looked like a party scene we saw years ago in the movie Mona Lisa Smile combined with the famous barefoot dancing scene from Big Fish in the town of Spectre. We wanted that easy, happy, homemade, and colorful party for our closest friends and family."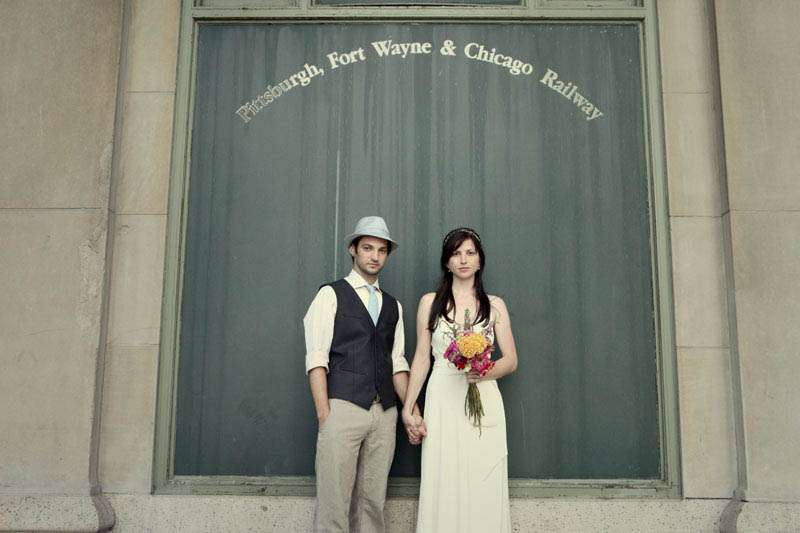 Ashley wore two stunning dresses, the first a Goddess Gown by J Crew which she found for a steal on Ebay (seller paisleypetunia) and the second a GORGEOUS 1950's vintage pink prom dress from landof100dresses on Etsy. Ashley chose the first dress for their first look and pre ceremony shoot as well and for dancing afterwards, "It was beautiful, simple, comfortable, and easy to dance in" she continued.
"We made the decision to see each other before the wedding to take pictures around our amazing city, but I still wanted the surprise element of the ceremony. My dress was a 1953 prom dress that came with the owner's original filled out dance card from her senior prom. This dress made me giddy in a way I didn't know was possible, as I'm almost strictly a jeans and T-Shirt kind of girl. My shoes were from Dillards, the jewellery served as my borrowed items from my sister (who wore them in her own wedding), and flower headband a combination of rosettes from Francesca's and H&M."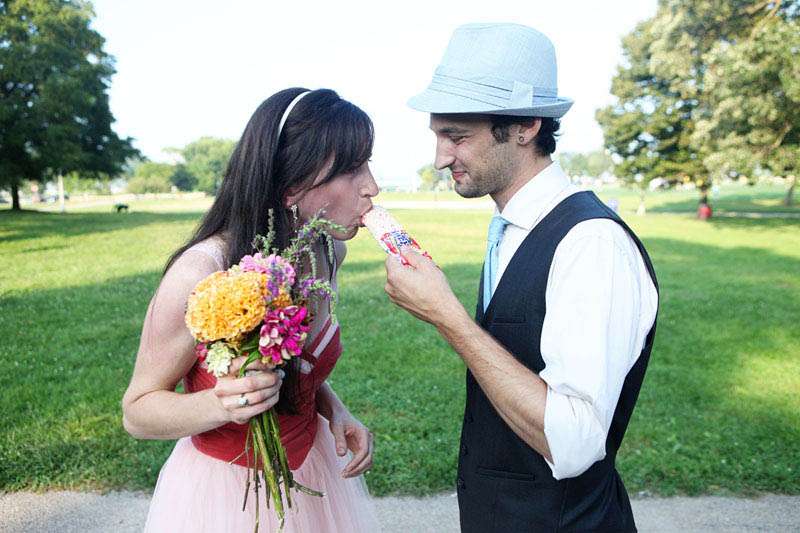 The couple got crafty and DIY'd their wedding completely. With a sister who runs a cake making business, it was a no -brainer to Ashley who would make their cakes, "I loved my cakes! I'm one of those lucky brides that has a sister with a cake business at home in Tennessee. She spent the week making six different flavored cakes, drove them up to Chicago, and finished the job in a tiny hotel kitchen the night before. She even made up a Tennessee Jack Daniels Chocolate Recipe to represent my home state and a Georgia Peach for Scott's. She is amazing."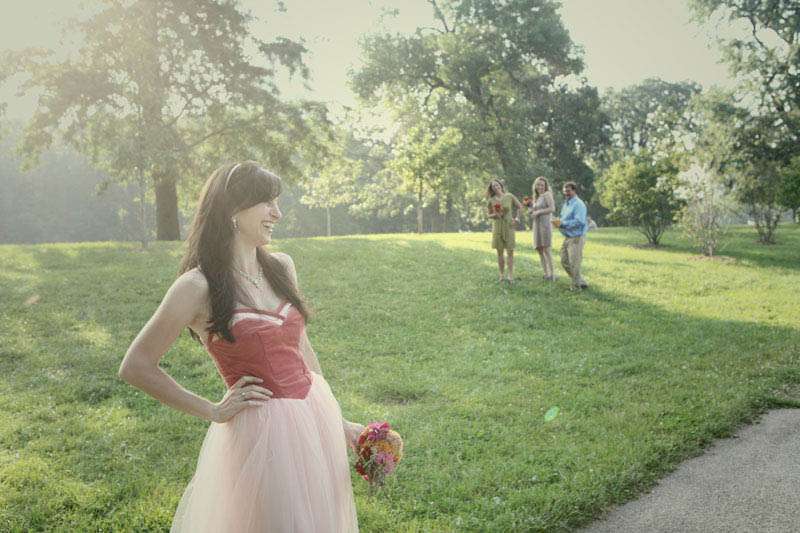 For the flowers…well they almost didn't happen! Ashley actually forgot about having a bouquet until she started to get ready that morning! "The wedding day was exciting chaos. So many things were handled on the day that should have been taken care of much earlier. I didn't even realize I forgot a bouquet until I walked by a farmers market on the way to get ready. Five minutes and fifteen dollars later, I had flowers for my sisters and me. I was still organizing place cards five minutes before I walked the aisle, and our photo booth wasn't set up until after everyone was already at the reception. These are stories I love. My family was right beside me during all of the craziness making it fun every step of the way. They were my wedding party, cake bakers, set up crew, tear down crew, and dancing fanatics."
The DIY party continued into the reception. "The whole wedding was DIY. We made our invitations by attaching custom labels we designed to old 45s we got off Ebay. We were even able to find enough original Epic Records sleeves to put them in from the auction site as well. For the ceremony, we gathered blankets from family, made colorful flags to wave at the end, and handed out cookies and locally made sodas for the guests while they waited. We printed our program on cookie bags."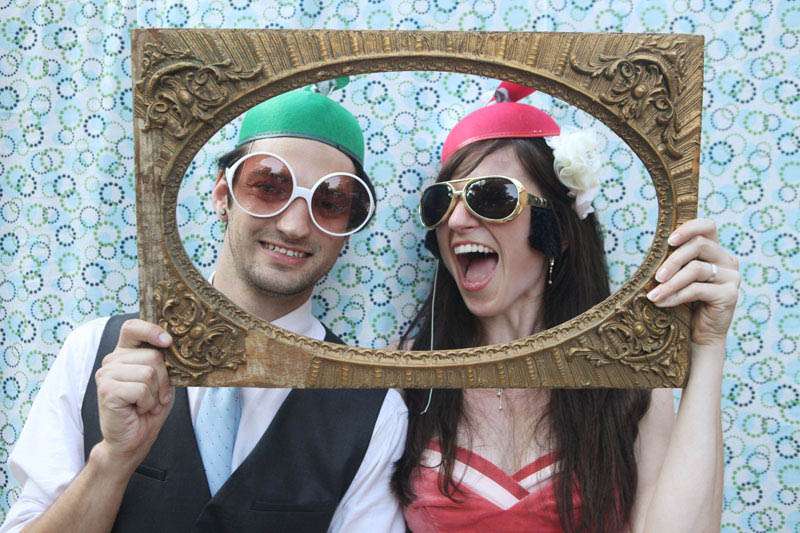 "There was even more crafty goodness at the reception. I arranged our flowers we picked up the night before from our local grocery store. We decorated the tables with those as well as boxes of fruit and vegetables. Our photo booth was a mix of finds from thrift and craft stores. My favorite DIY detail had to be our place cards. We dug through our old boxes and Internet stalked our guests to get pictures of everyone. We made little Polaroids out of all of them and clipped them to the napkins at their setting. They had a wonderful time exchanging stories from their pictures over dinner."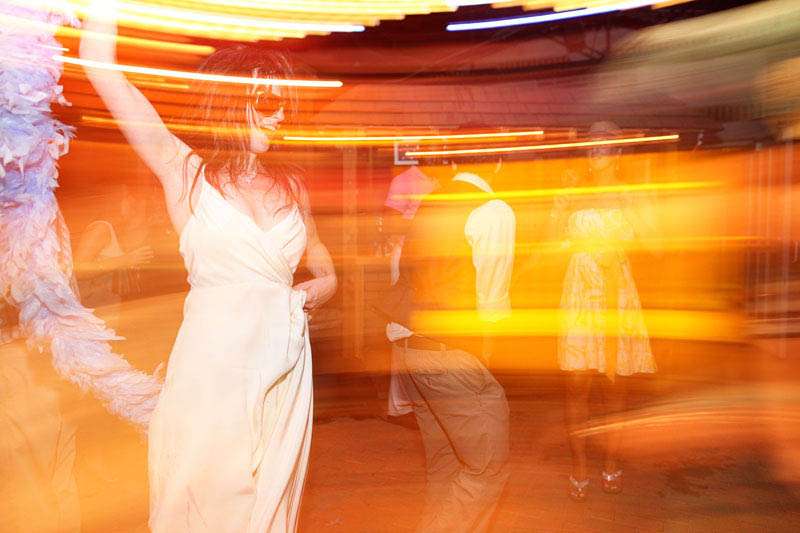 Finally, the couple were keen to tell me what they think makes a Rock n Roll couple and wedding…and I have to agree don't you? "I think, like so many rock n roll couples, we held strong to the things that were important to us, and let the rest go. We also liked a combination of traditional and new. A violinist played Canon in D for the wedding party processional and Guns 'N Roses "Sweet Child 'O Mine" for me. We had a first dance and cake cutting, but threw out the bouquet toss, garter retrieval, and introductions. The biggest thing we threw out during the wedding day, however, was looking pretty. At the reception, we danced so hard, we were a hot mess. We were covered in wine, sweat, and water that my friends and I decided to drench ourselves with on the dance floor (did I mention it was an outdoor party in August?). We didn't even really get to drink because we couldn't tear ourselves away from the party. This is how you have a Rock 'N Roll wedding. Celebrate like you never have before."
HUGE thanks to the awesome Jeremy Lawson  for working so hard with me on this feature and to Ashley & Scott for sharing their beautiful wedding with us
Photography Credit: Jeremy Lawson Photography
Ceremony Venue: Lincoln Park
Reception Venue: Northstar Eatery
Bride's Dresses: Goddess Gown by J Crew  from paisleypetunia on Ebay & vintage prom dress from landof100dresses on Etsy
Bride's Shoes: Dillards
Bride's Headwear: Francesca's and H&M & Anthropology
Groom's Outfit: Express, Zara, H&M and Converse
Bridesmaid's Dresses: Anne Taylor Loft
Groomsmen's Outfits: Old Navy
Flowers: DIY
Cakes: DIY
Centrepieces: DIY
All Reception Decor: DIY
DJ: Style Matters