OK I am EXCITED! Roni & Dave's reception is, like, totally the most awesome, diy, homespun cute-fest ever and I've got the full scoop and all the juicy details for you. I featured their wedding day shoot not so long ago and as soon as I saw Roni's adorable and oh-so-awesome homemade vintage brooch bouquet I knew the rest of their wedding was going to be awe-inspiring but I'm telling you, nothing prepared me for this!
The couple's reception was held in Roni's parent's house and backyard. For the flowers and centrepieces they bought all the blooms and the watering pots from Cosco and made them all themselves. "I didn't care what kind of flowers we had or where they came from.  I just knew I wanted them to look like they were just hand picked out of a field" Roni told me.  They ordered the yummy looking cakes from Liberty Market (Gilbert, AZ) and Roni & her Mum added the lace and brooches as well as an adorable home made cake topper.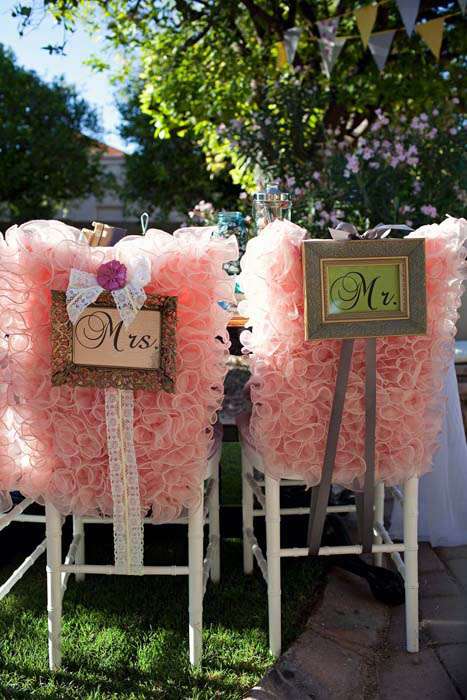 The whole wedding was catered by Roni's family.  "My Uncle Kent (my Mom's brother) smoked all the meat – 5 turkeys and 25 pork roasts. Then we had a pasta station. My Mom made all the pasta and the sauce was all home made as well.  She has a garden so some of the veggies in the pasta came out of her garden.  We had fresh fruit that was purchased from our local grocery store.  Gourmet cheeses and breads purchased from some local bakeries.  We also had caprese salads that were made by my Mom.  We had a cookie bar with several different types of cookies (I LOVE cookies!).  My Mom and her sisters (who mostly came from out of state) each made several hundreds of cookies." YUM!
The decided not to have groomsmen or bridesmaids "My only sister is on a mission for our church and was not able to be at the wedding and I didn't want her left our more then she already was" Roni explained.  "Instead we just asked his brothers, sisters and in laws as well as my brothers to wear our colors.  I didn't want everyone to match exactly but I asked the brothers and brother in laws to wear gray khakis with a white button up with the sleeves rolled up and either converse or vans in either gray, yellow, pink or green.  Then we got them all yellow ties and green argyle print socks from Express.  I asked the sisters to wear gray dresses with yellow shoes or pink or green.  The Mom's also wore gray dresses and the Dad's wore gray suits."
Like (I'd imagine all of you!) Roni admitted to being a huge wedding blog fan throughout her planning and definitely used them to her advance when coming up with ideas for their wedding. "About the time I got engaged my girl friend introduced me to the wide world of wedding blogs which I'm a bit embarrassed I didn't know about before.  I became OBSESSED!!  I would check it several times a day and book marked weddings that I liked or even if it just had one idea I liked.  I always thought I would be the girl that would have the wedding planned the second the ring went on my finger.  Turns out I wasn't.  It took me a little time to decide colors and then a theme/style that I wanted to go with.  I decided yellow and then grey and then used pink and green accents.  As I continued to search I decided on vintage type theme.   This is when our search began.  I wanted old books as part of the centerpieces and vases and doilies (which we had a ton that my grandma had made that we used).  We scoured thrift stores, yard sales and then antique stores to find things to go.  We found old doors, windows and suitcases.  I wanted old mason jars to hang from the trees in the backyard filled with candles.  My husband wrapped all the trees in the back with lights and then made a canopy.  As my wedding blog stalking continued my Mom and I would see something and would say "we can make that". It became our theme.  We made thank you stickers to go on the candy bags.  We made over 100 fabric flowers for any family or friends to wear.  I also put together a little card for every immediate member of both mine and Dave's family as well as aunts, uncles and close friends.  I put ribbon swatches on each and let them know they could dress to match if they would like.  I wanted everyone to feel as included and a part of the wedding as possible.  We made banners to hang through out the yard.  We made a backdrop out of crown molding and fabric for us to stand in front of to greet our guests.  I saw adorable clothespin cake toppers and my mom made one.  Then there was the bouquet.  When I ran across that I NEEDED it more than anything!!  My mom said "I can make that".  It turned out every bit as amazing as I'd hoped.  We had used brooches that were mine, my moms and my grandmas which made it even more special to me."
LOVE LOVE LOVE!! Enjoy these gorgeous pictures guys and be inspired!
Thanks so much to Roni & Dave and their photographers The Langs for sharing this incredible wedding with us today
Credit: Lang Photographers
Bride's Dress: Suzanne's Bridal
Bride's Jewellery: White House Black Market
Bride's Veil: Made by bride's Mum
Bride's Shoes: Yellow Converse and Nine West
Bride's Garters: Made by bride's Aunt
Bride's Hair: Celeste Zacarrdi at Habit Salon
Bride's Make Up: Diy
Groom's Suit: Joseph Abboud
Groom's Shoes: Converse
Groom's Socks: Express
Groom's Hair: Kiana Bogar of Sasseaze
Cakes: Liberty Market