Jen & Gavin won Ambient Studios' 'Engagement Story Your Way' contest with their unique 60's/Mad Men idea which was fueled by their love of the show, and the style of the era. Photographers Larissa & Trevor told me all about it:
Both working within the creative industry the idea of a jumping into the character of a 60's Advertising Executive seemed to be a great fit for this couple.  They seemed to enjoy every minute of it and we worked to create photos that not only represented the stark, strong personalities represented on Mad Men, but also their affection for each other (after all, in the end this fabulous couple is getting married!)
The Paddock, an amazing little pub in downtown Toronto was our first location and I have to say, these two ROCKED it!  The style of the bar, the classic cocktails, the clothes and Jen's fantastic make-up and hair all came together perfectly. We also spent a bit of time in the Financial District to take advantage of the cityscape as a backdrop as well even though it was quite chilly.  All in all, I think all elements came together to create a great contemporary twist on a classic look!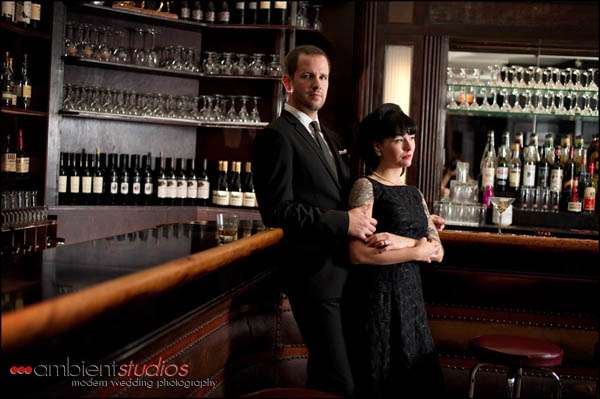 Thanks to Larissa & Trevor for sharing this fabulous shoot with us
Credit: Ambient Studios