This is my favourite part of running contests – when I get to share my 3 finalists and get you all to vote for your favourite to win  free wedding photography with Kat Braman (although I do hate the part where I have to narrow all the entrants down to just 3!)
As always, the standard of entries was very high – I have the coolest readers with the best stories I reckon.  After muchos tooing and froing I would like to introduce to you your finalists. Read the entries and pick your favourites by voting with the poll below and as always…only one vote per IP address please! You have until Sunday 24th January to vote.
Ashley & Keith
Wedding Info: October 10th, 2010 in Boston MA
My boyfriend and I have been dating for over 3 years and had a baby together 18 months ago. I had been browsing craigslist for engagements sets when I came across my dream one for only $200! My boyfriend and I drove to the place and exchanged the $$$ for the rings. I couldn't have been happier. I thought that this would have been a sure deal that he would propose to me. But it wasn't. He told me I could wear the ring if I wanted but I refused until he asked me to marry him. Months went by and I became very discouraged about the whole thing. My self esteem dropped and I stopped believing in happily ever after. Why wouldn't the father of our child want to marry me?! Does he not want to spend forever with me?! As Christmas season came I forgot about it all. On Christmas morning my boyfriend my son and I ran down the stairs to see what Santa had brought us. I was having the best Christmas ever with the two people I love the most when out of the blue my boyfriend brings over a gift and says "Santa left this for you." I looked at him strangely and said "I thought you and I weren't exchanging gifts!?" He followed by saying "It wasn't me… it was Santa." I slowly began tearing the paper away, afraid to see what was inside. As I peeled away the final big piece I could see it was the cutest skull and cross bone ring and in the center was a box…..the box to my dream ring. He got down on one knee picked up the box [at this point I was balling my eyes out because I didn't think this would ever happen] opened it and as he placed the ring on my finger he asked me to spend forever with him not just as the best mother ever to his son but as his soul mate and greatest love. Everything was so magical and so memorable. And once again I believe with all my heart and soul that there is a happily ever after in store for me.
Neil & Jamie
Wedding Info: September 18th, 2010 at Camp Pendalouan on Blue Lake in Holton, Michigan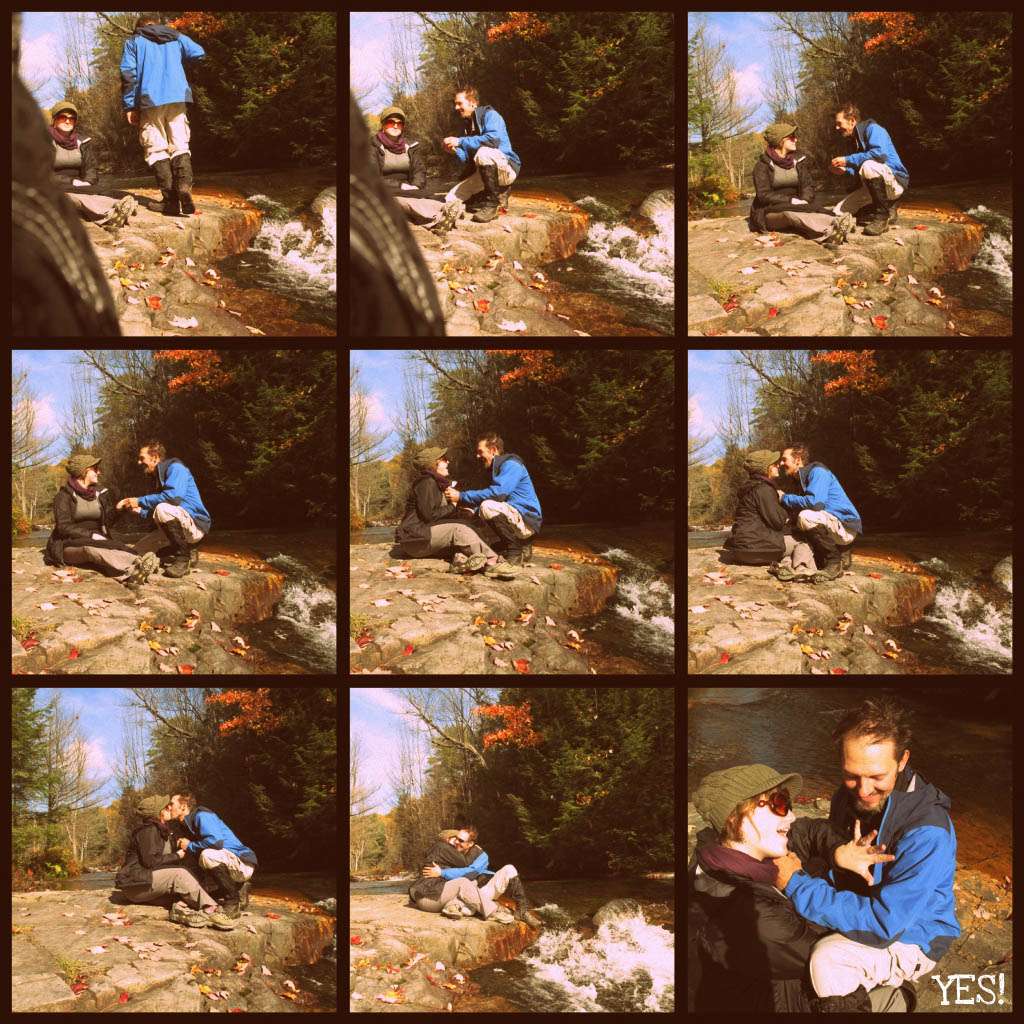 It was cold (4°C).  It was early.  But that wasn't going to stop us.  We were with our 3 favorite partners in crime.  And we were in our kayaks paddling through a series of lakes in the La Cloche Mountain Range of Killarney, Ontario.  A couple hours into this adventure, we approached a brutal portage, 380 meters of pain.  It was uphill, rocky, mucky.  We all struggled.
After the boats were moved, we staggered out to a clearing to find the most picturesque rock waterfall.  We all plopped onto the rock, exhausted.  I barely noticed it when Neil got up to talk to our friend.  He explained to our friend that his camera could capture the water spray and instructed him to just "go ahead take some pictures, start now."  Sweet Terry had no clue what he was about to capture!  Neil was already back and kneeling right in front of me… I was oblivious.  He pulled a small box out of his pocket and over the rush of water inquired "Jamie Schumacher, will you marry me?"
"SHUT UP!" I proclaimed as I gave his shoulders a shove in disbelief nearly shoving him into the waterfall.  YES!
Rachel & John
Wedding Info: August 1st, 2010 an Oceancliff Hotel, Newport, RI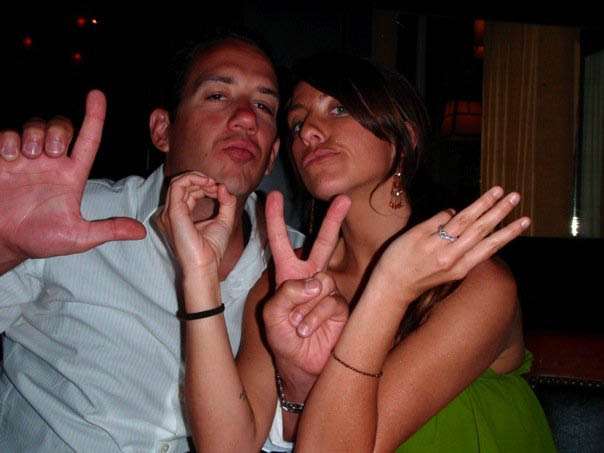 After taking a wine tour in a vineyard near Newport, RI John and I headed back to our B&B to get ready for dinner. I noticed John seemed to be a little weird when he accidentally broke my dress zipper and blamed himself for ruining things. After getting ready, John took me down to a beautiful sailboat where I got super excited because I'd never sailed before! We started sailing towards the bay, passed the Newport bridge, watched the sun set, and then suddenly the boat turned and came to a stop. Because It was so cold, I decided to stand up and walk around. John then stood up, turned around, started his cute nervous speech, got down on his knee pulled out the ring and proposed! I was in such shock I backed up and almost fell off the boat! As he stood up to catch me I hugged him and said yes! The captain popped champagne while everyone cheered! Afterwards we went to dinner and then back to our room where I found petals all over the bed and a photobook of all our adventures we had together with the lyrics to "our song" at the end.
Voting is now closed