This is such an exciting post for me because not only have I been dying to see Jenn & Brad's ever since I featured their junkyard engagement shoot and saw Jenn's Couture bridal shoot, but today I get to work alongside two of my favouritest blogs, Ruffled and Green Wedding Shoes, to bring you the full report on their fabulous wedding day!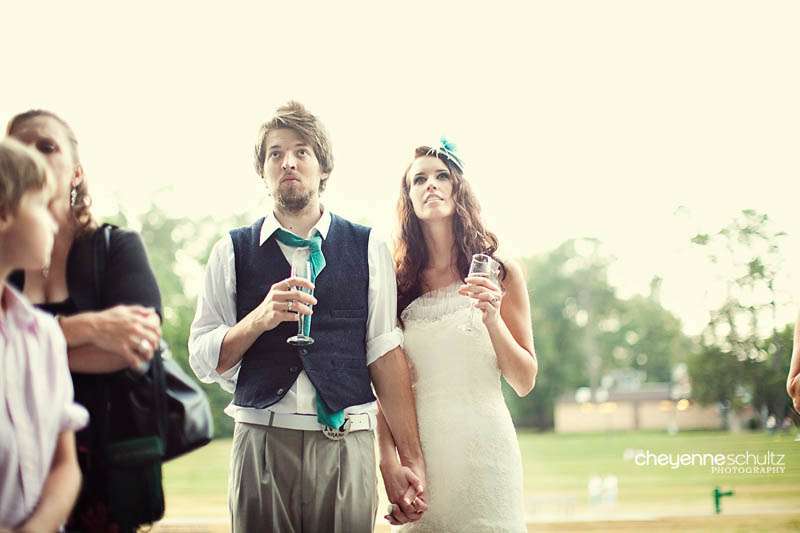 Everything about Jenn & Brad oozes cool. Even their proposal story! Jenn started out by telling me all the juicy details and it was such a great story that I have to share it before we begin with checking out their fabulous wedding reception:
Brad and I met while studying art in college. After our first date he had left a fake parking ticket on the windshield of my car. Inside the ticket was a note that told me how much "he enjoyed the lunch, but it was not half as good as the company."
Four years and a few months later, i was walking to my car after work. When I got in I noticed I had a parking ticket on my windshield. I got out of my car (pissed off), and when i reached to get the ticket Brad came around the back of my car and startled me. Pulling the ticket off my windshield, I was asking him what he was doing there and if he could believe that I had just gotten a parking ticket?! He just glared at me….long story short I quickly opened the ticket (which in our city they put parking tickets in little yellow envelopes) and inside was a slip of paper that read, "I fooled you again! When I gave you the first ticket, I knew one day I would be giving you this one." In the bottom of the envelope was my ring and when I looked up Brad was on one knee!
Great huh? So on with the main attraction – all the info and photographs from their fabulous, modern and uber stylish reception!
I wanted to tell you this story because I feel like it sums up what we wanted our wedding to be; original, personal, genuine, with a small amount of tradition.
We wanted our wedding to feel like us, not like we took someone else's ideas from a magazine and called them our own.
We wanted our guests to feel special, because they all were. No one was invited out of obligation and everyone on the list has had a significant influence in our lives in one way or another.
The Venue: Freedom Park Amphitheater. This amphitheater is located in the middle of a gorgeous park that host concerts in the summer. It is on an island in the middle of a pond and has a cobblestone bridge as its only means of entering the island. The amphitheater has not decorations whatsoever, just a blank canvas….so it was perfect!
Decorations: We opted for black everything. (chairs, tables, etc.) This helped make the room feel a little moody when combined with the cool tones of lighting that we had throughout the venue. I bought most of the centerpieces from IKEA and had my friends Jay and Jim place all their flower arrangements in them. Jay and Jim make not only an amazing couple, but they made beautiful flower arrangements! I would strongly recommend them to anyone getting married in North or South Carolina!
The lighting was provided by Eye Dialogue. We worked with Mike, who is another artist and was fantastic from the very beginning! He really did a great job of seeing and understanding our vision. We had him hang a projector to cast on the back wall of the amphitheater where we had images constantly rotating of all our favorite memories with our guests. It was great to hear peoples reactions to "an old photo from grade school" or "that trip that everyone remembers". It really made the night special for everyone involved.
The Music: The Killers, Modest Mouse, The Good the Bad and the Queen, Razorlight….this was just some of the music that we played. Very nontraditional wedding music.
The wedding party walked down the aisle to "All these things that we have Done" by the Killers.
My dad and I walked down the aisle to the intro of "23" by Jimmy Eat World.
Brad and I walked back down the aisle to "Over the Hills and Far Away" by Led Zeppelin.
My dad and I danced to the Smashing Pumpkins version of "Landslide".
Brad and his mom danced to "Seaside" by The Kooks
The show stopper was when Brad and his band members performed the routine that they had been working on….a choreographed dance for me that they did to "Good ole Fashioned Lover boy" by Queen.
IT.WAS.AMAZING.
I sang to Brad as well…..the theme song to the TV show King of Queens. It was pretty amusing considering it is an ongoing joke that I can't sing whatsoever.
Food: All the food was provided by Red Rocks Cafe. They were AMAZING!!! Not only did they provide perfect service and gave Brad those slider cheeseburgers he loves, but they were able to accommodate my Vegan diet! I would love to let all your readers know about this restaurant because they were a tremendous blessing for us and the owner, John Love, is a saint!
Some of the pictures you might see were of some pretty intense dancing. We started this game not too long ago that we call "Dance Off". It is basically like spin the bottle soul train. We play this anywhere and everywhere we can. We all form a circle and someone spins a bottle in the center. Whoever the bottle lands on has to dance in the center. The only catch is that it has to be "dancing" that is more like pantomime! We do things double dutch jump rope, fishing, basketball, football, bathroom stall when you run out of TP and have to ask the person in the stall next to you! I know this must sound crazy to you….but it get everyone with a since of humor involved and really gives you something to laugh about the next day!
AAAND now for the pictures. Enjoy these my lovelies and then head over to Ruffled and Green Wedding Shoes to see part 1 and part 2 – including all the gossip behind their fabulous outfits and to see their a-a-amazing portraits.
Thanks to Jenn & Brad for sharing all the details of their reception with me today. Thanks also to Cheyenne the photographer for sending over all these amazing images and a two very special thank yous go to to Amanda of Ruffled and Jenny of Green Wedding Shoes for working with me on this feature. It's been a pleasure and an honour girlies!
Credit: Cheyenne Schultz Photography