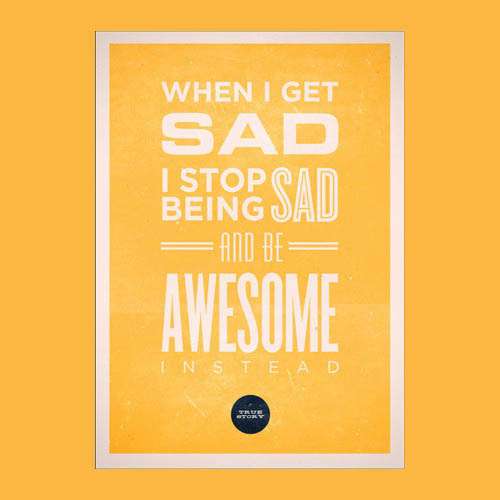 Credit: Whale & Pine via Luke's Beard
Last week I had this question on the Rock n Roll Bride facebook page from Angel. Luckily for her I happen to have some experience in this area!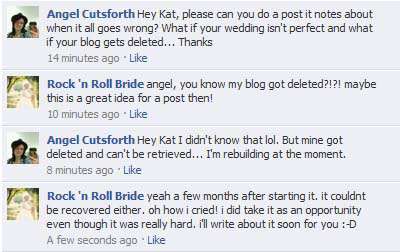 Did you know that after blogging for just over a year I somehow managed to delete my whole blog? Yeah seriously…Poof! and it was gone.
To cut a long story short, I had been secretly blogging using the free Blogger platform since just before our wedding. I used the blog to post my own wedding ideas and after the wedding to share other alternative wedding ideas and real weddings that I'd found and liked around the internet. The reason for the blog certainly wasn't to make it into a business, I'd simply fallen in love with wedding blogs during my wedding planning and started my own for fun.
Sometime around December 2008 I learnt about Google Analytics and thought "Oh cool, I can see how many people are actually reading this thing" (seriously, when I say I knew nothing about blogging I ain't exaggerating!) Well somehow in my total-incompetence-to-do-anything-remotely-technical, by attempting to install it myself I deleted my whole freaking website…and no, we still don't know how I managed to do it!
I went crying to Gareth (who by the way had no idea I was a secret blogger, what a nerd I must have looked like) and I asked him to bring it back. Which, despite being a IT genius, he said was impossible (and nope even he still doesn't know how I managed to delete it either, I think maybe it's a secret skill I have that no one else possesses…)
ANYWAY I was at a crossroads.
After I finally stopped crying, Gareth told me he was able to recover some of my past posts from Google's cache of the site, but we'd have to set up a whole new blog and re-upload everything. He also suggested I moved from Blogger to WordPress for it's superior functionality and general better-ness, and also that I purchased the .com (beforehand I was just using a free .blogspot URL).
And so the laborious task of relaunching a blog began.
Now I use the term 'relaunch' in a very loose way. There was no grand unveiling of the new site or street parade in my honour. I had no readers. I had a .com but no one knew it existed! It sounds kinda fancy in interviews when I say the blog was 'relaunched in January 2009' but in reality, I just bought a .com and started all over again.
I was totally gutted about (what seemed like) the mountainous task in front of me and yes, of course I wondered whether I should even bother. However after some soul searching and realising that this obsession for alternative weddings wasn't going anywhere, I used my colossal balls-up as an opportunity to make the blog a million percent better.
So, what changes did I make?
♥ I moved the blog to a better platform.
♥ I paid for the .com (best £20 I ever spent. As a side note, if you're able to get the .com as opposed to the .co.uk/.net/.org of your chosen website name DO IT. It's only pennies more expensive and many people are of the opinion that it gives a more professional first impression).
♥ I finally told Gareth what I was up to. Gareth is a computer/internet genius so having him know that I had a blog was obviously a good thing. He helped me make my blog so much better with his technical wizardry.
♥ I spent time thinking about how I really wanted to blog to look. I stopped just using free and default layouts and spent some time actually thinking about branding… which of course was initially terrible. Look at my first attempts at blog headers if you don't believe me. Yes, I made them all myself…Aren't I brilliant? What do you mean you can't tell?! Ha ha…