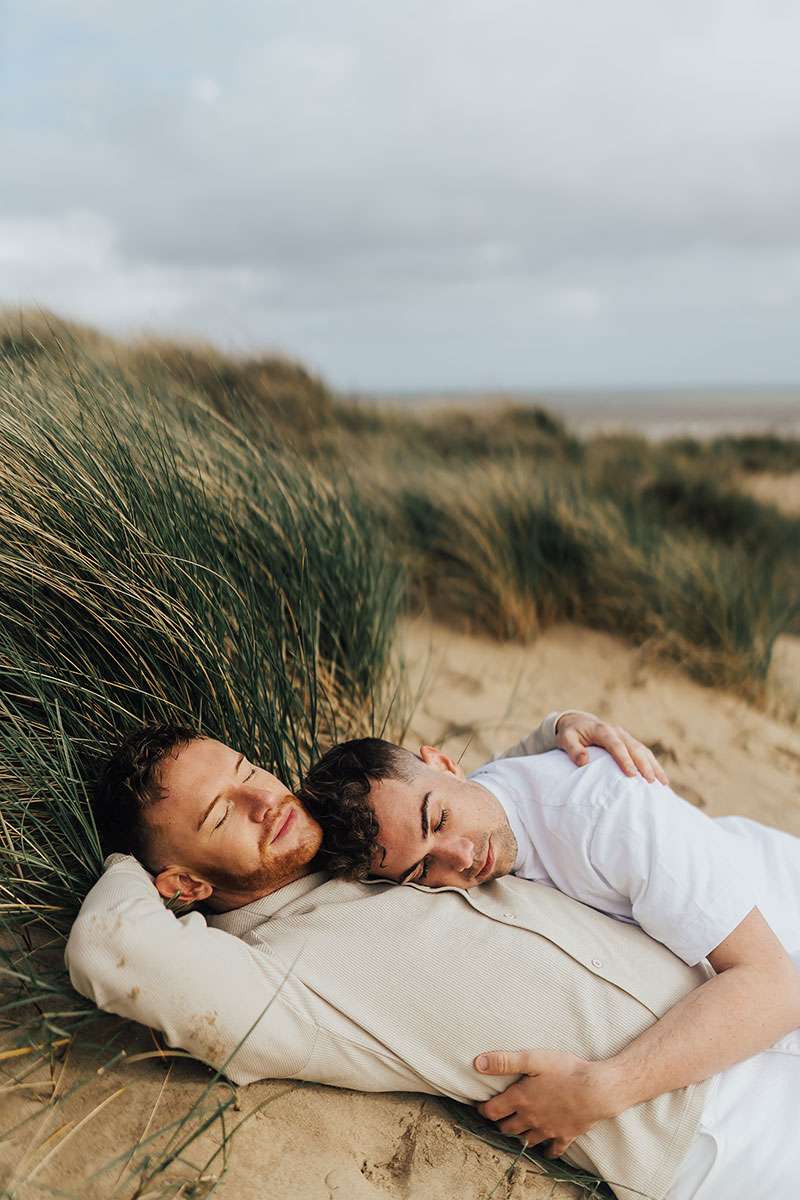 Newsflash: Planning a wedding is a lot of work, and it will be a hell of a lot more fun if the two of you tackle things together. Now forgive us for this sweeping generalisation for a moment, but grooms – particularly of cis-het variety – can tend to be quite left out in the wedding media. There can be an assumption that all they want to do is plan a raucous stag do, buy a suit and show up on the day. We KNOW this isn't always the case, so this new column is all about grooms who want more..
So, there I was, scrambling down a cliff face in Kefalonia, one hand clinging on for life, the other clenched around the engagement ring in my pocket. My soon-to-be fiancé was negotiating the rocks behind me, swearing viciously under her breath. In fairness, without knowing we were looking for the perfect proposal beach, the death climb must've seemed excessive. It definitely wasn't how she'd imagined spending her birthday.
When I reached the ground, I smothered it in kisses, looked admiringly at our private little beach and gave my pocket a reassuring pat. After she'd finished tending to her wounds, I got out her 'birthday present'. I'd made a photo album of all our years together, with captions on each page saying why I loved her, remembering everything we'd been through together and dreaming of all the things yet to come.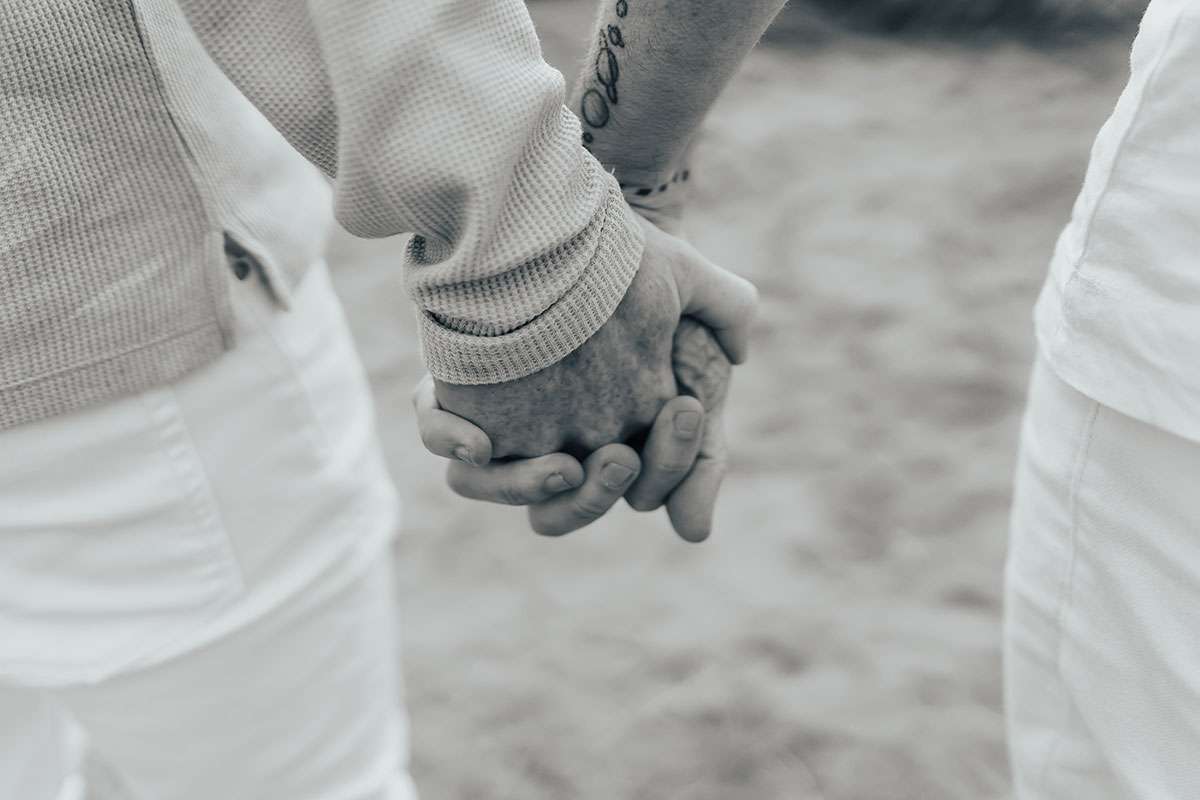 On the last page was a picture of the ring, and those four small, colossal words. She looked up to see me on one knee, waves crashing behind me and the ring in my hand. With the exception of the near-death experience, as proposals go it was pretty fucking perfect.
So, is the proposal really that important?
"Oh wow! Congratulations! How did they propose?" Yeah, it's literally the first thing everyone asks. You wouldn't believe how many times you'll have to tell the story, so make it a good one.
But 'good' doesn't have to mean 'spectacular'. Just because Dwayne404 hid the ring in a crocodile, doesn't mean you should. Like food, films and music, proposal perfection is subjective. And the good news is, you know better than anyone what their 'perfect' is. So don't just drop a ring in a champagne glass, give them a proposal that shows you hold the keys to their heart.
But knowing them inside out is only half the battle. You might know their favourite food but that doesn't necessarily mean you know how to cook it. So, here's a fool-proof six-step guide to planning the perfect proposal, whatever their 'perfect' might be.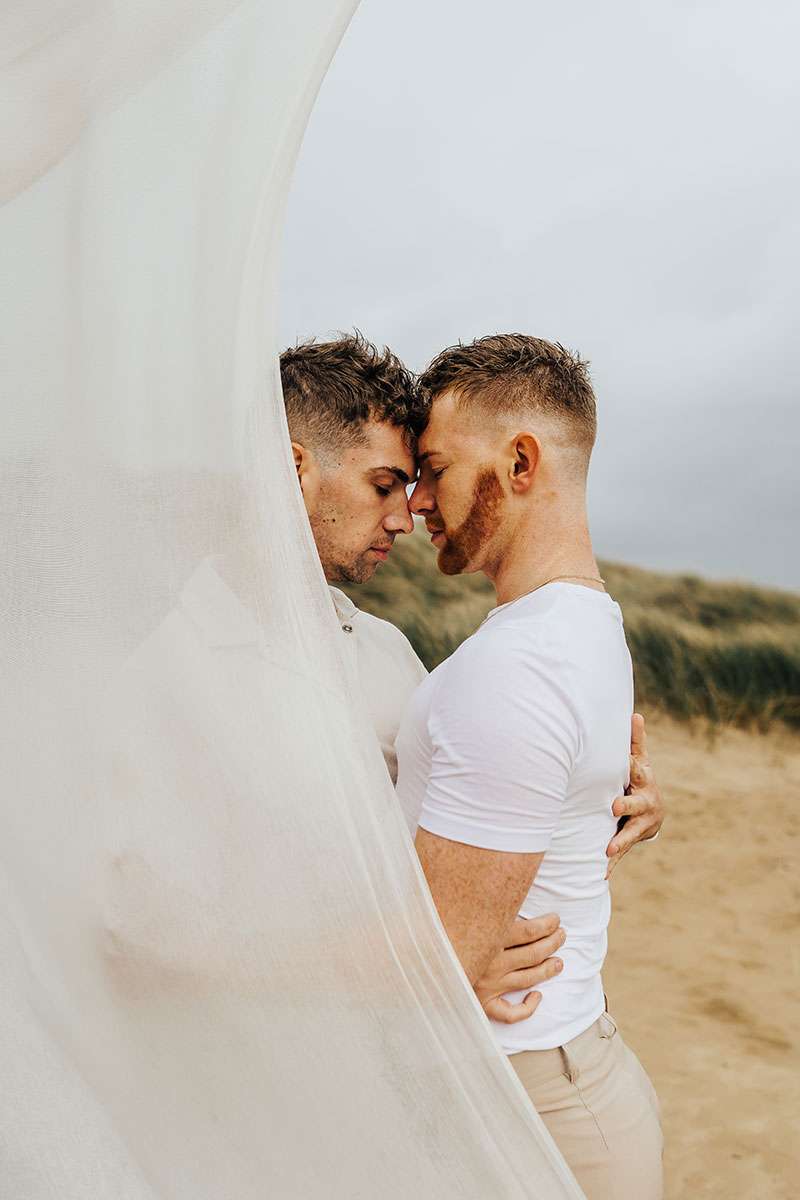 1. Choose a ring they'll love
I know the ring isn't technically part of the proposal, but you want the ring to be the icing on the cake, not the rabbit dropping in the raisins.
Before I proposed, my wife and I used to play 'the ring game'. We'd look in jewellers' windows, I'd say which ring I'd buy her if I were to propose and she'd tell me if I got it right. It's like rehearsal ring shopping, and after a while you'll be picking their perfect ring with your eyes closed.
And I'm sorry, but this whole 'three times your salary' thing is bullshit. Get what you can afford. If you're looking for value, stay away from high street jewellers because they put huge mark-ups on rings. Custom-made rings are more personal and you'll get a lot more rock for your roll.
2. Decide the 'who'
OK, so what's the actual plan?! Well, the good news is, you only have two main things to decide: who and what.
First of all, 'who'. Would they want it to be public or private? If you go public, there's always the danger they'll say no and your heartbreak goes viral. But if they'd love the attention and you're certain they'll say yes, then your options are endless. Maybe they'd love to be surrounded by friends and family, or in front of the Eiffel Tower (or something less glaringly generic)? Public proposals are much easier to plan, and you can hire a photographer to capture it too. But remember an audience won't help your nerves.
If they'd rather be alone, find somewhere you're guaranteed that precious privacy. You could be alone in the woods, in your favourite park, walking up a mountain, or just together at home. Guaranteed privacy takes planning though (take it from someone who winged it and ended up scrambling down a cliff face). If you're proposing somewhere familiar, find a way to make it special to show you've actually thought about it.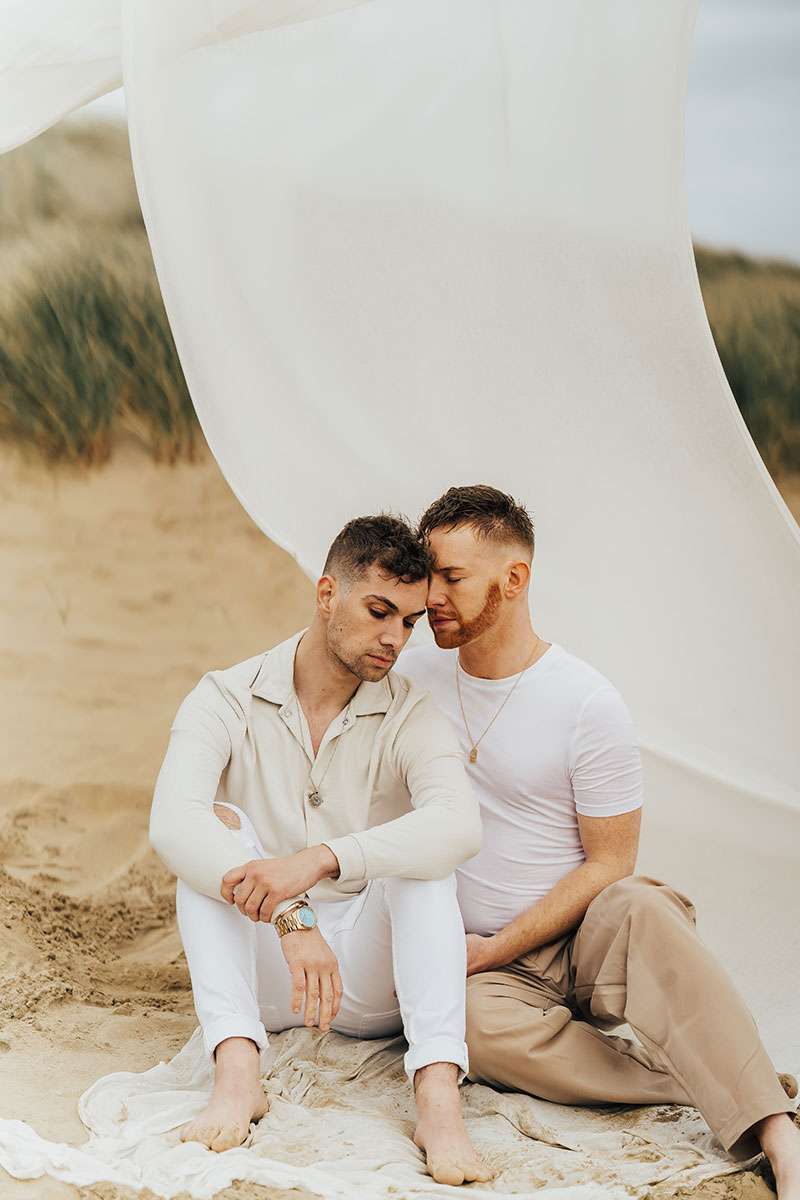 3. Decide the 'what'
Now for the 'what'. As a golden rule, your proposal should be as unique as the person you're proposing to; if it could be anyone's proposal, it's not a good one. My wife loves photo albums, she loves being by the sea, and she loves keepsakes. So, proposing on a beach, with a photo album that she can keep forever was perfect. It wasn't complicated or flashy, but it was perfect for her.
Think about their 'perfect'. Is there something you love doing together that connects you as a couple? Is there a bucket-list activity they've always dreamed of doing that they'll absolutely love? You know them best, dig deep and have a think.
And keep it simple; moving parts break. And for every viral proposal, there's a thousand spectacular proposals that went spectacularly wrong. Make it special, but make it easy to pull off. It'll make the whole thing a lot less stressful for you if you're not worrying about whether the doves will be released on time, or if you spelled the names right for the skywriter.
But of course, things will go wrong, and you don't want your whole plan hinging on a maybe. So, outmanoeuvre life and have an alphabet of plans in place to cover your bases.
4. Secret Squirrel that shit
Shhh! Let's get sneaky!
You need a fake backstory to keep it a surprise. Think of one that isn't suspicious, and that they can't turn down ("Let's go for a walk." "No thanks". Your plan's fucked, and that one's a true story).
When thinking about your red herring backstory, consider what they'd like to be wearing. Photographer or no, you're bound to get photos. And they might want to be wearing something fancy.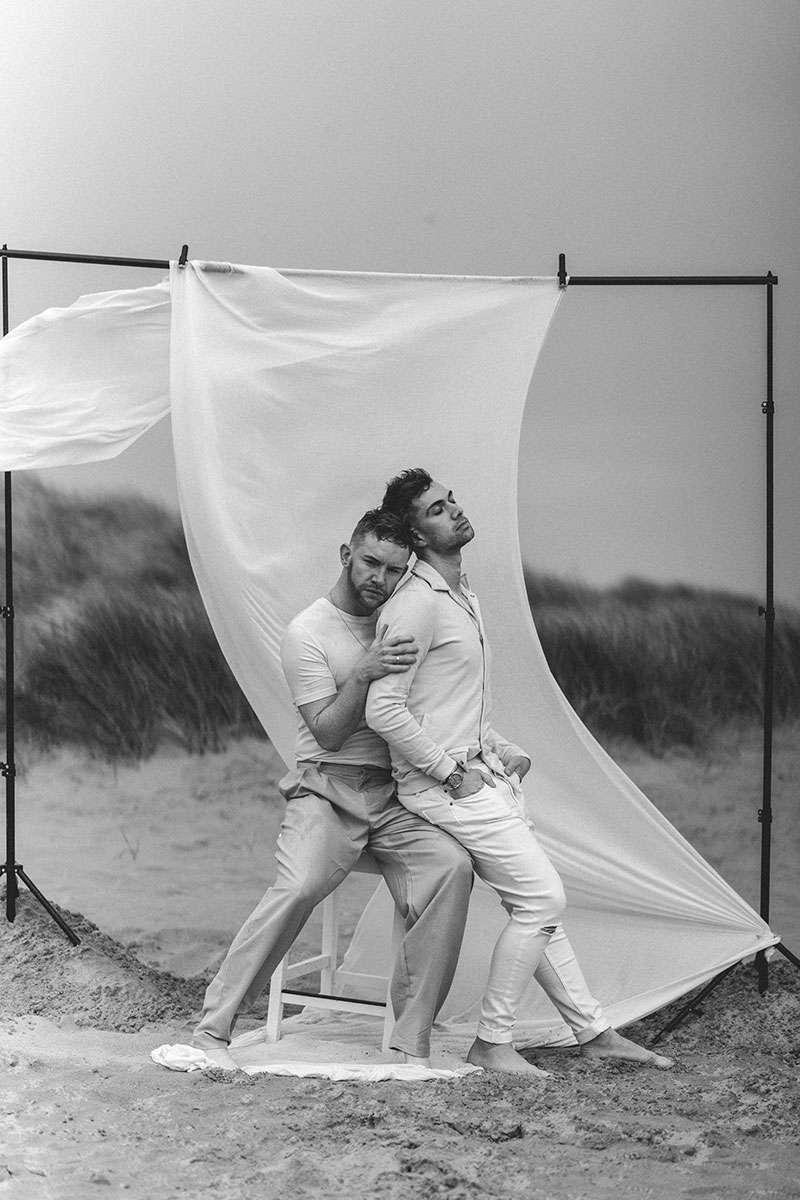 5. Say the right words
You've got the perfect ring, hatched the perfect plan and they don't suspect a thing. Now what do you actually say?!
Sincerity is best. You don't have to write a poem or make it especially eloquent. Just tell them why you love them, that you can't imagine life without them, and make them feel like the only person in the whole world. And as always, make it personal.
This'll be the biggest sales pitch of your life. You'll be pumping with adrenaline and excitement, so take notes and practice. You don't want to just mumble 'marry me'. You want to make them feel special.
6. Have a plan for afterwards
They've said yes! Woo! Now what?!
The hours after the proposal are just as much fun as the proposal itself. You'll be buzzing with excitement and happiness and you'll have so much to talk about. 'Netflix and chill' will be a massive anti-climax, so plan something special to tie a bow around the whole thing.
Maybe champagne on a blanket as you discuss the wedding? Hire a photographer for an engagement shoot? Book dinner or have drinks with friends? Go tell your families? Have an end-game to complete the experience.
Then just sit back and bask in the glory of your perfect proposal. Good luck!
ABOUT JON CARPENTER
Jon has been writing about weddings for over five years and been married to a wedding photographer for six. He proposed in Kefalonia, got married in Whitstable, eloped in Vegas and now lives in…well, Chatham. But at least the first three sounded cool. Either way, wedding-wise, he's pretty wedding wise.
This article originally appeared in issue 46 of Rock n Roll Bride magazine. You can purchase the latest copy here, or why not subscribe to never miss an issue?