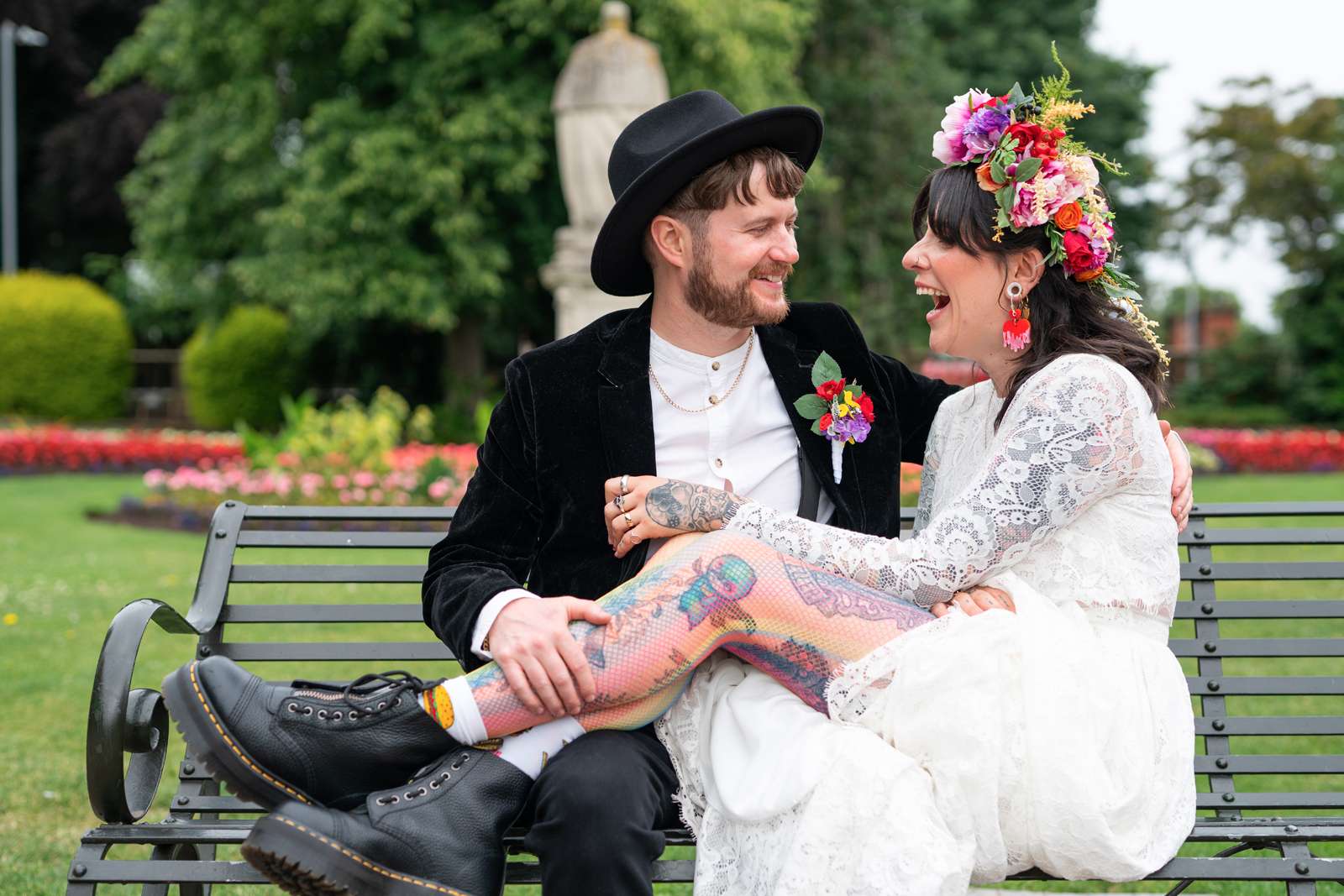 Midsommar may be a horror movie, but the aesthetic is anything but scary, which is why Shar and Scotty were so heavily inspired by it for their not-at-all Halloweeny summer wedding. When Covid hit, it made them realise what they really wanted (and didn't want) for their day so they had their reception of cake and informal, unplanned speeches at the bride's mum's house and spent less than £2,000 to boot!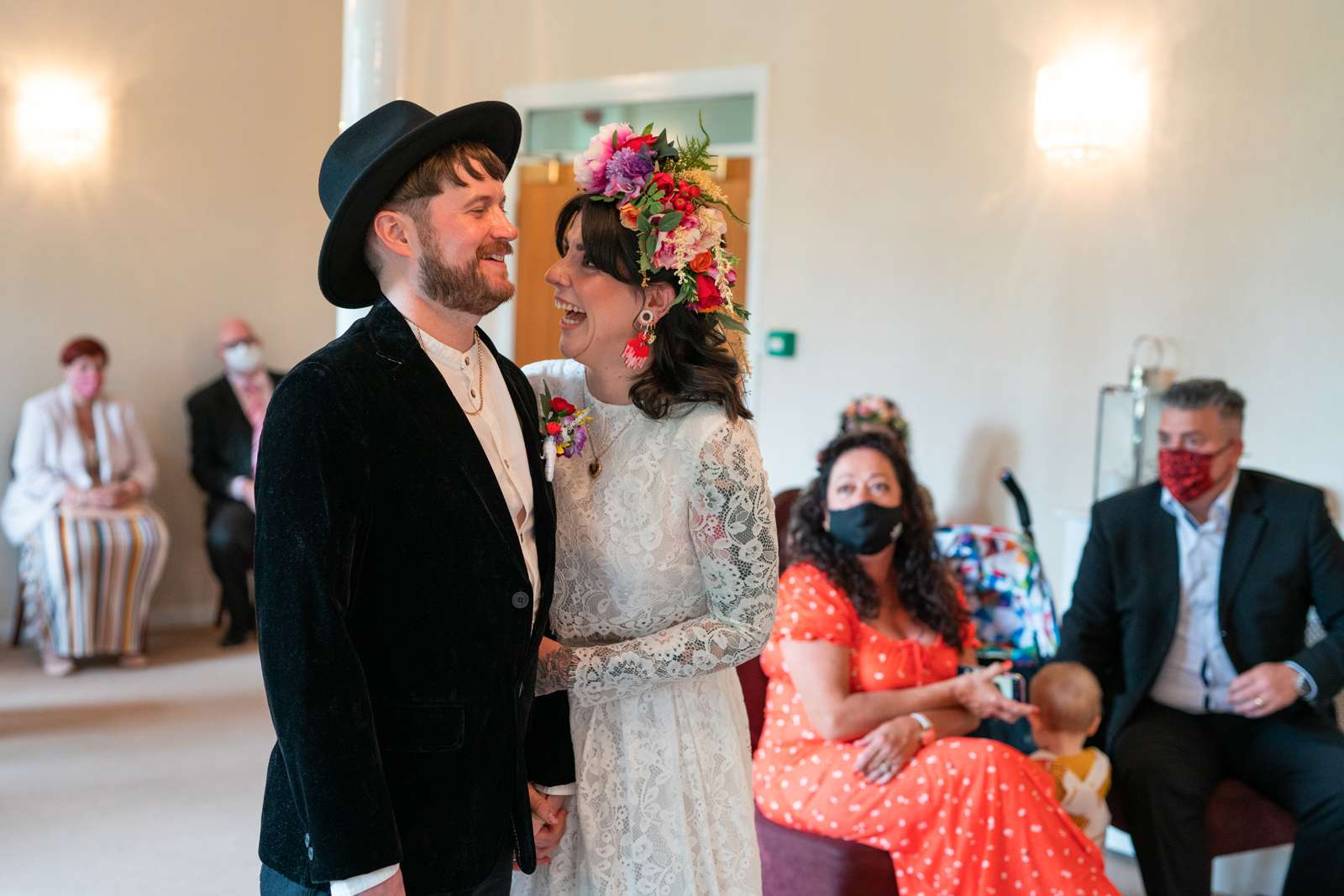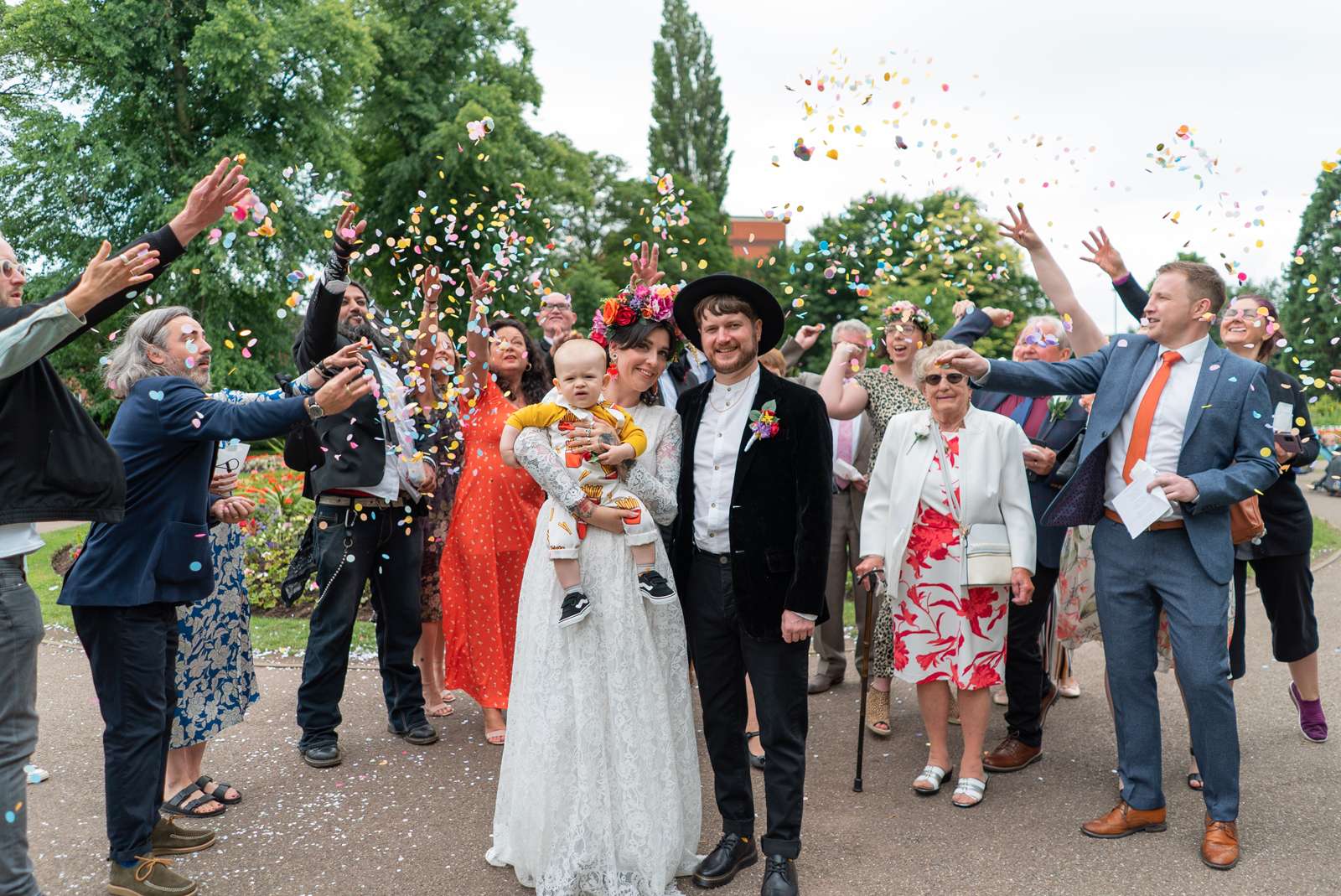 "Our wedding was just happy, bright, rainbows and smiles" Shar told us. "I wore roller skates, people wore cool hats and there were lots of flowers! Midsommar, if it wasn't a horror, heavily inspired us as well as Frida Kahlo and Lana Del Ray. We wanted an informal, fun day and continued being defiant in the face of a global pandemic, we warned to bring some joy back into the lives of the people around us."
Shar's dress was £120 and came from the ASOS bridal collection. With it she wore a massive flower crown, Dr Marten Sinclair boots, Stance skate socks that said 'fries before guys' (which tied in with her son's fries jumpsuit) and rainbow Snag Fish net tights.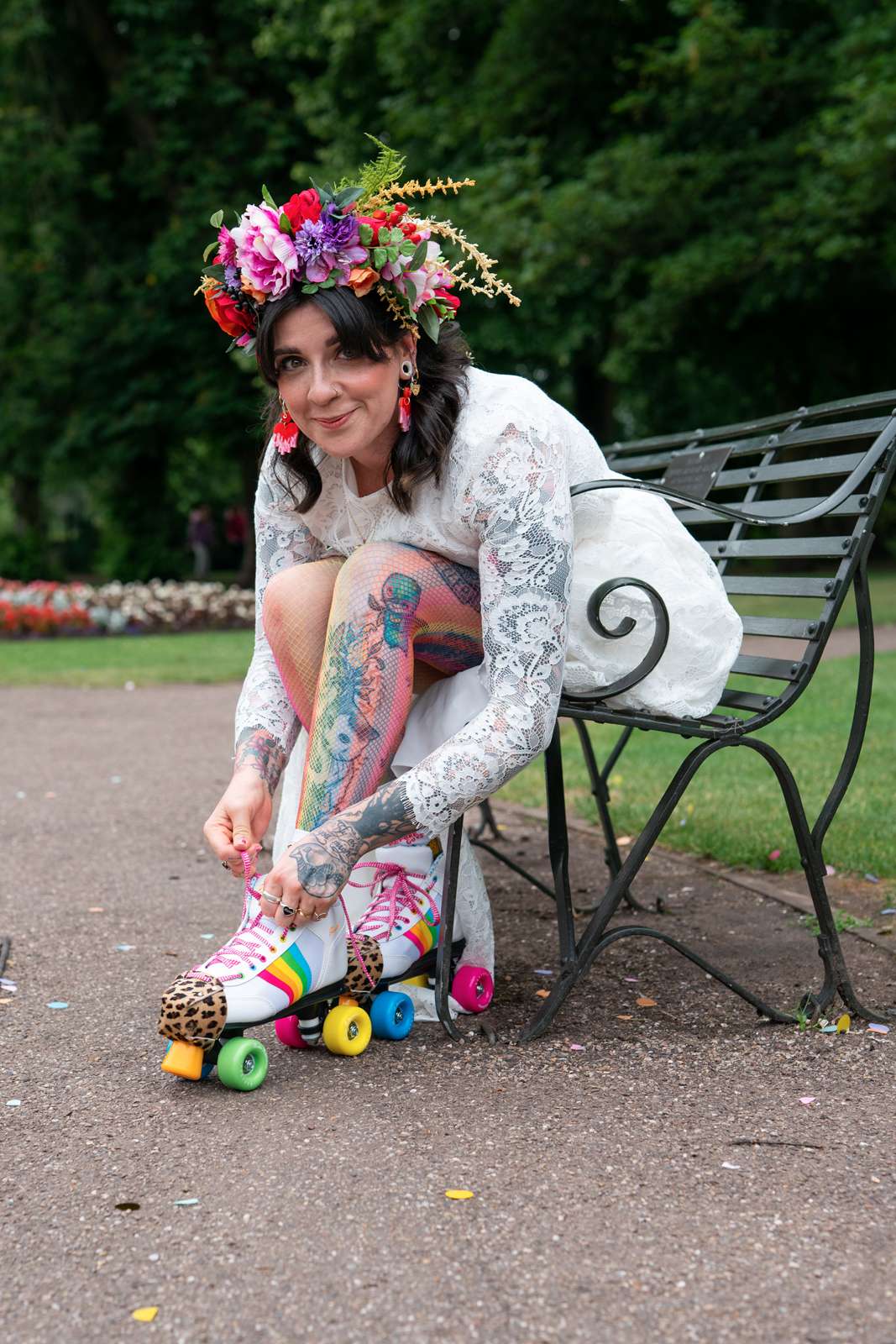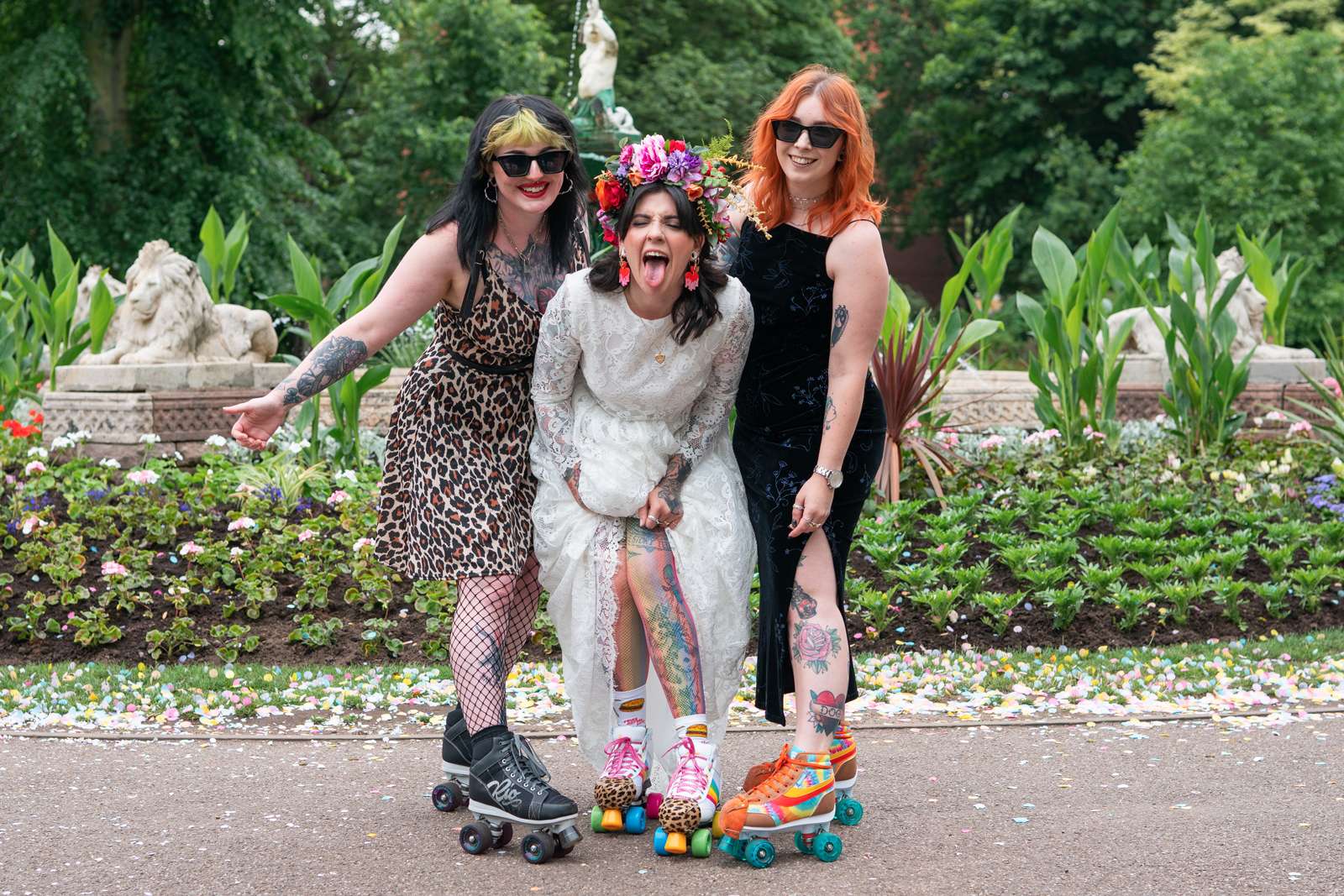 Although the ceremony, held at Lichfield Registration Office, maybe wasn't what they would have chosen, ended up being the perfect moment of calm within such a crazy year. "It was in a gorgeous building, surrounded by fountains and flowers outside.", Shar explained. "It was short and sweet, with our little one running around us having the time of his life. Our palms were sweaty and walking in with my dad was one of my proudest moments. There were only 18 people allowed in our ceremony due to Covid, and they were spread out a metre apart – but it made it such a lovely feeling to be able to see each person and acknowledge them all."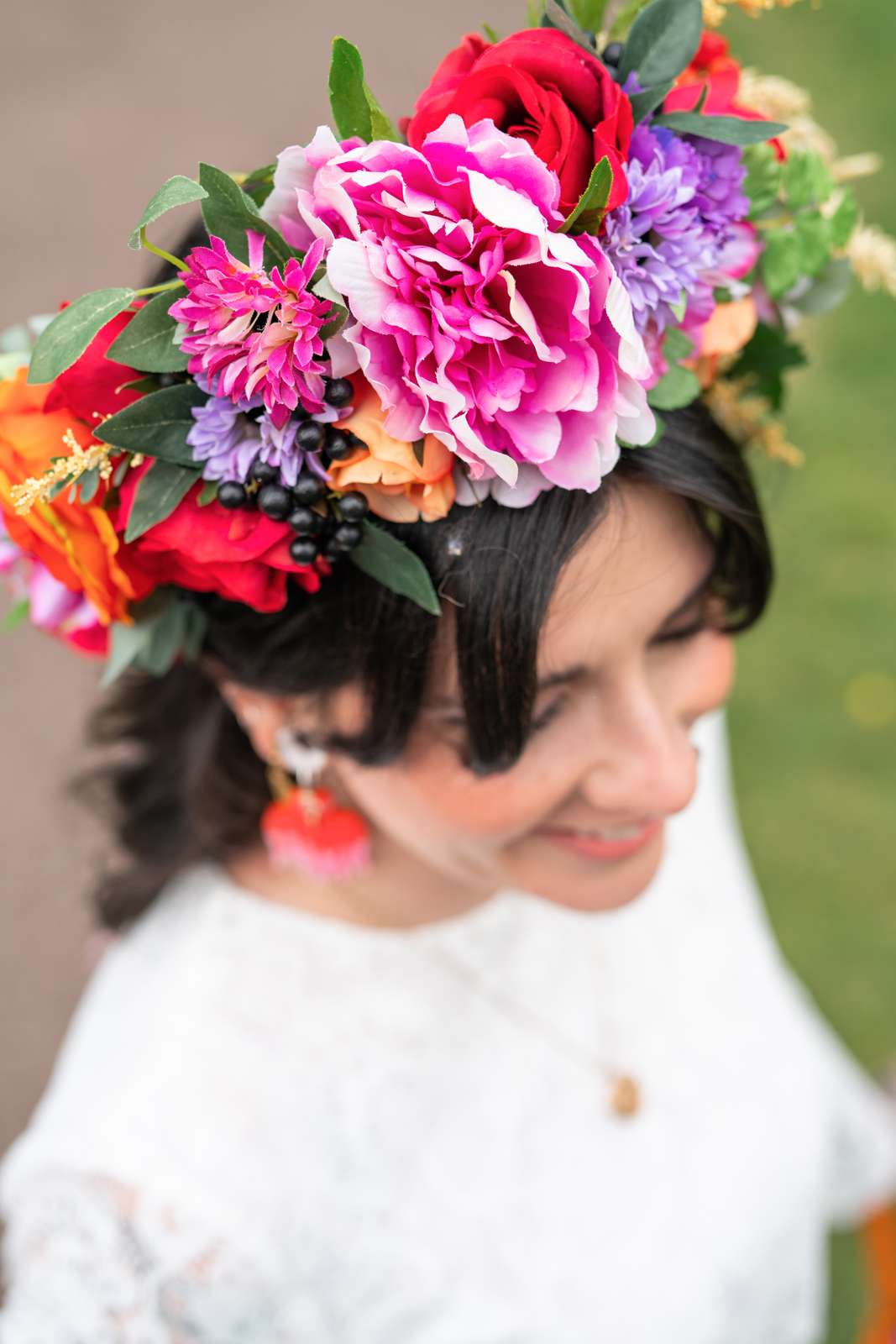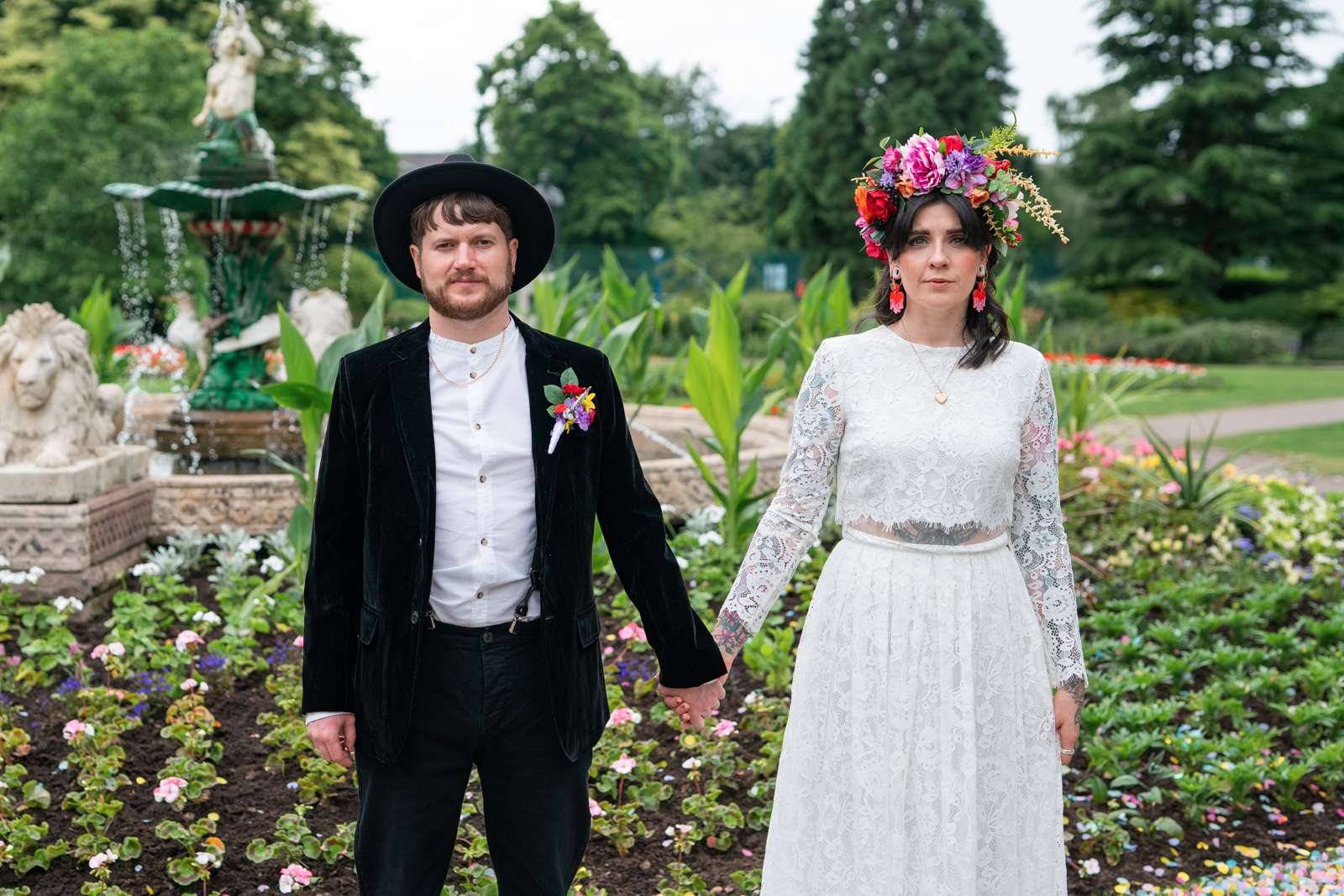 "Seeing my husband at the end of the alter is a feeling I won't be able to explain. It was just an over whelming sense of excitement and of complete certainty. Both of our sisters did lovely readings, and everyone wore masks. As weird as it is, I think it is something we will look back on and think ' We did it, even during all that hardship'. When we walked out, friends who hadn't been allowed to attend inside were all waiting outside for us which made it even more special."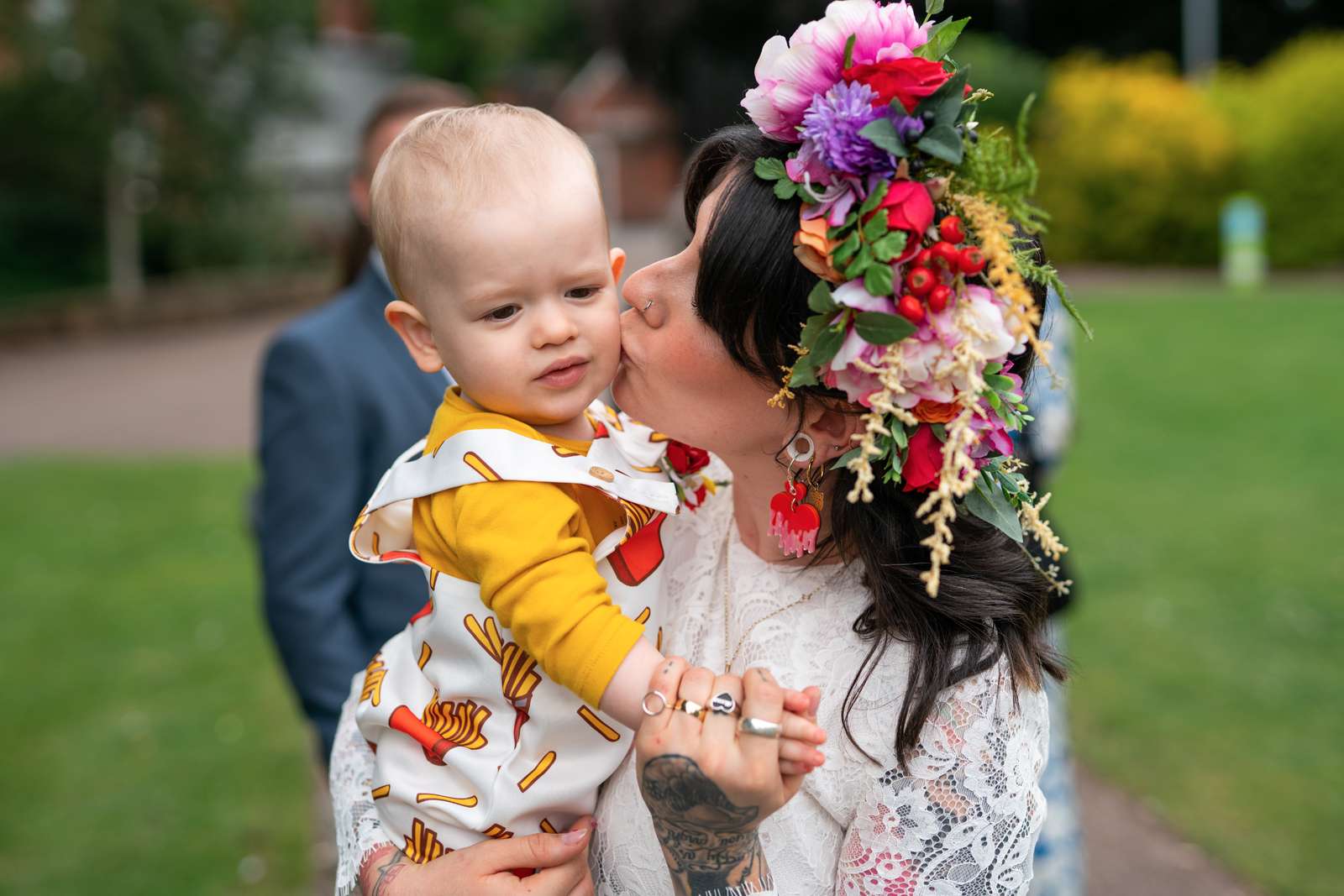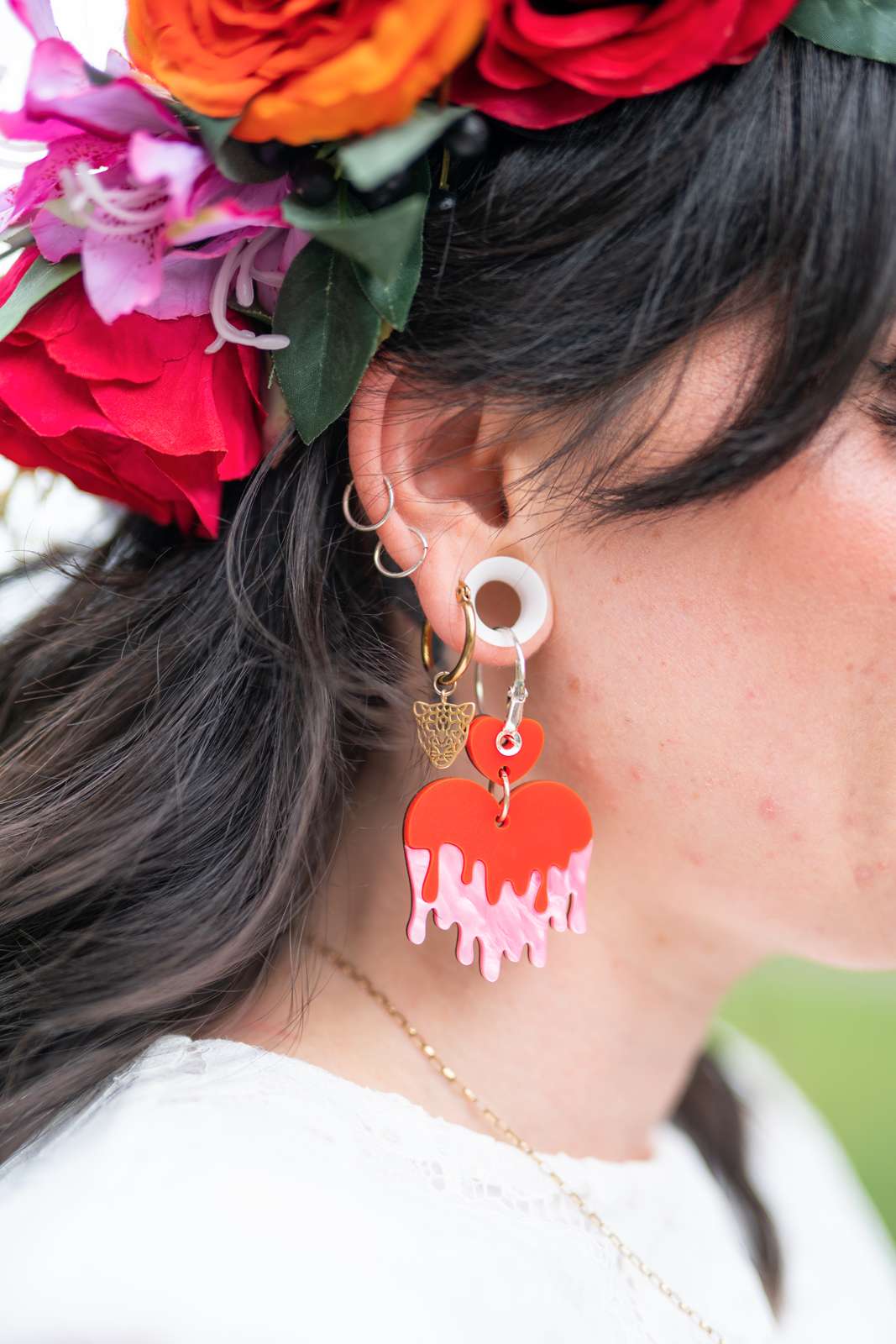 With neither of them being fans of tradition or formality, they skipped things like the first dance, cake cutting or guests in formal attire. They wanted their loved ones to be comfortable and to wear whatever they wanted. "The soundtrack was mainly laughter", the bride continued. "There were no arranged speeches, people just went up and grabbed the karaoke mic to have their say. There wasn't really a first dance other than us doing a bit of a Pulp Fiction dance to Chuck Berry and then getting everyone to jump in with us, and our cake cutting was just drunken foolery! We just wanted to have fun, and for everyone who have been away from each other for too long, to have fun too."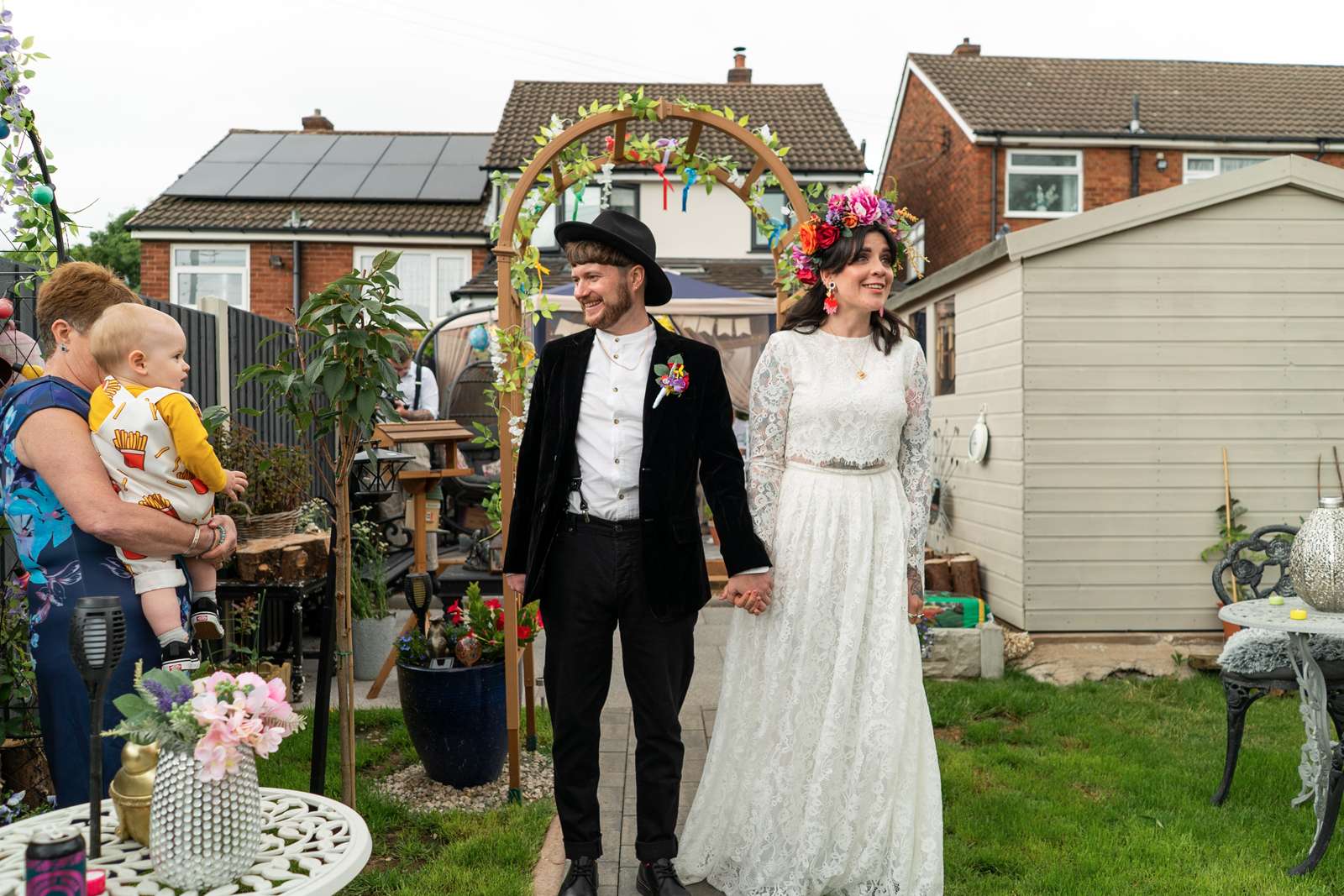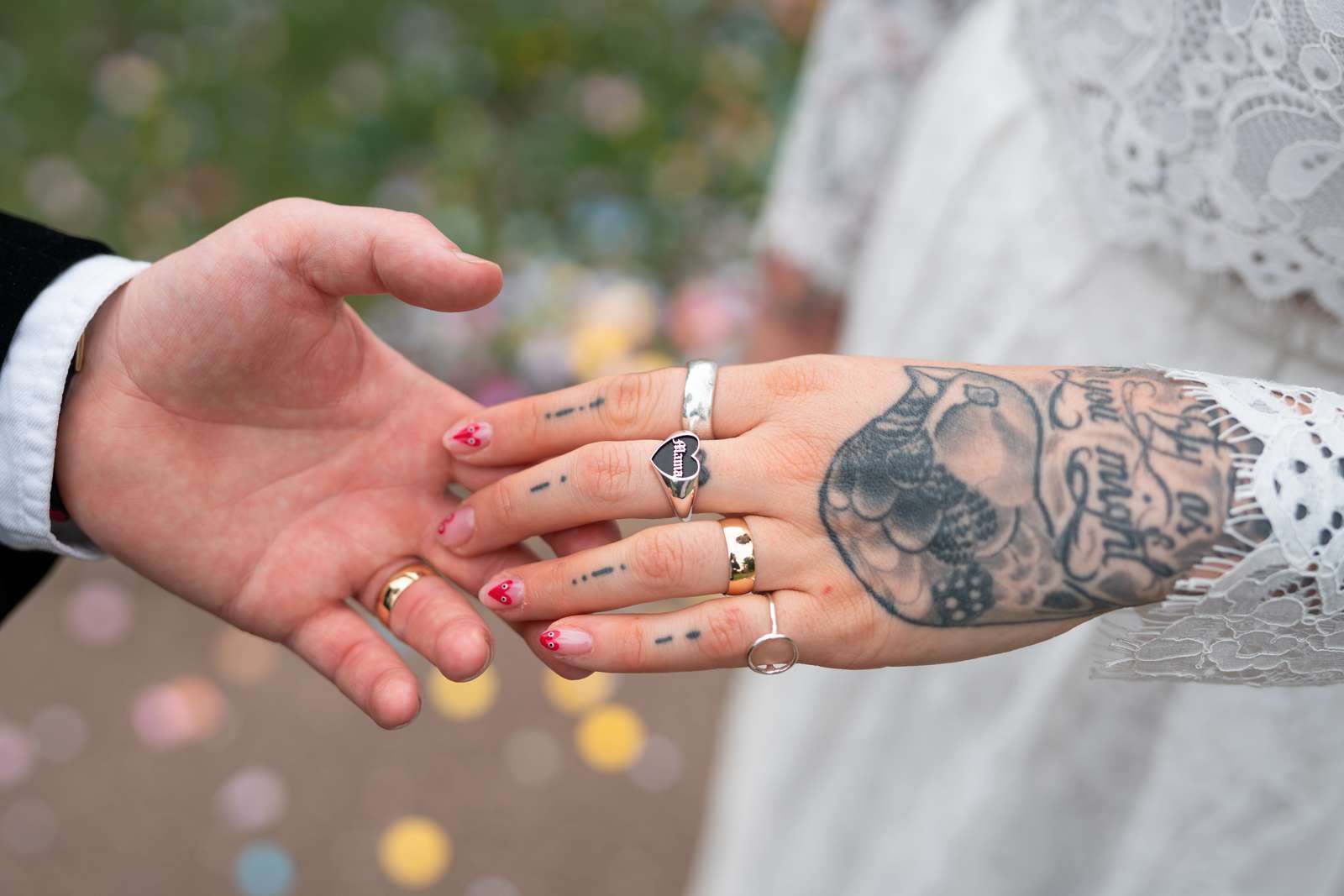 As favours they had temporary tattoos of their faces, personalised home baked cookies, a swirly lollipop, a wedding candle and badges, also with their faces on! Decorations were minimal and fuss-free but they did hang rainbow paper bunting and had a donut cake made by Cakes By Max.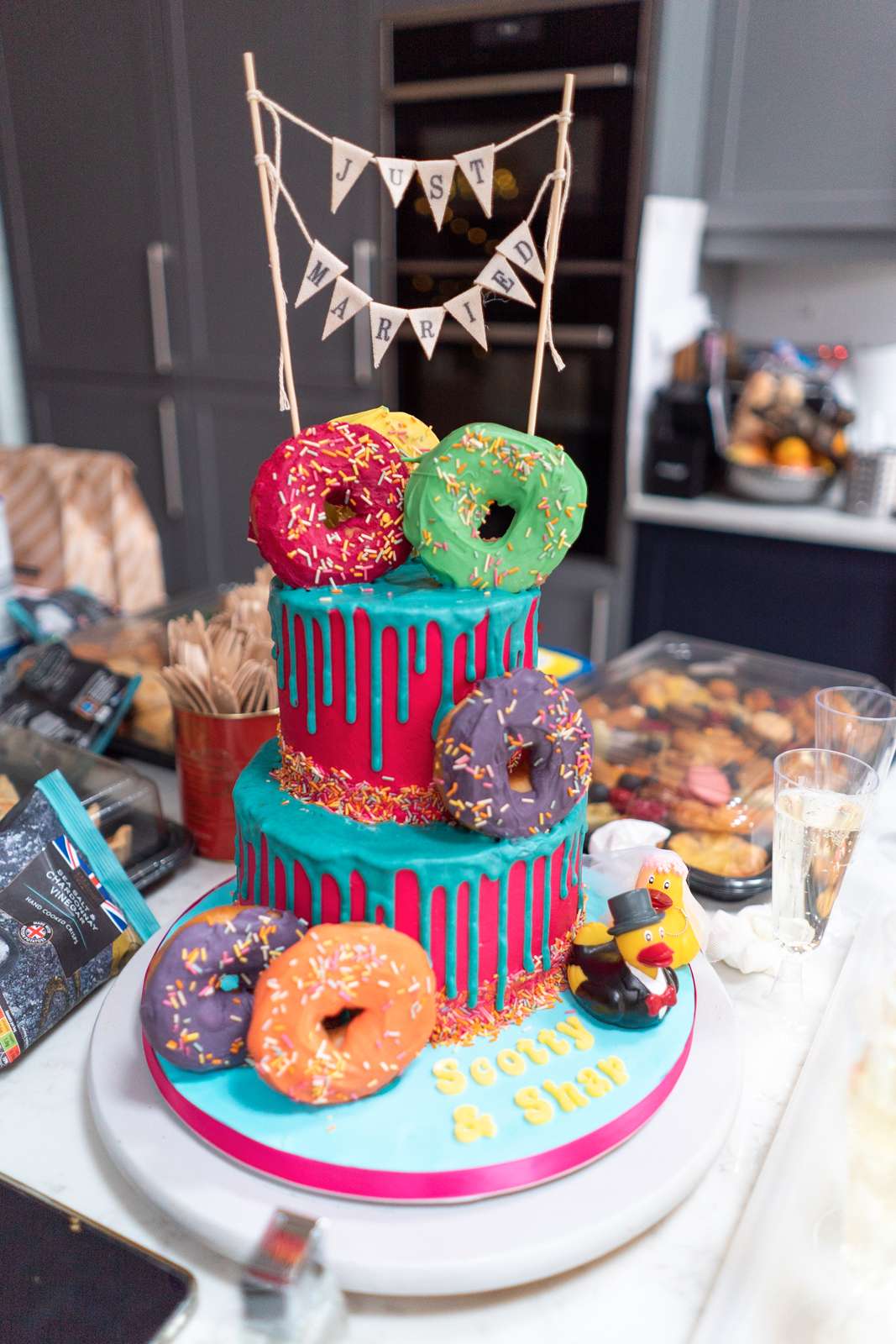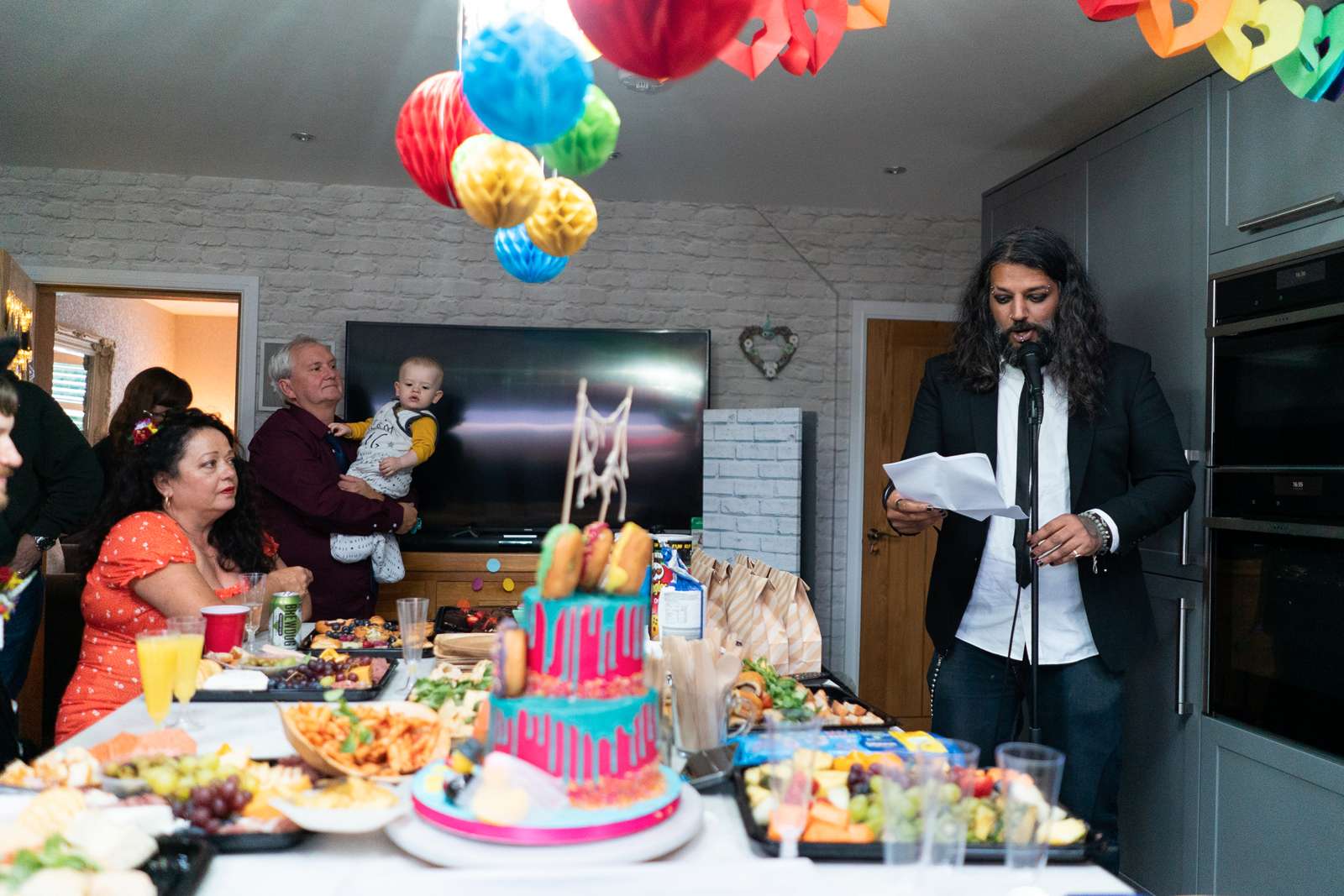 "The best moments of the wedding were the Hip Hop karaoke, porn star martinis, roller skates with my best friends in my wedding dress, my little boy running around in his fries romper suit and his toddler Vans and being loved by everyone. There was so much love and happiness in the place after 18 months of basically isolation and missing everyone! We spent most on the food and alcohol, but it was so worth it – and my dad kindly paid for this. You can keep anything cheap if you call in favours from the incredible people around you!"
"Thank you, Rock n Roll Bride, for providing a platform and inspiration for us all who are a little bit out of the ordinary, to feel we have a safe space, and to feel encouraged to do things our way, without judgement, and with complete freedom!"