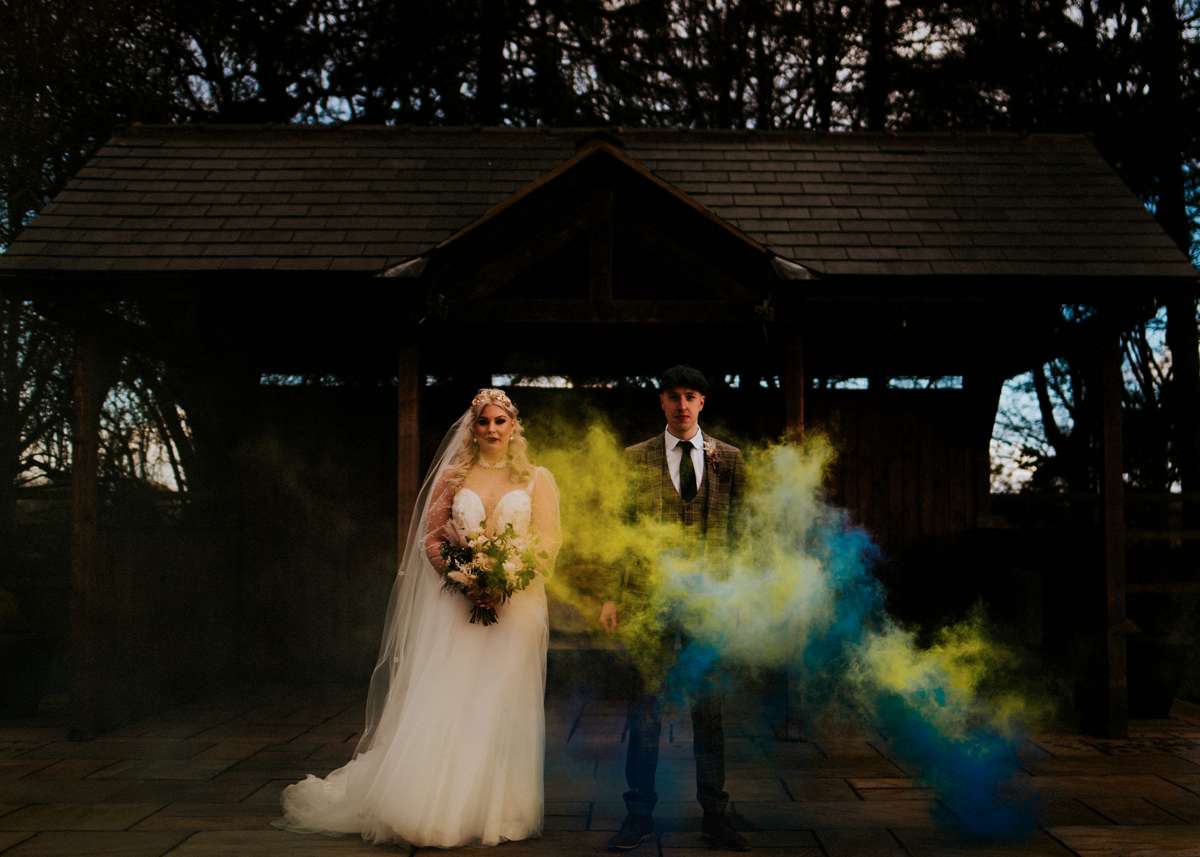 Having a relaxed atmosphere at their February 29th wedding was one of the most important factors for Samantha and Jon. They also wanted to play homage to a couple of their favourite TV shows. Their tables names were F.R.I.E.N.D.S themed, each table named after one of the characters with a quote from the show to make people laugh and Samantha walked down the aisle to a slowed down cover of the theme. The groomsmen's attire was inspired by Peaky Blinders, complete with flat caps!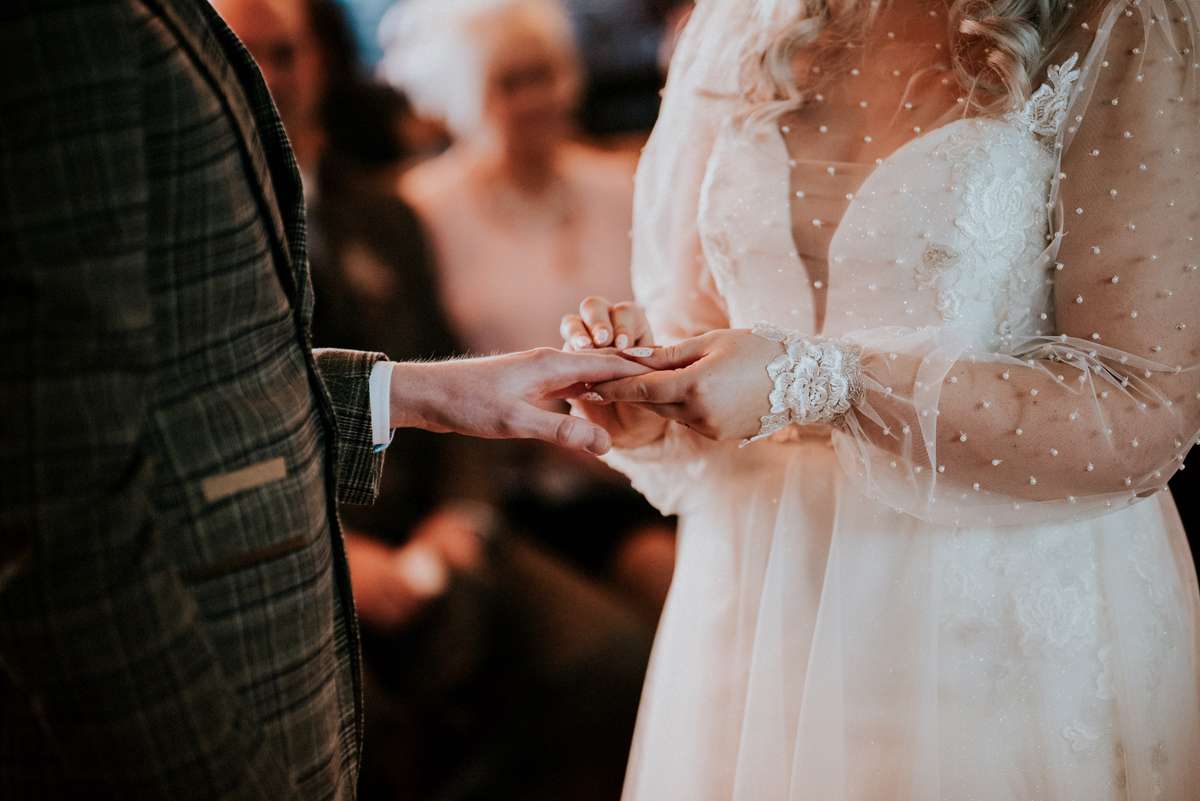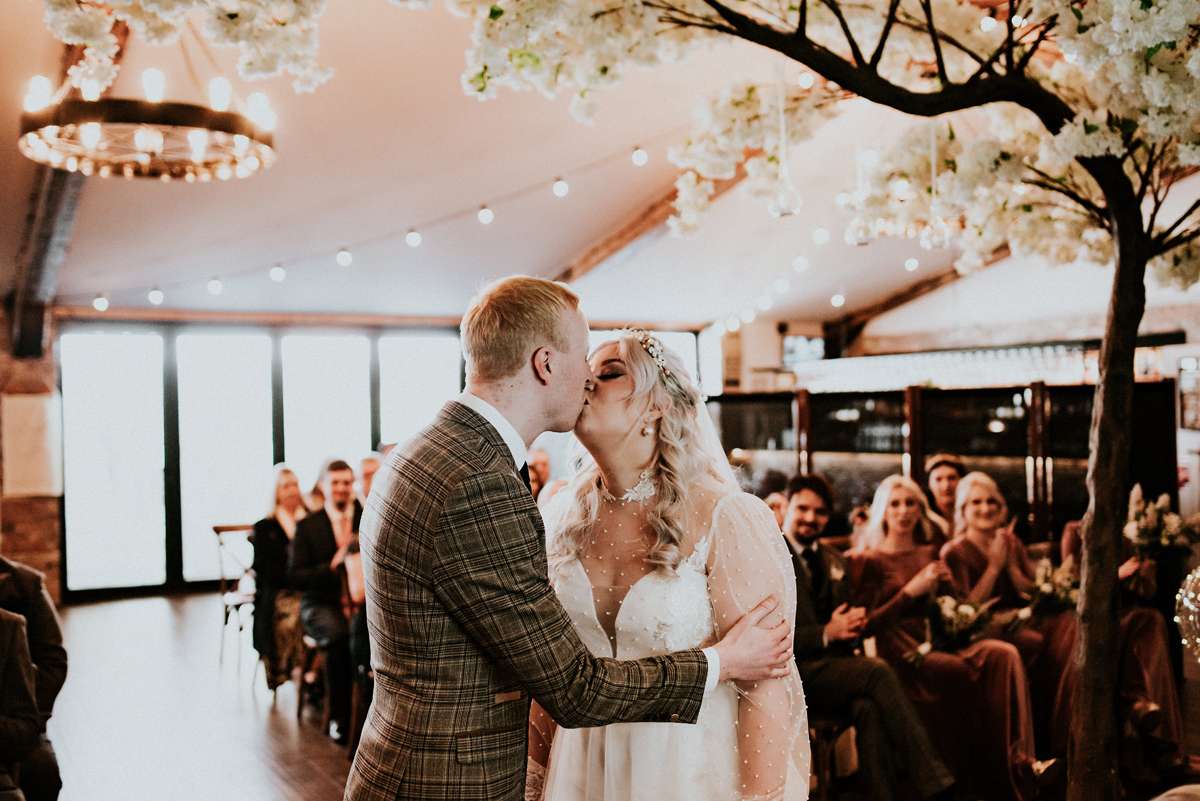 "The morning went by slowly but the ceremony soon came and went", Samantha told us. "We both didn't want to be in the direct spotlight for too long. We were straight out for photos afterwards heading for group shots with the bridal party and Ryan, our photographer, asked me to drop my flowers down by my side … I took this very
literally and threw my bouquet of flowers onto the floor. Oops! They survived
though and I still have all the dried out flowers now in gin bottles on display at home."
"Jon had bought some smoke grenades to use with Ryan and this led to my veil turning
pink, Jon's hand bright purple and my dress then had a lovely green colour to it. It was worth it for the photos though!"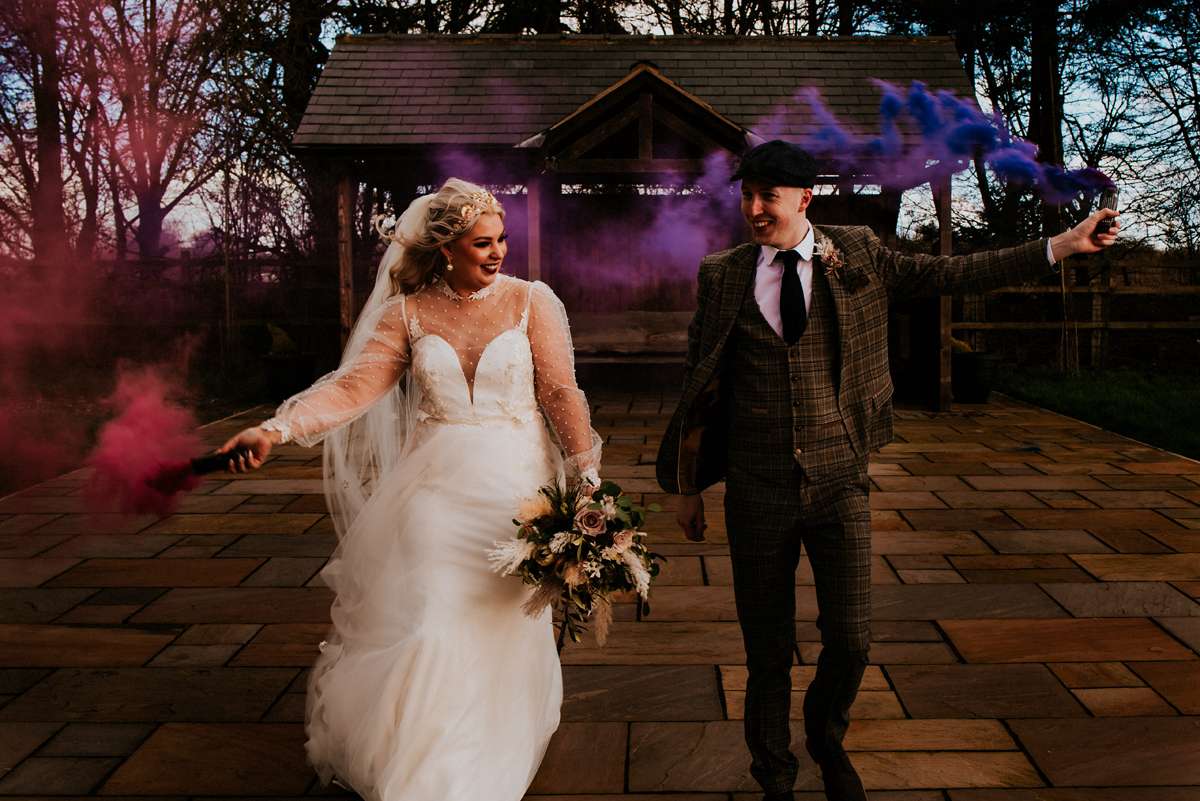 The bride, who owns Once Upon A Dress, made her own dress as well as the four bridesmaid and four flower girl dresses. "Making my dress and the bridesmaid dresses was my favourite part of planning our wedding". she said. "My ceremony dress consisted of polka dot pearls on Italian tulle which I hand beaded on, painstakingly! This took forever but I'm so glad I did it as it was perfect. I always wanted a polka dot wedding dress. My evening dress was a glitter tulle overskirt. I literally left glitter wherever I went. The poor cleaners the morning before the wedding had been overheard saying how glitter was the worst thing to clear up, I felt so guilty knowing what was about to come their way!"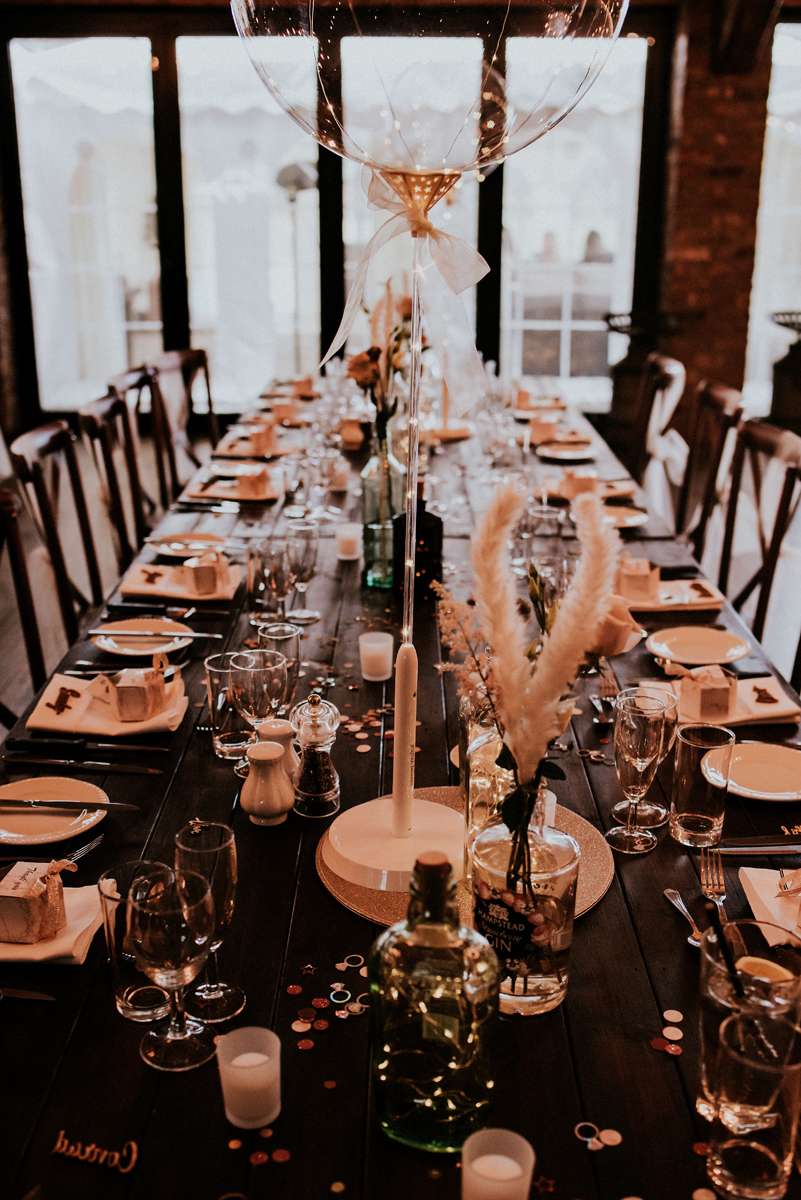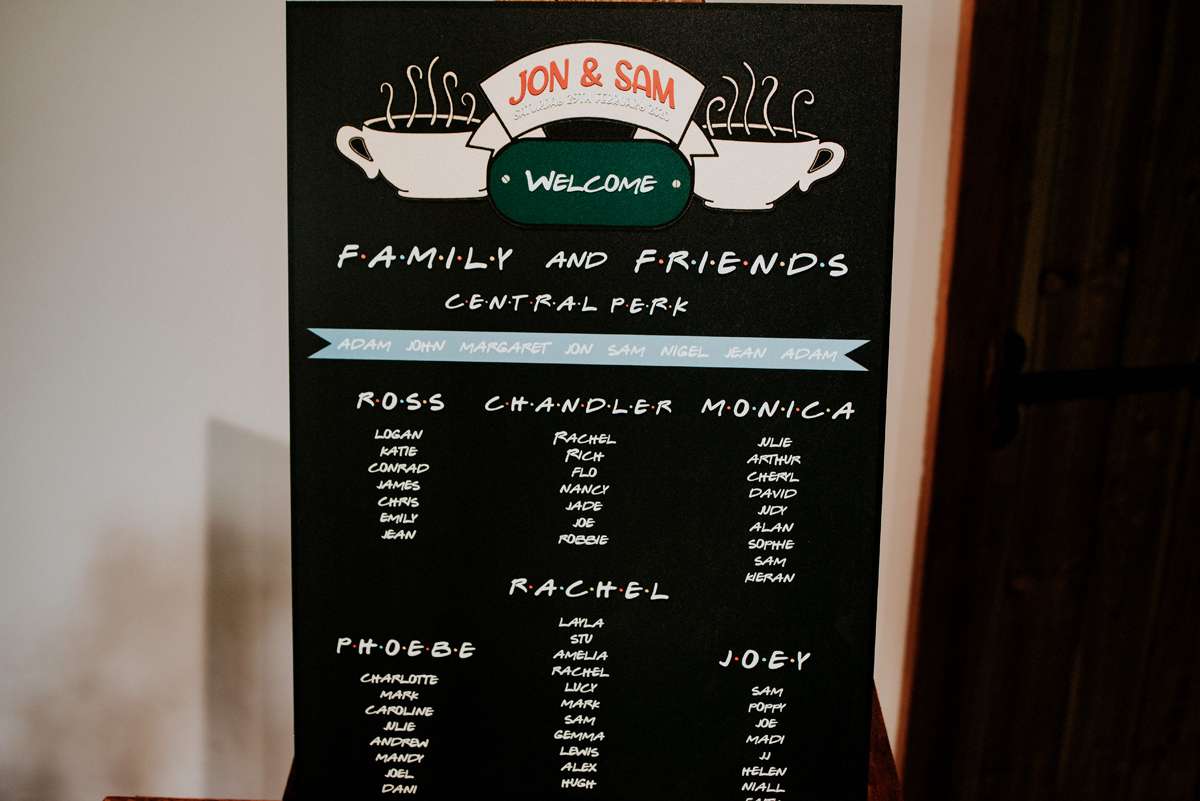 The reception décor was rustic and elegant with a flower wall and neon signs provided by Limelight Wedding Emporium, light up balloons, gin bottles filled with fairy lights and pampas grass.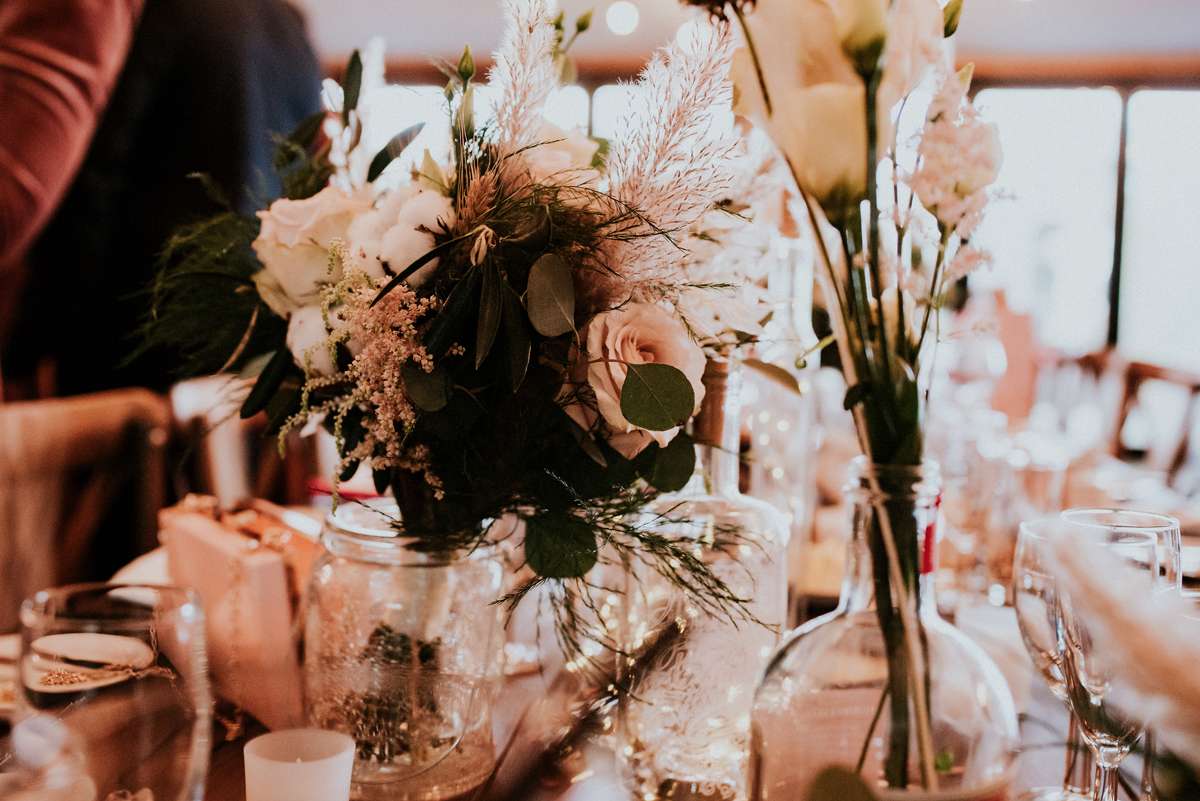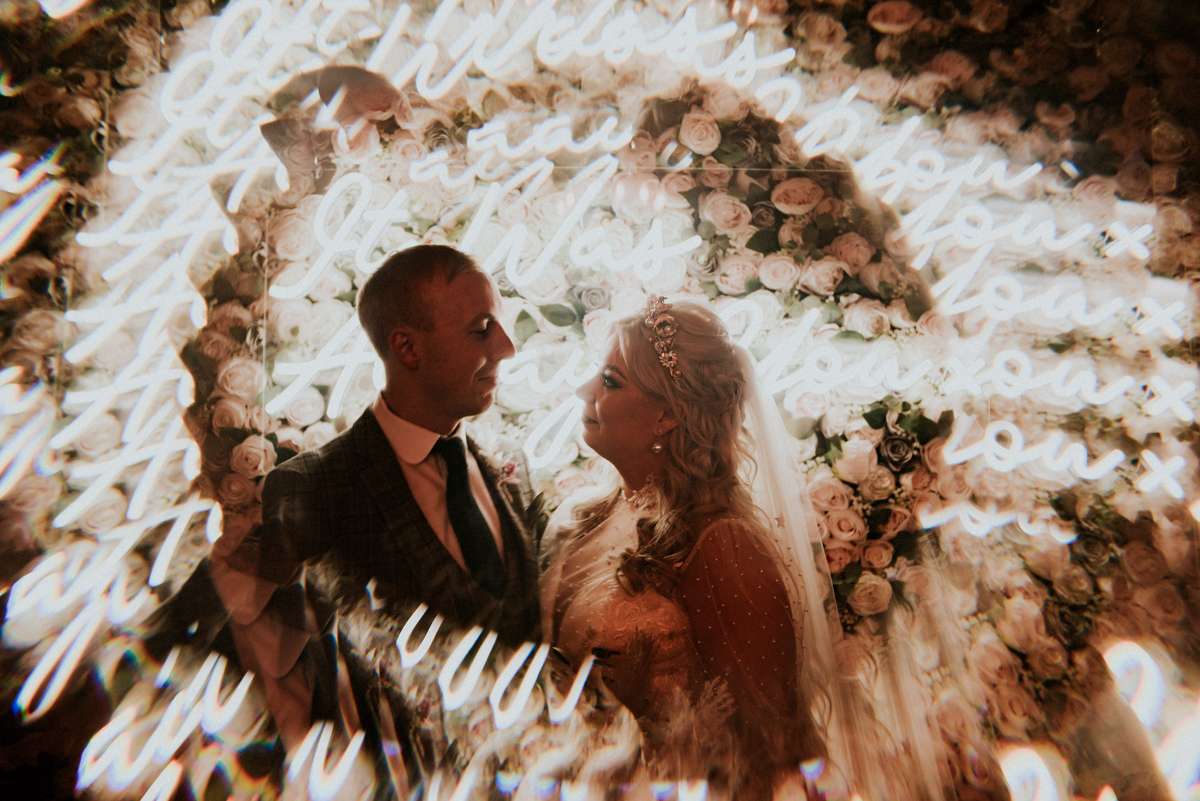 "The reception party ended at midnight and we headed back to the bridesmaids cottage to continue the celebrations. Myself and one of the bridesmaids thought it would be great to make the most of the hot tub outside for one last time. After this we went inside in search of more drinks and I got too excited running around in my bikini, I ran into the tiled fireplace and broke my toe… the gin certainly helped numb it! So, our first day of marriage was spent at A&E where I got to use my new name for the first time, much to the amusement of the doctors and nurses! They were ever so lovely. To top it off I got a really fabulous chunky velcro boot to wear to our honeymoon the next day to the lake district, not really a great destination with a broken toe!"