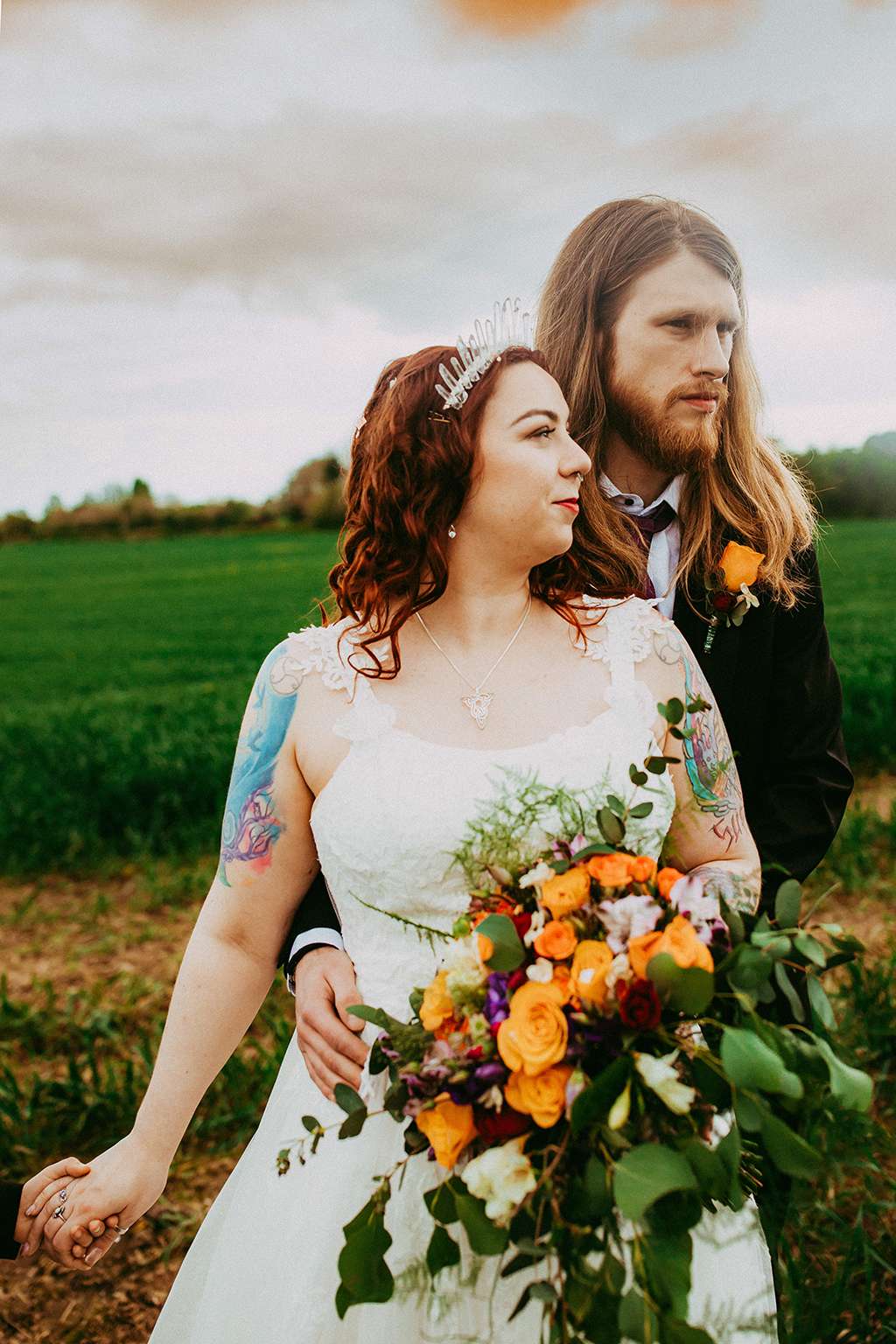 A decade after they were set up on a blind date, Chris and Stephen married in a Pagan ceremony at The Hamlet Court Hotel in Meath, Ireland on 3rd May 2019. As they are both musicians and go to a lot of concerts together, they wanted a lot of musical influence over the day. Chris originally wanted to get married outdoors, like a 'real Pagan', so they tried to have some woodsy touches too to bring the outside in – and so their weird and wonderful wedding theme was formed!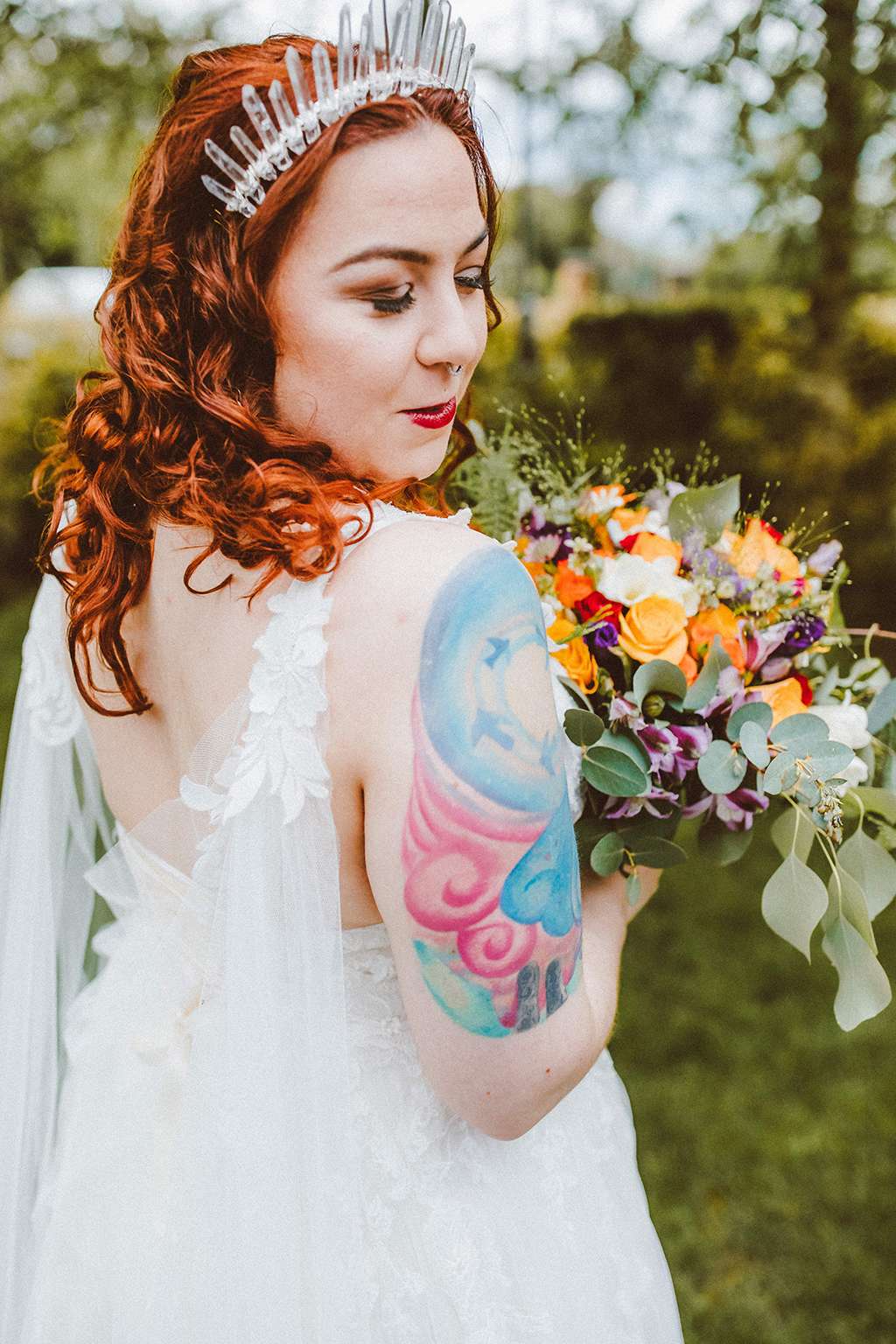 With a budget of €10,000 they dropped a big chunk on they venue, but it was a big package deal with many extras included. "I know package weddings get a bad rep, but it was a great way to have it all without overspending," said Chris. "We had a bonus The Hamlet Court Hotel is about as far from a cookie-cutter venue as you can get – it had a wonderfully warm atmosphere there and felt like a little home away from home." They brought in decor and props themselves, with the help of friends and family – everything from the archway to the confetti was painstakingly handmade.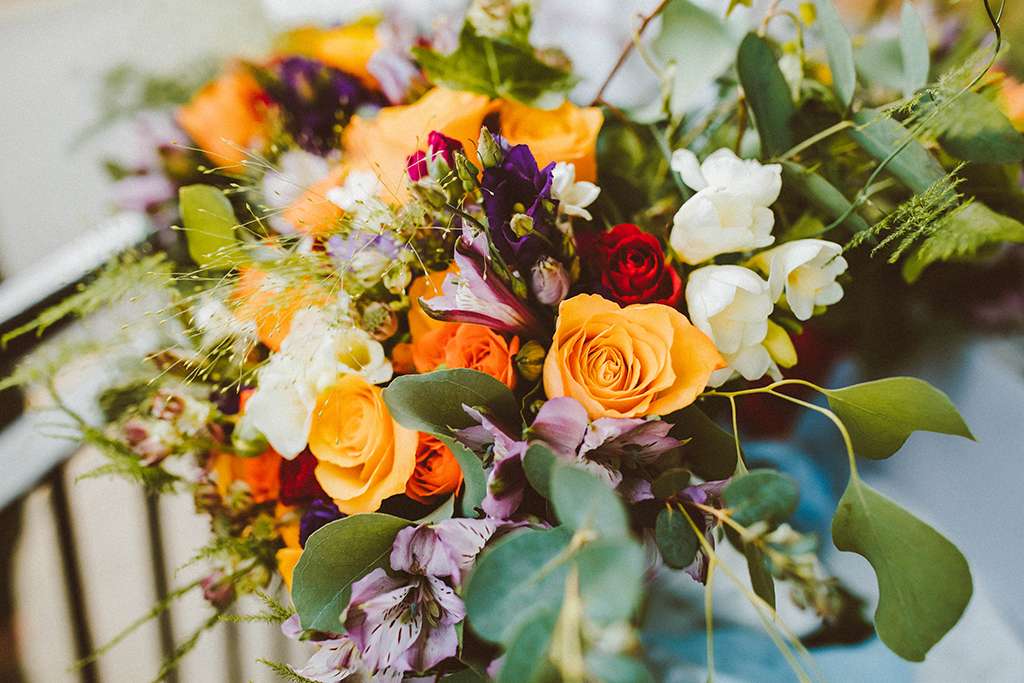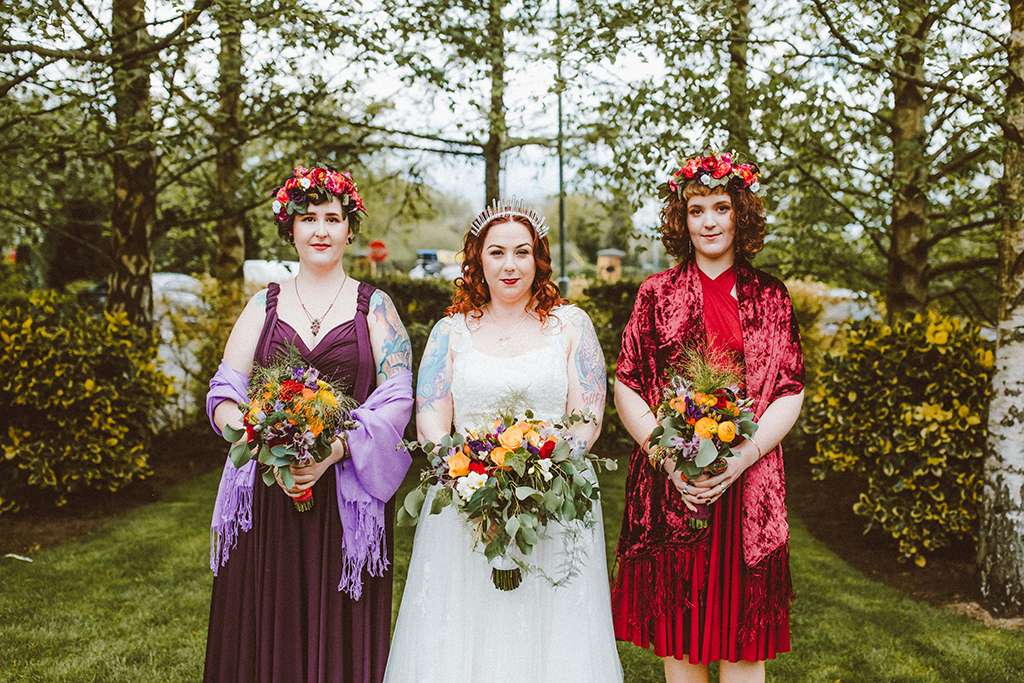 They brought in nods to their shared love of music wherever possible – the placecards on each table were photocopied concert tickets from gigs that Chris and Stephen have been to together. "My favourite was Metallica 2006, the top table's ticket – because we hadn't actually met yet, but both of us were there, as were most of the rest of the table!" said Chris. They had a guitar guestbook, bunting made from sheet music and played songs from all their favourite bands at pivotal moments in the day.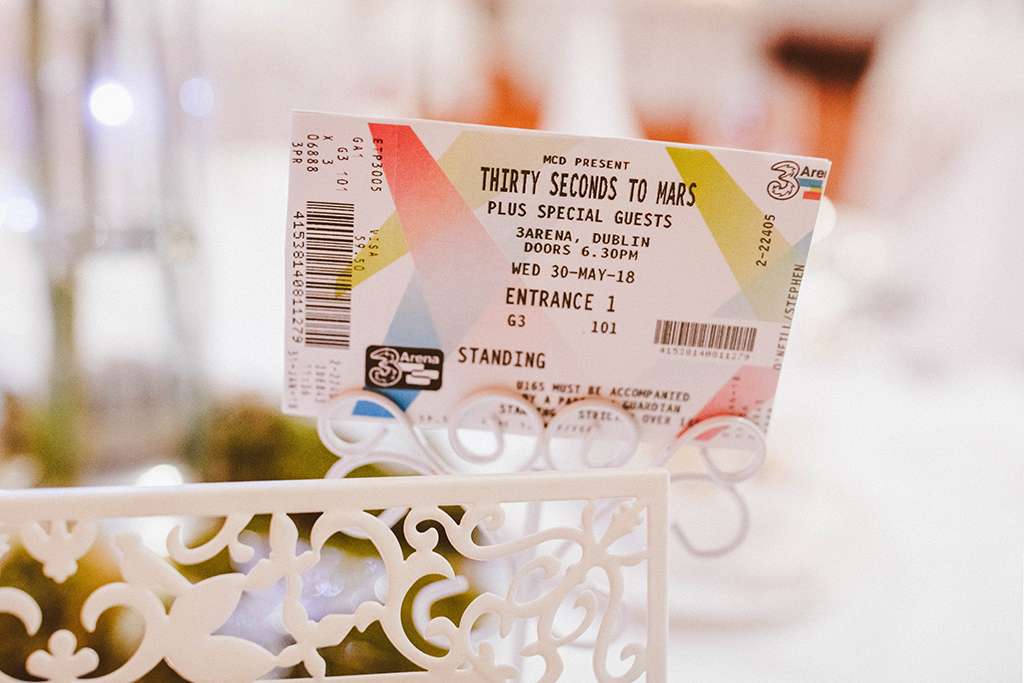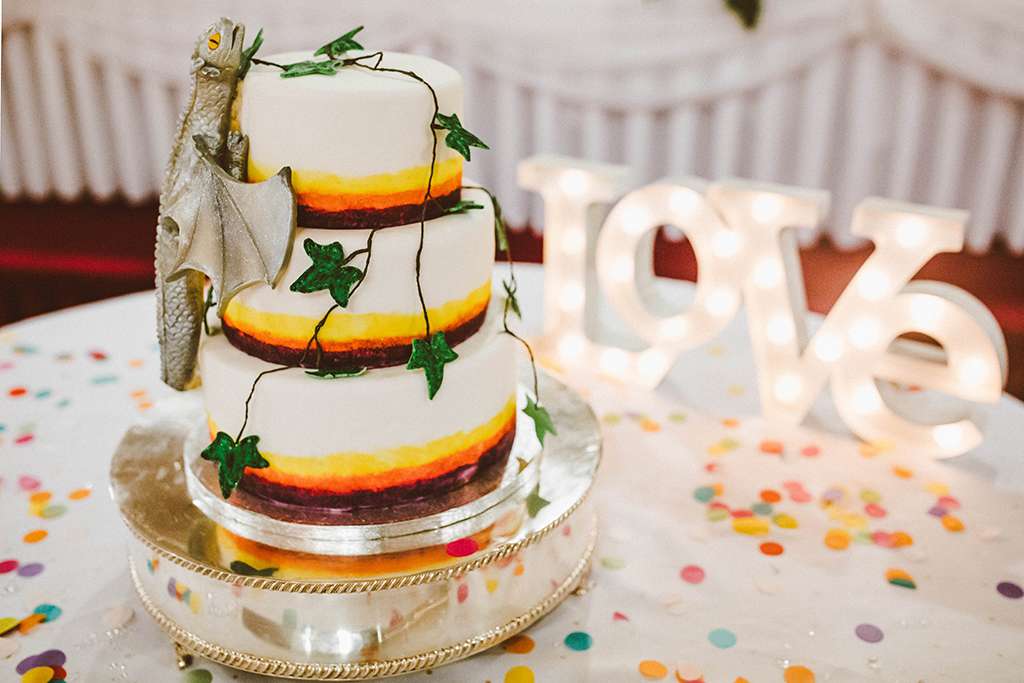 Their ceremony was the highlight of the day for Chris. "I am Pagan, Stephen isn't but was happy to have a Pagan ceremony, and frequently gets involved in my practice. My faith is important to me, so I really wanted to get the ceremony right. The first big help was requesting Witch Mom, Rev Barbara Lee, who we've both met before and is just the loveliest person. She made it all way easier and was brilliant on the day. Even the staunch Catholics in the room loved her!"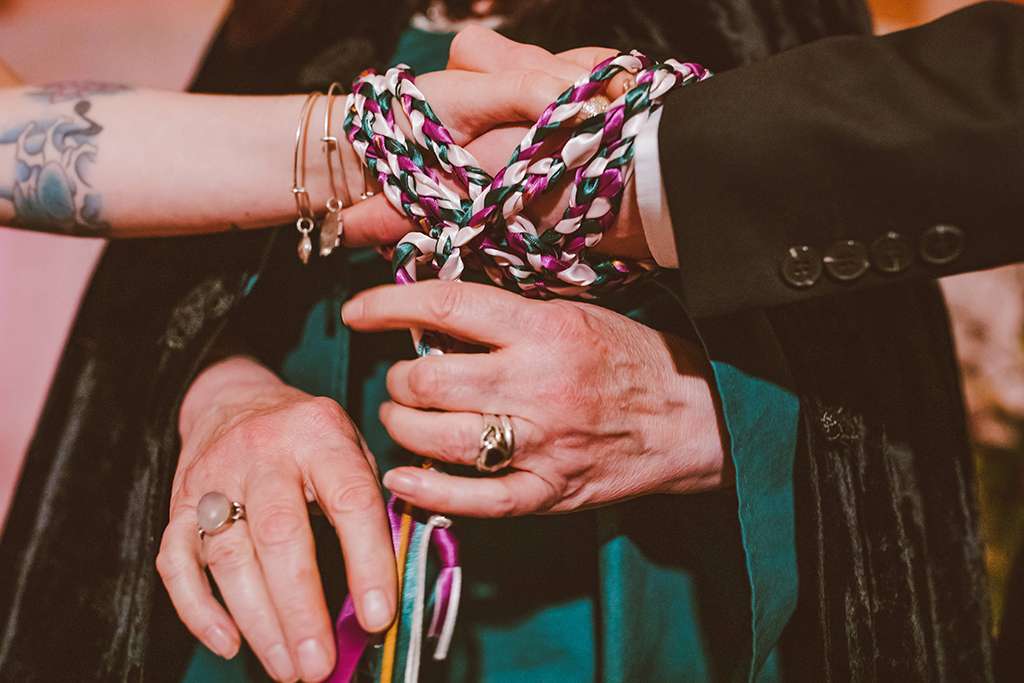 The ceremony included an invocation of Aphrodite, readings and music from friends and relatives, blessing of the hand fasting cord a ritual circle, jumping of the broom and tarot pulling. "It was meaningful, beautiful and included a lot of important people," said Chris. "I think back on it and am still delighted with how it all turned out. Interfaith weddings don't need to be terrifying and difficult. With clear communication, it's not only doable but enjoyable!"
The only thing that the couple wish they'd done differently is got married outdoors. "It's doable in Ireland but a bit of a red tape-wrapped legal pain in the ass. Not to mention, our weather is famously unreliable, so a big backup plan would be required, too. Ultimately we decided that having our ceremony in the function room of the Hamlet was easier, and easier was better for everyone involved. The ceremony was gorgeous and the room looked fabulous… But I do wish we'd gone Full Pagan and married each other outdoors, barefoot, with a third of the guestlist that we'd had. Oh well!"