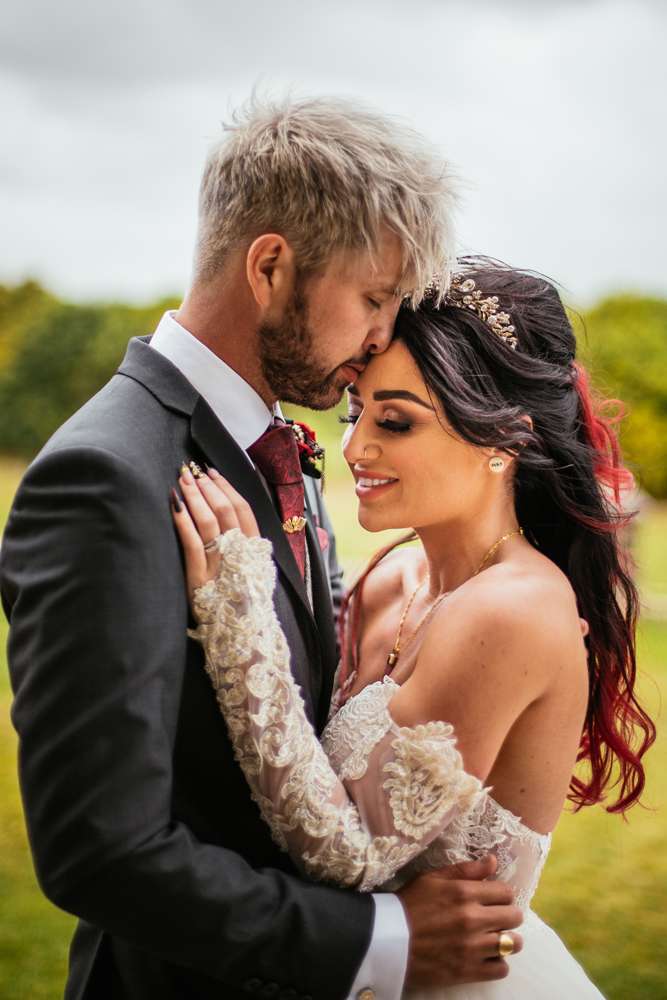 Wow, wow, wow! Get yourself ready because you are going to LOVE Hannah and Andy's wedding! They were married on 7th September 2018, their eight year anniversary, at Allerton Castle, a beautiful gothic castle in Yorkshire where some scenes of The Secret Garden were filmed. They wanted their day to feel personal and although they ended up spending quite a bit more than they originally planned, they have absolutely no regrets! The day was opulent, dramatic and just what the bride always wanted.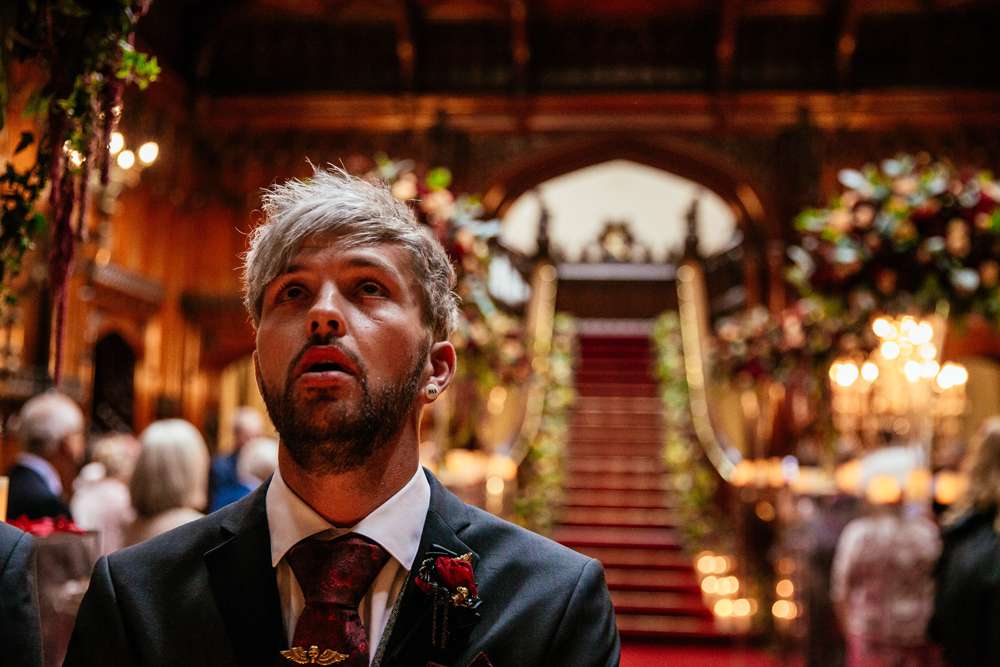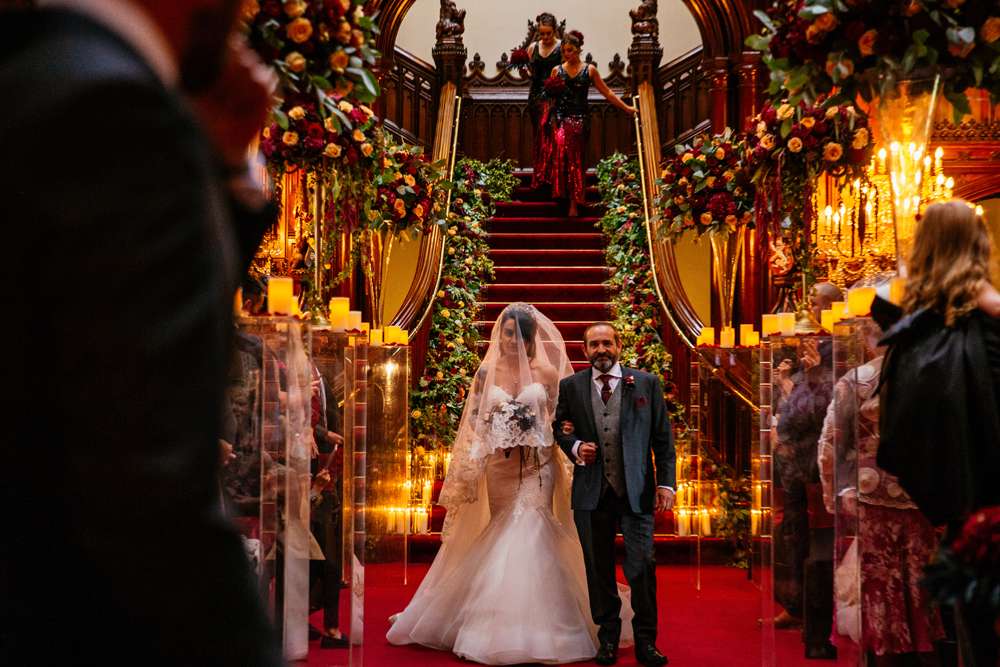 "Our wedding was a Rock n Roll meets Disney Fairytale meets The Addams Family theme!" began the bride. "I'm not sure that's a thing but that's what we were going for! We just wanted to create a celebration around who we are as a couple, what music we like, our tastes, hobbies, things we like to do together. I think most girls growing up have ideas here and there about their wedding day and for me that was always gothic, November Rain, good music, skulls and sequins! I got so wrapped up in the world of wedding planning."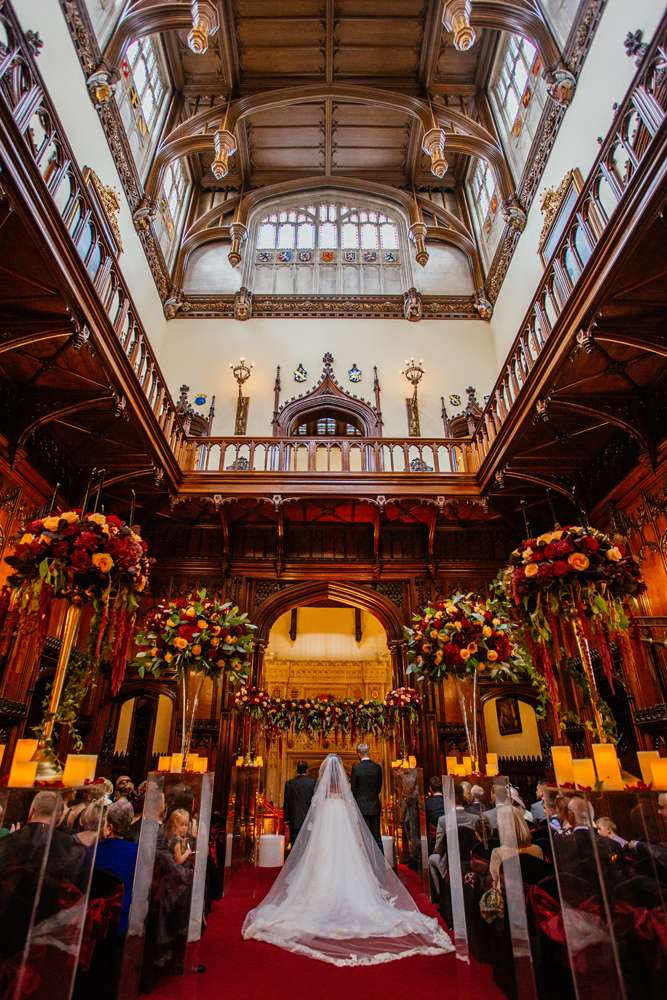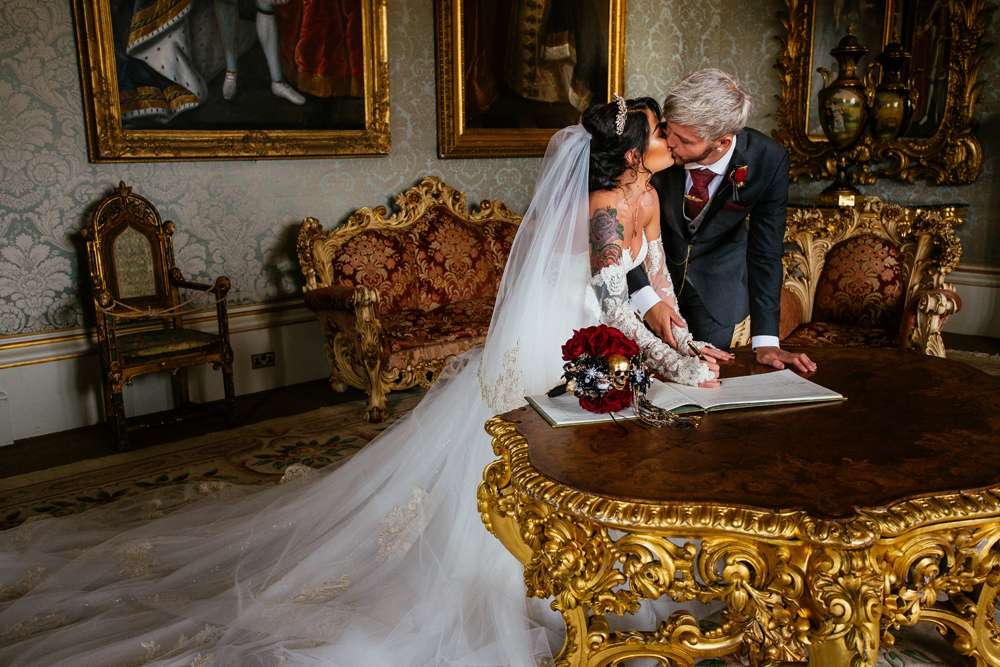 The bride wore a stunning white gown and although she NEVER thought she'd wear white, when she actually started trying dresses on she just fell in love with it. She had it customised by Be Envied in Doncaster so it fitted her vision perfectly.   
"My dress was such a hard decision!" she said. "Ever since I was a kid it was either going to be black or red, there was no other option for me, but as soon as I started trying dresses on I shocked myself with what I actually ended up liking. Not a single person thought I would wear white and there was an audible gasp when I appeared at the top of the staircase to walk into our ceremony! My dress was the forth one I tried on, in the first shop I went to, the only white dress I tried on at all! Which sounds crazy, but I'm just not a clothes shopper. I just felt amazing and body confident in it. It felt like my dress."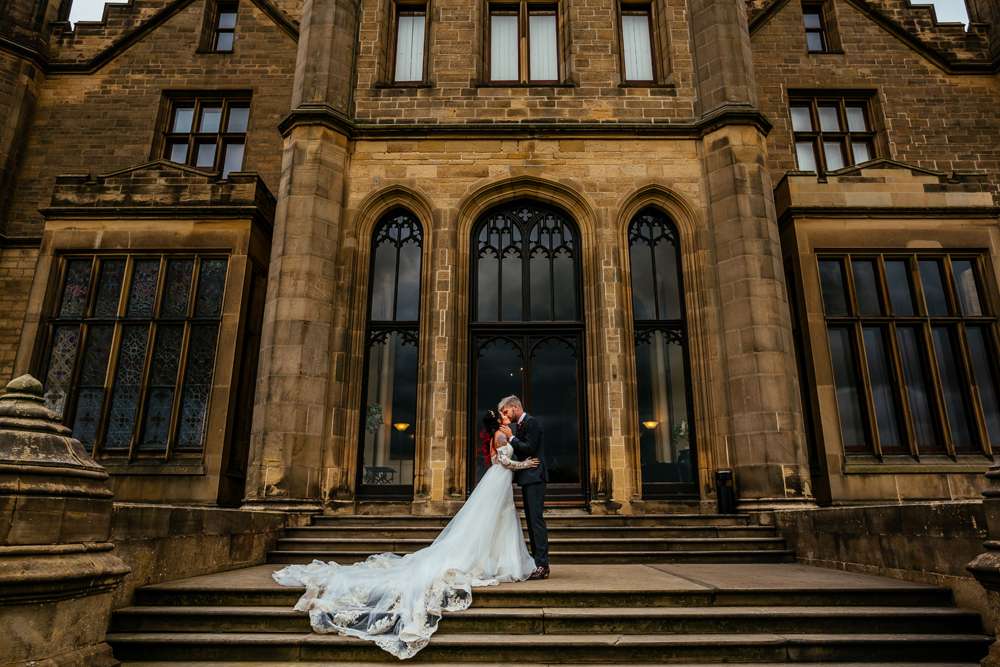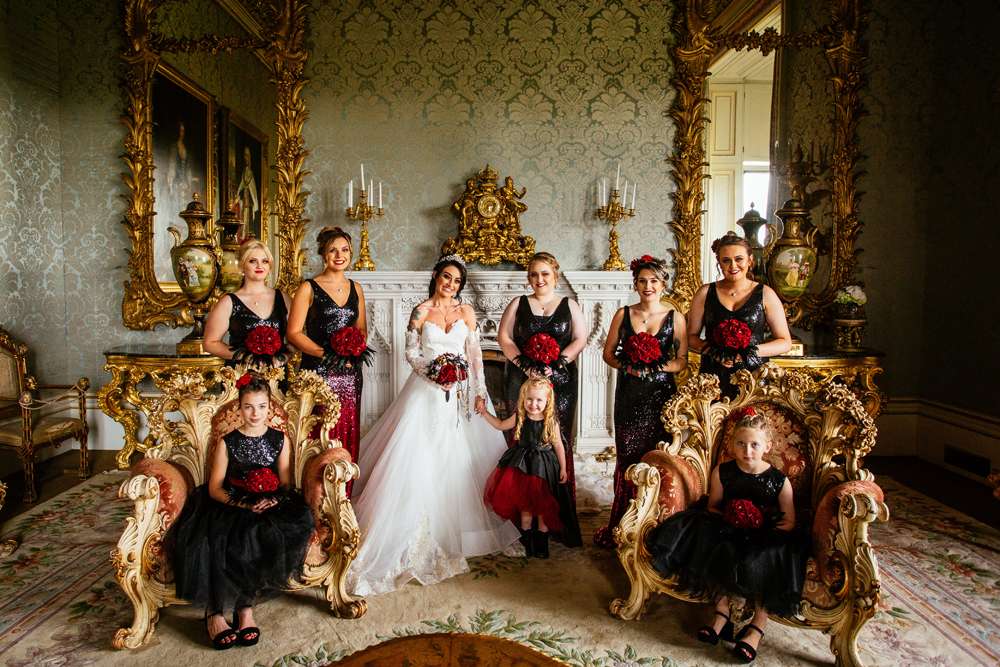 Be Envied created a detachable skirt that was open at the front as a homage to the November Rain music video dress, and it was completely perfect! "The dress had the longest train and I wore the longest veil I'd ever seen! They also created beautiful matching Ivory and gold detachable sleeves. The whole ivory and gold colour scheme was heavily influenced from Princess Zelda from the Zelda games – had to get her in there somewhere!"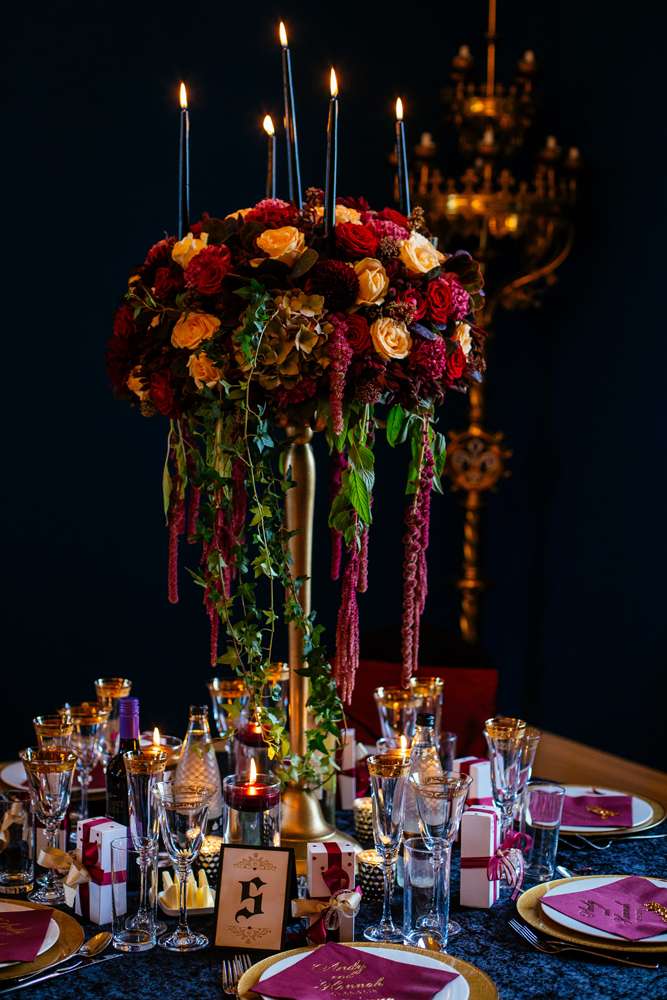 Fitting with this video game theme, their cake, made by Black Cherry Cake Company, was the real showstopper of the day. "We gave Tracey a few ideas such as the fact that we had a bit of a castle theme going with that being our married name, we loved the idea of incorporating Princess Peach & Mario, being big fans and with Peach being my maiden name, and with me marrying a plumber… it all fit together a bit too well for us not to go for it! Tracey nailed it, I wish we had two cakes: One to eat and one to keep forever!"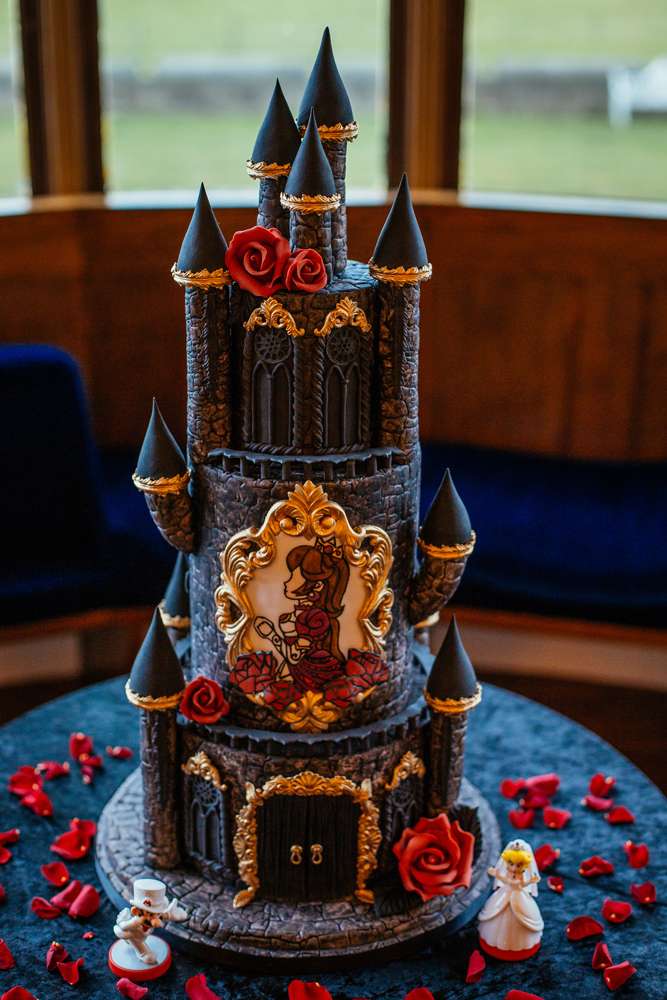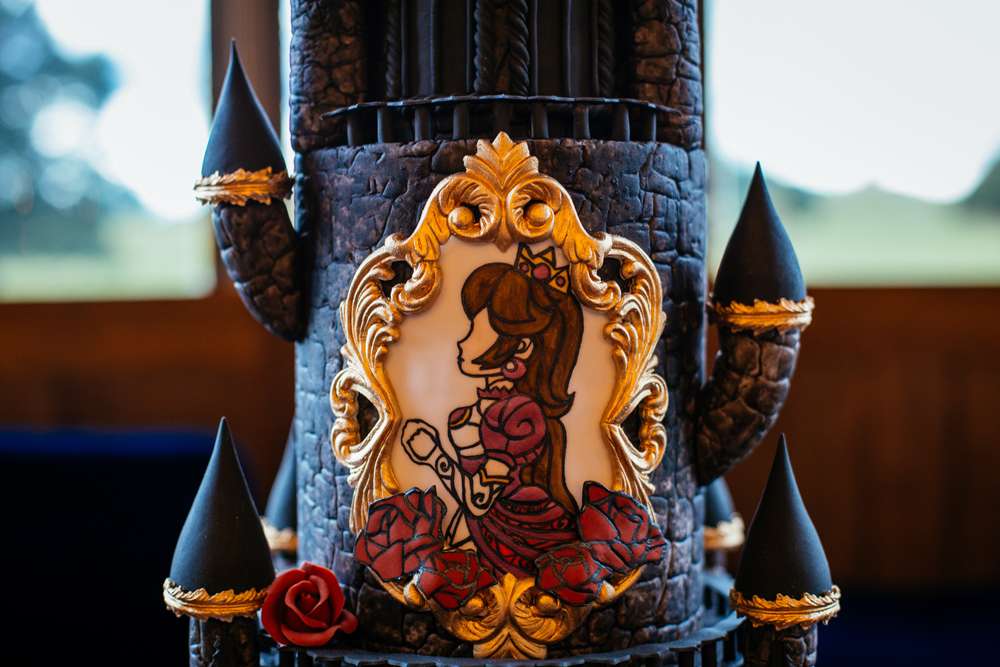 In keeping with the game references, they also hired three old school arcade games with Super Mario Brothers, Donkey Kong and Pac-Man for their guests to enjoy.
Overall they wanted their day to be a celebration of who they are as a couple, the music they like, their tastes, hobbies and the things they like to do together. "We weren't really striving to be the first to do anything in particular. We just had fun and put into the day whatever felt right. I suppose tattooed brides and grooms, skulls in the bouquets, walking down the aisle to Metallica might all seem absolutely nuts to some people, but in the realms of Rock n Roll Bride I imagine it's quite a welcome idea!"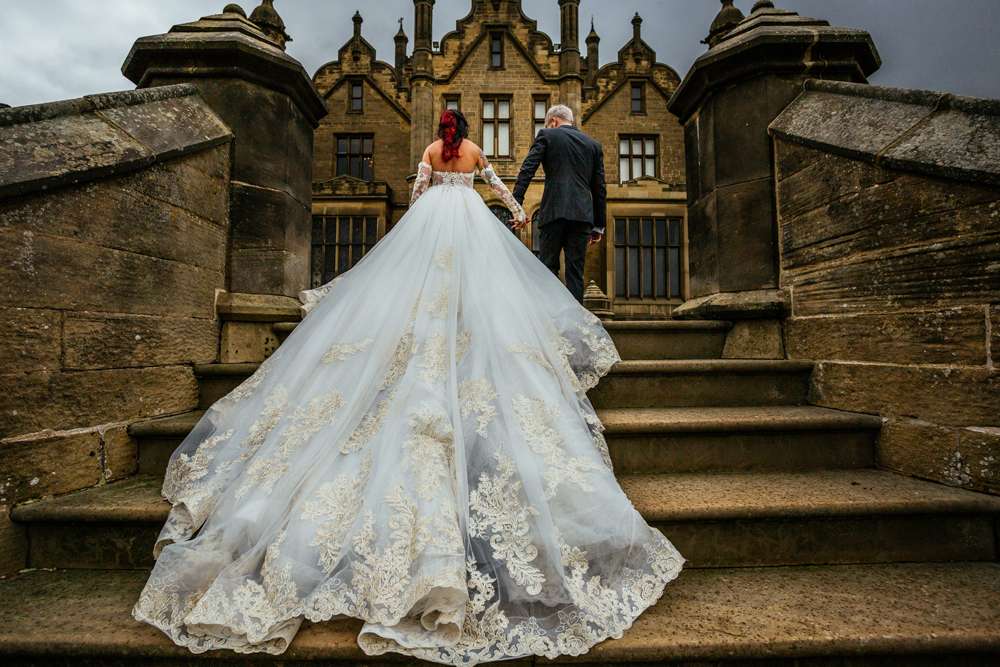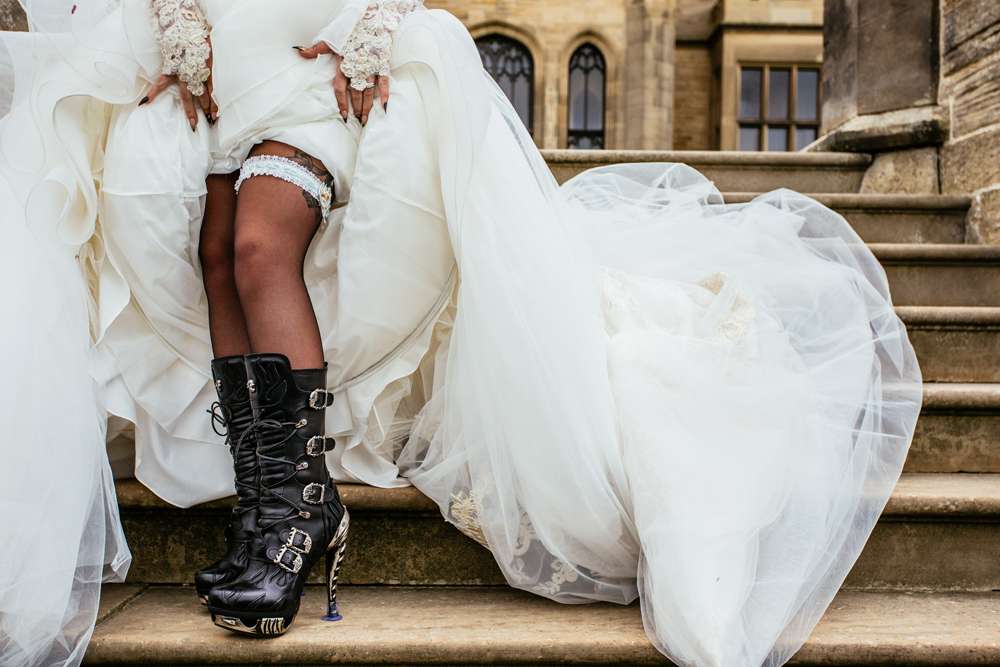 Flowers were also a big element to the wedding decor. They went for red roses with a pop of peach and lots of trailing ivy. Her bouquet and the buttonholes were made by at Maddison Rocks. "Wow! I can't help but sing the praises of some of the amazing people who helped us out with our big day!" she continued. "Jane of Maddison Rocks creates the most interesting, creative, personal and just plain awesome bouquets I had ever seen! From the information about the wedding, theme, colour scheme, a bit about us in general, she created the most perfect set of bouquets and buttonholes. They're all amazing quality artificial so we can keep them too. My bridesmaids had a slightly smaller simplified version of my bouquet with tiny gold skulls in each rose and black feather detail, they all had these amazing black ornate gothic handles with gold skulls inlaid, every detail was beautiful!"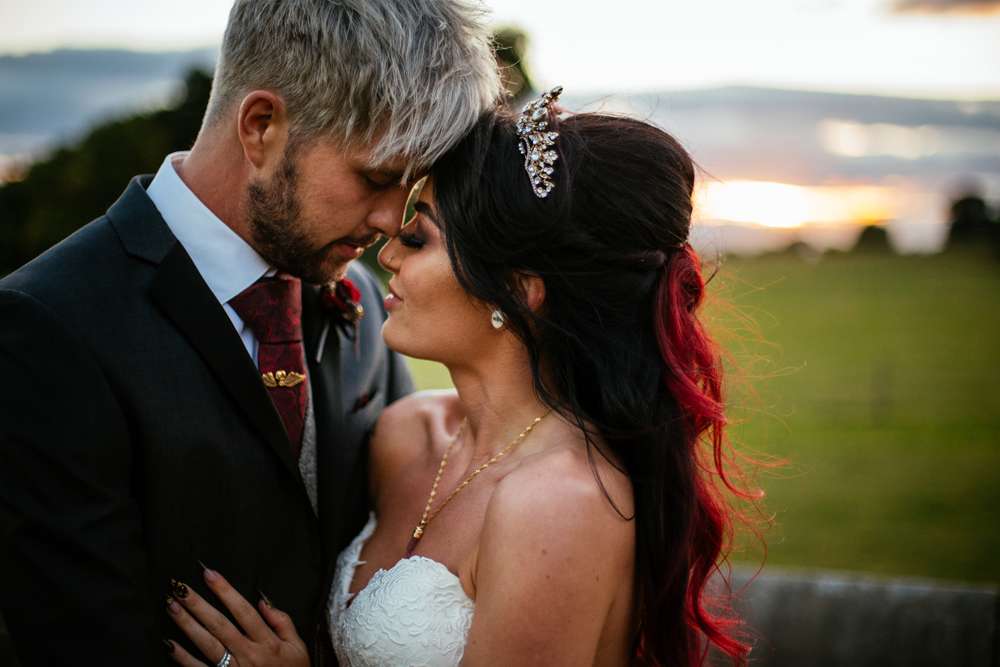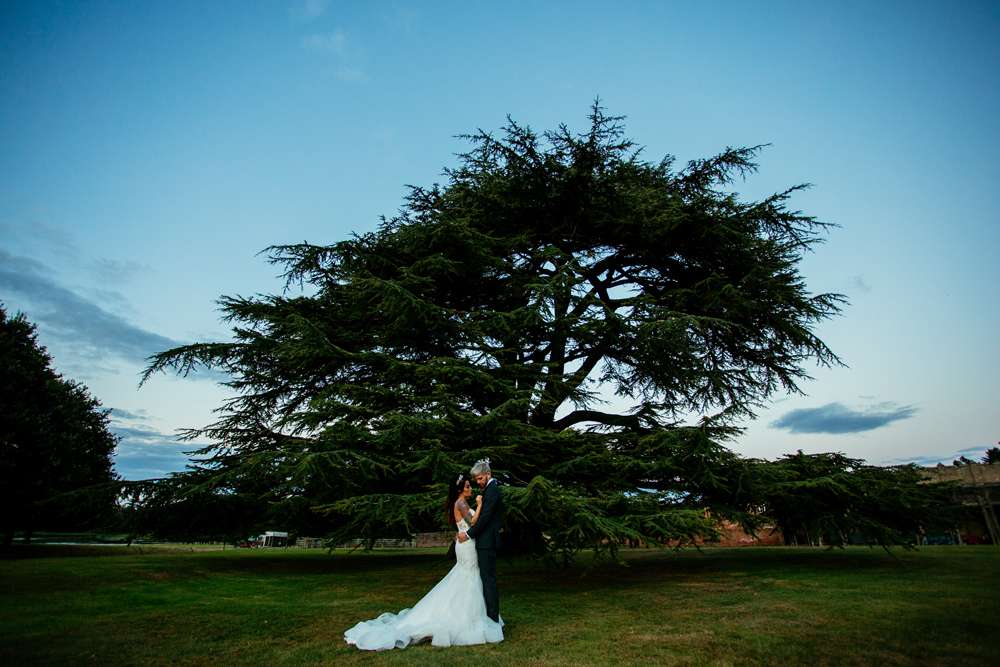 Another massive highlight was the band, The Indie Killers, who they found on Warble Entertainment. "We both agreed we definitely wanted a live band, a band that was going to jump on the tables and make some noise!  Despite our taste in music being a bit different to our guests we did want to make sure everyone was having a good time and it wasn't just me and Andy on the dance floor alone all night, and this band were about 10 times more than we imagined. Everybody loved them! The band including Rage, Killing in the Name in their set was a huge highlight. Screaming 'FUCK YOU I WON'T DO WHAT YOU TELL ME!' in my wedding dress was epic I think everyone within a few miles could hear us that night! The drummer also put on a show playing drum and keyboard simultaneously – he nailed it. These guys really are masters of their craft and definitely deserve more exposure!"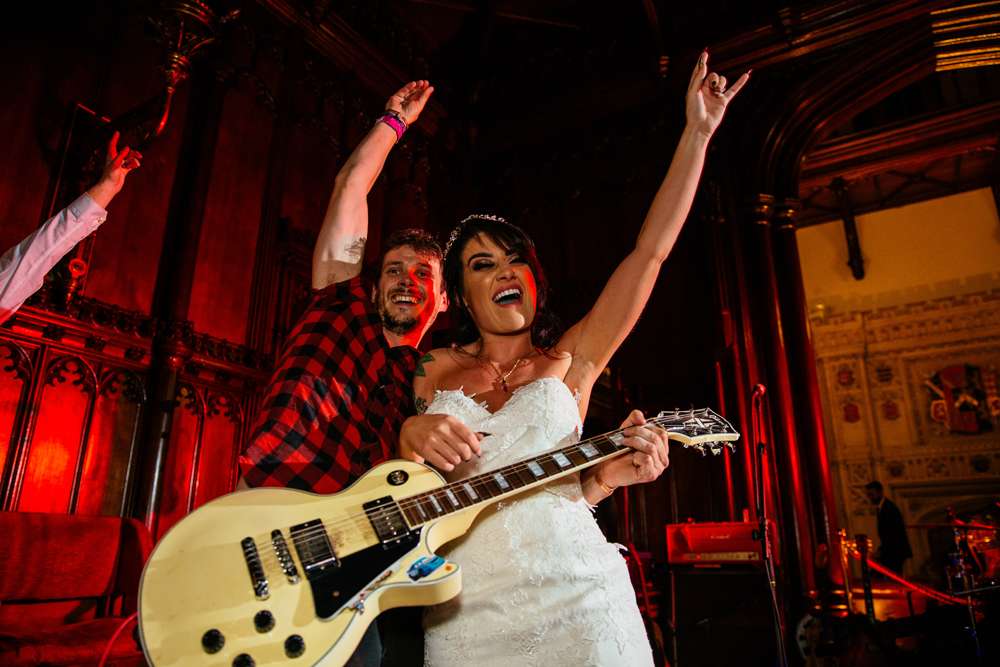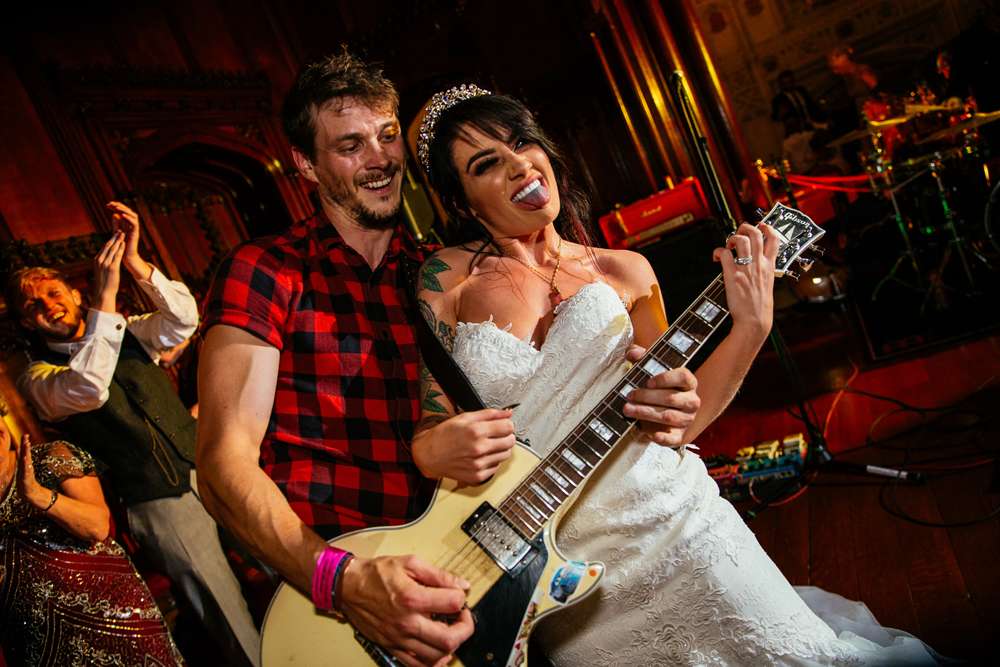 "Family is the foundation of happiness for us , so the very best part of our wedding was having everybody together", she concluded. "It was amazing to just have everybody together, we celebrated for three days staying in log cabins nearby the castle (working out at roughly £20 per person per night!) We had the best weekend."
"The only thing I wish I'd done differently is no to have stressed as much about the actual day in the build up! I would also pace myself with the DIY, I seemed to start all my projects close together – I was still burning CDs in the car ride over! I also would have asked somebody to video the speeches because they were amazing. Our advice to other couples would be that although everyone says it, just try to enjoy your day. On that morning you've done all you can and what will be will be – and it will be the best day of your lives regardless of what vendors, or flowers, or dress or whatever you have! Finally, if you go over budget, don't beat yourselves up! You only get married once so don't feel bad for making it everything you want it to be – don't regret not spending that extra bit to make it perfect – it's a once in a life time experience."