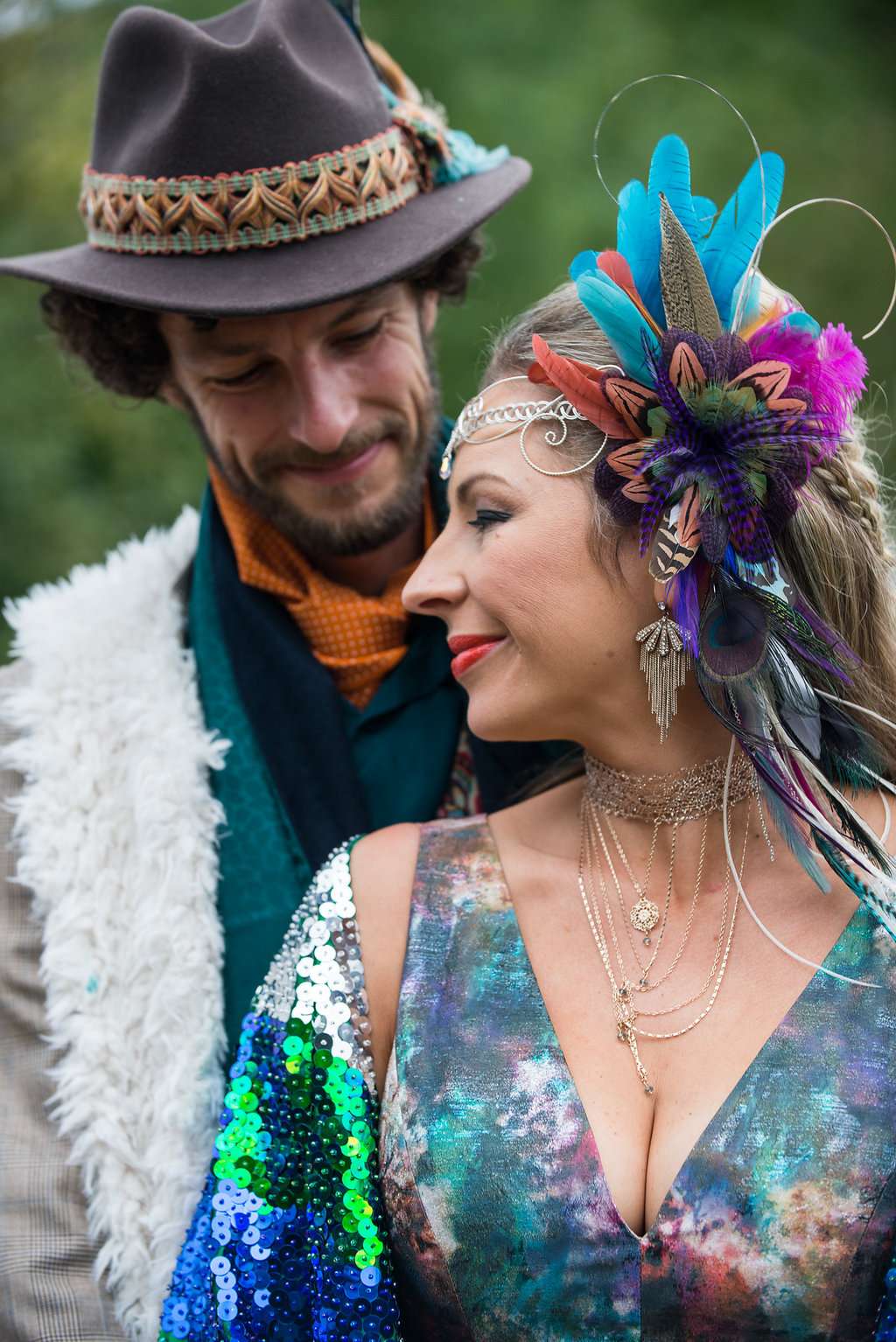 Hold onto your sequins ladies because you are going to LOVE Josie and John's colourful extravaganza of a wedding! Married at Plush Tents Glamping in October, they had a day that perfectly reflected their passion for dressing up, festivals and throwing a damn good party!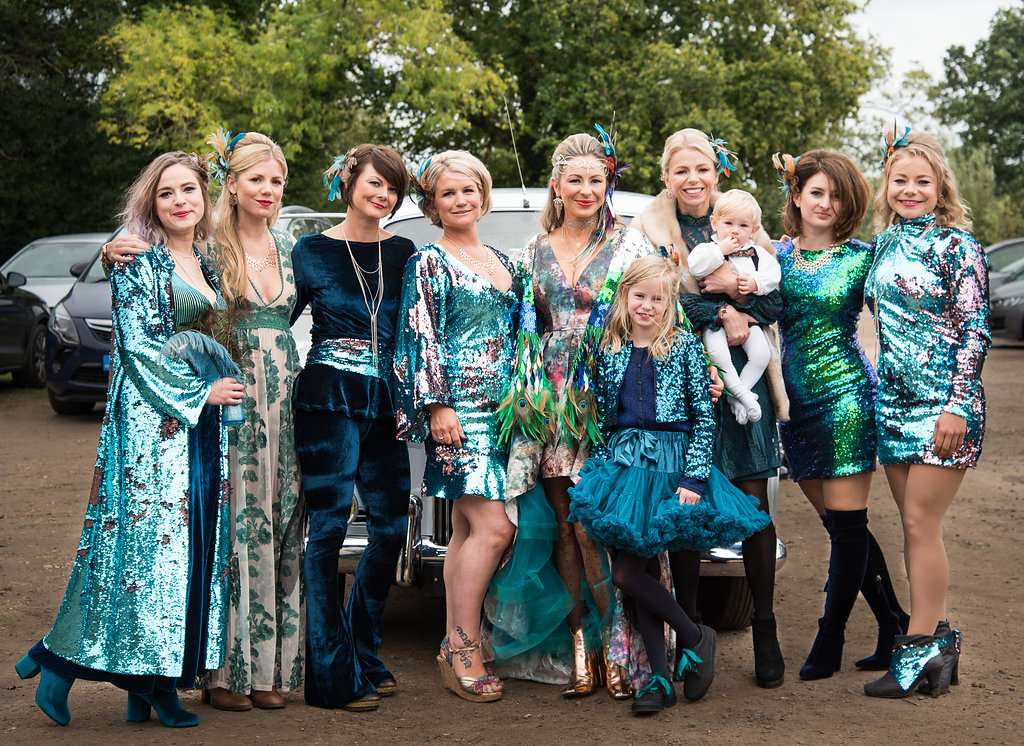 "Autumn was chosen for the abundance of nature and the beautiful colours of the
changing season", explained the bride. "The theme was inspired by a trip to the 'Are You Experienced?' exhibition at the V&A, a wonderful insight into the period of the late 60s and early 70s. The venue was chosen for its rustic style. Living simply and in connection with nature was a key theme of the hippy movement of that time and something dear to our hearts."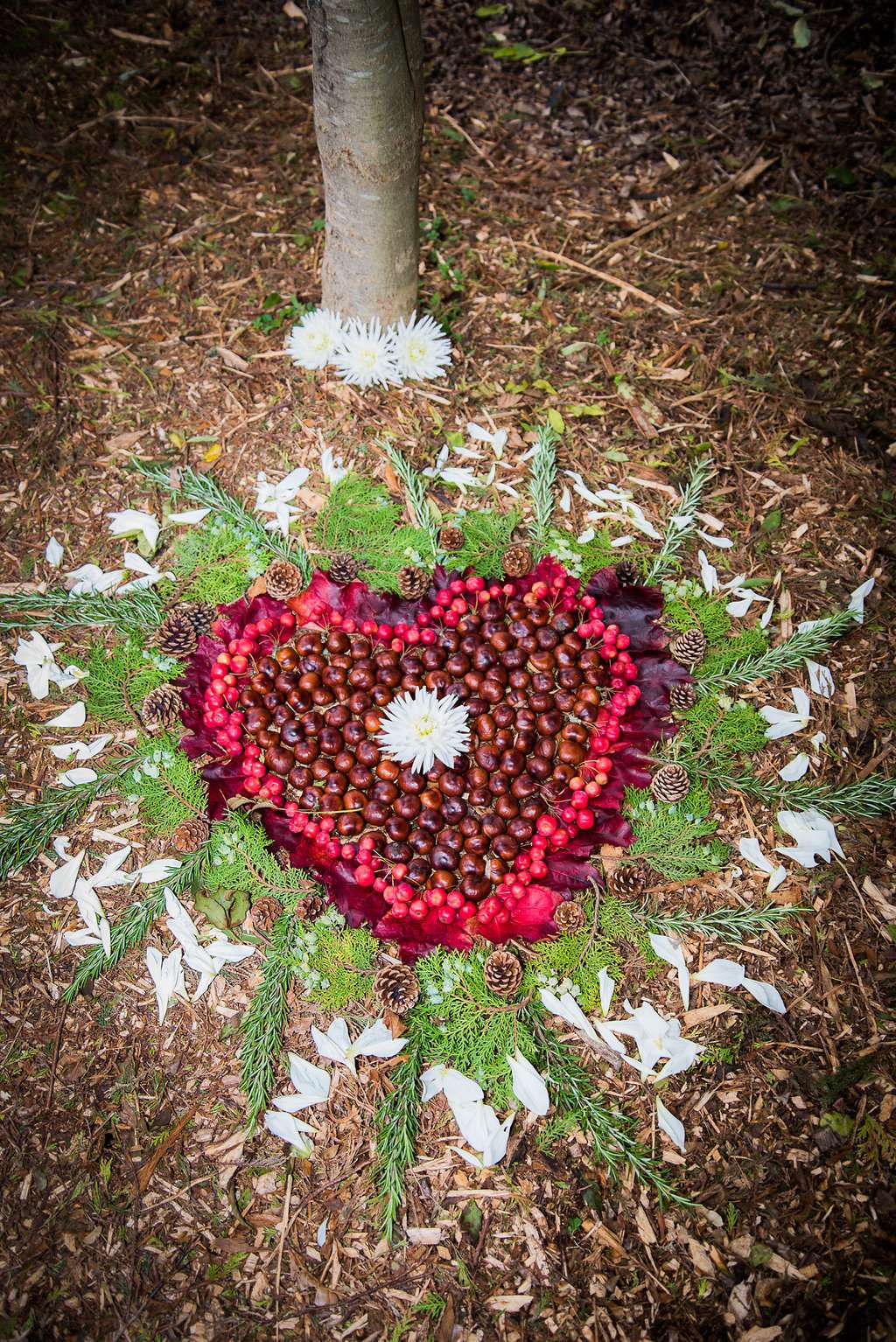 The bride pieced together her own outfit from various gems she found designed herself or found online. She came up with the design for her peacock-esque feathery sequin cape and had it made by Esta Diva, based in Germany. They specialise in clothing for drag queens and dancers so they were the perfect people to make her cape dreams a reality! Her incredible gown came from Marchesa and she had it customised by a friend who makes children's clothing. Her headdress and Elven crown came from Feathers by Danusia and Elvenstar Design, who both sell on Etsy.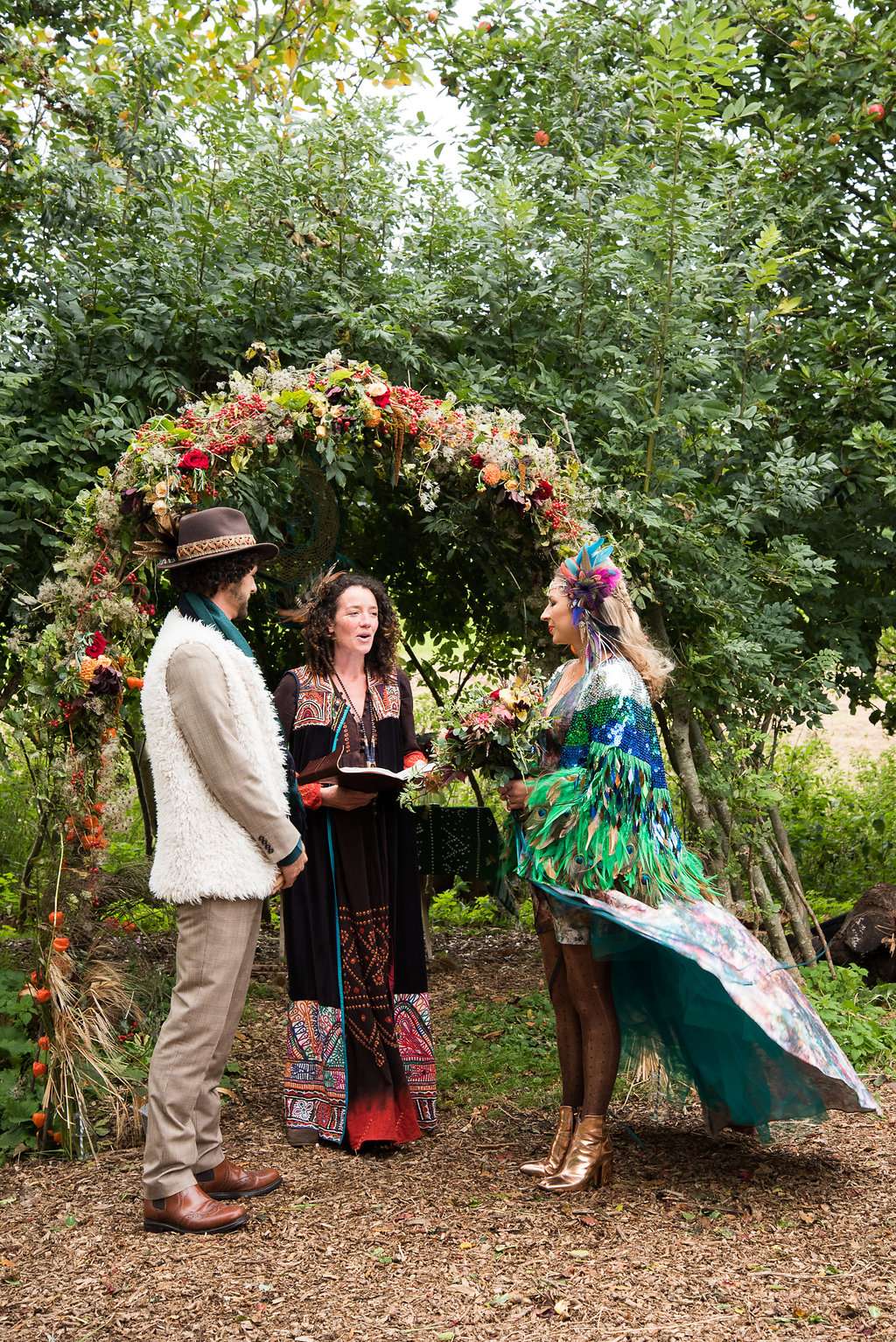 The groom put his outfit together from things he already owned and Oxfam and they encouraged their guests to dress in colour and flair – the more outrageous the better! " I have always had a passion for the music and fashion of the 60s and 70s so guests were asked dress in that style. I am a very colourful person and was never going to wear white. As keen festival goers, we wanted to be outside in a place full of a natural, positive energy. When we found Plush Tents we knew it would be just perfect!"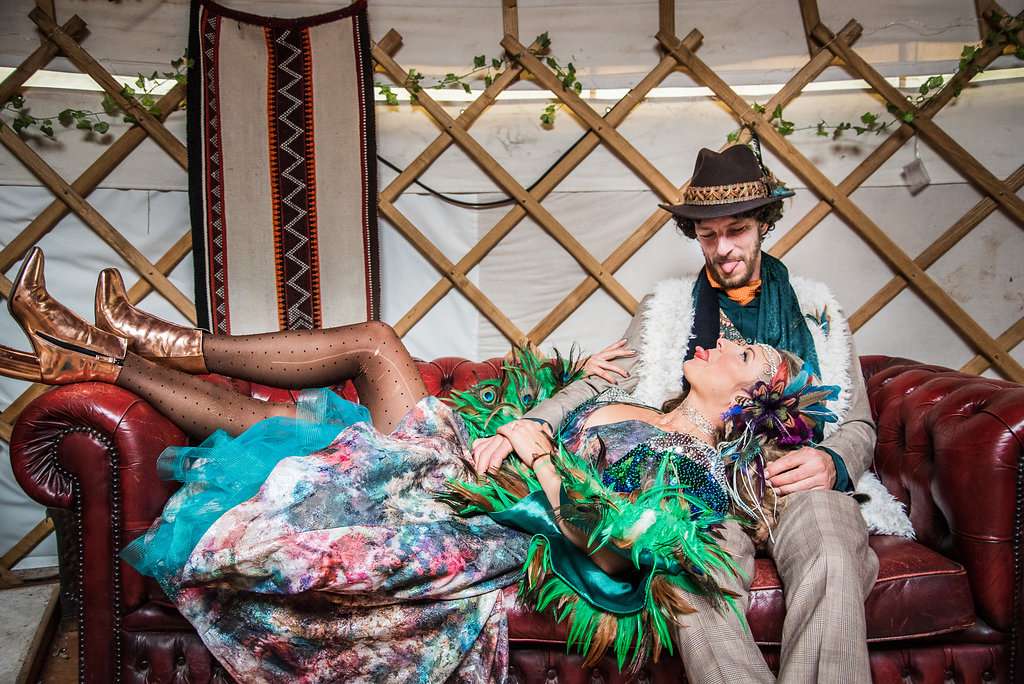 The ceremony was one of the most important parts of the day for them both. They held it outside, lead by a shamanic celebrant. "We had a bespoke shamanic blessing led by a shamanic practitioner friend", Josie continued. "We worked with her to come up with the perfect ceremony for us, incorporating our own ideas and some of hers too. The bride's arrival was announced by smoke cannons as I wove my way through the beautiful yurt village location with my bridesmaids who each carried an item which symbolised the five elements. These were placed within the sacred 'womb' space which had been created by the shaman inside a willow arch which grows at the venue. The groom and father of the bride exchanged scarves in the Tibetan fashion (inspired by my time teaching English to Tibetan women). The ceremony included a range of symbolic and shamanic practices and songs, getting the guests involved and building the energy."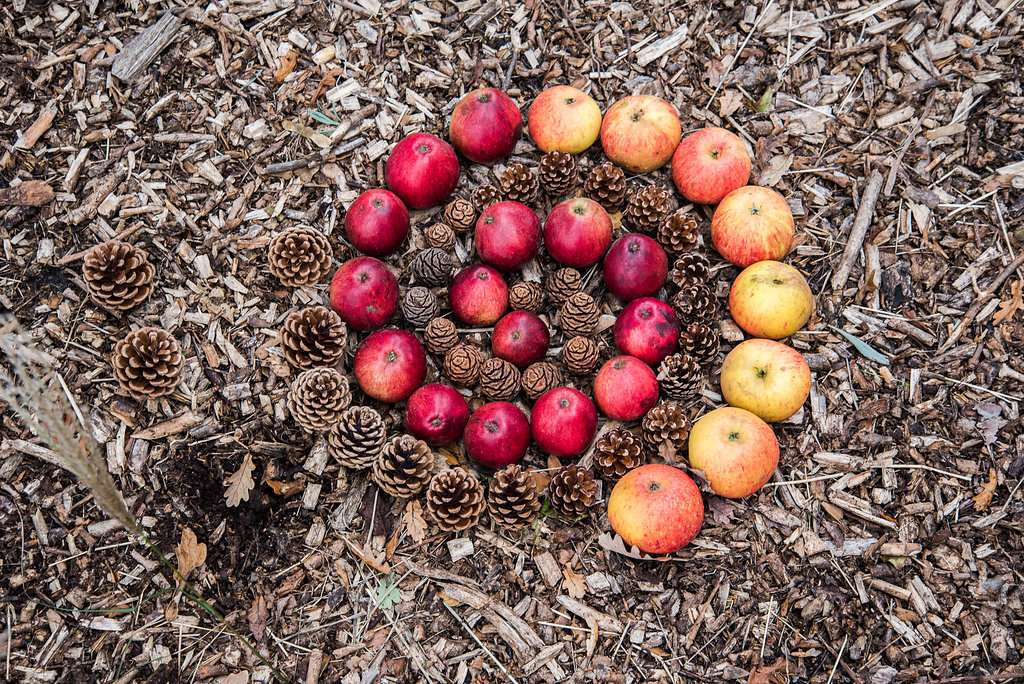 "At the beginning of the ceremony each guest was given a piece of tumbled glass found on the beach during our travels. They were asked to infuse it with their good wishes and once the ceremony was over they took it in turns to place the glass in a circle around the couple then line up, creating an arch with their hands. We were joined by our baby son, who was also blessed in the ceremony, and ran under the arms of their loved ones to start our lives together as a married couple."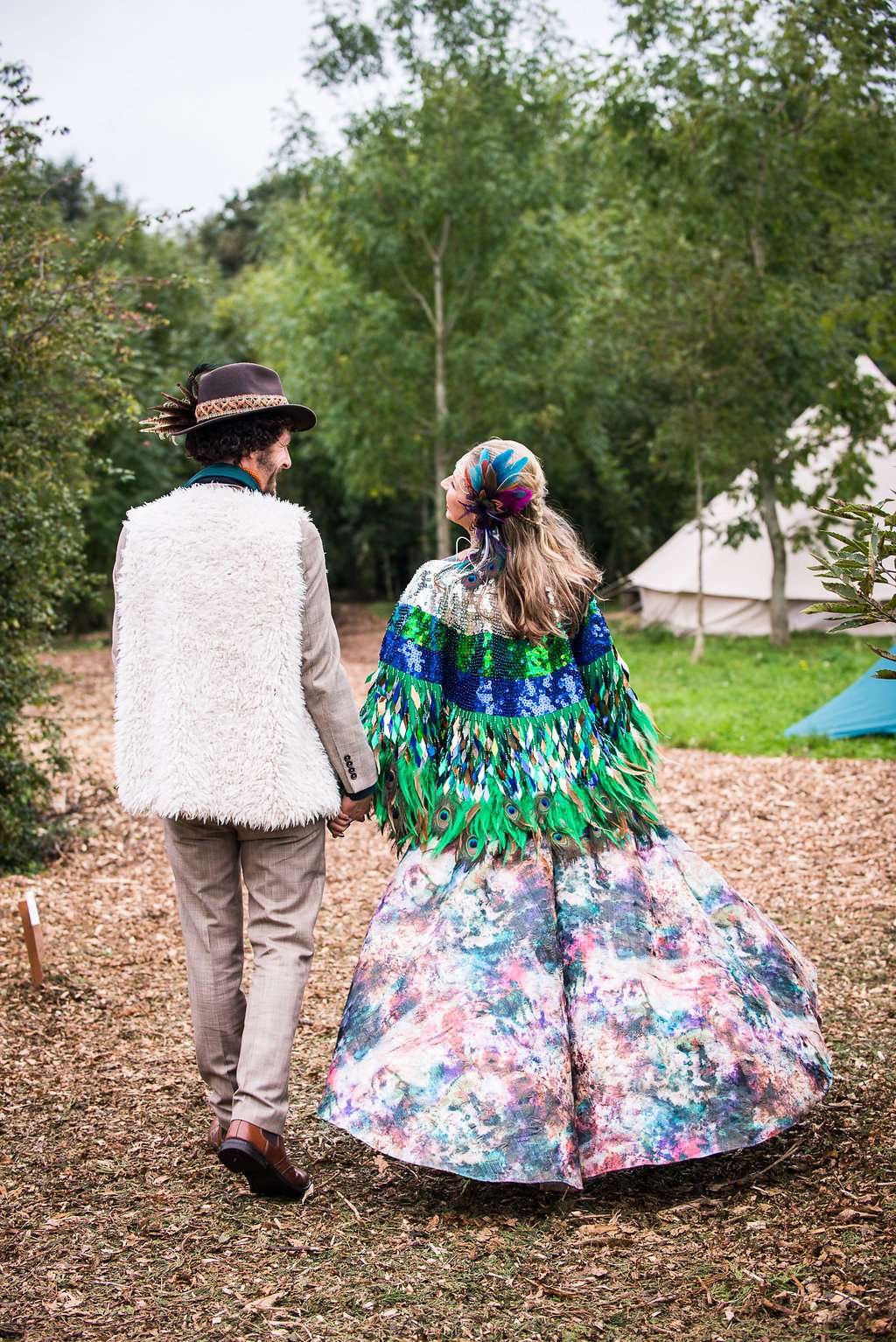 After the ceremony it was time to party, the highlight of the day for both the bride and groom! "After my sister took our son home we were really able to let our hair down and enjoy the party. The music we chose was amazing and we danced all night. We had decided not to do speeches or a first dance but John was given one of the bridesmaid's sparkly coat to wear and as we started to dance together the floor cleared and we were surrounded by our cheering and whooping friends. I'm really glad it happened organically, it was really fun."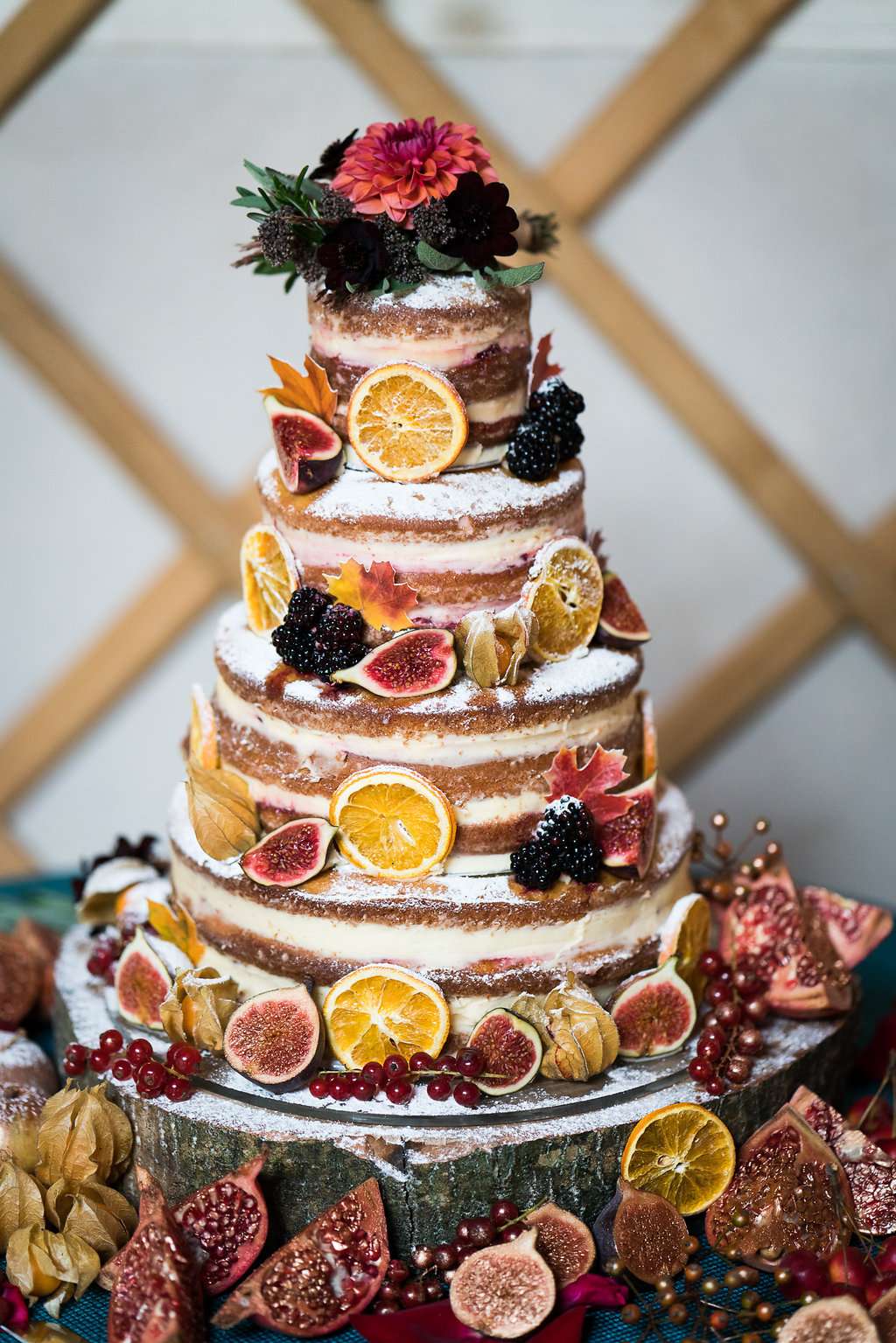 "It was wonderful to have everyone together for a few days. On the Sunday most people left and the remaining guests chilled out in the hot tub and finished off the remaining drinks. It was absolute bliss and the perfect finish to what had been a mad few months organisation!"