Belinda, from Australia, met J, from New Zealand, in 2014 at a Halloween party. They now live in the UK together. They originally planned a big wedding for 80 guests in Auckland, but changed their minds and decided to do something small in the UK when the costs were just mounting too high.
"Our only big mistake during wedding planning was starting down the path of planning an expensive wedding in my home country of New Zealand", the groom began. "Not only was the cost of hosting a large wedding daunting, but trying to arrange it all from another country made things really stressful."
"We were very close to booking a venue, when Belinda's mum suggested we scale things way back and have a small garden wedding in the UK. The more we thought about it the more it made sense, and once we changed plans everything started to fall in place. While it was hard to drastically reduce the number of guests, our friends and family were all really supportive."
They chose Mount Sandford House in Devon as their venue. They picked it because they could hire it for a week and have their guests stay with them in the run up. "Because we had a small number of guests, most of whom had travelled from overseas, we thought it would be a great opportunity to rent a cottage for a week for everyone to stay and get to know each other", he continued. "While it was our biggest expense, the entire week in the cottage cost us about the same as the venue we were considering for just a single day in New Zealand!"
The theme for the wedding grew out of a shared love for foxes and cats! "We decided to use origami to represent the animals and this lead to a theme also based around geometric shapes", Belinda explained. "This also filtered through to other aspects of the wedding, including glass terrariums and bold vases for the dinner table, and 'giant tangrams' we made using cardboard and fabric. All the design choices we made were based around geometric lines and vivid colours of purple and orange, from the smoke grenades and flowers to the terrarium table pieces and J's goggles. We were also inspired by animated shorts and television, both being big fans of colourful shows like Adventure Time."
Belinda hand made two large wooden cat and fox sculptures to flank the ceremony called 'cat ears'. "She created them herself", J said, "and I wore fox cufflinks she had given to me as a gift. The animals also made an appearance in the playing cards we designed for the guests as wedding favours."
The ceremony was held in the garden of the cottage and as they'd already done a legal ceremony the day before, they were free to do whatever they liked! "The cottage garden was perfect for our small gathering", said the bride. " We asked J's mum to lead the ceremony and the bridal party gave speeches (or sang songs) before we read our own prepared vows to each other. It made for a very intimate and personal ceremony and was an emotional rollercoaster – when I wasn't crying with laughter, I was crying from everyone's heartfelt words!"
"To go out with a bang, we had meticulously planned for the bridal party to set off smoke grenades and to have our favourite party song play all at once as we went for the kiss. But when it came to it, I remember just being swept up in the moment of finally being able to kiss my husband. So whether all those things happened simultaneously, I don't know and really, it didn't matter – my eyes were closed anyway!"
Another highlight of the day was their portrait session with their amazing photographer, Ed Godden, at Broomhill Sculpture Gardens. I don't know about you, but I think these have to be some of the coolest smoke bomb photos I've ever seen!! "We got loads of fun photos as we let off our smoke grenades", J explained, "leading to concerned visitors in the gardens above alerting the wardens to a fire in the forest. On the way out, I also realised that my shirt had been permanently stained orange around the wrist but the photos were worth it!"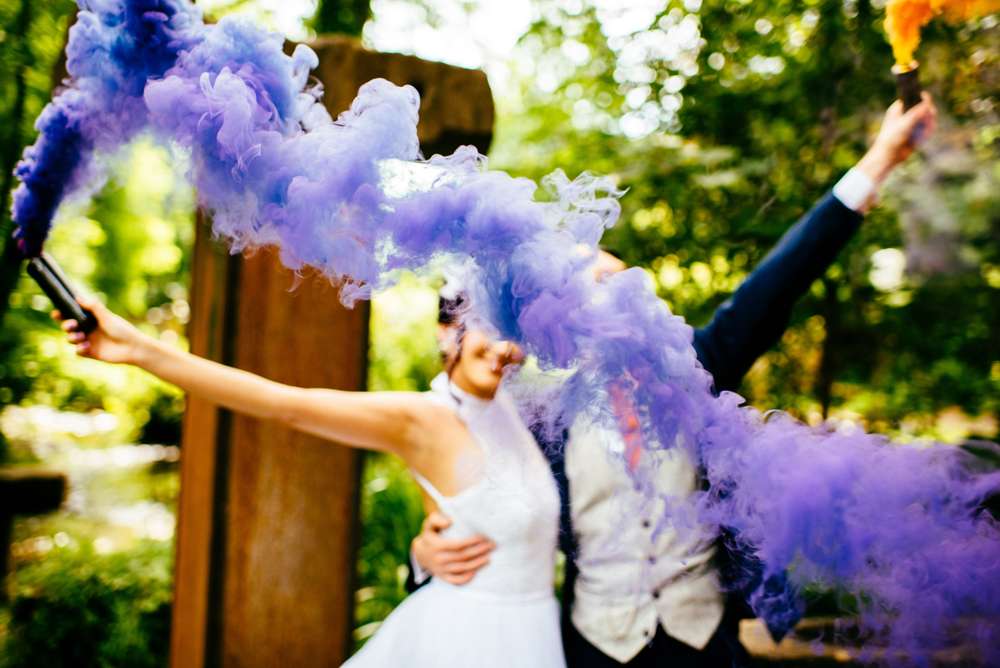 Almost all the decor was DIY which was a fun opportunity for the couple to get really creative. Belinda explained, "When J proposed to me, he knew I wasn't keen on an engagement ring, so instead he illustrated and designed a card game based around memorable moments from our first year as a couple. For me, as a big fan of games, it was the perfect proposal and he even managed to stack the deck so I would draw the cards that popped the question, 'So, wanna get hitched?'"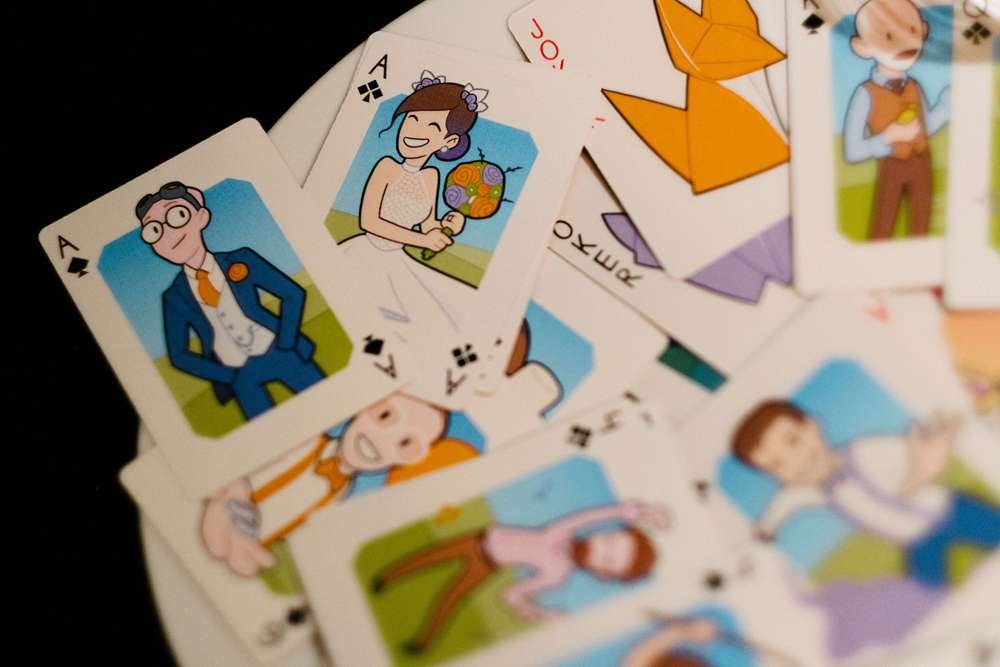 "For the wedding we wanted to link back to the engagement card game and this led to our most difficult DIY project – drawing caricatures of all the guests to create a bespoke pack of playing cards to give as wedding favours. We also used the cards as table place names and it was so much fun to watch everyone find their seats and figure out who was who on the cards!" Other DIY included all the origami, the Fimo Clay cake topper and the cake (made by a friend).
As well as to plan a wedding that makes YOU happy, the couple's advice for future brides and grooms is to "Take advantage of the fact that you are going to have so many friends and family around who would be more than happy to help out on the day. It took a little bit of extra effort and organisation, but a week or two before the wedding we delegated small tasks, like setting up the sound equipment or delivering flowers, so that on the day our guests knew what we needed help with. Since we had an entire week of activities, we simply couldn't have pulled it off without everyone chipping in, but best of all it really brings everyone together when you're all working towards something."