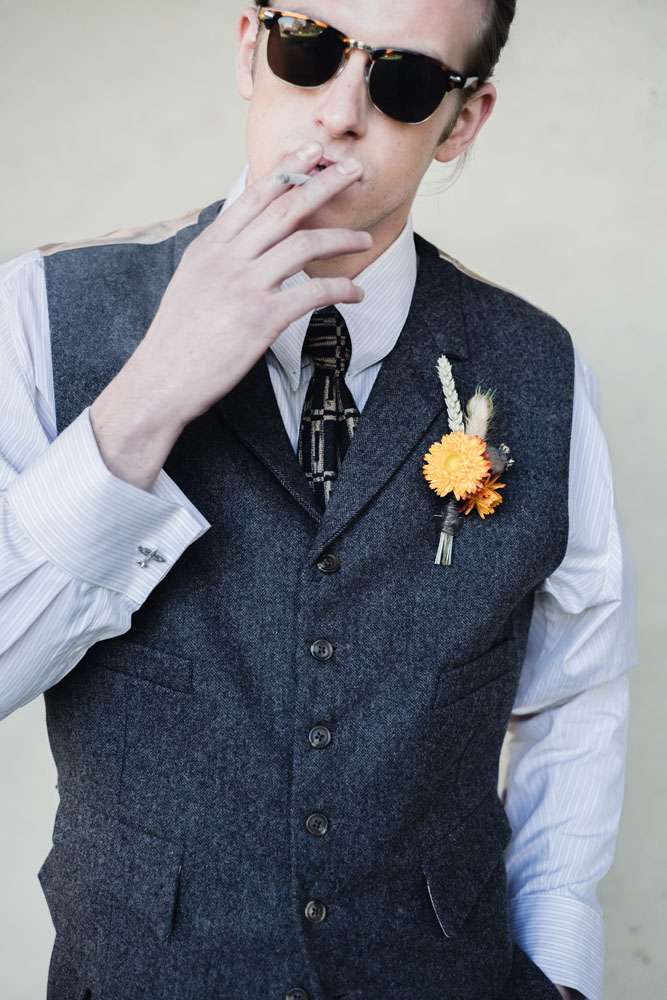 Buttonhole: Bloomologie

Why should girls have all the fun? Today Kate Beavis of Magpie Wedding is here to share some unique, alternative buttonhole ideas that your boys will actually really want to wear.
Often when planning the flowers for your wedding day, it can be easy to focus on the bridal bouquet and table decorations. Don't forget about the boys' buttonholes though! There are so many great ideas, and they can really add personality to their wedding day attire. Why not go for something brighter and bolder than a simple rose?
Here are some of my favourite designs to inspire you.
1. Buttons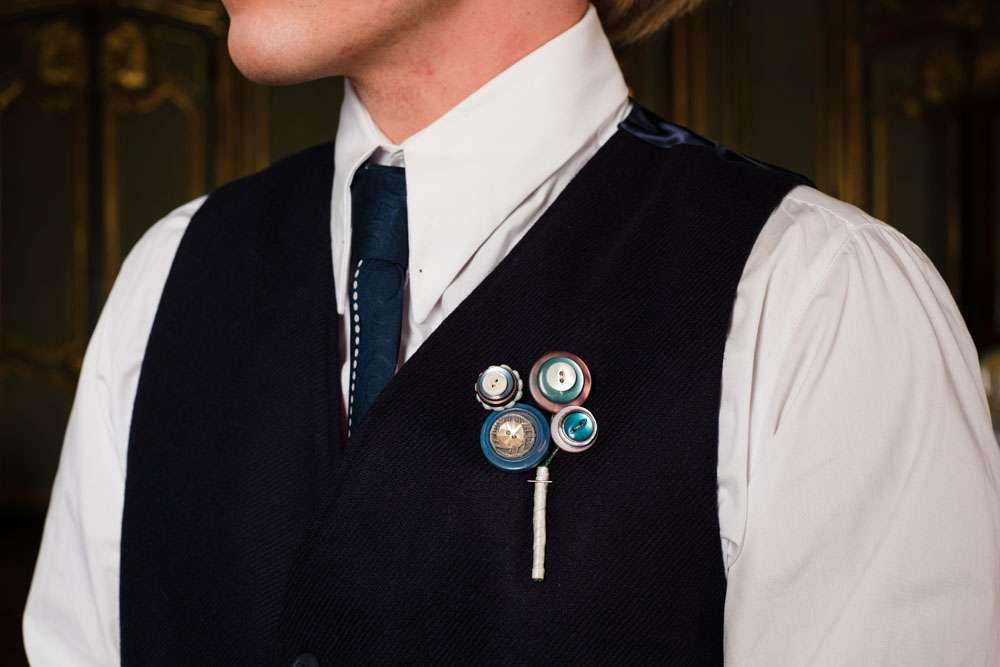 Buttonhole: Charlotte Laurie Designs
How about using buttons to create a flower shape? The best part is you can choose the key colours from your overall wedding theme and incorporate them easily. You could even take it on step further and use the same colours in their accessories like the tie and braces. Layering different colours together will give a 3D effect, which you'd expect from a real flower, and patterned designs will create something really playful.
2. Paper
Buttonhole: Flipside Bride
If you're having a paper flower bouquet (or even if you're not!) paper is a great, and cheap, material for buttonholes. The pattern on the paper will also really add to the design. For something pretty you could use a floral pattern, but what about something bolder such as comic book pages or vintage maps? Even better if this matches your theme! Finish the flower with a simple button or some beaded felt for the leaves to included some different textures.
3. Brooches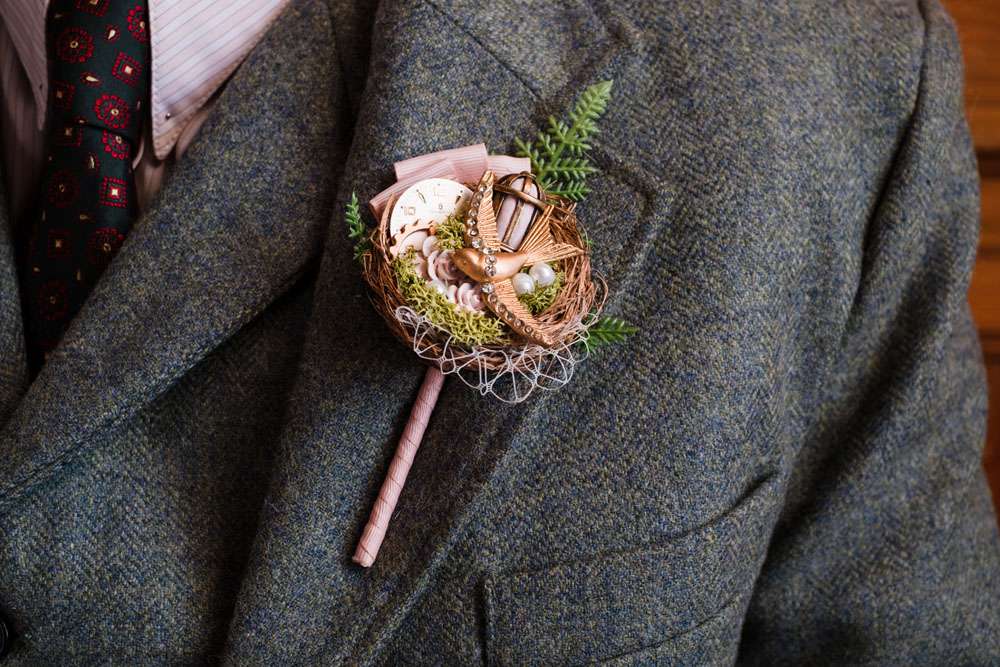 Buttonhole: Maddison Rocks Floral Sculpture
Adding jewellery to a buttonhole doesn't need to look feminine. These bird brooches are perfect for an outdoor, springtime, vintage-inspired wedding. For a rockabilly theme why not look for an anchor brooch, or for a steampunk theme you could use cogs and wheels!
4. Felt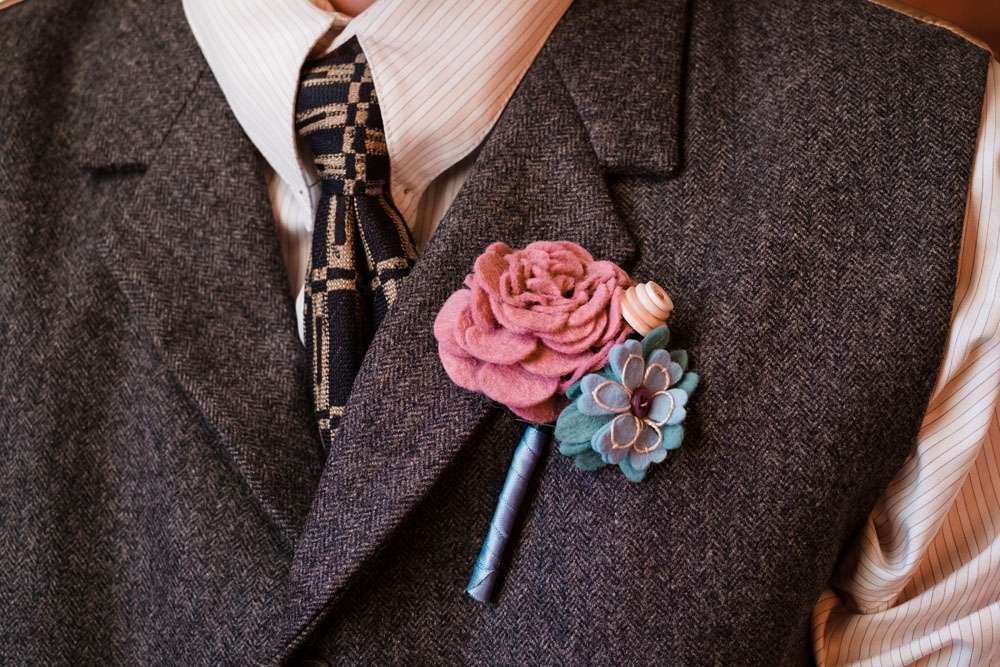 Buttonhole: Charlotte Laurie Designs
Pastels don't have to look super feminine. You could tie the buttonholes into this theme by using coloured felt and layering the petals to create a full effect.
5. Rustic
Buttonhole: I Heart Buttons
If you're having a country, rustic wedding why not choose a buttonhole made from dried flowers? Flowers like these always remind me of my grandma, so by adding them to the overall design it brings a sense of nostalgia to the day. Alternatively, use hessian to create leaves behind felt or paper flowers. These will look best on a vintage style suit in a herringbone or wool.
6. Glitter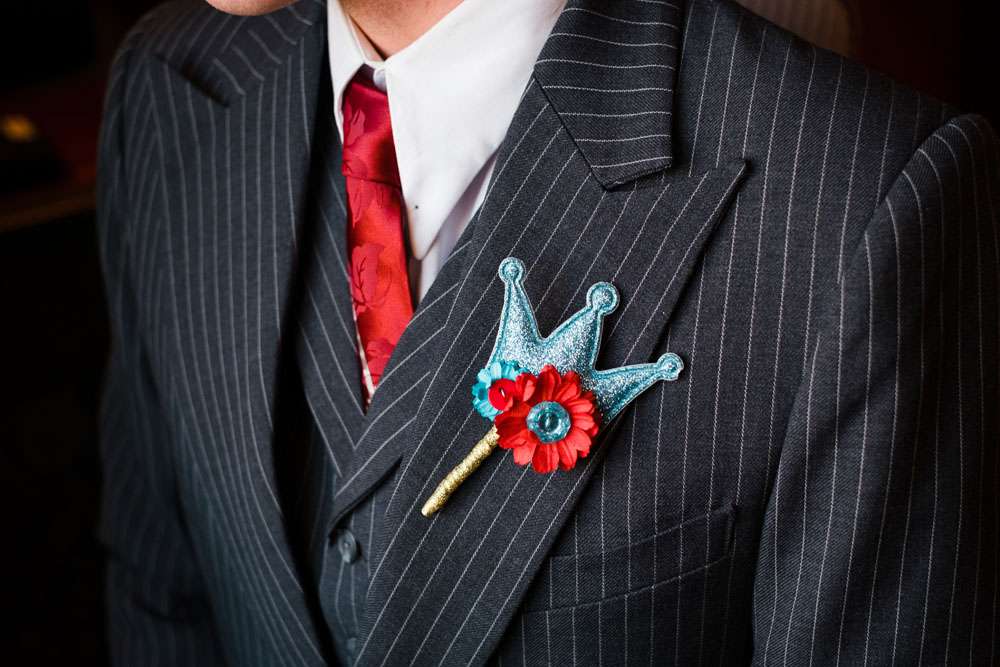 Buttonhole: I Heart Buttons
If your man loves a bit of sparkle just as much as you do, then they'll love rocking a something with a bit of glitter! And why not, hey?
7. Edgy Florals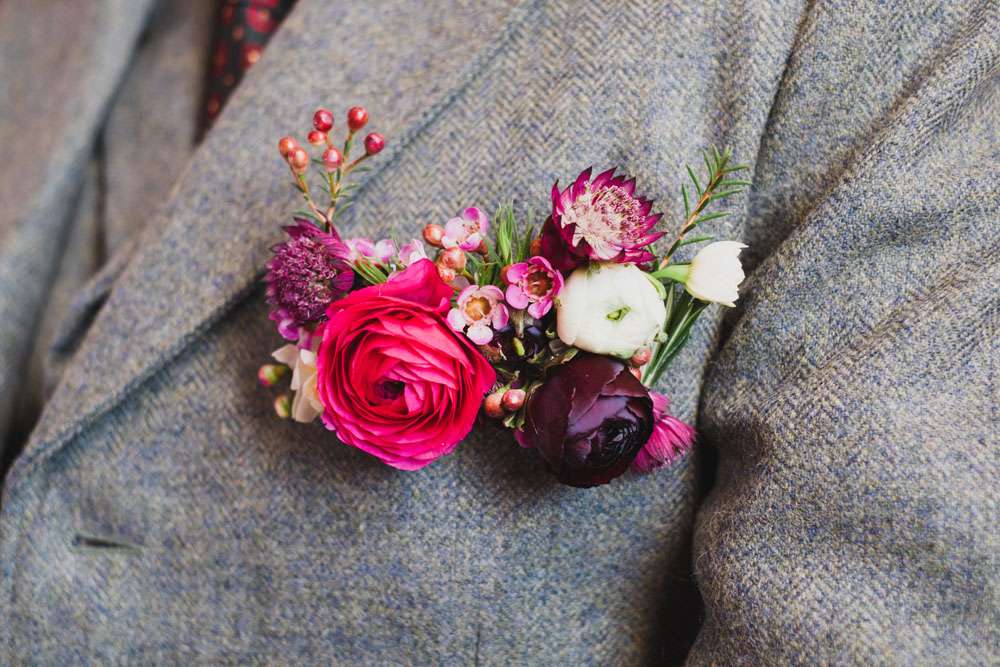 Buttonhole: Bloomologie
If you do want real flowers, why not think outside the box a little bit when it comes to how they're worn? We love this wide buttonhole, where the blooms are arranged horizontally, giving a much more modern, edgy final look.
8. Succulents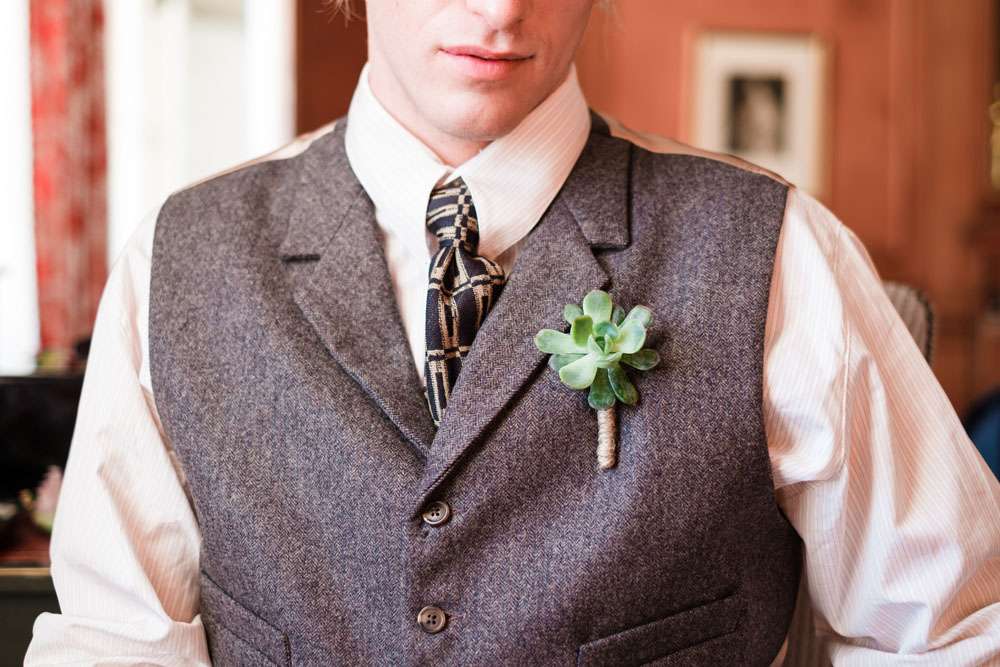 Buttonhole: Bloomologie
These plants are more popular than ever in weddings right now, and a buttonhole made of just one simple succulent will look amazing!
9. Herbs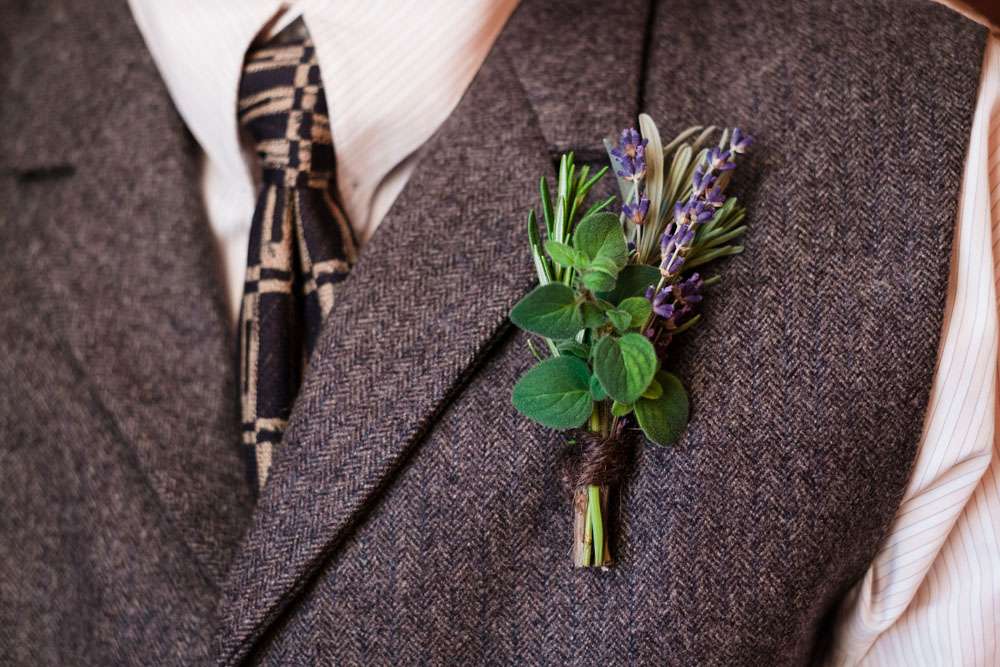 Buttonhole: Bloomologie
Not only will a buttonhole made of herbs look amazing, he'll smell fantastic too!
10. Go Wild!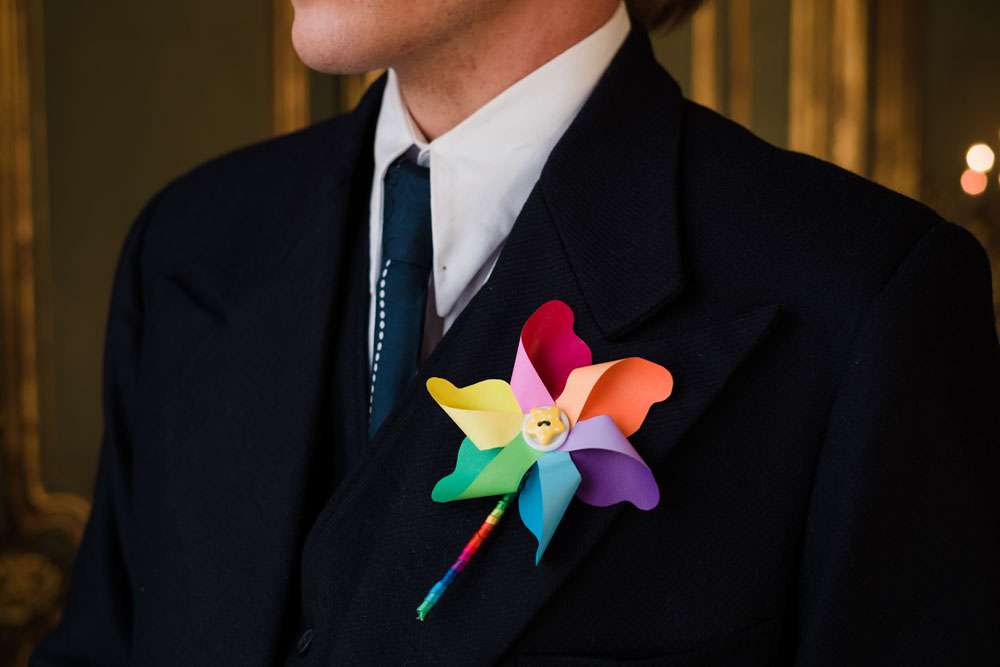 Buttonhole: Flipside Bride
The best thing about being a Rock n Roll bride or groom is that you DON'T HAVE TO FOLLOW THE RULES! So why not use your buttonholes you really reflect your quirks and passions? How about a dinosaur toy or lego figures in the buttonholes, or you could even make a pin wheel for a retro, colourful theme? These are sure to create conversation and make everyone smile.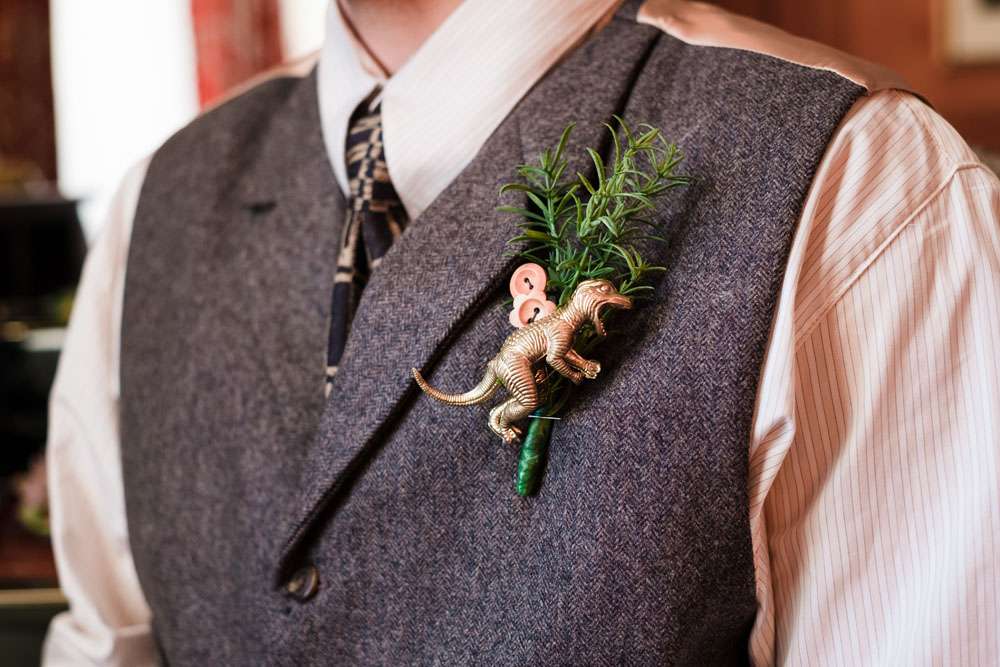 Buttonhole: I Heart Buttons
About the Author
Kate Beavis is a vintage lifestyle expert, published author and curator of artisan wedding fairs at Magpie Wedding, formerly The National Vintage Wedding Fair. She is passionate about inspiring women to follow their own styles, whatever their age, in all aspects of their lives from fashion, to weddings, to interiors.