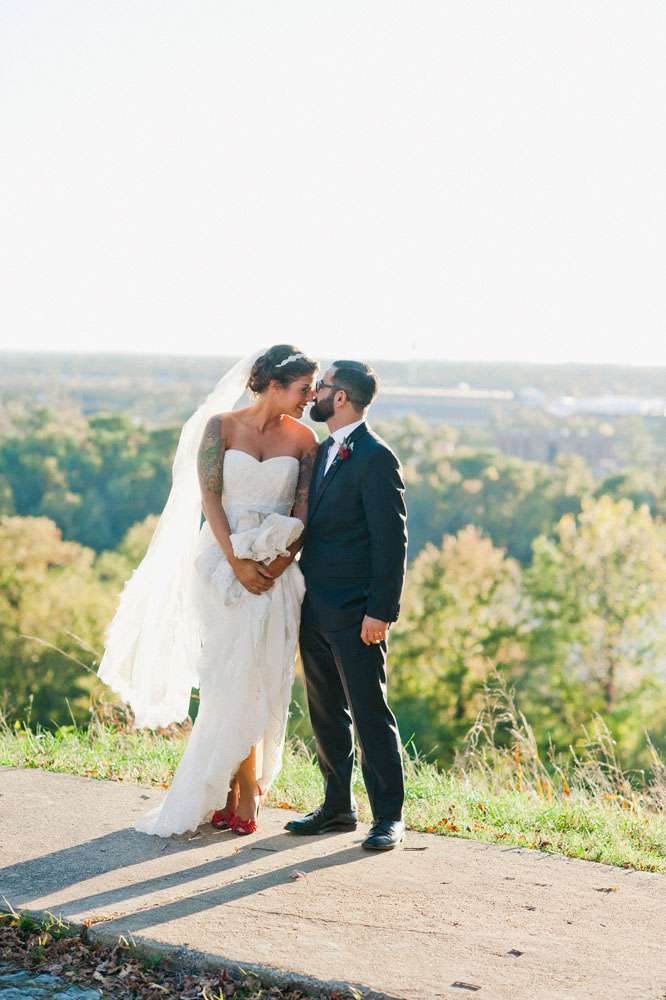 When wedding planner Christine married Lenny, she knew exactly what she DIDN'T want. "Our goal was to create something that felt like us and didn't try and keep up with trends", began the bride. "I'm a wedding planner and a bridal shop owner, so I live in Pinterest-land in my profession. Our wedding was different because I learn from my clients what NOT to do and what NOT to worry about. I also didn't try so hard to be 'different'. We just wanted a great celebration."
The wedding was held in their local park, followed by a reception at The Roosevelt, a favourite local restaurant. "We wanted our day to be casual, fun and timeless. It was more about our friends and family having a good time than any aesthetic guidelines. We got married at the park at the end of our neighbourhood, and I got ready at my friend's home that is a block away. I didn't ask permission to get married in the park, didn't rent chairs, and didn't plan a million timeline details during the reception."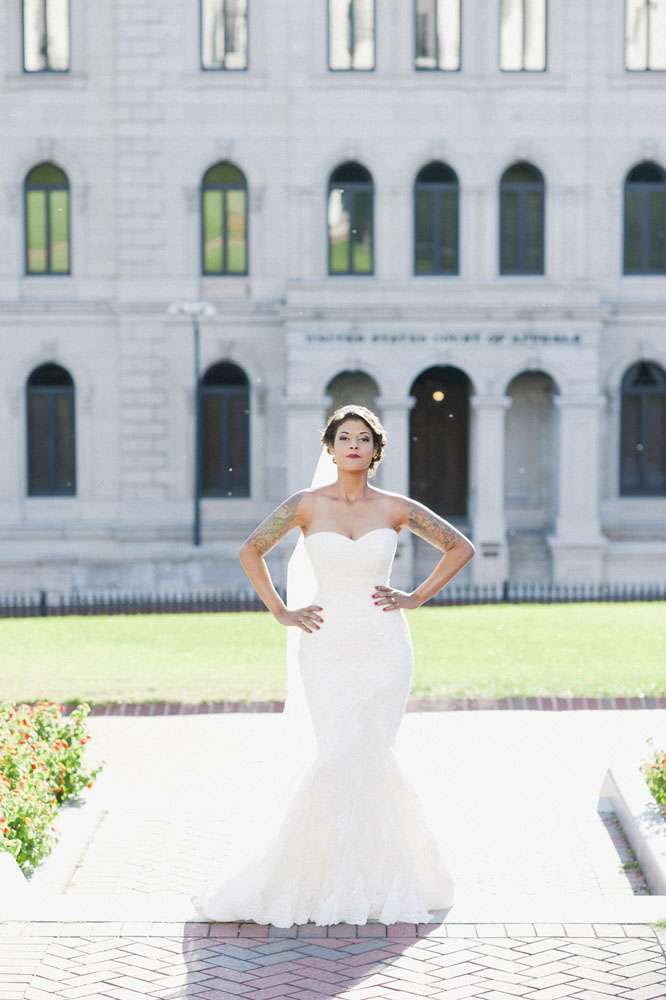 "The Roosevelt staff handled the food, booze and cake beautifully and I didn't hesitate to delegate tasks to my awesome lady friends. We did have day-of coordinators to help though. My amazing assistants decorated the venue, placed parking signs, and welcomed guests. They even made sure I had a drink in my hand and food in my belly."
"We decided not to have a sit down dinner, instead we served heavy hors' deouvres with beer, wine and a bourbon punch. I was so worried about my family travelling from long distances not feeling like it was a 'real wedding' because there wasn't a sit down dinner, but it was quite the opposite. Everyone was well-fed, nice and drunk and I got to have lengthy, real conversations with everyone. We all got to snack all night and really move around to chat with people."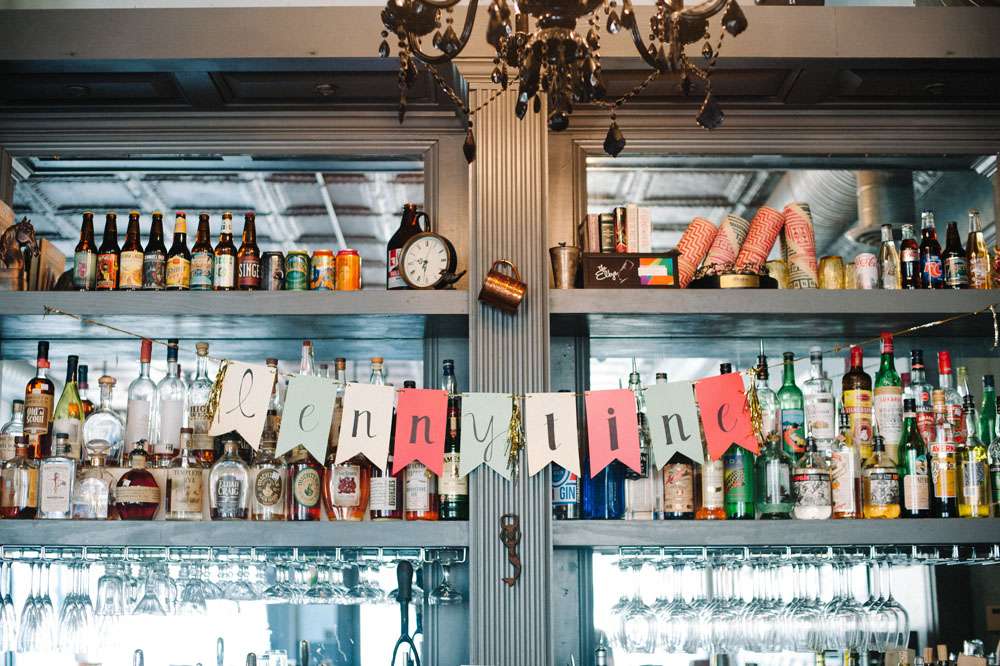 The couple went for a subtle mint and red theme. "My lady friends made pinwheels for my bridal shower that we re-used for décor. However The Roosevelt is already adorable, so décor was never a priority for us. I see so many clients get so worked up about centrepieces and silly things, and it really doesn't matter at the end of the day. That is bridal porn for industry people, your guests are there for YOU!"
"One of my favourite parts of the day was our first look", she continued, "I'm so glad we did one! It helped us both relax and talk about our day so far. Those are some of my favourite photos."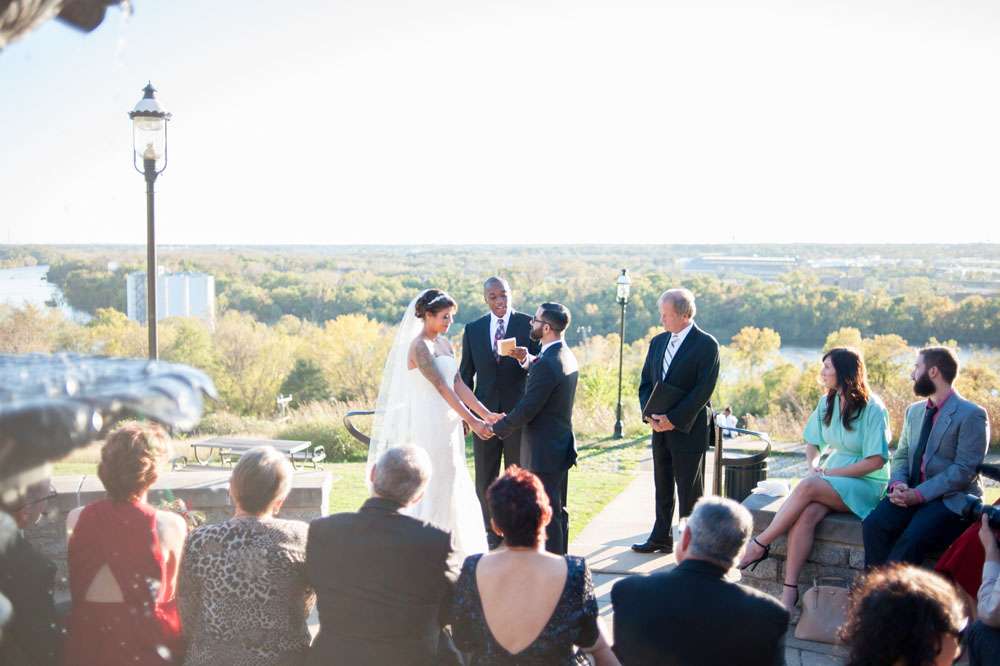 "We have no regrets about the way we did our wedding. I've learned enough from planning everyone else's to know exactly what to prioritise and what to ignore! My advice to other couples would be as follows:
1. Let your maids wear what they want. It's not that serious and your pictures will look awesome if they feel comfortable.
2. Step back and recognise the big picture. Chill out, the little things don't matter.
3. Hire AT LEAST a day-of coordinator. I didn't need help booking vendors but having my ladies there to make sure my plans came together was perfect.
4. Use a system like Postable or Google spreadsheets to keep mailing addresses. The thank you note process will be a lot easier if you do this.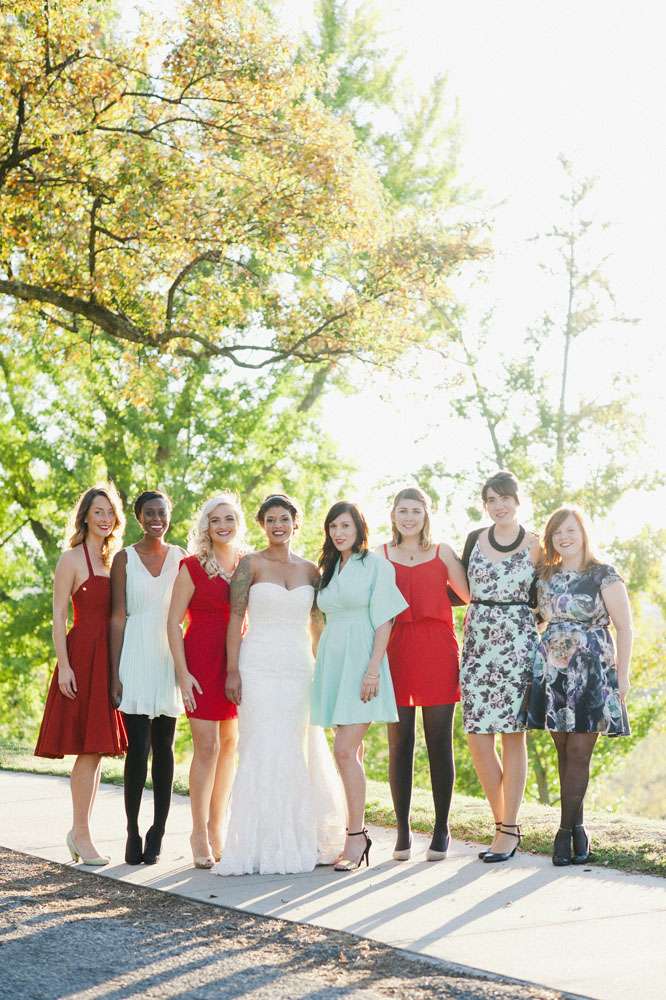 5. Invite who you can and don't feel guilty if you want to keep it small. There were plenty of cousins, old co-workers and friends that I adore but we just couldn't invite. At the end of the day, we missed them, but for a Sunday wedding at the end of October, I'm sure people appreciate not having to pay to travel, hotels, gifts, etc. I'm so happy we had a manageable group of around 90 people, so I could really spend time with them all.
6. Spend your money wisely. Hiring a photographer AND a videographer might seem like a splurge but it was completely worth it. I want to be able to relive that day for the long haul. In exchange, we didn't have a sit down dinner, didn't do silly wedding favours, didn't buy fancy accessories or spend a lot on flowers. All of our décor was re-purposed.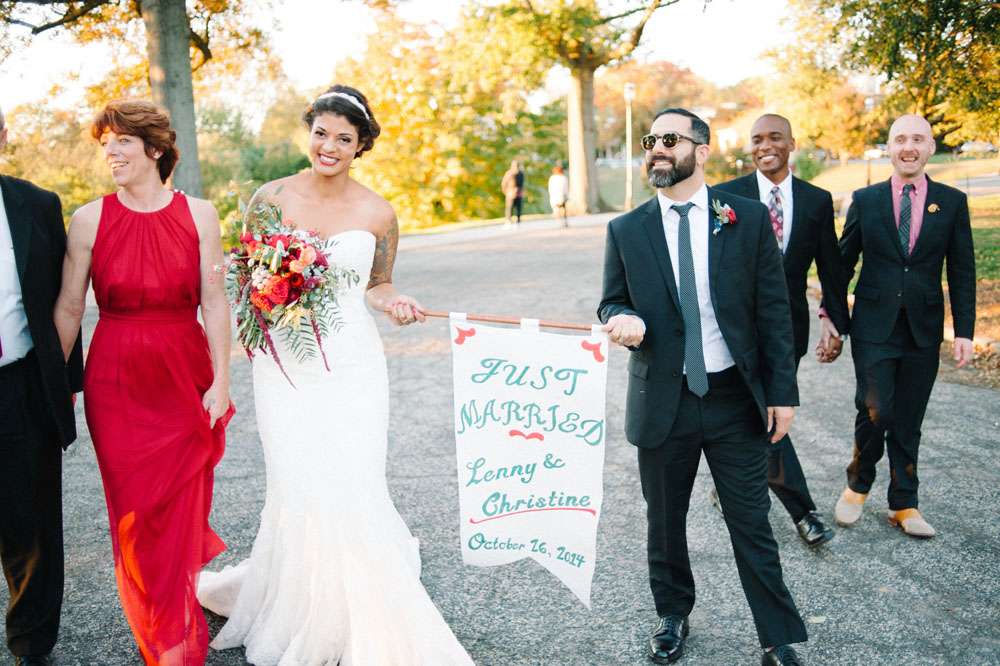 7. If you really want or need money, ask for money. We registered for about 20 items and then said 'We have all the household items our tiny house can hold, financial contributions are appreciated'. Some may feel it's tacky, but I'm going to keep it real, ya'll! We are now starting our marriage off by paying some bills, booking a honeymoon and beefing up our savings.
8. Let someone else do your hair and make up. I still looked like myself but I felt like a diva and that's what every bride should feel like.
9. And finally, pick three things you want your guests to remember, and spend your money on them.