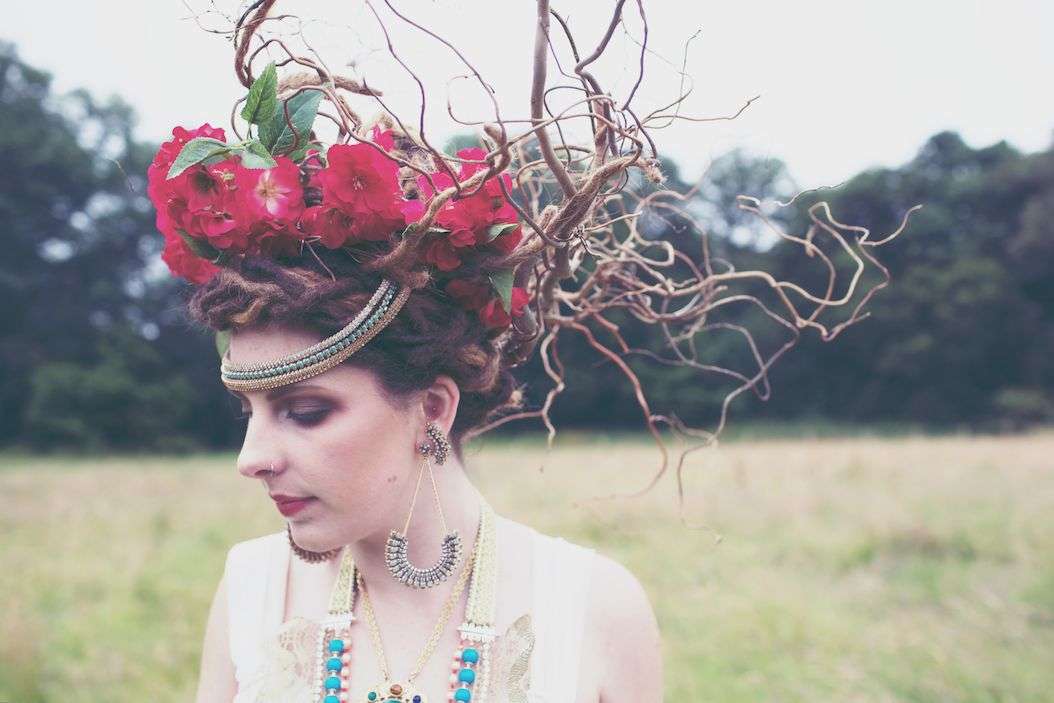 As the fourth Photography Farm drew near Lisa and I sat down with Hannah, stylist extraordinaire, to plan the shoots. I always look forward to this epic 3-day wedding photographers workshop as I know I'll learn new things, make new friends and have a hell of a good time in the process. We do two styled shoots on the first day but the second, a bridal shoot, is always the most exciting and experimental. I'm so excited to come up with a new concept and work with the Farm dream team to make it a reality.
We first start by deciding on our model. After umming and ahhing over the people we could ask for a while (we prefer to use 'real' girls over professional models), it came to me – what about my sister Rachel? And yes, before you ask, we did name our cat after her!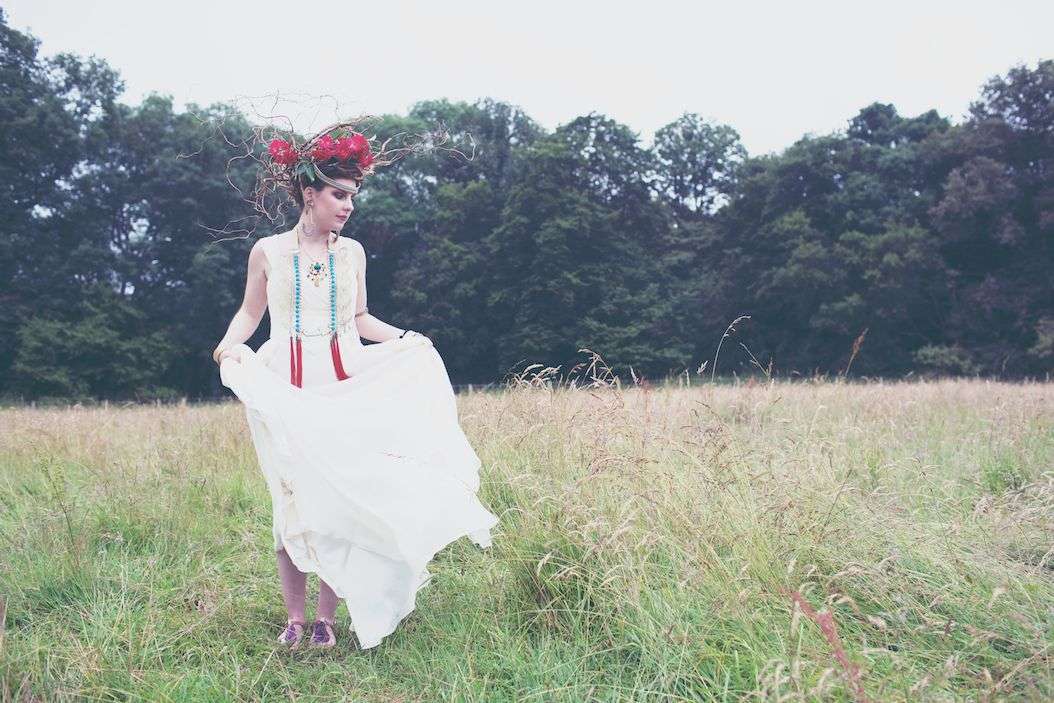 With her long dreadlocks, nose ring and ginormous Disney princess eyes she has a really unique look… and hello? She's effing beautiful to boot. The girls were really excited about working with her so we set to coming up with ideas to suit Rachel's own personal style. That's the great thing about planning shoots for The Farm. The sky's the limit with what we can do, but we also like to start with the model and work outwards. It's super important that whatever we come up with links back to the girl in the middle of it all, only that way does something so special and authentic result.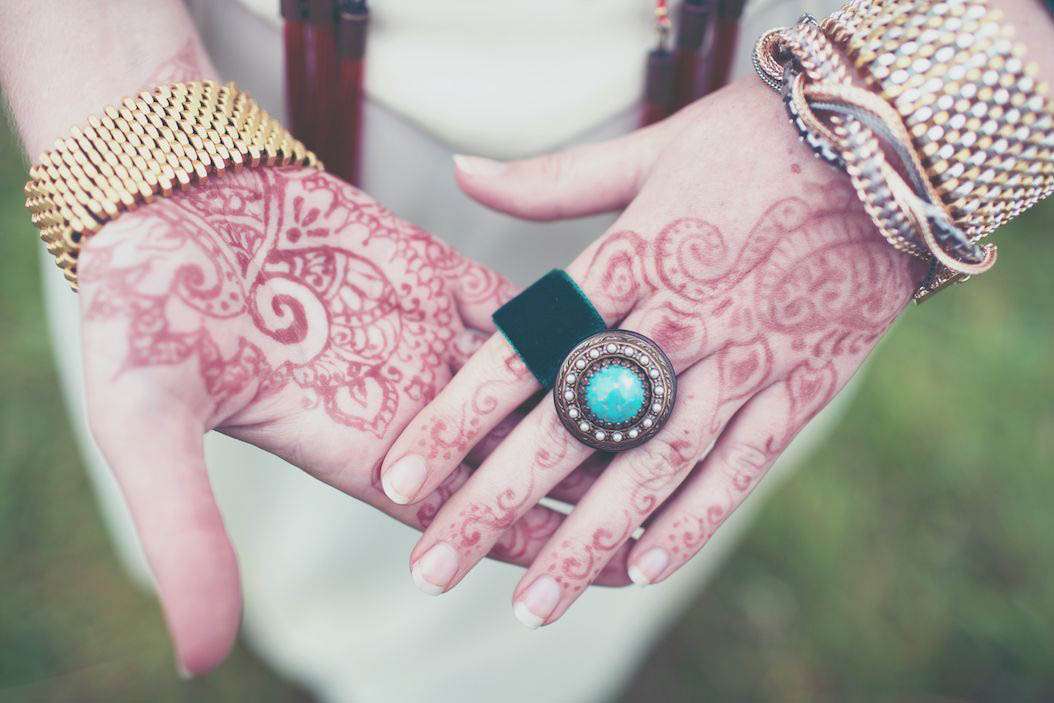 My sister is a right hippy chick. She and her boyfriend Jamie (who, in the end we also roped into modeling – just check out those dreads!) spent 6 months last year travelling around South America and their house looks pretty much exactly like the set Hannah pulled together. They even brought many of their own items to add to it. It couldn't have been more 'them'. I mean, if we had tried to put me in that set I would have looked ridiculous, but with them it completely works.
A few weeks before The Farm Lisa, Rachel & I hotfooted it to Luella's Boudoir in Wimbledon to try on some dresses. Not being married or engaged herself Rachel had never even stepped foot in a bridal boutique so obviously we needed to pick a wonderful one for her first experience. Luella's is that wonderful place. The owner, another Rachel, is sweet and helpful and super stylish herself.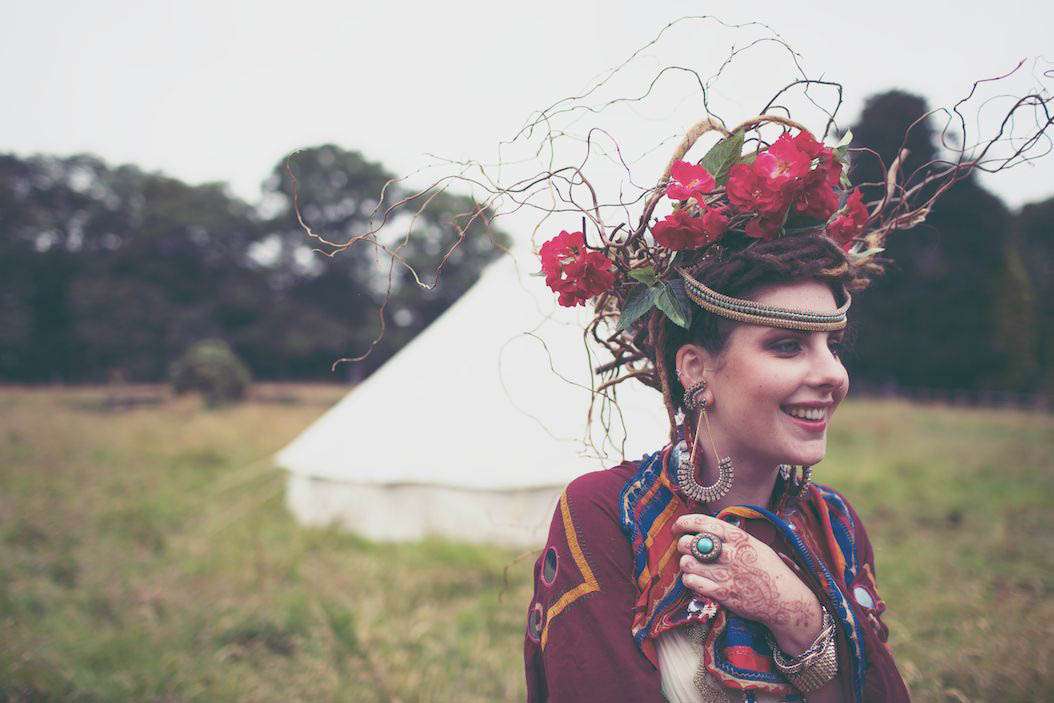 We obviously wanted the shoot to have bridal elements but for it to be not so obviously so. A bride in a pretty dress in a field… oooh maybe with some bunting and some cupcakes… just isn't going to cut it at The Farm! We've all seen a gazillion wedding styled shoots on wedding blogs and in magazines, so we were keen to do something different. I knew straight away that the Charlotte Casadejus range would be perfect for what we had in mind so Emma, Charlotte's right hand woman, also came along to help up pick the perfect dress from their collection. Effortless in style, they all looked amazing on Rachel, but as soon as she tried on Alisa we knew the simple design would really work with the style of jewellery and accessories that we had in mind.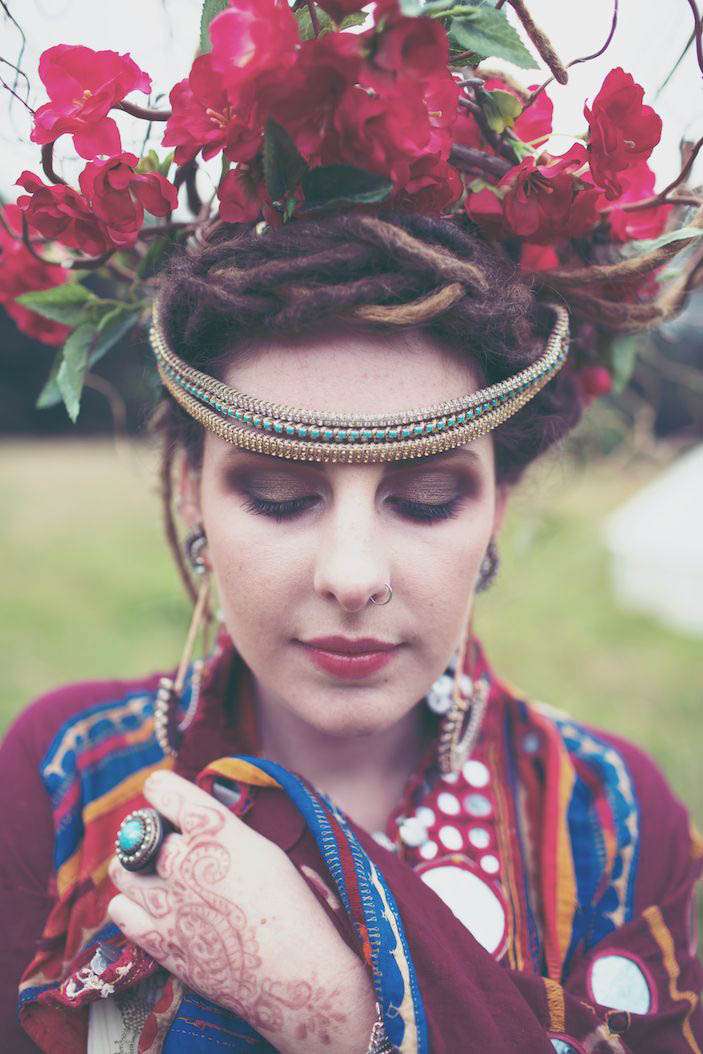 And what about that amazing twig crown – isn't it incredible!? I actually dreamt up the idea after seeing something similar online and Hannah made it for us from scratch. It looked amazing with Rachel's dreads entwined though it… in fact Rachel loved it so much she took it home with her to wear to a festival this weekend! It was pretty huge, I hope she didn't have anybody's eye out!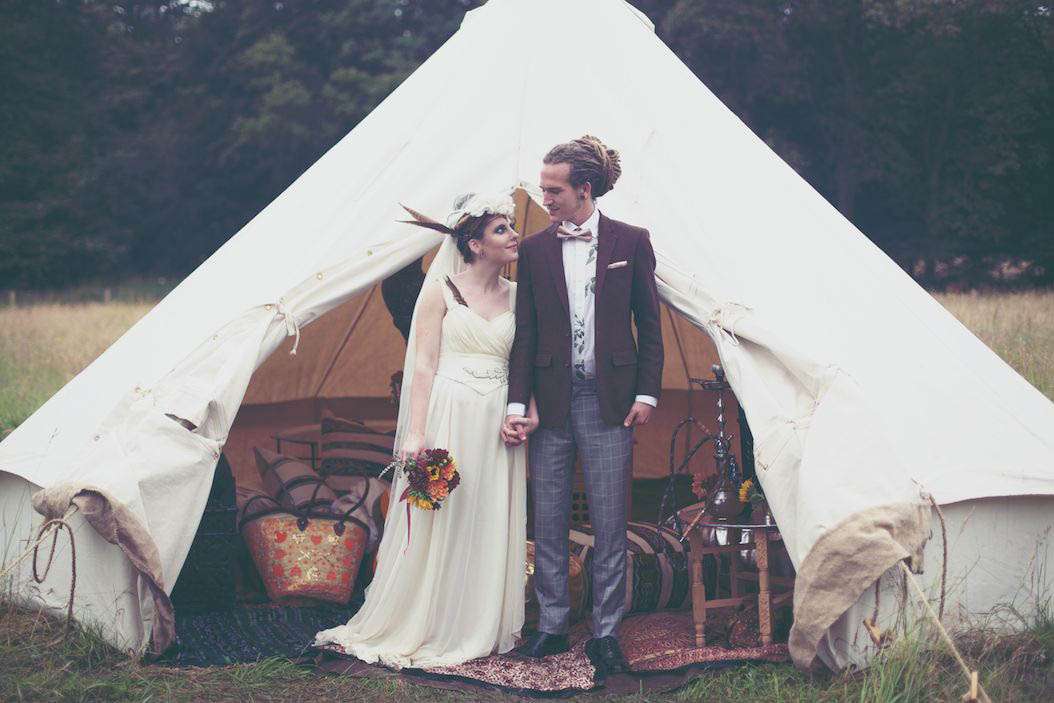 When my sister stepped into the field in front of all those cameras I just about died with pride. She said she was nervous as she's never been photographed professionally before, but she took to it like a duck to water (must be in the genes). She looked so incredibly beautiful. She's one of those annoying girls who never wears make up and lives in jeans but always looked gorgeous. However seeing her all made up she was utterly breathtaking. I'm pretty sure Jamie was awestruck too. He just kept saying to me how beautiful she was. Awwww.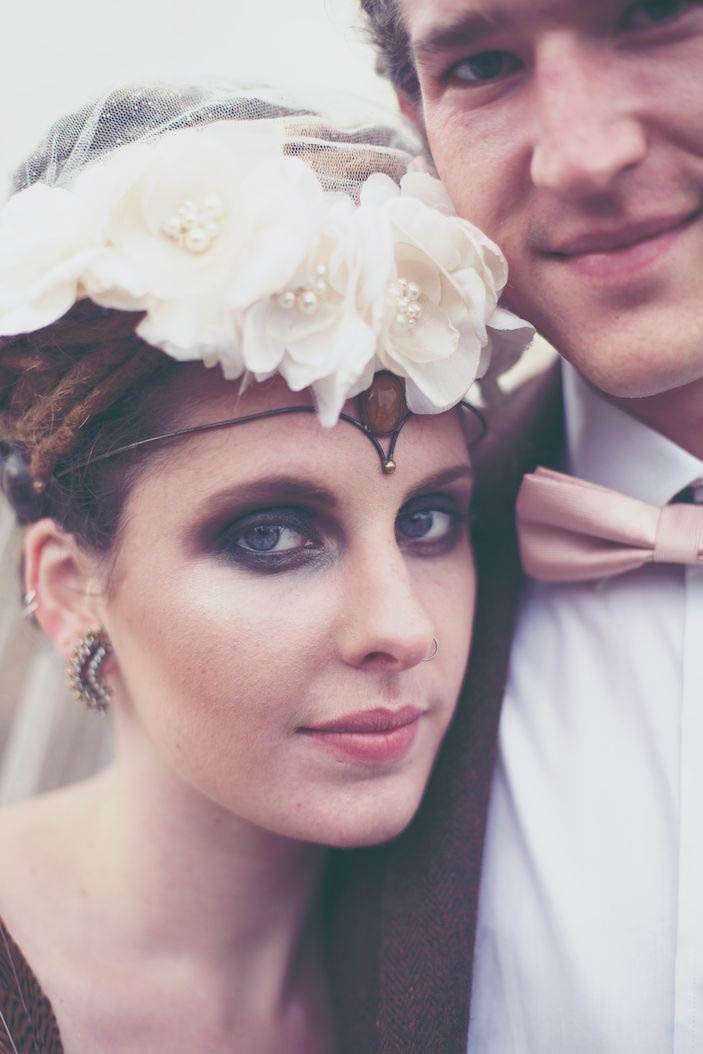 After shooting with Rachel on her own, the farmers took turns working with her, Jamie and then the two of them together. Everyone unanimously said that if this was a real wedding it would undoubtedly be the coolest thing ever. No pressure though guys, ha!
As always, thank you to Lisa for inviting me to be a part of such a special Photography Farm. I am already excited about the September workshop!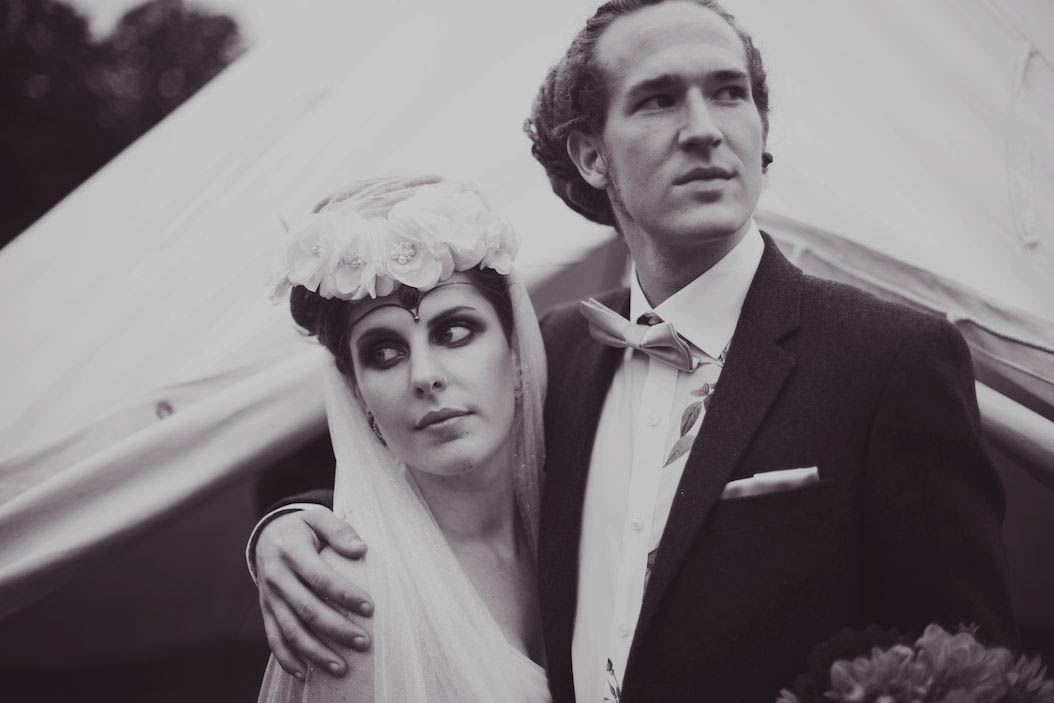 Breathtaking huh?
I even made a video of the whole experience. It's shakey at best… and if this isn't an advert for hiring a pro-videographer for your wedding I don't know what is! But Gareth stayed up all night editing it (he's worked miracles believe me!) so I hope you enjoy it regardless…
If you'd like to see more images from the shoot, taken by some of the other Farmers:
♥ Kytography
♥ Ellie Gillard 
♥ Hannah Millard
♥ Kat Forsyth
♥ Jo Millington 
If you are a wedding photographer who would be interested in attending the next Farm (September 18th-20th) be sure to get in touch with Lisa via email on lisa@devlinphotos.co.uk or by calling 01273231047. The 3-day event includes includes two styled shoots, post production, business school, a blogging masterclass (from yours truly) with all food and accommodation provided. I'd love to see you there!
Supporting Cast:
Location: Photography Farm
Lead Photographer: Devlin Photos
Set Styling & Flowers: Hannah Best of The Tea Set assisted by Sara Reeve
Fashion Styling: Kat Williams & Laura Kate O'Rourke
Hair & Make Up: Elbie Van Eeden
Dress: Charlotte Casadejus via Luella's Boudoir
Cape: Stylist's Own
Jewellery: Union
Shoes: Primark
Menswear: Gresham Blake
Stationery: House of Sugalily
Props: Boho Garden
Tablewear: Mateus
Rachel & Jamie's Dreads: Jamie – Dread Monkey