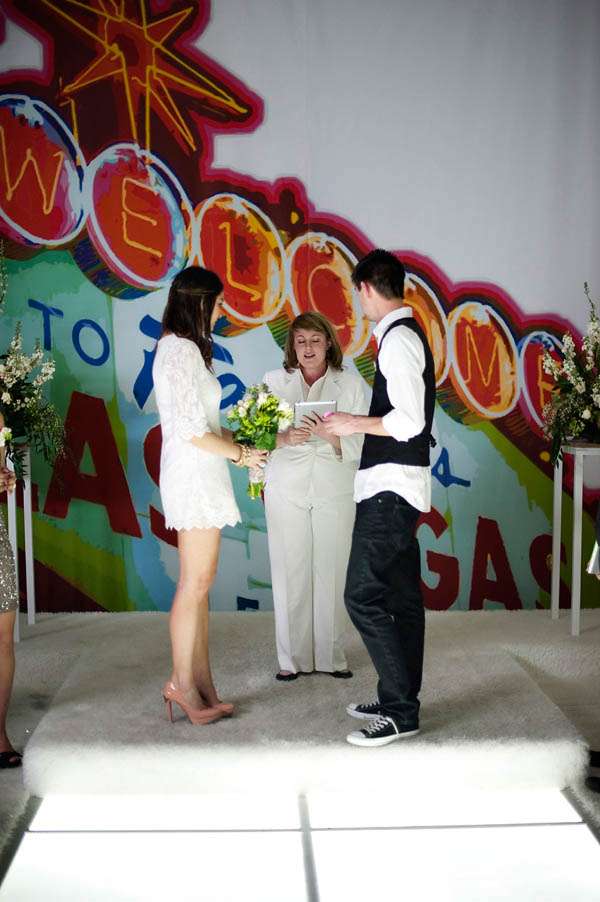 Ashley & Jeremy are wedding photographers so were in Las Vegas at the same time as I was for WPPI. After the Airplanes & Blazers party (which I was also at…!) Jeremy was sitting at a table with Patrick from StillMotion (while Ashley was off in the bathroom) and Jeremy was telling Patrick he would love to propose. Patrick encouraged him, telling him if he proposed and they got married while they were all still in Vegas, Patrick would shoot it!
When Ashley returned, Patrick proposed, right there and then by saying "Will you marry me…on Wednesday?!" So just 36 hours later, they were married in the Pop Up Wedding Chapel at the Cosmopolitan Hotel with all of their best wedding photographer friends from WPPI watching.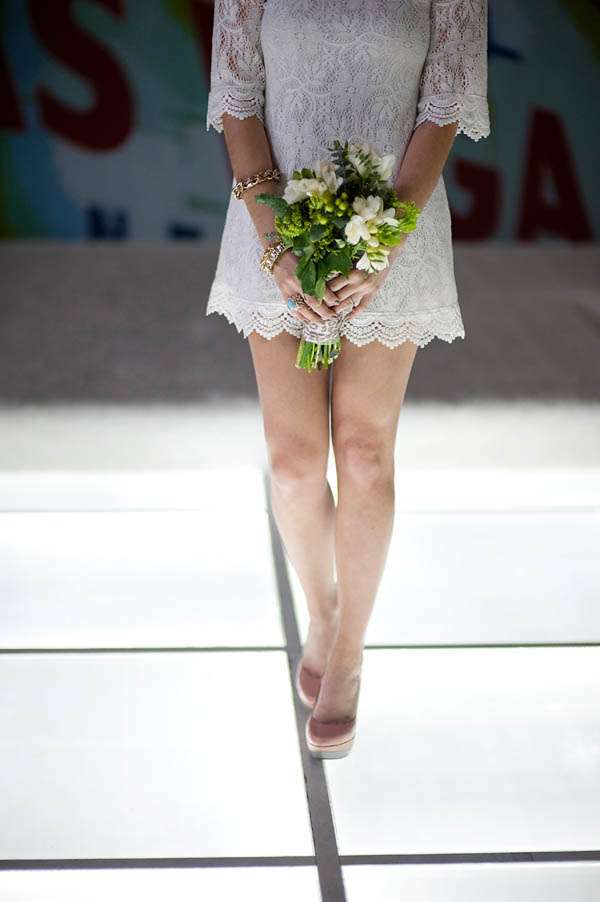 Ashley kindly told me all about their amazing wedding day and how, even with such a short time frame to plan it all, they were able to have the perfect wedding! "It was so amazing to see other photographers and industry professionals rally behind us to help plan our wedding. We had the little chapel packed full of other photographers and it meant so much to me to see their faces there that night. People that we knew very well and people that we barely knew before WPPI helped us with everything we needed to make sure it went off without a hitch. Jeremy and I are still in disbelief at the kindness and generosity that our amazing vendors showed to us to with our crazy timeline and last minute plans!"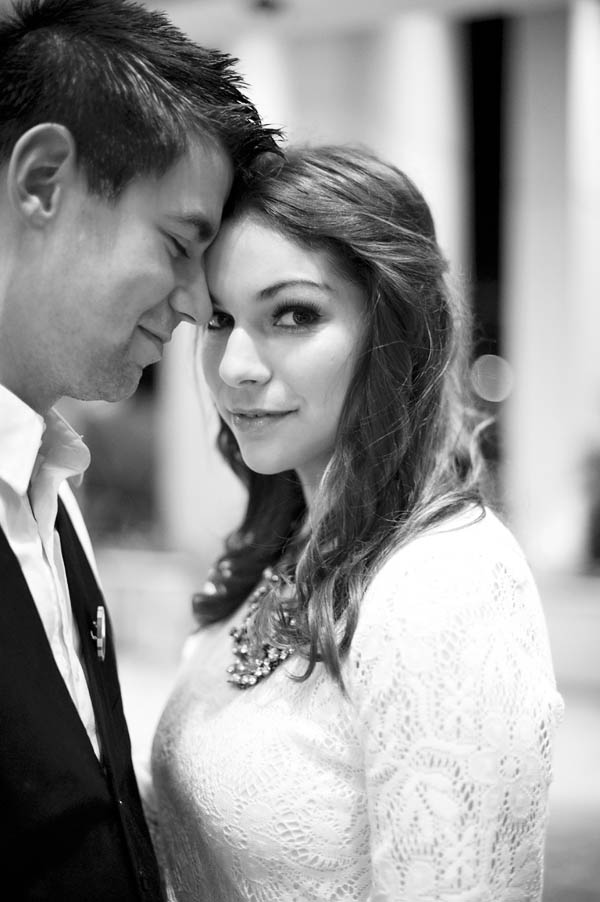 "Only having about 36 hours to plan the wedding, I knew there were limited things I could feasibly take on myself. However, being in the wedding business I knew that I had to have a few things that although small, would make a big impact and really make me feel like we were having a 'real' wedding! The morning of the wedding, Jeremy and I took a cab to Whole Foods and purchased mini cupcakes, which I added pink sprinkles to (I'm OBSESSED with sprinkles). We also purchased a random assortment of flowers so I could create a bouquet. My intentions were to just create a bouquet for me, but after putting it together I had leftovers to make my bridesmaid's bouquets too! I used one of my sheer scarves I had brought with me in a pale pink cheetah print to wrap the bouquet, which was a last minute touch I really liked! I also walked to the nearest convenience store and purchased gray poker chips, safety pins, and crazy glue to create the boy's boutonnieres!"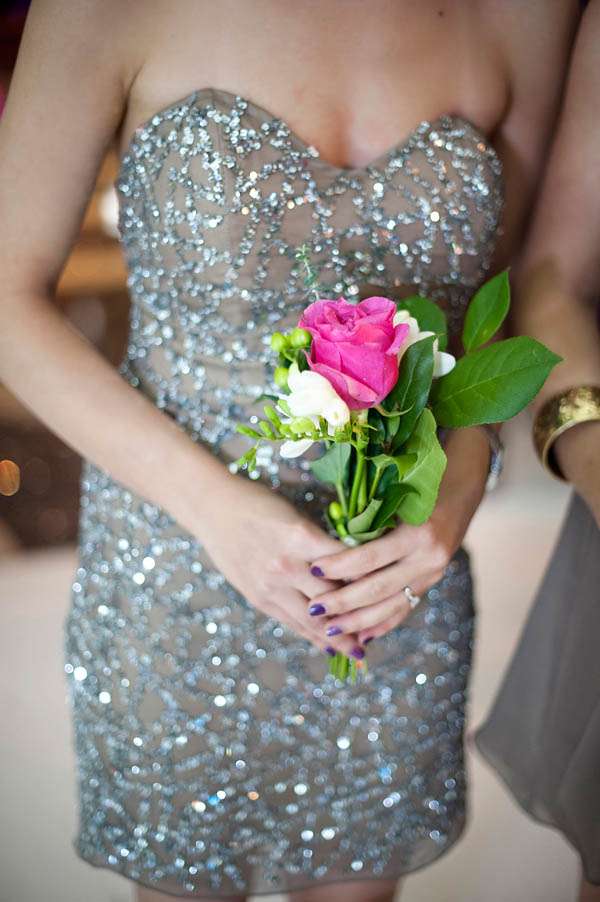 "My business partner Jen, and two of my best friends Carly and Ashley were rooming with us, so they happily took up the role as amazing bridesmaids. They all put together their own outfits and somehow all pulled the same color scheme!! Jeremy's business partner Nick was also on hand, and another photographer friend Ryan awesomely stepped up to be another groomsmen. All three boys had vests they had brought along to Vegas, so they also somehow managed to pull together a cohesive look!"
"As we were getting ready in our hotel room, we called to try to get several cabs to the hotel to take us to the chapel. After being told it would take an hour + to get that many cabs, we were then informed we did have the option of taking the Mammoth Limo, a F-650 limo that fits 30, complete with a full lights show and surround sound inside… although it seemed ridiculous at first, it ended up being the absolute perfect way to arrive to our Vegas wedding, with our photographers, friends, and cinematographers all piling in with us. It was so funny and really made the moment seem absolutely unreal."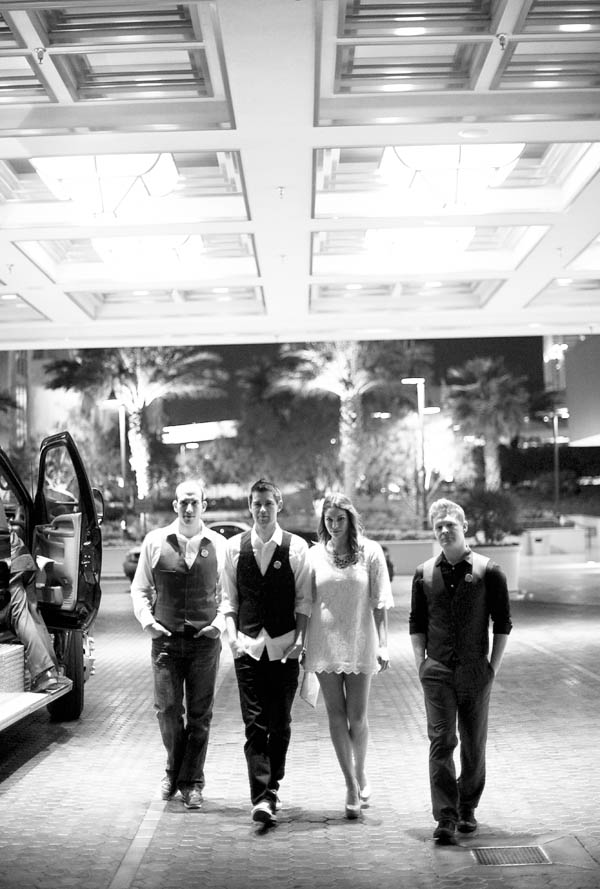 "Earlier in the week, we had had the pleasure of meeting Eric, who is part of the awesome band Norman. A few hours before the wedding, one of my bridesmaids had the idea that maybe Eric could come play at the chapel for us! After a flurry of texts, we found out he had to leave that day and wouldn't be able to attend. However, as I walked into the chapel, I was informed there was a surprise for me. I turned around to see Eric with his guitar to help us down the aisle!! It was such a cool moment and something I will never forget. Jeremy and I are HUGE music lovers and to have that there for us was so much better than any iPod playlist."
"We had less than two days to pull together a wedding, and we were in VEGAS!" concluded the bride. "There was definitely the easy route of finding the nearest Elvis and calling it a day, but we knew that if this wedding was going to truly reflect us, we had to make it us. Jeremy and I have never been a traditional couple. We haven't had a normal relationship and have never followed the rules when it has come to our relationship, our careers, and our lives. We started our marriage off with a crazy adventure, and I know that we will always approach our love with the same sense of adventure and fun. So many times we are afraid to do those things we most want to do because of fear of judgement from others. For once, we let all that go by the wayside and did exactly what felt right, and what we knew was right, for us. With a borrowed ring from a friend, a Las Vegas mood ring from the corner store, hand-made bouquets and a room full of photographers, our engagement AND wedding absolutely fell together in 36 hours just perfectly."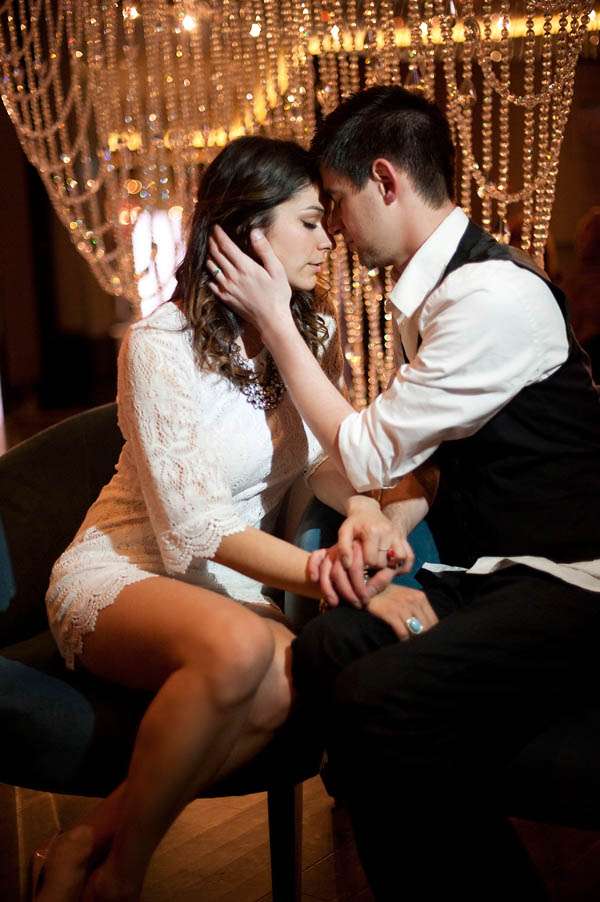 Don't forget the gorgeous video by Patrick of Stillmotion – he even caught the proposal on camera too!
Aww I just love it! Thank you SO MUCH to Ashley & Jeremy and of course all the vendors that worked on their wedding for sharing today. I only wish I would have known it was going on so I could have popped down to the event too!
Supporting Cast:
Photography Credit: Justin & Mary Photography
Cinema: Stillmotion
Venue: Pop-up Wedding Chapel at Cosmopolitan Hotel, Las Vegas
Reception Venue: Chandelier Bar, Cosmopolitan Hotel, Las Vegas
Bride's Dress: H&M
Bride's Shoes: Jessica Simpson
Bridesmaid's Dresses: Already Owned
Cake: Whole Foods Cupcakes
Flowers: Whole Foods
Hair: Ashley Goodwin
Make Up: Ashley Goodwin
Guitar: Eric Nordby, Norman
Transport: Mammoth Limo