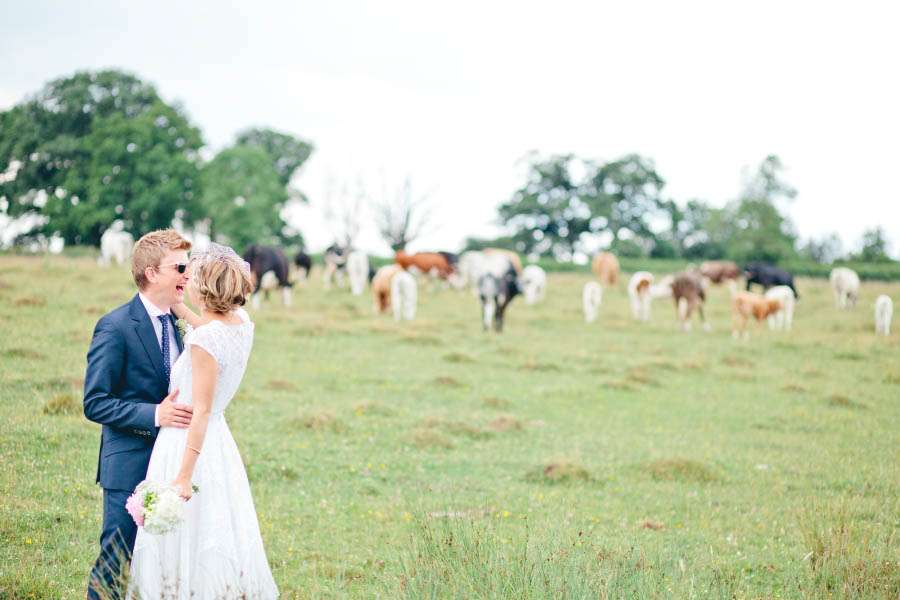 My favourite wedding photographs are those with happy smiling faces in them. The ones that when I look at them, I hazard a guess that people's faces were aching at the end of the day from grinning so much. Now obviously most weddings are full of joy and smiles, but I think Rhian & Toan might win the 'most smiley' prize. Big cheesy grins all round!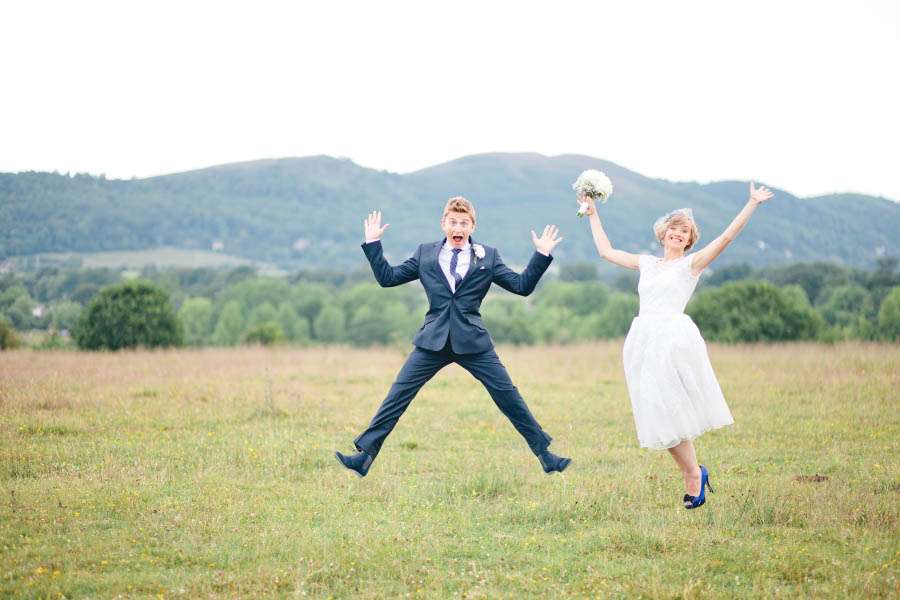 "We absolutely love our wedding photos, and genuinely couldn't be happier with them," begin Rhian. "We had a very tight budget for everything, but photography was the one thing I wouldn't skimp on the quality. I love it so much in my day to day life I knew the value of getting good ones done for the big day. When I saw Shell de Mar's portfolio I could see straight away that she has a beautiful eye for detail and lots of talent. We like to think that we found an excellent photographer who happened to do weddings, rather than a 'wedding photographer'."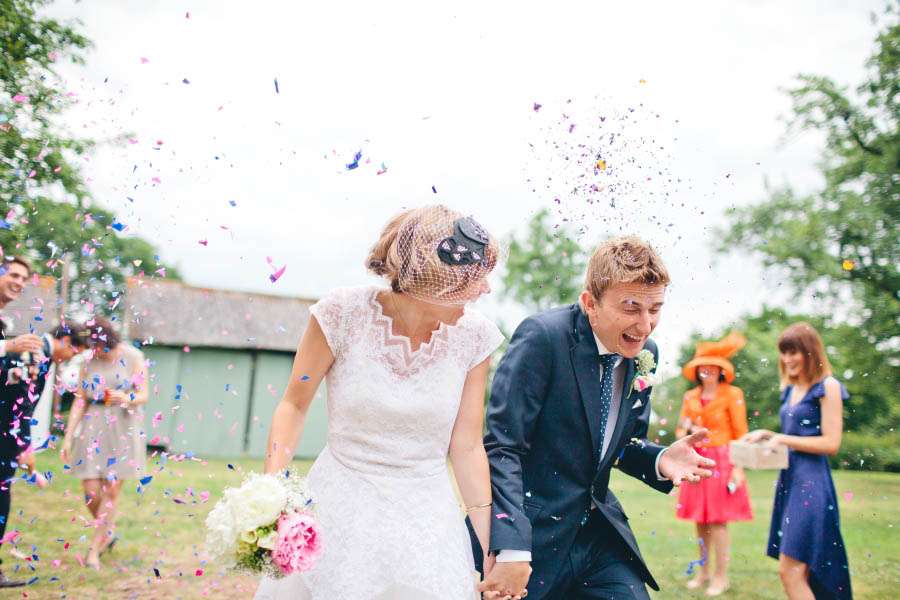 The wedding was held in a marquee in Toan's parent's back garden. The couple DIY'ed pretty much all of their wedding decor – and doesn't it all look amazing?! Rhian told me all about it,
"On the tables we had plain white tablecloths, the flowers were all put together by me, after a big trip to New Covent Garden flower market on the Thursday morning before our wedding. We chose them all, mostly white with a flash of yellow from the craspedia – to offset all the colour in the marquee. My sister spray painted the bottles of champagne (or cava) that we celebrated our engagement with in the company of various friends with white paint and we used these as candle holders, the corks were used to hold up the tablenames and my bridesmaids helped make some homemade candles in teeny sherry glasses (left over from my cake stand venture, see below!) to dot around the table."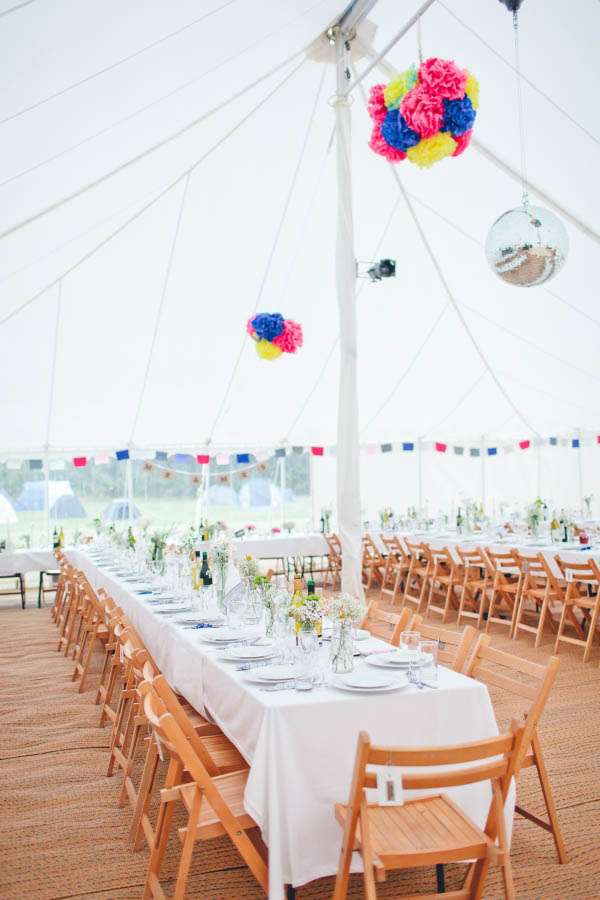 "The table names were photos of various London streets that mean a lot to us, largely in and around Camden. The table plan was displayed on an old door we found in Toan's dad's woodshed. The cake table was decorated using some fabric of my Mum's, plates and cake stands I already had and a sign saying 'sweet nothings' from Banter Banner. Our guest book was made by us, using brown card (with questions like 'what should we do for our 10 year anniversary?' and 'do you have any advice?' and a photo album. We popped it all in an old school desk (again found in Toan's parents' magical shed) and surrounded it with random bits of wood found in the woodshed which we covered in old photos of us and all the guests. We put homemade rectangular bunting round the edges of the marquee with giant multicoloured tissue paper pom poms hung from the ceiling."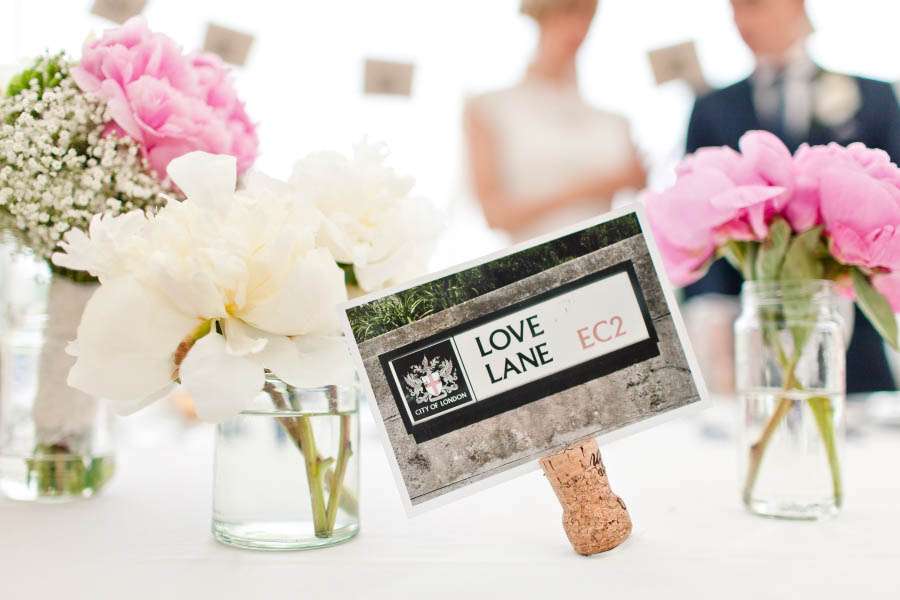 "We also had a little tent off to the side with the bar in. We decorated this to look like an old fashioned pub, using pictures I found in a charity shop (and some of Toan's Mum's pictures and various paraphernalia. We used my sister's old sofa, a chair another sister found on the street, plus one donated by a friend and a £5 coffee table for the furniture. Toan stencilled a sign saying 'Ravenscroft Arms' and the pub opened for business for its first and only rather epic night. Outside we had more bunting, hay bales, signs dotted and a menu sign for the BBQ using a stencil and a piece of aluminium I found in Toan's garden. We also used jam jars of candles and flowers and some paper bags to hold candles in dotted around. We even had an old Triumph that Toan's parents' had in the garage that his Dad cleaned up for us wheeled out and set up, with a skittle alley borrowed from someone else in the village!"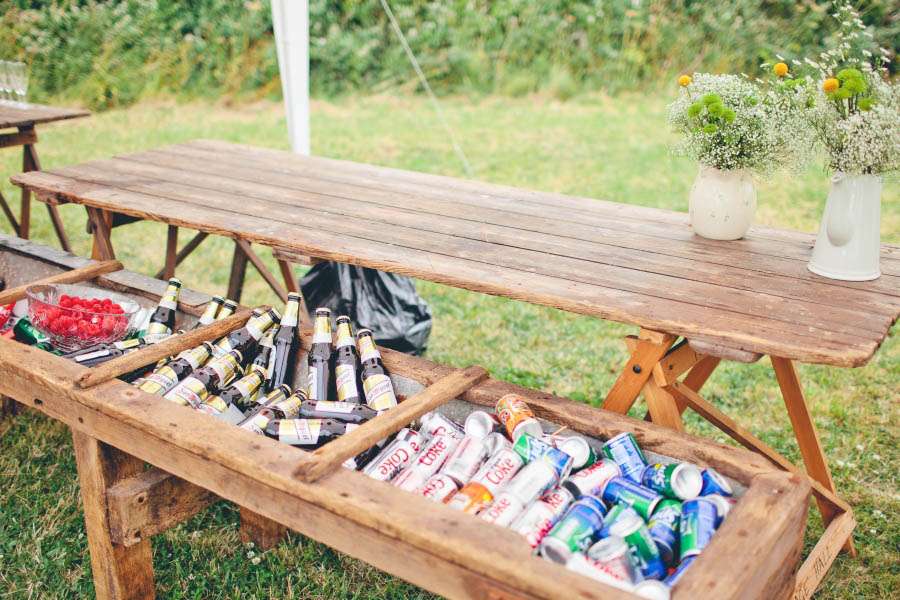 "We served drinks on top of ice piled into a trough that was used when Toan's sister had a pony! We borrowed trestle tables from the village hall too. We made confetti cones out of magazine front covers and confetti was the excess tissue from the pom pom making. On our way back to the party, instead of being formally announced or anything like that our friends formed a little corridor and we walked down into the field while they all whooped and chucked confetti at us, which was amazing!"
Phew, I feel exhausted just reading that extensive list of DIY tasks! It was worth all the effort though guys, your wedding looks amazing!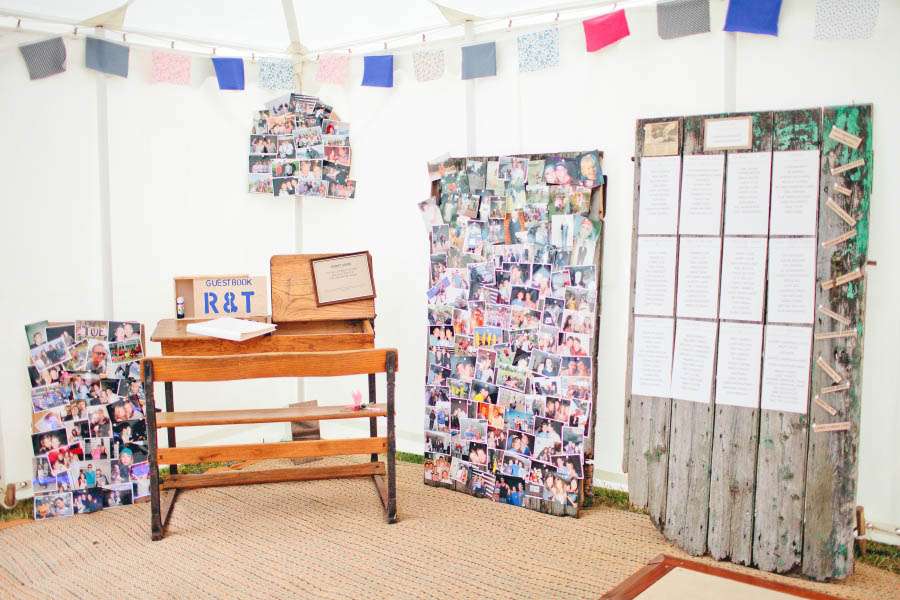 "Our inspiration just came from being on a tight budget, necessity is the mother of all invention after all – and also from just wanting to have a good old celebration with our favourite people," Rhian concluded. "We wanted it to be bright and colourful and full of positive energy. Neither of us believe in chucking money at things without thinking about it, everything you do should be done with passion. I looked on Rock n Roll Bride on pretty much a daily basis, as I loved reading everyone's stories (lets be honest Toan also had a good nosey) – and also on those days when people said things like 'what do you mean you don't have a colour scheme?', 'your dress is from a market?' or 'what are you doing for your favours?' having a quick check on the website reminded me to stay true to what I believed in and that the best celebrations were for those who did what they loved."
Thank you to Rhian & Toan and of course the fabulous Shell de Mar for sharing these today.
ps did anyone else notice the humping cows…?
Supporting Cast:
Photography Credit: Shell de Mar Photography
Ceremony Venue: St Wulstan's Church, Little Malvern, Worcestershire
Reception Marquee: Space Intense
Bride's Dress: Vintage – Stables Market, Camden
Bride's Shoes: Kurt Geiger
Bride's Headpiece: Ella Gajewska on Etsy
Groom's Outfit: Reiss
Bridesmaid's Dresses: ASOS
Bridesmaid's Belts: DIY
Cake: DIY
Flowers: DIY
Guitarist: Andy Cherry via Alive Network
DJ: Dizzy Feet
Stationery: DIY
Caterers: (BBQ) Arden Pig Company
Bar/Drinks: The Venue Business
Coffee Van: Camper Café