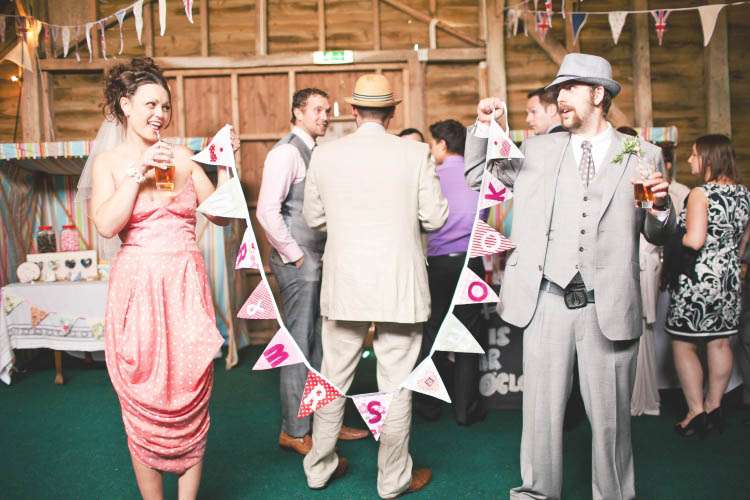 Mads & Nick are one seriously cool couple and I'm so thrilled to share their wedding with you today. I just know you're going to love it!
"Our wedding was a hot mess of all-things-wedding and us," Mads explained. "I don't think we did anything revolutionary, all the traditional parts of the wedding were there; we just made sure we took the time to think everything through and make sure it was right – for us."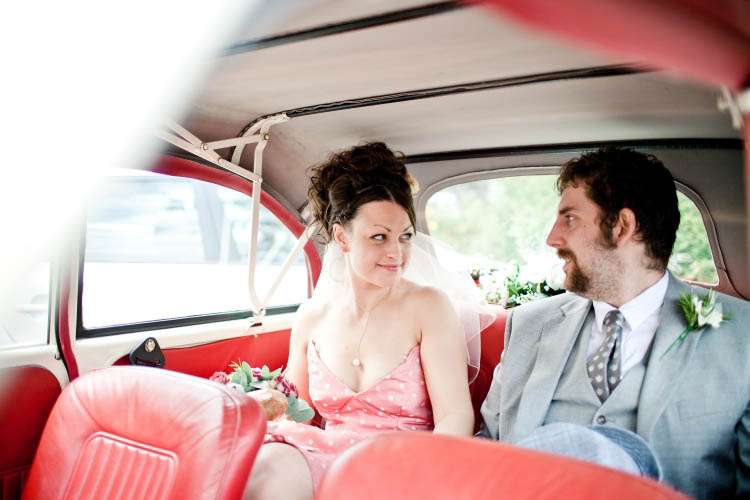 "From the pre-ceremony music being a collection of our favourite film scores (How to Tame your Dragon anybody? Ahh  just me and Nick then), to the inadvertently weepiest of readings; eight dreamy looking bridesmaids and nine hot groomsmen and our tables being named after 'Our favourite things' (inc Midsomer Murders and Arnold 'The best activities for your health are humping and pumping' Schwarzenegger – we had no shame!). We had our friend on guitar after dinner, photos in front of an abandoned concrete barn instead of the lake, pink flamingos, a Lulu Guiness corsage bridal 'bouquet (instead of a traditional bouquet)', funk and films on in the evening – who doesn't want to watch Predator in a deckchair under a blanket with a Pimms on the go? Then at the end of the night we stole a taxi, ate cake and I got to take my spanx off. Rock n Roll!"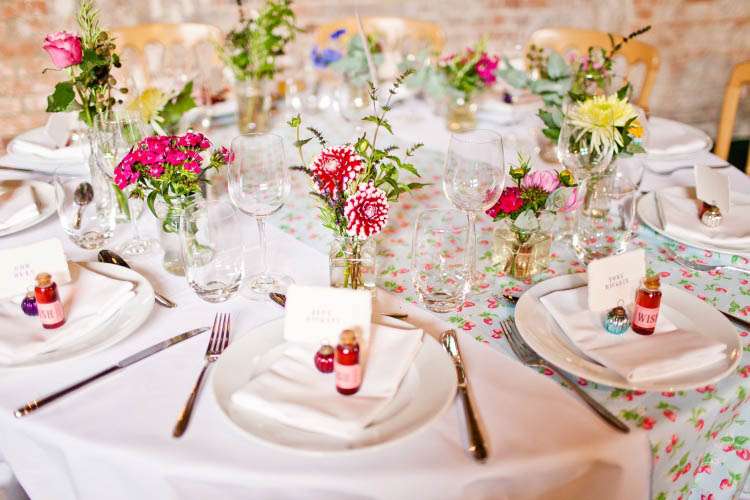 The ceremony took place at Hungerford Town Hall and the reception was held in a friend's barn. Mads looked incredible in her Vivienne Westwood ensemble -both her dress and her shoes were by my favourite designer – and Nick wore a bespoke suit from Saville Row.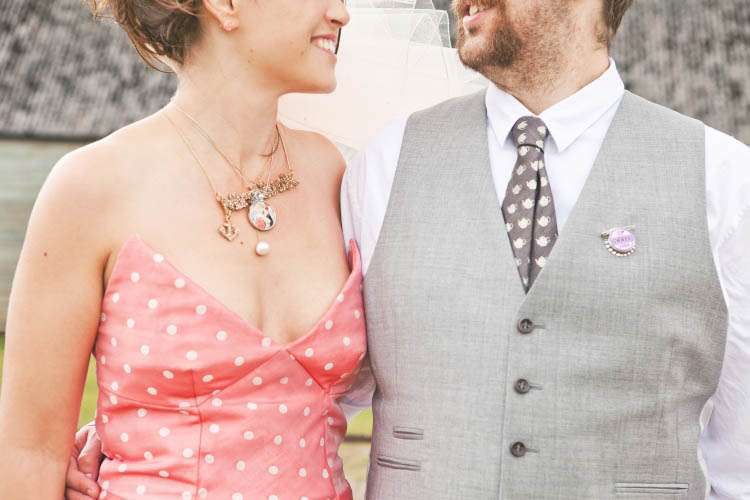 "We made our own gin favours by making blackberry and pear gin – (mix equal parts fruit, sugar and gin then leave in a cupboard rotating occasionally, for three months) then had loads of fun gotgineverywhereandgotprettydrunk – pipette-ing gin into mini bottles we got from Hobbycraft and making them look cute with wish labels," Mads continued when I asked about any DIY elements in their wedding. "I also made my own runners using Cath Kidston fabric so our tables were colourful. They weren't perfect, the edges were cut using pinking scissors and weren't 'finished' which meant they did they fray, but I honestly don't think anyone noticed/cared!"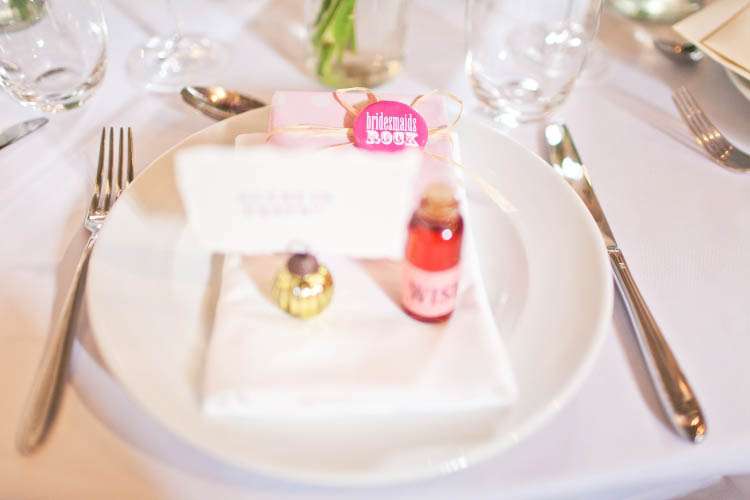 "Finally, rather than just have a wedding cake, as I have such a sweet tooth, we decided to enlist our friends to help us create a cake stall – which turned into a childhood cake-dream come true and surpassed our wildest dreams, bought everyone together over tea and coffee and looked/tasted amazing!"
Amazing indeed!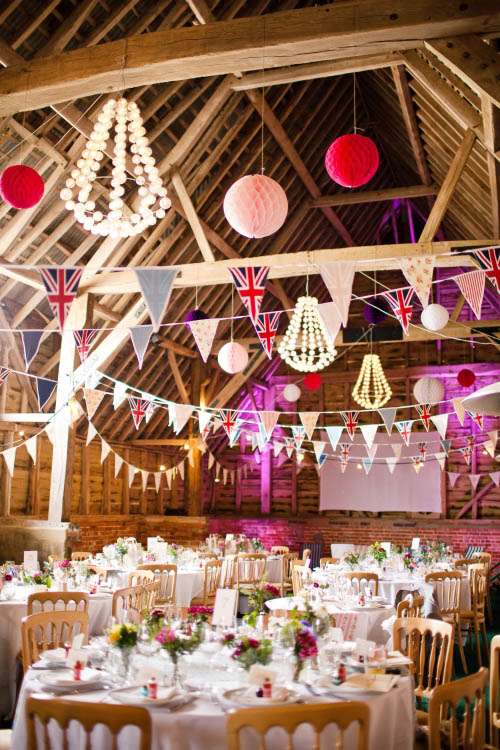 "I was given the advice," the bride concluded, "'Don't worry if something isn't perfect; no-one but you will know' which proved invaluable in the final months of planning. Also, when planning your wedding pick what's most important to you and work around it. Our money went on our food (there was never any doubt we'd have anyone but the Pot Kiln catering our wedding) so rather than have a hotel/wedding venue we chose a barn which balanced our budget out and was a compromise we were happy with."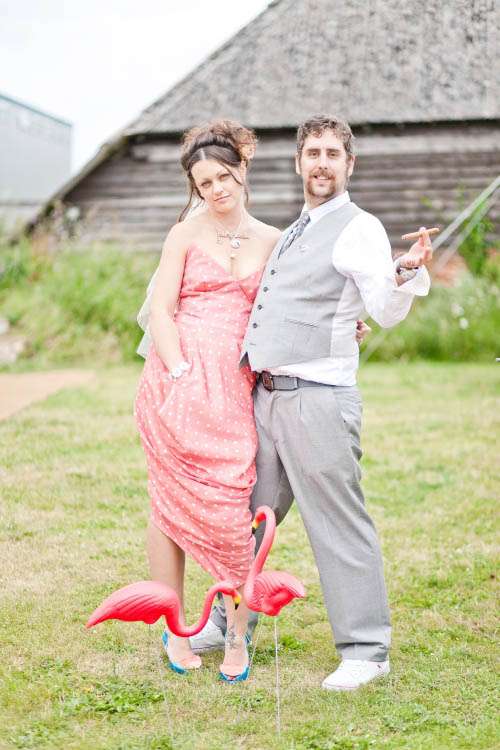 "At times it meant working harder as we had to think of everything – sourcing festival loo's (when did I ever envisage myself doing that as bride?), putting seat pads on chairs, organising lighting – Big Top Mania made that barn bad ass – but we'd do it all again tomorrow as it meant we could have our venue exactly as we wanted it."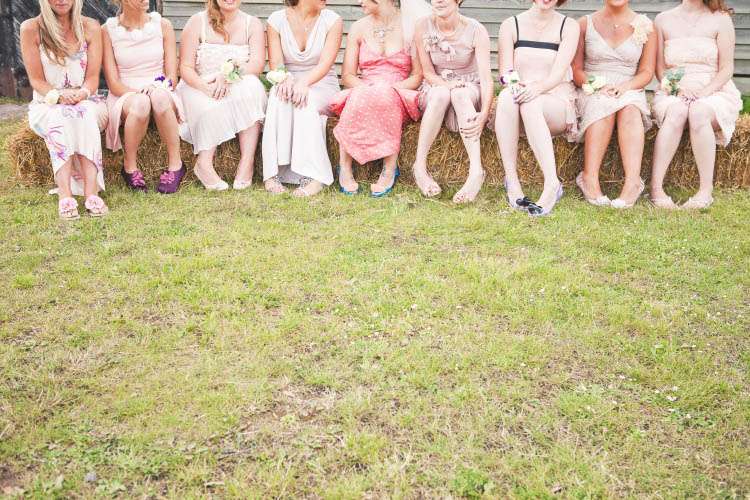 Huge love and thanks to Mads & Nick for sharing their awesome wedding with us today and to their photographer Shell De Mar (who they made cry with their thank you letter to her – yey for appreciating the photographer!) for sharing her images.