After the whirlwind of walking the catwalk at Omaha Fashion Week you'd think I might deserve a rest no? Well erm…no apparently I didn't. The following morning we were up bright and early for another busy day!
The TV Appearance
As most of you will have already seen, Megan & I were invited onto The Morning Blend breakfast show to talk about fashion week and blogging/Rock n Roll Bride. I sure will have woken up some sleepy Nebraskans with my pink ensamble huh!? Gareth took some behind the scenes type photos while we were there. And if you haven't watched the segment yet (I seriously cringe every time I watch it back but hell, I was on American telly yo! Who cares if I fluffed up a few answers and misread the damn auto cue?!…) you can see it here!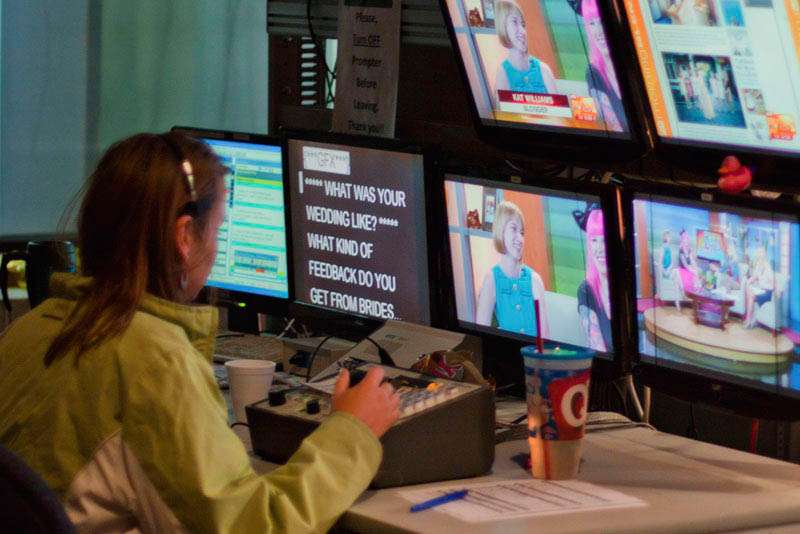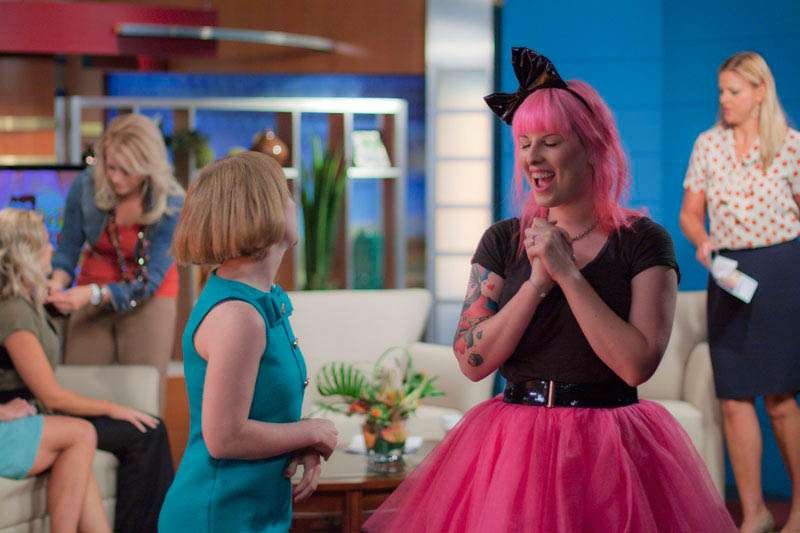 I think Gareth may have just gone and bagged himself a job as my behind the scenes photographer huh!?
Buy The Dresses
The limited edition Rock n Roll Bride dress (as well as all the other dresses in the collection) can be purchased from Princess Lasertron's dedicated dress website. Prices start from just $325 (the Rock n Roll Bride dress is $442) and the petticoats and belts are available to buy separately. Megan can make any dress in any size, colour or fabric. We went for 100% cotton in bright blue for mine with a pink petticoat (which I wore as a skirt on The Morning Blend!) but I'd love to see some of you rocking these dresses in your own choice of colours. I think the Rock n Roll Bride dress would look amazing in black, white, yellow, green…well in all the colours of the rainbow really!
Oh and did I mention that every Princess Lasertron dress in her 2011 Fall line comes with pockets?! I haven't met one bride yet who doesn't love the idea of pockets in her wedding dress. Genius.
Megan says of the Rock n Roll Bride dress, "This one-shoulder design made in an electric blue cotton is perfect for any Rock n Roll Bride. Wear it with one of our optional crinolines for a fuller skirt. We love the origami-like pleat across the top of the bodice and over the shoulder to add a little extra badassery. Ask us about additional colors and fabrics."
For further infomation on all the dresses in the range be sure to check out the Princess Lasertron dress website and feel free to drop Megan an email for further info or to ask any questions info@princesslasertron.com.
Free Princess Lasertron Posie Bouquet For All Rock n Roll Bride Readers!
Oh yes you did read that right! I did say that Megan designed the Rock n Roll Bride dress with me and my readers in mind didn't I?! Well for any Rock n Roll Bride reader that purchases the limited edition Rock n Roll Bride dress, she would like to include a posie bouquet (like this one), in your choice of colours for FREE! The value of this bouquet is a whopping $150.
To qualify, simply quote 'totes cray cray' when you order your dress (you can do this at the checkout or in any emails you send to Megan) and she will get back to you to arrange it all! How bloomin' generous is that!? I'm actually quite jealous…
♥  ♥  ♥
Be sure to pop back later today to see the results of the promotion photo shoot for the Princess Lasertron dress line. There was fire…