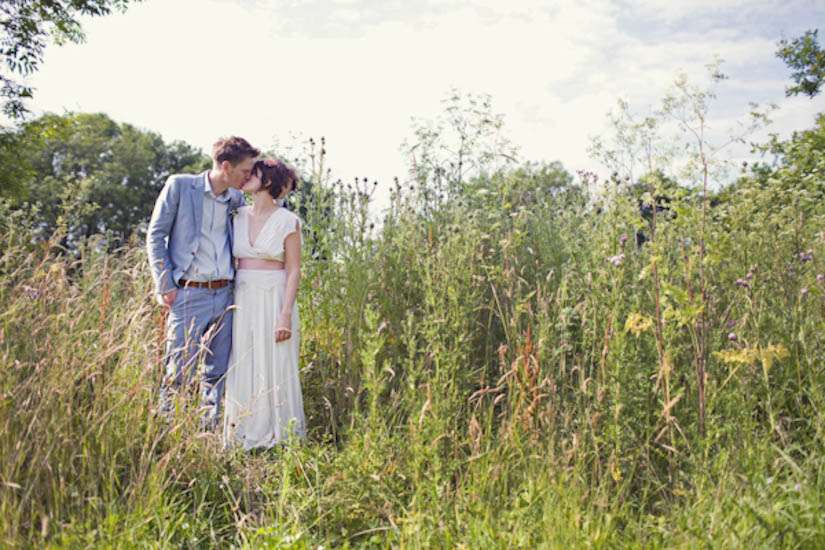 When I saw Elisha & Russell's wedding I knew they'd made the perfect choice in their photographer Joanna Brown. If you follow Joanna on twitter you'll know that she loves her garden and grows her own veg, so the fact that this wedding was held on Magdalen Farm on the Dorset/Somerset border…well she must have been in her element! "The staff of The Magdalen Project at Magdalen Farm are amazing and even joined us on the dance floor and around the campfire at the end of the evening," the newlyweds told me. "We loved that our wedding was helping to support the Wessex Foundation who encourage active learning in and about the outdoors."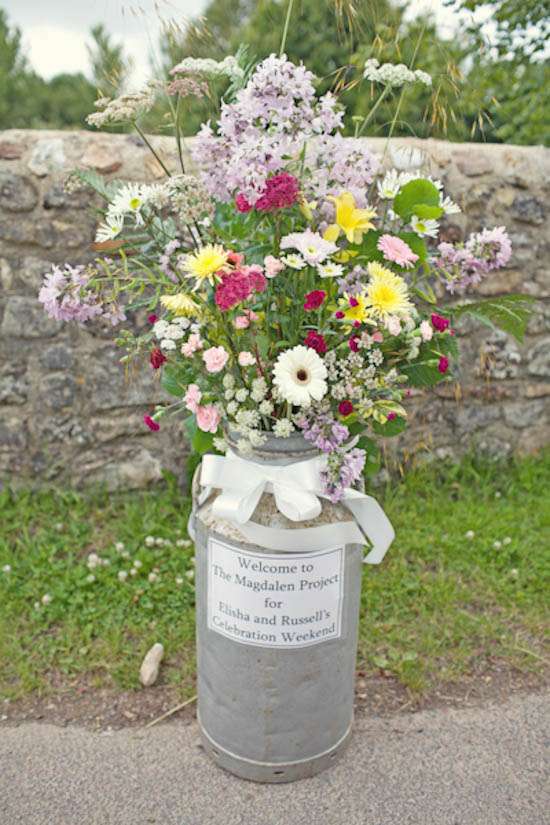 "I have a background in informal education with young people," continued Elisha, "and Russ set up www.rocknrolladventures.com to encourage people to spend time in the outdoors which has evolved to organise activity and educational travel for schools and colleges as well as training camps and other holidays. We hope to provide a quality of service and a similar conviction shown by the staff at Magdalen.  We found they really did walk the talk as they claim to do which meant excellent, tasty fresh local food and a friendly and happy staff team. And a deliciously relaxed weekend wedding for us in a beautiful place!"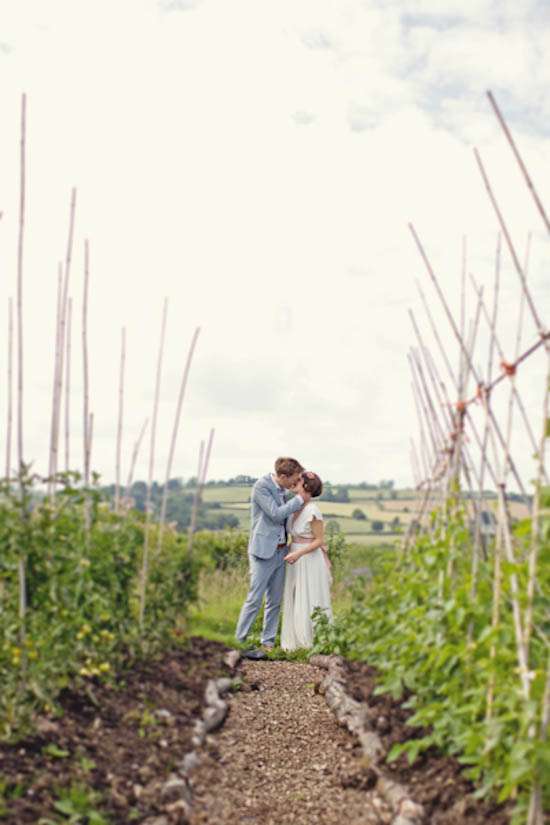 The bride wore a two dresses – the first which she bought from ASOS and customised by adding some crochet lace hand-sewn by Great-Grandmother. "My Auntie Margaret is a creative wizard and offered to make a dress to my design as she had done for my cousin and bridesmaid Siobhan," explained the bride. "Looking around for ideas of shapes and materials I found this dress on ASOS that the catwalk video showed to have a great flowing skirt that I thought would be a lot of fun on the dance floor!  I showed it to my Aunt and described the changes I hoped to make.  She found some lovely cotton, crocheted lace in her textiles cupboard which her grandmother had made and said we could use it.  She used natural tea-dye to bring it to the same colour as the dress which was reshaped."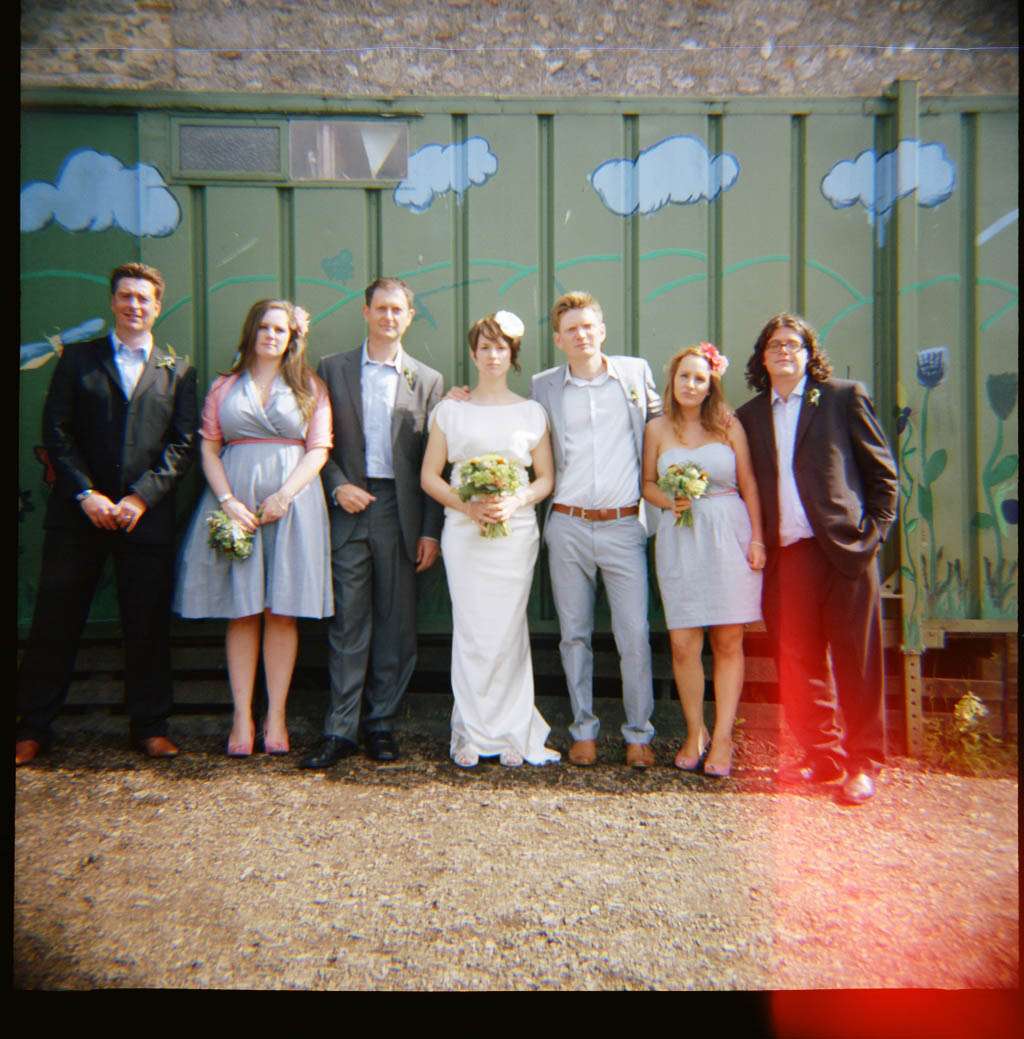 The bride's second dress came from Damsel in a Dress. "Closer to the wedding I was worrying that I might prefer to wear something more sophisticated (than my usual style!) for the ceremony and while looking for bridesmaid dresses on John Lewis website found the Damsel in a Dress dress – very different to anything else I'd seen and within budget! So the two dress wedding was decided.  I felt sleek walking up the aisle in the Damsel in a Dress number and had a lot of fun skanking to the ska band and cosying up round the campfire until early hours in my free flowing skirt of my ASOS dress."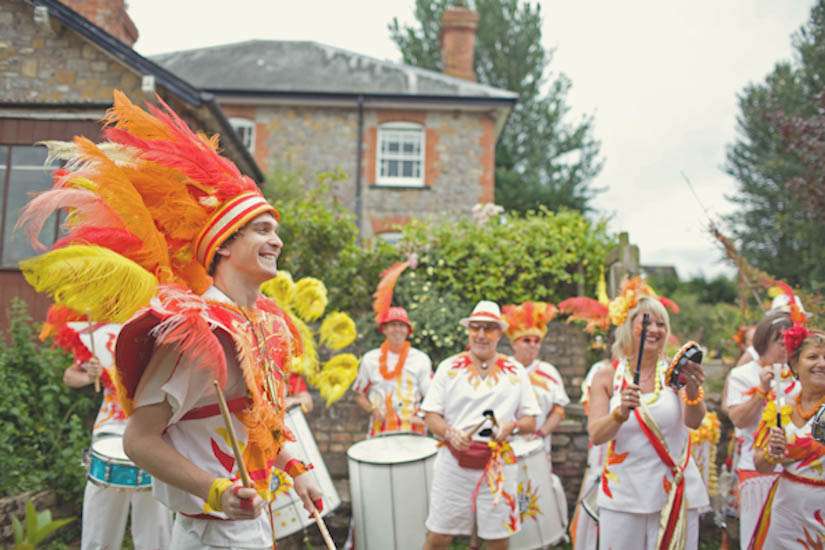 It was the little and fun touches that made this wedding brilliant. For example, after the ceremony they had the Street Heat Samba Band to entertain their guests and playing late into the night were Skar Wars. The couple asked a number of their guests to make a cake instead of having a traditional wedding cake and they were helped by their friends and family with making and displaying the reception decor.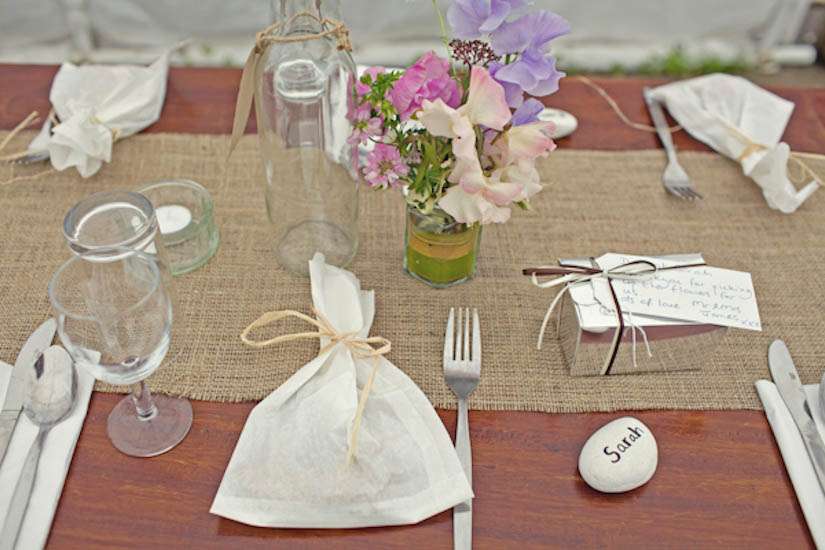 "We didn't really identify a theme," concluded Elisha, "other than we knew we wanted to create an informal event with as much time outside as possible. You could say our theme was evolving! I grew up loving the Dorset countryside and felt closest to my family when there, where our time spent together was focused on getting muddy in streams or eating picnics on the beach.  Russ had enjoyed similar times with his family and it was his determination not to feel part of a 'wedding machine' of many, more formal venues, but focus on finding somewhere that we wanted to spend time with family and friends to celebrate our happiness and excitement for the future.  We felt very lucky to find that in the venue and staff of Magdalen Farm."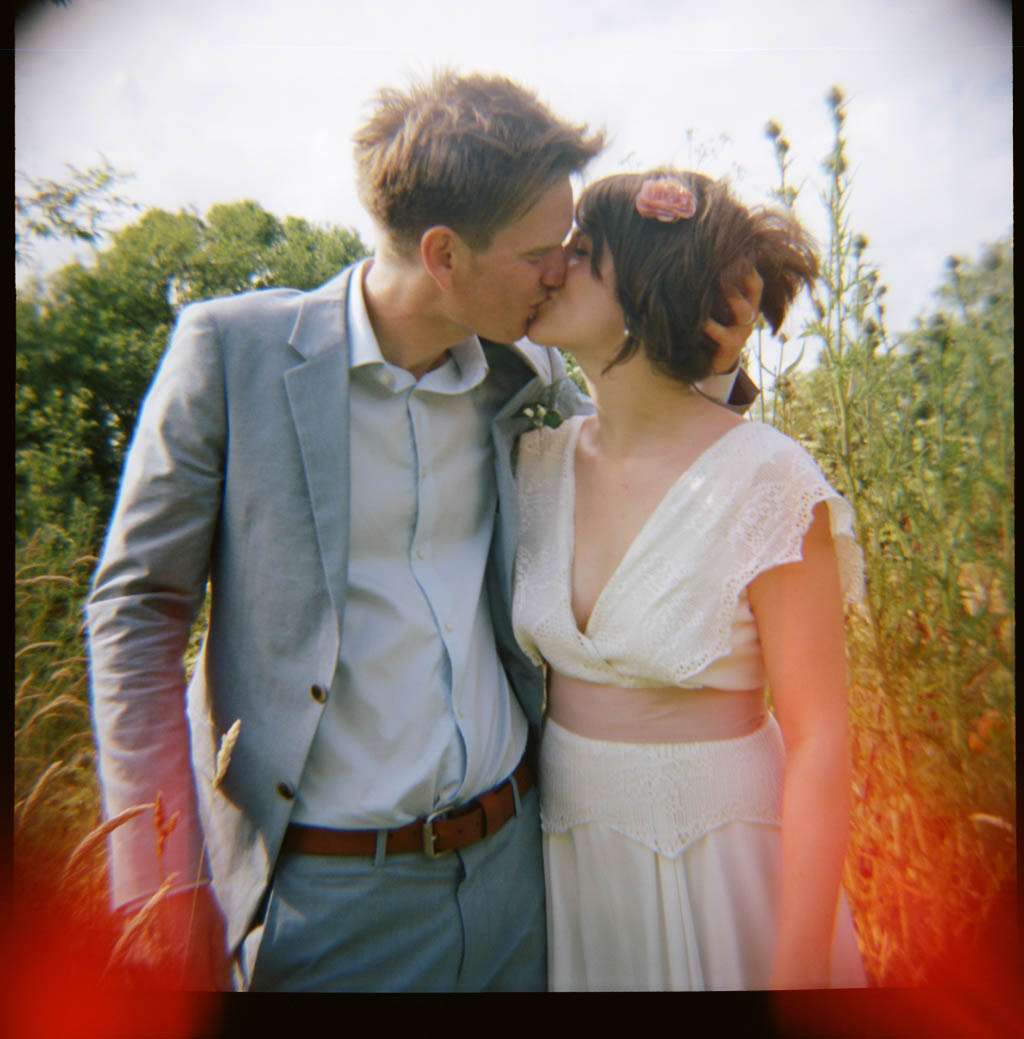 Love and thanks to Elisha & Russell for sharing their fabulous wedding and to Joanna Brown for sending over her images.
"Joanna's input to the day was great, from calming me before leaving to the ceremony to giving me and Russ a fun breather during the couple shots. Everyone was impressed with her way of working and enjoyed her company."
Photography Credit: Joanna Brown Photography
Venue: Magdalen Farm
Bride's Dress: ASOS & Damsel in a Dress
Bride's Shoes: Marks & Spencer
Bride's Headpiece: Little White Dresser on Etsy
Groom's Outfit: Reiss
Bridesmaid's Dresses: Phase Eight & H&M
Cake: DIY
Band: Street Heat & Skar Wars