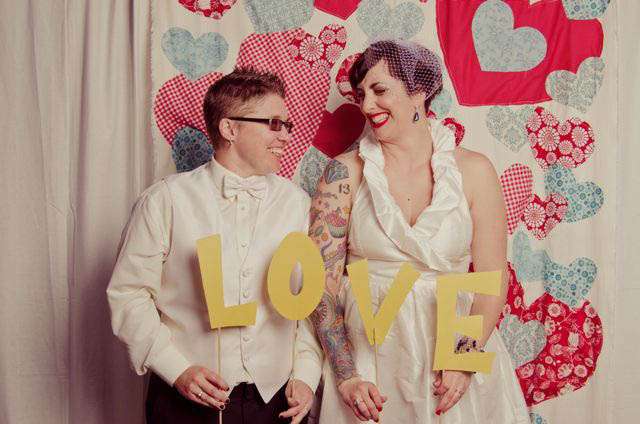 Natalie & Sarah were married at El Rio, a bar in San Francisco. "My friend described our wedding as 'A backyard picnic with 52 pieces of flair'. I wanted it to feel like a big huge queer love fest," newlywed Sarah told me.
"Our wedding was Rock n Roll because it was a queer wedding first and foremost. We had so much wiggle room to shape our event to be exactly what we wanted it to be. We were able to incorporate some traditional aspects, like the ring exchange, and do away with others that had no meaning to us like a bouquet toss or smashing a piece of cake in one another's face. Although Nat and I can't legally get married in the state of California we're looking forward to taking a trip to New York to do it soon! I have a full sleeve of tattoos and wanted to feel sexy at my wedding, so I opted for a short dress that showed off my sleeve & some cleavage."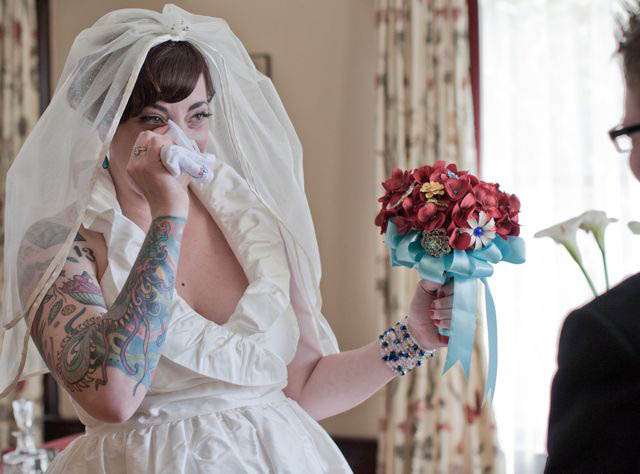 Sarah's dress was a bridesmaid's dress from Lula Kate which she ordered in white to save money. She also wore shoes by Jeffrey Campbell and DIY veil and jewellery. Natalie wore a hired tux from Men's Warehouse, but to say it was a bit of a rubbish experience is an understatement.. You can read all about the drama on their blog soyourenGAYged.com.
"We were on a very tight budget, but didn't want our guests to know it, so we tried to do everything we could to make it feel like a small intimate gathering with all of your best friends in attendance," Sarah continued. "We also served gourmet comfort food to our guests – fried chicken, baked beans & mac n' cheese. Yum! We also tried to keep most of our money within the LGBT community, so the venue was owned by a lesbian, our caterer was a lesbian and most people who helped out day of were all from within our community too. We decided who read their vows first by playing rock, paper, scissors and it was a huge hit."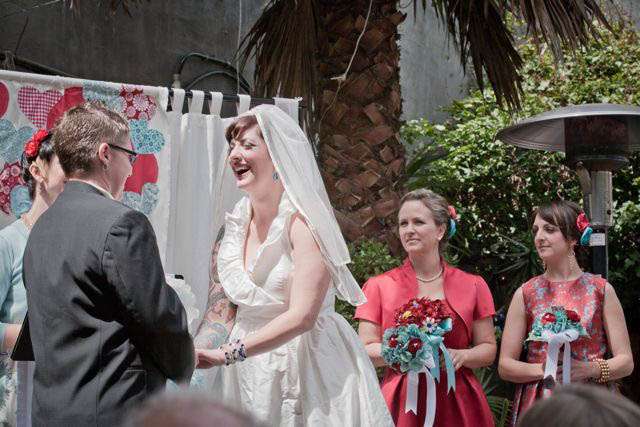 The couple also DIY'd a lot to save money including the flowers, "They were hand sewn by yours truly because we ran out of money and I wanted to have some damn flowers!" Sarah laughed. "I handmade my bouquet with fake flowers and incorporated some vintage pins in it that I'd asked for as a gift for my bridal shower. My maid of honor did flowers for many years, so she made their bouquets out of fake flowers we bought the day before at a store. They turned out so well – she took hours to glue all of the pearls to the inside of the red flowers."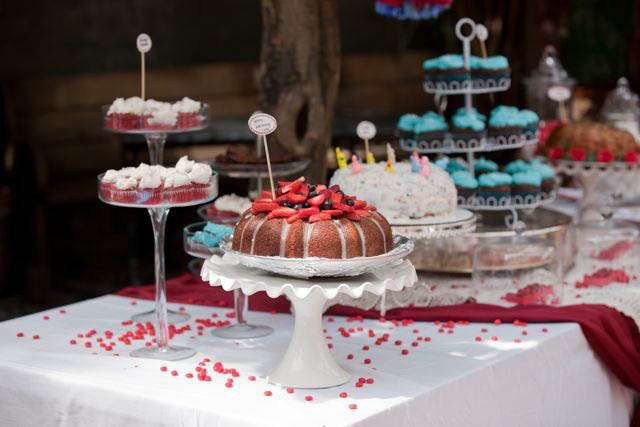 "Our dessert table was designed by a fabulous friend who hung some of the desserts from a tree. Almost everything at the wedding was a DIY project completed by either myself or my amazing team of friends. We did 3 first dances, so that I could get in a cha-cha with my Mom."
"The DIY altar and photo backdrop was my favorite DIY project. I blogged about it here. The photo's in front of it turned out so so good!"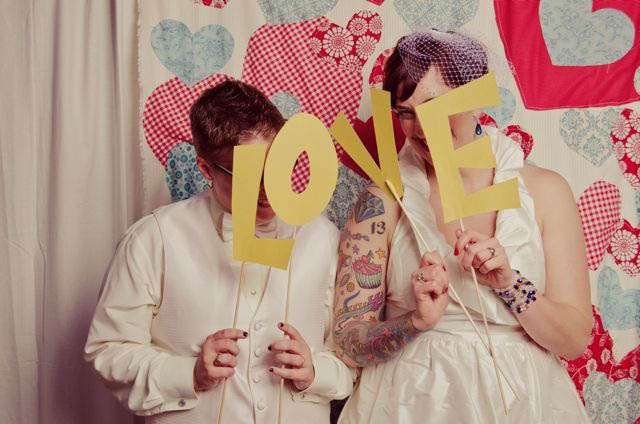 Big love and thanks to Natalie & Sarah for sharing their awesome day with us today.
Photography Credit: Diana Rothery & Tanja Nixx
Venue: El Rio, San Francisco
Sarah's Dress: Lula Kate
Sarah's Shoes: Jeffrey Campbell
Natalie's Suit: Men's Warehouse
Hair & Make Up: DIY
Flowers: DIY
Catering: DIY