A couple of weeks ago I was invited by Candy Anthony to visit their shop to check out (and try on!) some of their latest dress designs. Like I was going to turn that down! Here are a few of my favourites that I tried on…How lucky am I!?
The Shop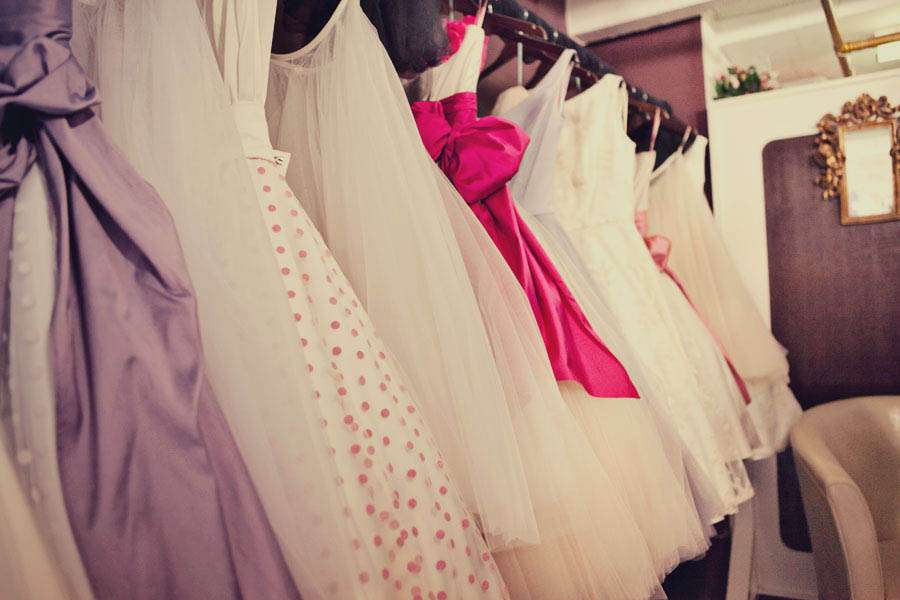 Located on London's South Bank overlooking the Thames, Candy Anthony's store is like the closet of a very beautiful princesses. Walking in I was greeted by rows and rows of tulle, netting and brightly coloured sashes. I'm in heaven! The cakes went down pretty well too…
Pink Polka Dots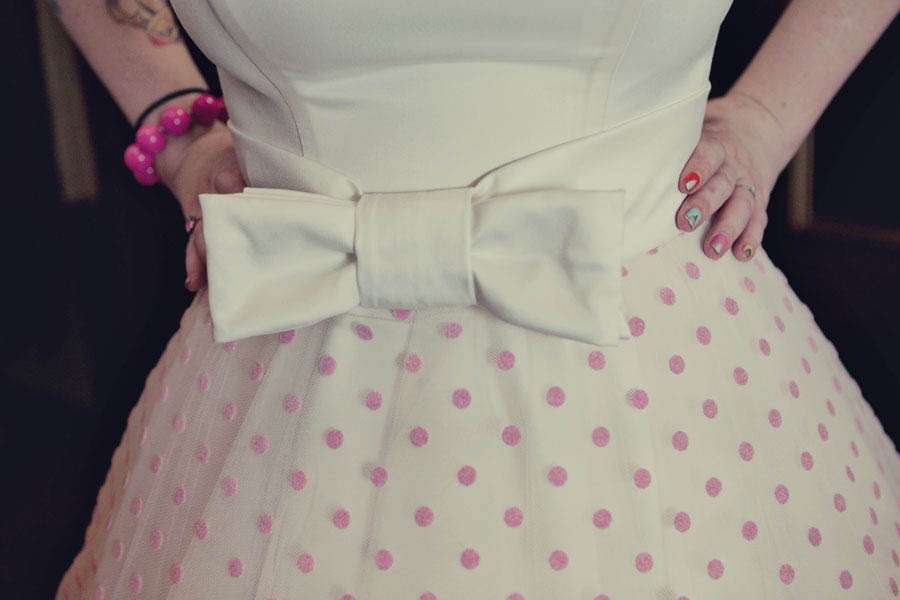 I started by putting on a 'basic' white dress with a pink petticoat (of course) and Rachel (who was helping me) asked which accessories I wanted to add. I loved the customizability of Candy's dresses. That you could take the 'plain' (for lack of a better word – these dresses certainly aren't plain!) tea length dress and add netting, lace, bows, petticoats and sashes in every colour imaginable! The of course there's the veils and hair flowers in every colour and style you could think of. Amazing.
The dresses come in a number of different necklines i.e strapless, sweetheart (my favourite), high necked – so there really is a style to suit everybody. I was immediately drawn to this pink polka dot skirt overlay and white bow combo. I die.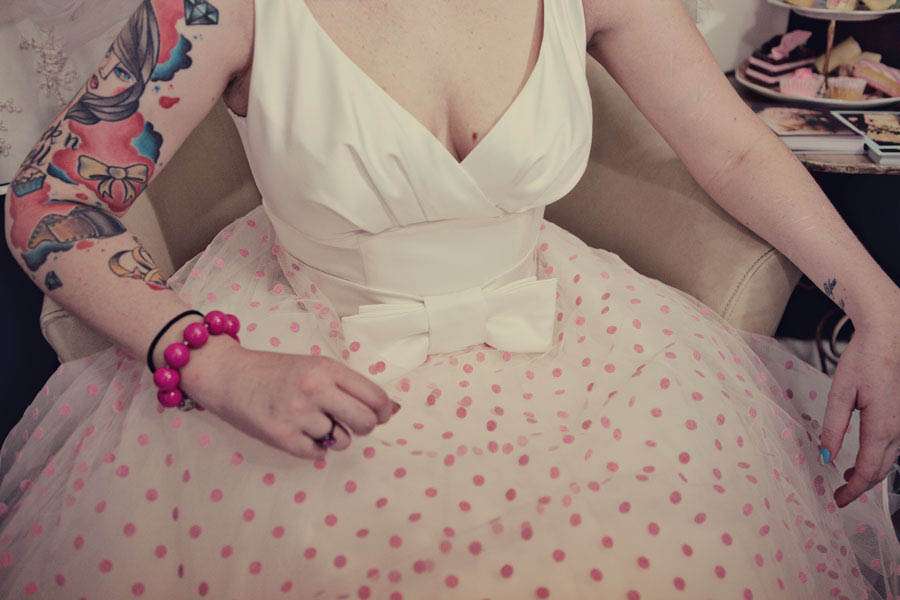 Lovely Lace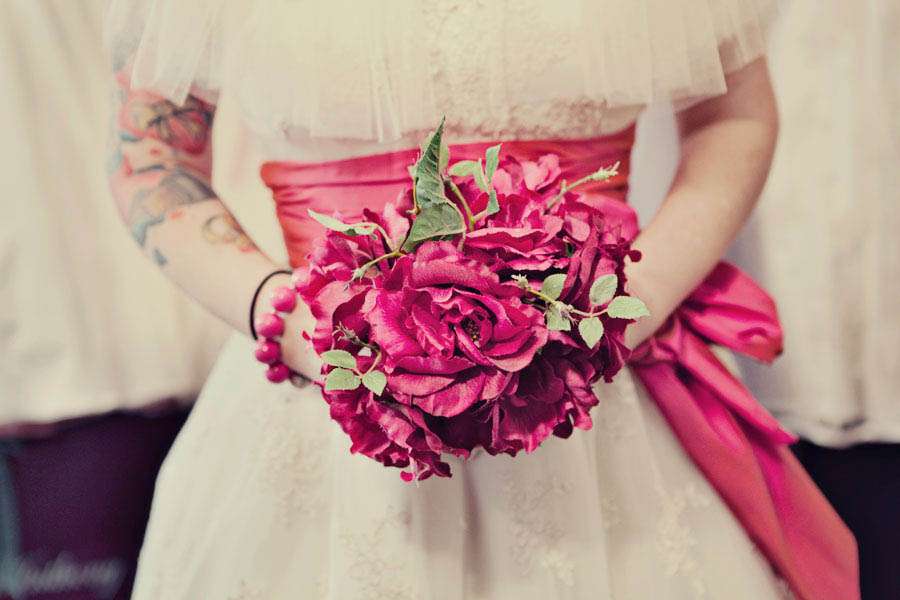 A more traditional look maybe, but one I still loved. The beautiful lace overlay transformed the basic gown to one fit for a princess. The puffy veil (one of my favourites – see the gallery below for more photos) and bright pink sash gave this look a Rock n Roll edge. I was smitten.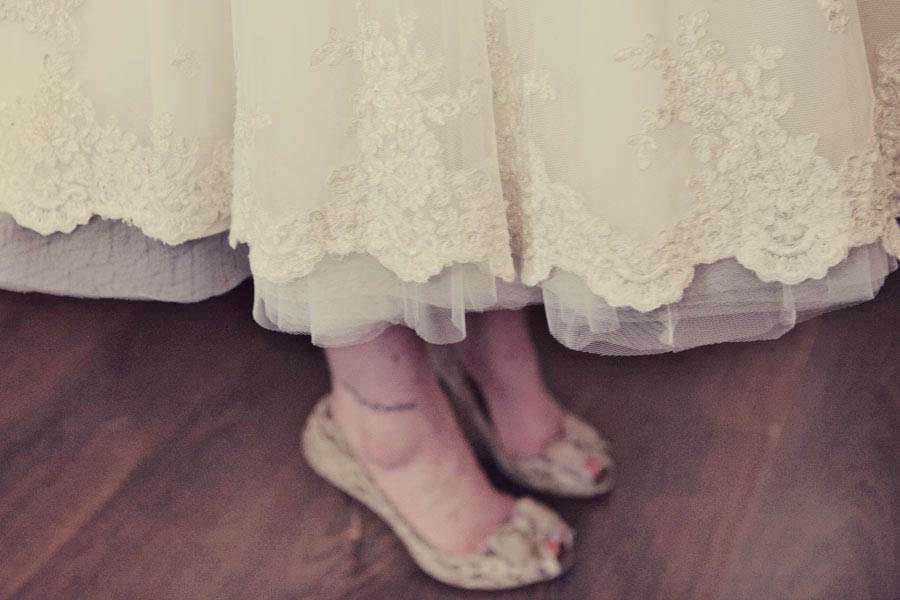 Dotty All Over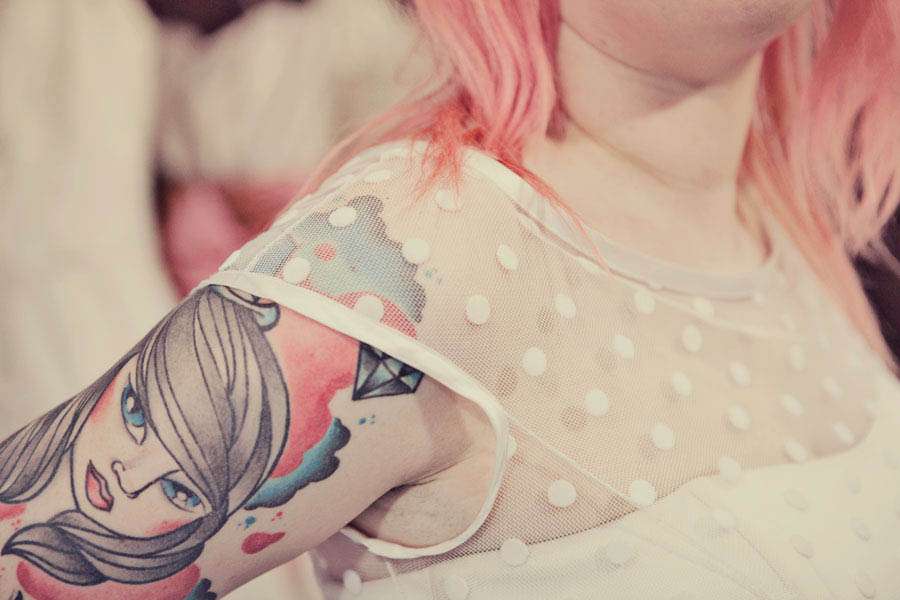 I loved the sheer neckline of the lace (much more flattering that a strapless dress for someone with huge boobies like me!) but I was also smitten with the polka dots so Rachel suggested this all over dotty addition. The cute little bow at the back was less dramatic than the big sashes but just as cute none the less!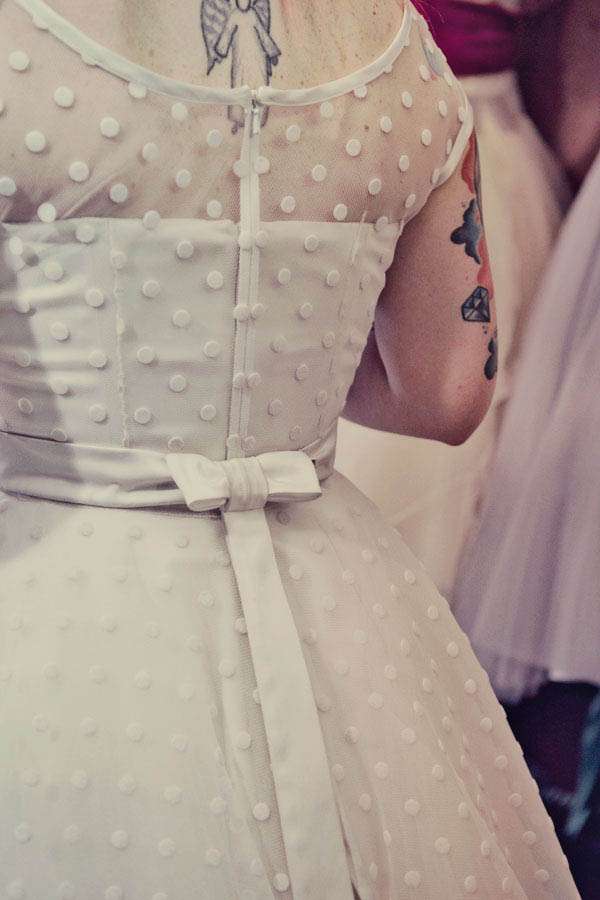 Gorgeous Gingham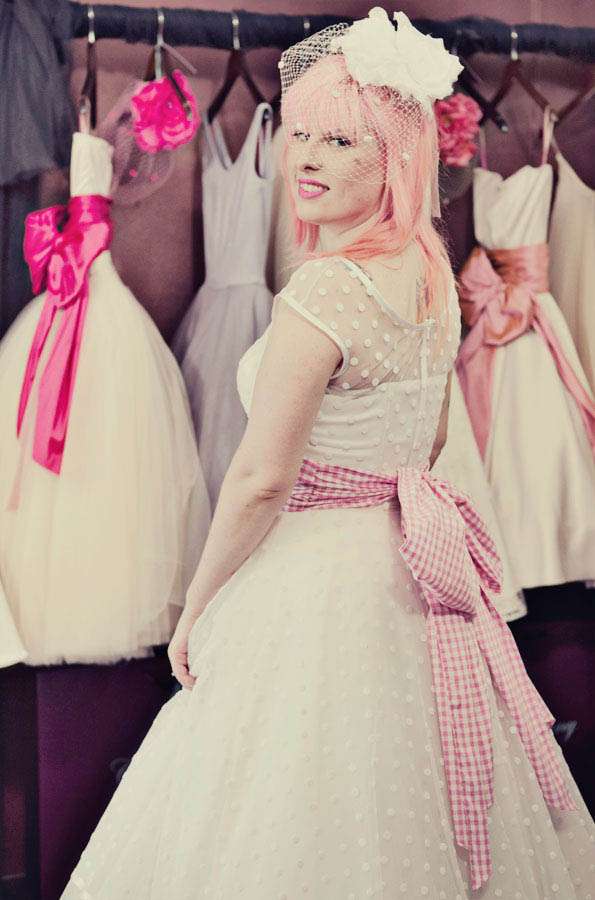 I wasn't sure if I'd like this gingham sash as it's not a pattern I'd usually wear, but I have to say my mind was changed as soon as I put it on. How perfect would this addition be fore a countryside or farm wedding? Candy Anthony makes sashes in pretty much every colour imagineable. They've even made a leopard print one in the past. Oh lala!
Crazy Colour – Pink n Black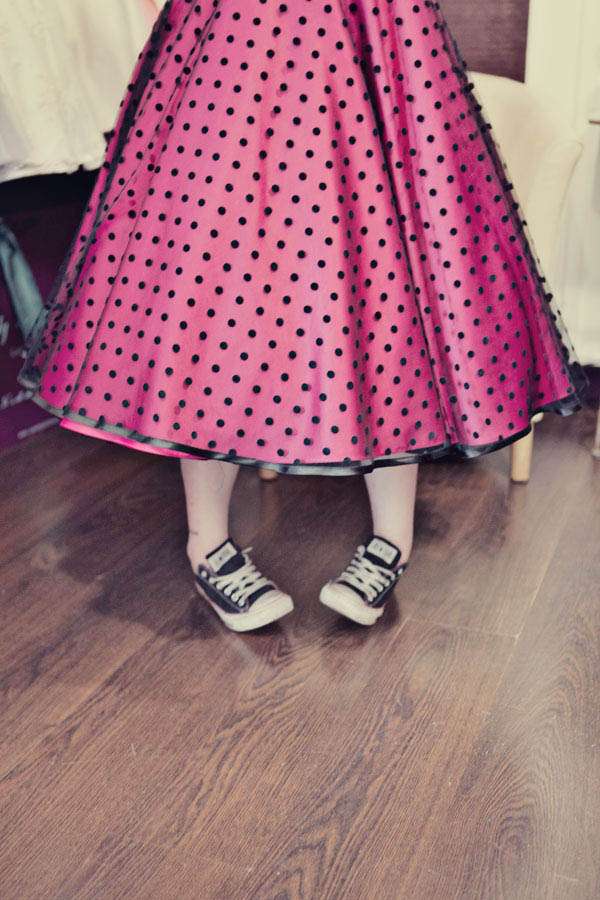 Not every bride wants to wear white on her wedding day which is why Candy Anthony carry a number of beautiful coloured dresses. This pink dress with a sweetheart neckline (see gallery below for more) was a no-brainer when it came to seeing if I wanted to try it on…and the black polka dot overlay (and my beat-up converse trainers) made this dress the perfect Rock n Roll Bride number no?
Crazy Colour – Yellow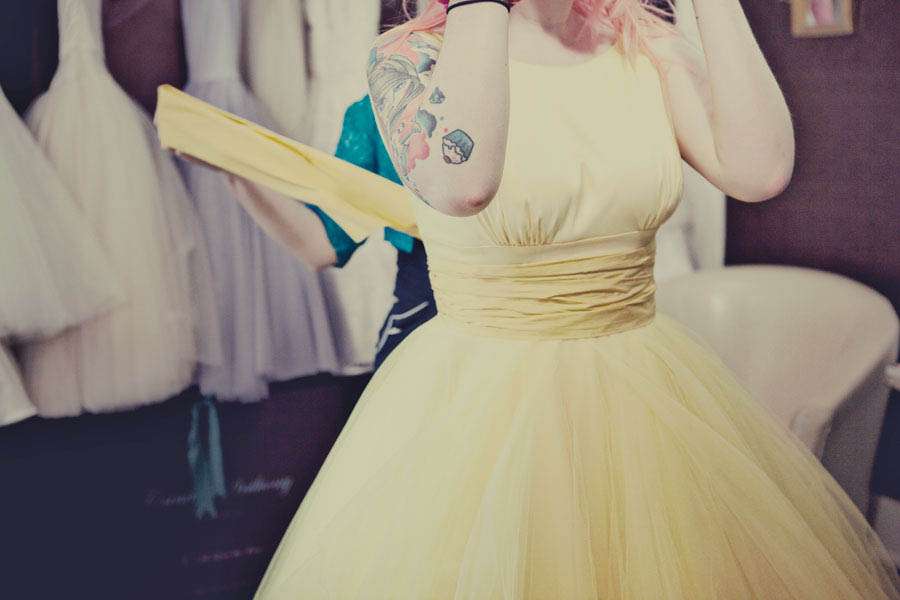 Who would have thought that yellow would look so awesome?! Maybe one of the biggest surprises of the day was how much I adored this yellow dress. The colour was just WOW. I'm certainly going to be borrowing this dress at some point soon…well I'm going to try to anyway (pleeeease?!)
Crazy Colour – Lovely Leopard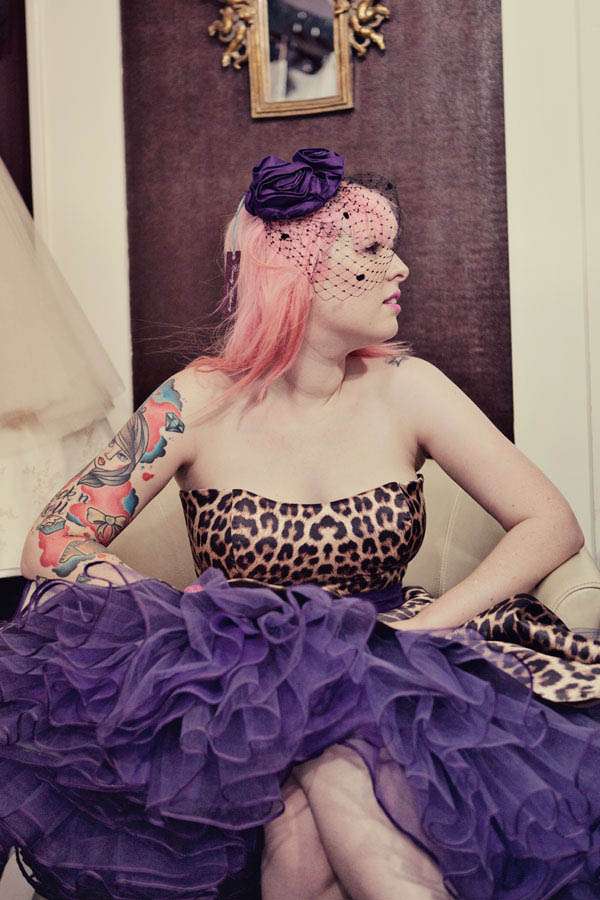 Show me a Rock n Roll Bride who doesn't love leopard print? Exactly…they're pretty hard to come by! Which is why I died and went to heaven when I laid eyes on this baby. The purple petticoat is hella awesome too huh? This dress would also look amazing with a red petticoat I reckon. This is perfect Rock n Roll Bride dressing!
The Beast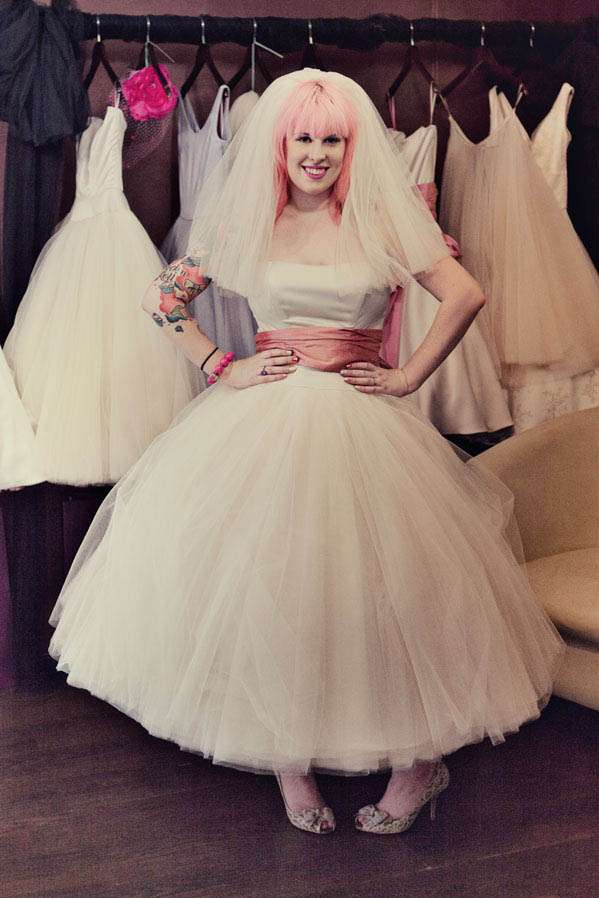 OK so that's not it's official name but one I've given it! Candy's regular dresses have three layers of tulle (which is pretty big anyway, espcially when you add a petticoat) but this number, which takes pride of place in their shop window, had ten layers of tulle! The dress was created espeically for the catwalk at The National Wedding Show last year and I was shocked and horrored to hear that no one else has bought this one. Come on girls, don't be afraid of a bit of tulle! Sure the dress is pretty big, but it's certainly not in 'My Big Fat Gypsy Wedding' territory and I have to say I felt fabulous as soon as I put this one on.
Huge skirt = the allusion of a tiny waist. WIN.
I seriously loved this one. It was certainly my favourite and if I was to get married again this is the dress I'd choose (with a sweetheart neckline I reckon…again with the big boobs!) You can see why though right It's wonderful.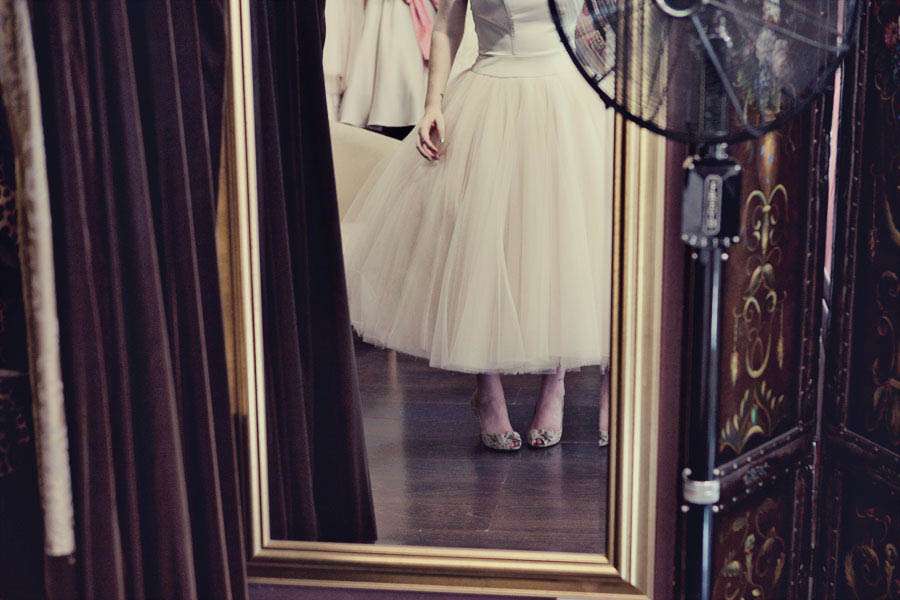 Thank you so much to the girls at Candy Anthony for having me and to Lisa Jane Photography for coming along to snap these photos. Candy Anthony is located on The South Bank, London and fittings are by appointment only. Dresses range from approx £1000-£2500.
You can see more Candy Anthony brides that I've featured on the blog here.
More pretty dresses in the gallery…
Photography Credit: Lisa Jane Photography