To say that choosing the next Rock n Roll Bride real-bride intern was difficult would be an understatement of immense magnitude. When I posted two weeks ago that I was looking for a new 'Alice' to come and write her wedding planning story for us I expected to receive maybe 10/15 entries…67 applications later and my brain is a little fried from trying to pick the one which I think will have the most interesting story for the blog.
So, I'm being a wimp and hoping you, the loyal readers of this 'lil blog will come to my aid and help me! After all, I want you to be inspired by the stories you'll be reading. I have managed to narrow it down to three 'finalists' (for lack of a better word.) Please read their entries, check out their inspiration and let me know who you think should come and write for me.
Who's story do you find most interesting? Who writes in a way that makes you want to read more? Who's inspiration board is most inspiring to you? Who do you want to hear more from and who's wedding do you want to see on the blog?
I'm also planning on getting to know my intern in like, actual real life. I hope we can hang out, drink coffee and cocktails and generally talk all things wedding. When I get invited to wedding shows I want her to come with me and hold my hand.
I don't just want my intern to be an unknown 'contributer' to the blog, I want to make a new friend damnit! I actually want to be real life friends with everyone that applied (seriously, you are all too cool for me) which is why I'm handing the final decision over to you. I can't take the pressure – it's like picking teams for school sports and I always hated sports…
You have until Sunday 31st July to pick your favourite, and the winner will be announced on Monday 1st August.
♥  ♥  ♥
Lisa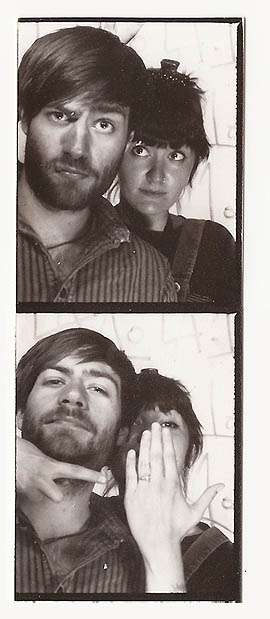 My name is Lisa, I am 23 years-old, and as I type this I am sitting in my sunny bedroom in New Cross, South London. My fiancé, Liam, is out earning a crust while I make dippy eggs and soldiers and enjoy my day off from work as a barmaid, and my day on as a wedding planner. Our friends know us as Roo (that's me) and Lamb (that's him) and neither of us are from London. We were both born and raised in Liverpool, and met just over a year ago at a very drunken, very hazy party. It was love at first beer-goggled site, but we wouldn't actually meet each other again until November. Lamb had moved to London to work during his last free year before university; I had moved to Brighton to study for a degree in Museum & Heritage Studies, and we happened to bump into each other at my then-boyfriend's gig in Camden. All over again we were smitten kittens – I ditched the zero and bagged my hero, and the rest is all wonderful history.
We are getting married in 2012, although our venue and date are not finalised yet but so far we're looking at between July and September, 2012. I'm tempted to nudge Lamb towards the winter months, though. I want to go all Phoebe from Friends with a fabulous winter coat.. and definitely mittens. We still have three venues to choose from in either Brighton (the Duke of York's theatre), London (Battersea Arts Centre) or Cornwall (Polhawn Fort). We have viewings in each venue scheduled in a few weeks, so I'm not quite out of wedding venue HELL yet. I won't lie; finding a venue has been utterly depressing, which I know you can absolutely relate to given the hiccup you had a few months before your own nuptials. We are not religious, therefore we'd find it inappropriate to get married in a church, and we want somewhere that is a total blank canvas for us to cover in our personalities. I was the person who e-mailed you t'other week about if it was possible to have someone ordained here in the UK. Since you posted my e-mail on the blog, I've been roping in friends and relatives to sign the Any Campaign and we're really hoping that it'll be a success.
In terms of caterers and whatnot, we don't have anybody in mind as of yet – so far we're planning on a real "mucking-in" wedding where our talented friends and family help us with the things that are usually expensive (for example, Lamb's dad is a mean cook, my mum is an outrageous seamstress, one of my sisters sources vintage goodies by trade, and one of my bridesmaids is a trained florist). In terms of decor, favours, and other odd little details, I have a few vendors on Etsy lined up to shine. For example, a shop called marcher for their alphabet stamp rolling sets (we're making all of our invitations, as you'll be able to read about under the "skills" heading) and crearting for their ring holder/guestbook set as I've written about on my blog (follow the link to the listing, you won't regret it!)
My Inspiration
Since we're both magpies, we're letting ourselves be led by lots of appealing themes. We want our wedding to be both a celebration of us as a couple, and a celebration of all the people who help to make our relationship work. With that in mind, we're ignoring any comments that sway in the "oh my god i can't believe you want [insert insane idea here]" direction, and focusing on the pre-determined hindsight of "oh wow, remember when Roo flashed her embroidered 'Mrs. Riley' knickers after they kissed? That was SO her!" For example, I have decided to choose six bridesmaids – since we're hoping for our wedding to be quite intimate I decided to put some feelers out around wedding bloggers and see if they thought this was too many. Apparently it's customary to have one bridesmaid/groomsman per 25 guests, and my suggestion of six was seen as outrageous and overbearing. I mulled it over, and I decided I don't care. I am having my two big sisters, my three best friends, and Lamb's sister. Lamb has one sister and one brother, and I wanted his sister to have the opportunity to be a part of one of their weddings (since she has no sister to ask her to be bridesmaid). We both got a little teary when I asked her, and I couldn't be happier with my choices.
I am giving each bridesmaid a role to take charge of, to take some pressure off us and really make them an integral part of the day. One of my sisters sources vintage clothing, and I've asked her to be in charge of sourcing the bridesmaids' dresses from huge vintage warehouses. Instead of having them dressed in the same/similar styles/colours, I've told all the girls to individually choose a dress that suits their personal style. My other sister is a marvel at hair and make-up, so she'll be in charge of making us all look beautiful. My friend Abby is a trained florist; a few days before the wedding we'll all get together and she'll teach us how to make our bouquets – then we'll make boutonnieres and corsages for all the guests. My friend Hannah is a bit of a party animal, and will be organising my hen party. Louise, Lamb's sister, will be helping me to bake our wedding cakes, and my friend Rea will more than likely help out with invitations, and general duties relating to guests.
My three main sources of inspiration over the past few weeks have been Twin Peaks, David Byrne and Richard O'Brien's "The Crystal Maze" (stick with me on this one). Twin Peaks is pretty much the greatest TV series ever made next to Clarissa Explains It All, and I'd really love to emanate some of Lynch's splendor in our day – think mood lighting, drapery, delicious coffees, and lots of cherry pie. "Our" song is Talking Heads' This Must Be The Place, from their Stop Making Sense album/gig. We want to take some decor inspiration from their stage design during the show and have vintage lamps everywhere. With regards to Richard O'Brien, not only do I dream of a leopard print coat, but we are determined to stay true to our vision in that we don't care if Lamb's socks don't match his shoes or those napkins don't really sit well with those center pieces. Did Richard O'Brien concern himself with the practicalities of building the Ocean Zone next to the Aztec Zone? No he did not, and neither will we.
So far, other ideas include terrarium table decorations, a traditional English roast dinner reception, six homemade wedding cakes instead of one bespoke one, Northern Soul dancing, an "open mic" style of structuring speeches (i.e. anyone can get up and say/do something, providing they've not had too many sherbets), outrageous party games, blankets, patterns, lace, richness/fulness, mother nature, and a guestbook quilt (where guests write messages of support on squares of fabric, and later I sew them together to make a quilt for our home). The inspiration board that I made for this application is the first board I've made in a long, long time (since college, in fact!) and I think it showcases our personalities perfectly. Our wedding is going to be absolutely insane, by hook or by crook, and I really do hope you'll seriously consider me for your next intern! As far as Facebook goes, I have temporarily deactivated my account while I knuckle down to some serious planning, but I can easily log back on should you need me to. And Twitter? My account is gathering dust of late so I made a brand new one today!
1. Wedding dress designed by Rob Ryan 2. Vintage blouse & shorts set from allencompany inc @ Etsy 3. Un-iced wedding cake by MomofukuMilkBar via Stefan Sisters 4. Terrarium table decorations (detail) Photography Credit: Liesl from Photo Pink NYC taken from your blog post at Rock n Roll Bride! 5. Lisa Cant by Irving Penn for Vogue US September 2005 6. "Not For Sitting" by kelseelarue on Flickr 7. "Throw Caution to The Wind" (detail) by Lisa Bowen 8. via earth age 9. Free People's July catalogue (detail), photographed by Alexandra Valenti 10. Early Morning at Moraine Lake by Amanda White 11. Cacti table decorations (detail) – feather love photography via green wedding shoes 12. Untitled by Lina Scheynius 13. Photography Credit: Johnny Valiant 14. Chandelier Store (detail) by deepseathoughts 15. Mary Ratcliffe shirt-dress modelled by Sophie @ Street Style Aesthetic 16. Late 1980s Tokio Kumagaï shoes via The Costume Institute of the Metropolitan Museum of Art 17. Detail of Marchesa dress, found at Wedding Inspirasi 18. Collar clips 19. Unebelievable Backyard Birthday Party by Alec Vanderboom via 100 layer cake 20. Love Is…via Internet K-Hole 21. Hamburger collage by Beth Hoeckel 22. Love letter from Lamb (credit to me) 23. Sabor de Flor by Lauradediaz 24. Heart-shaped pizza 25. Untitled by Paula Muniz 26. Fox loafers by Paige 27. Detail of Shaun Kardinal's Alterations series
♥  ♥  ♥
Claire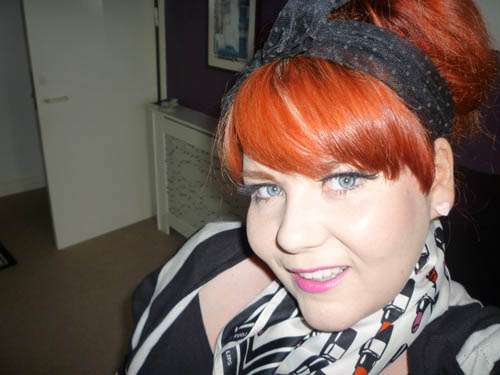 My name is Claire, or 'Red' as some folk call me. I'm marrying a man-slash-boy (he's lovably immature) called Tom Nimmo. Yep, I'm going to be Mrs Claire Nimmo and I too will have to endure the 'Finding Nemo' jokes. Super!
I'm 27, Tom's two years nearer the big 3-0, and we live in the mighty Glasgow, Bonnie Scotland. Although the boy's English – Blackpool born and bred – we've both lived here for ten years, eight of which we've been causing havoc together. We've picked the cutest wee place for the whole shebang – Glasgow Art Club. It's a private members club housed in a traditional tenement (Victorian) house in the heart of the city. Up and coming as a wedding venue, GAC is perfect for us. We knew from the start what we defo didn't want – a run of the mill place that churned weddings out like a yo sushi conveyor belt. It had to allow us to hold a humanist ceremony and it had to be relatively cheap as we're on a bit of a shoestring budget (compartive to the cost of the average wedding!).
So, after three months we stumbled across GAC, and following a few visits to see Naoimh – the brilliant craic manager – we booked it for 25 August 2012. We've been engaged since 6 December 2010, and starting planning the wedding in March following an awesome engagement party just after Valentines Day. It was the first time the two families had met…luckily the two clans united in peace! So far we've booked our venue, our fabby photographers (mirrorbox photography) and someone to marry us (a humanist celebrant called Senga Kemp). The caterers come with the venue, but are called en croute, though we've still to meet to confirm exactly what we'd like food-wise. Oo I've also actually found an amazing makeup artist, Ivory Lovelust – a vintage style makeup artist from Edinburgh.
We've been in touch but I haven't scheduled a trial with her yet. That's to come after a few more stone is shed… Which leads me to the biggest challenge related to the wedding actually. I'm a fairly curvy girl with quite a large number of pounds to lose in the run up to the wedding (approx 5 stone after losing 2.5 so far) – unless I want to take the meaning of our 'big day' literally that is. I'm certainly not alone as a bride-to-be battling the bulge to transform herself for her wedding, and so thought it would be a really positive thing if I could share my struggles/successes/frustrations/elations with your readers, and hopefully we can inspire each other not just in style, but in health too. Apart from wanting to look and feel the best I ever have for getting married, this weight-loss is essential if I want to live a happy and healthy life with the love of my life. The irony in 'a lot to lose and a lot to gain' comes to mind!
My Inspiration
When we sat down and wrote down the things we love that we'd like to try and incorporate into the wedding in some way, it went something like this:
stars, rainbows, flamingos, 50s, Scotland, birds, skulls, rockabilly, balloons, cupcakes, tattoos, colour, polka dots, cherry blossom, robots, stripes, bows, hearts, leopard print, coconut, reggae/dancehall, USA, motown, sweets, Glasgow, rock, tutus…
An eclectic mix you could say, and we've already started collecting bits and bobs from vint age/retro shops across the UK. Our most recent purchase is a purple lady tin robot with lightening bolts on her from a wee shop in the Northern Quarter, Manchester. Without going into too much detail we envisage 50's dress, colourful flowers, black bridesmaids dresses with bright shoes, quirky cocktails, an american diner buffet style feast, cupcakes galore with a few surprises on the night! You can see a lot of our inspiration on our mood boards via pinterest. I'm also getting new ink on my shoulder especially for the big day, so that could be interesting…We're not into being different for different's sake, just being true to ourselves as individuals and as a couple.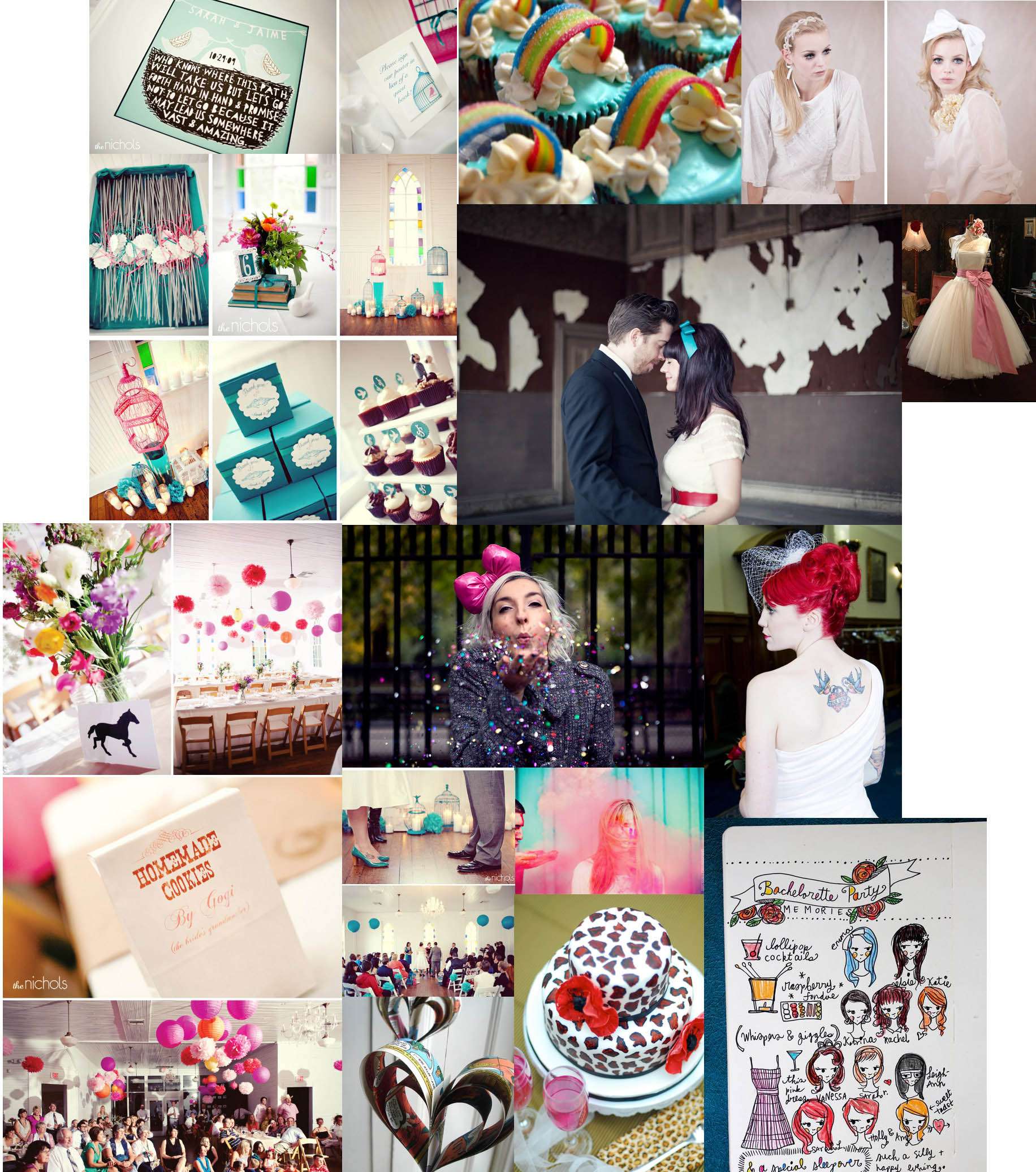 1. green wedding inspo board by The Nichols 2. rainbow cupcakes, kay-a-why via Rock n Roll Bride 3. Ban do 4. dress by Candy Anthony 5. Elsie & Jeremy's wedding by Arrow and Apple 6. pink wedding inspo board by The Nichols via style me pretty 7. blowing sparkles by Gala Darling 8. red haired bride by Carrie Davenport via Rock n Roll Bride 9. sketch via A Beautiful Mess 10. leopard cake by Yestercake via Rock n Roll Bride 11. pink dust picture by Jerry Yoon 12. green wedding inspo board (shoes/pom pom pictures) by The Nichols 13. paper hearts by bookity via junk shop bride
♥  ♥  ♥
Heather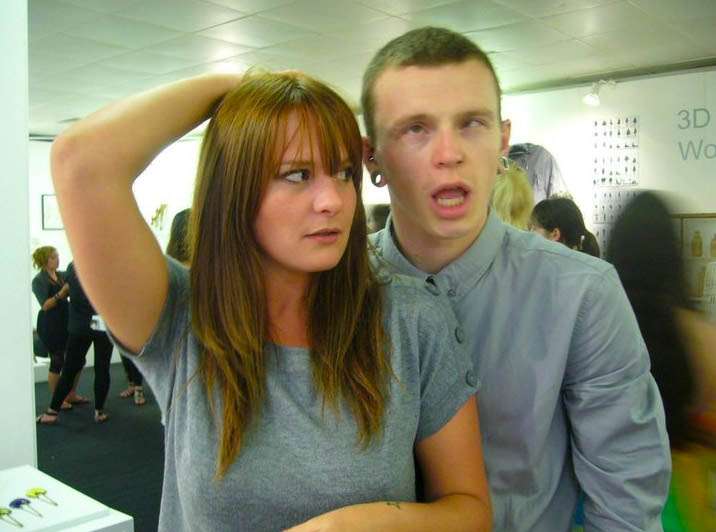 I'm so excited that you have applied for an intern! I'm right at the start of my wedding planning, we got engaged at the beginning of May and I have been non stop since. Gav proposed with a Haribo jelly ring, as he got jewellery designer (and my favourite designer) Ruth Tomlinson to design my ring, and he couldn't quite afford to buy it ready for the day he wanted to propose, but I still wore the jelly ring all day. I'm going to have it set in resin, so I can wear it on my other hand, as a funky colourful ring.
I would love to apply for the internship, so here's a bit about me, myself and him. I'm 29, soon to be 30 and living in London, working at a busy interior designers and Gavin (Tilstone, 30) is a bike/furniture Designer. We met at uni 4 years ago, and it was love at first sight for me, more lust at first sight for him. We both studying 3D Design, so we are very crafty! hoping to make loads of exciting props and our own favours for the wedding.
I really would love the opportunity to write for Rock and Roll Bride, I know that I have found your blog so useful and it's really refreshing to have a UK blog that's a bit different. I write a very small blog about ceramics, but it's more of just a way for me to put images and ideas that I have. I really want to start a career as a wedding planner, but I need to build a portfolio and was waiting until after my own wedding, and the fog as somewhat cleared. So an internship would be perfect, and I really think that with my design experience and maybe more importantly making experience, as this helps if quick props are needed for a photo-shoot, that I could bring a really good take on DIY wedding, with tutorials for your readers and fresh new ideas.
I really hope you consider me for this, and Gav is more than Rock and Roll (he's a trained body piercer and is covered in Tattoos, he's even modelled them, get him!)
My Inspiration
We are getting married at 'The Ashes' in Staffordshire and our theme is belts and bikes! mainly because I've fallen in love with a Stephanie Allin dress that has a belt, and I'd love my little bridesmaid to wear an old man's aged leather one and carry an old 'tatty' suitcase with flowers poking out, and because Gav is a bike designer/maker. Gav is going to work with Designer Ben Wilson to create a bike for the day (maybe even a tandem, eeek!), although we are also borrowing a friends Ford Zepha because I'm not so hot on a bike. Gav has a vast collection of Adidas superstars and has said that all the men at the wedding MUST wear trainers, so we have the challenge of getting my granddad into adidas, he'll look awesome. It's really important to us to make the day really personal, so we've asked the venue if they'll mind us playing aerobie on the lawn and riding bikes, they were ok with it so I'm packing a pair of trainers for running around in. We have a graphic designers friend who's going to design our stationary, but I've been busy collecting ideas for stationary from blogs, and websites. We only have our venue and caterers booked so far, but I'm looking at Savoir Weddings and The English Tea Party to supply tea cups and cake stands, but it's all very much at the start of the wedding planning…more importantly I'm trying dresses on soon, so so excited. First port of call for dresses is Blackburn Bridal Couture in Blackheath, I need a Stephanie Allin dress in my life!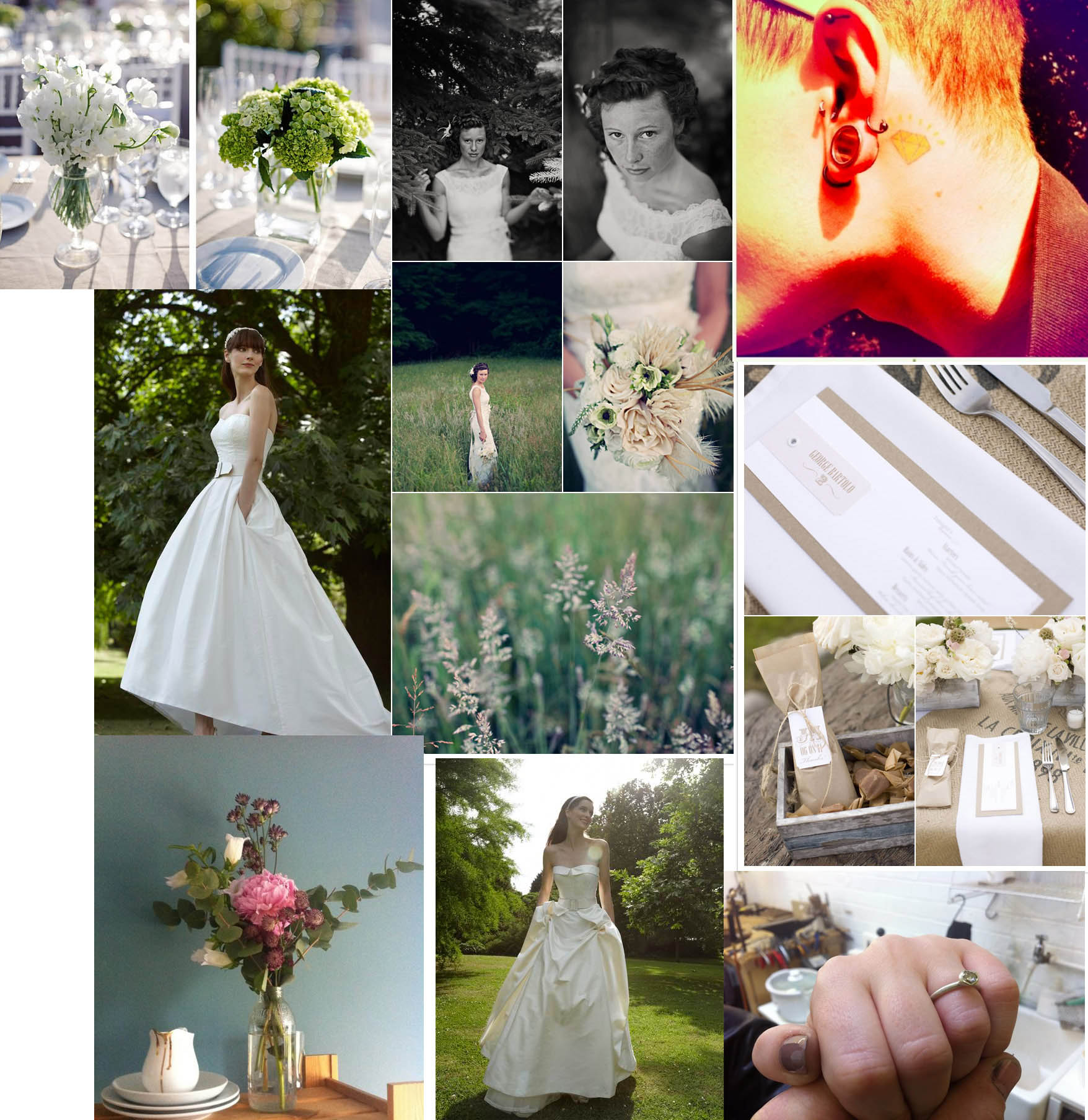 1. flowers on tables by Meg Perotti, via JLDesigns 2. rustic wedding inspo board by Clayton Austin, via 100 Layer Cake 3. Gav 4. Stephanie Allin Frankie dress 5. rustic elegance board by Tonya Peterson Photography, via 100 Layer Cake 6. my engagement ring 7. Stephanie Allin Josie dress 8. photo by me, jug by Reiko Kaneko
♥  ♥  ♥
Voting is now closed. The winner will be announced on Monday 1at August 2011