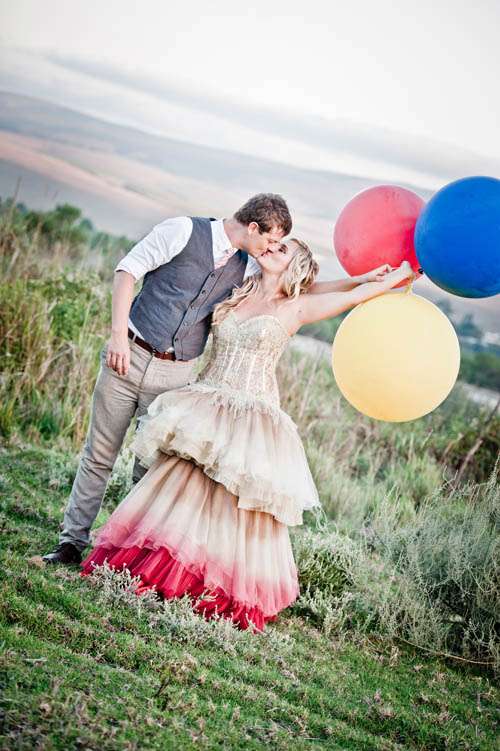 Hold onto your knickers ladies (and gents!) because Arnold & Melissa's South African wedding is gonna make you squeal with delight.
"We wanted to keep the wedding personal, real and down to earth," the bride told me. "I am a wedding photographer myself, so I've been to so many weddings that the last thing I wanted was a traditional wedding. We love the outdoors and being out in nature, so we wanted the wedding to be outside, but also in a natural setting. We went to look at Beloftebos and immediately knew it was the right venue."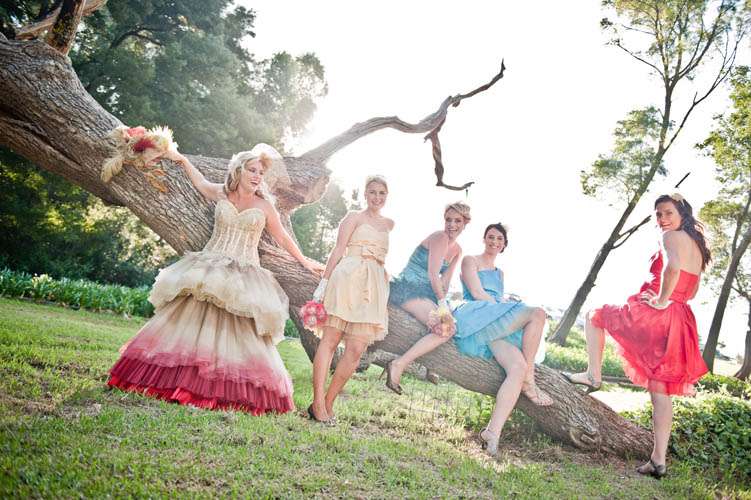 "We both liked the idea of a festive old world carnival with lots of fun and playful elements, oh and with a Karoo (a bit like the outback in Australia, just more pretty and more magical) farmyard feel to top it off! We thought about the things we loved most and incorporated it into our wedding. We had stalls with gingerbeer, candyfloss, popcorn and ice cream. There was lots of picnic blankets and places in the forest for our guests to sit and relax, and even play with games like "kettie skiet" (catapult) – the guys made a stand with some old cooldrink cans that can be shot, this made for excellent fun and great photographs. The dancefloor was outdoors, under the stars with lots of bonfires and the whole forest was lit up by fairy lights. Our guests all dressed in "festive" clothes which also made the wedding much more relaxed."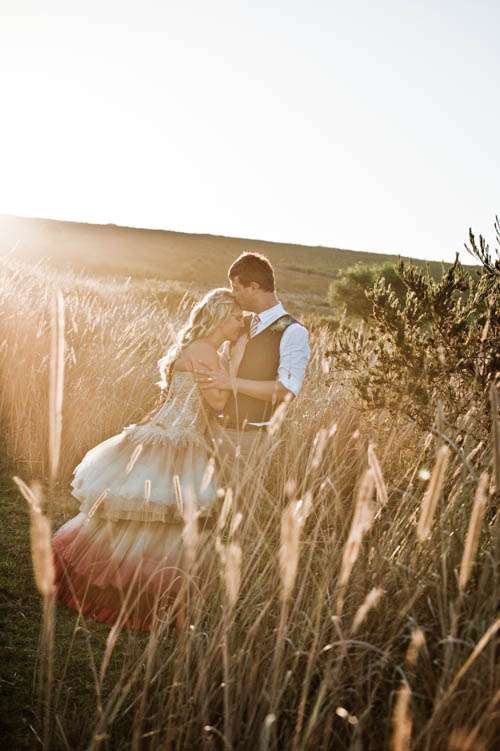 Melissa's dress (complete with detachable bottom half for dancing at the reception) was by Gelieft. I've just been on their website and fallen in actual love with all their designs, be sure to check them out. Her bridesmaids wore dresses hand made by her Uncle. The couple really stamped their personalities onto their reception. They chose a cake made of cheese (which they put together themselves) instead of a traditional wedding cake, and the bride's mother, aunt and a friend put together all the flowers and décor.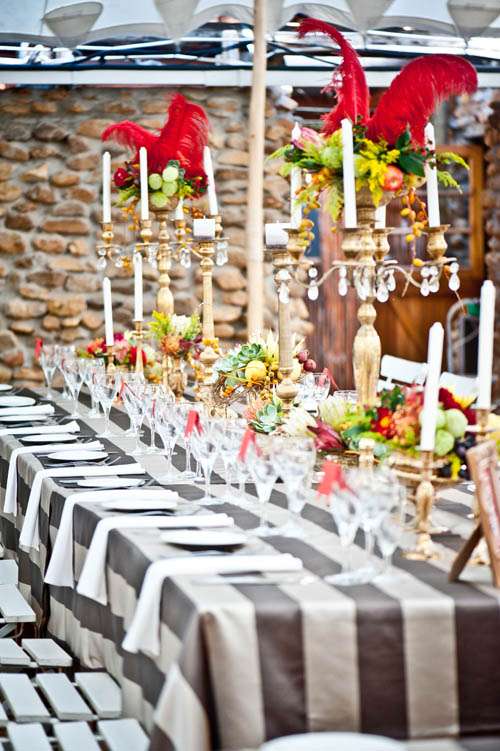 "Our wedding was special because everything was personal and reflected our personalities," Melissa continued. "We did not do anything by the book but rather tried to be as creative as possible. We made the menu's, tableplans, sighposts, games, tablenumbers etc. My mother, aunt and her friend Maurice did all the flowers. I ordered the ostrich feathers from Outshoorn for a bit of extra drama."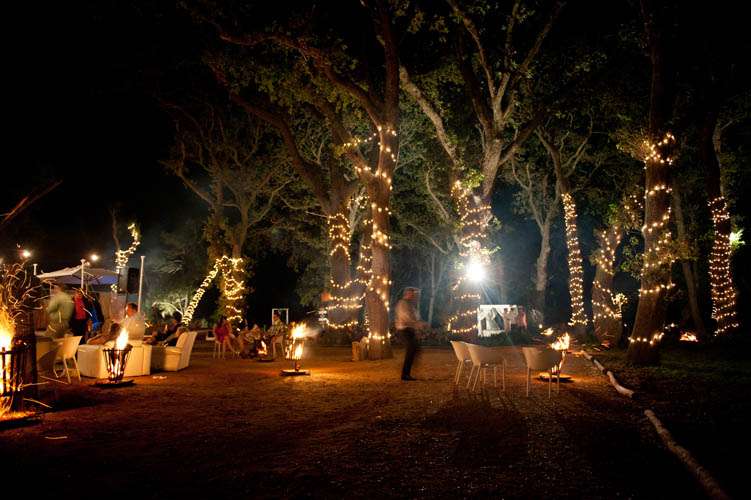 "My dress was very special and I could not have asked for better designers than Theresa and Stephen from Gelieft. I told them that I wanted something amazing, different and dramatic and I don't want to look like a bride. They made my dream dress and I felt like a princess in it. It was two dresses in one. For the ceremony I had a long dress and then I took the skirt off for the reception and had a whole different look."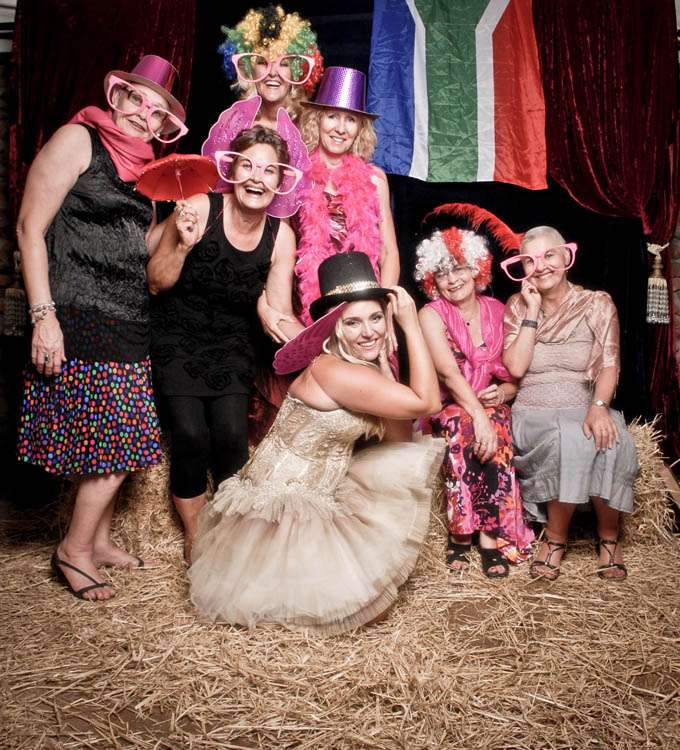 Big love and thanks to Arnold & Melissa for sharing their fabulous wedding with us and to photographer Carmen for sending over her gorgeous images.
Photography Credit: Carmen Visser Photography
Venue: Beloftebos, SA
Bride's Dress: Gelieft
Coordinator: Jaco from Just Jack
Florist & décor: DIY
Cake: DIY
Stationery: Natasha Dornbrack from Idea Catalyst
Bridesmaid's Dresses: Uncle Gert
Hiring: Hiring4U Kuilsrivier
Entertainment: Dirk Hanekom of Baha Entertainment