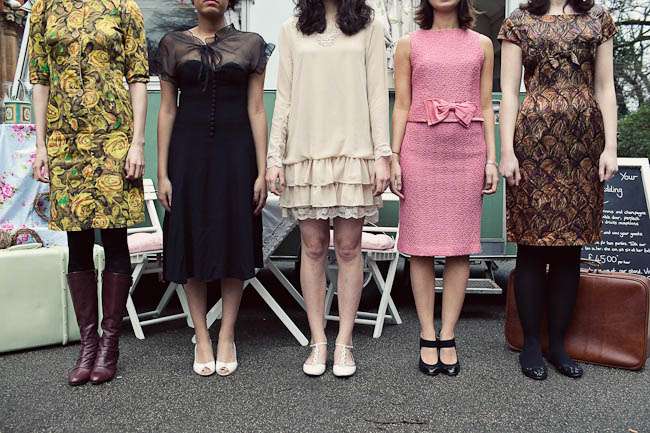 In November I received an email from Bran Cook (PR extraordinaire) to ask if I'd be interested in being one of the attractions at a brand new wedding fair she was helping Rachel of Rachel Simpson Shoes and Clare Guest of The Wedding Club (a fabulous bridal boutique in Birmingham) to organise. At first I was a little confused. What would they want me there for? Who would want to come see me at a wedding fair? What would I even put on a wedding fair stand?! However I bit the bullet and said I'd be there with bells on…big pink ones.
Over the next few months I received regular updates (both via email and on The Designer Vintage Bridal Fair blog) about all the amazing suppliers that were getting involved with the show and my initial uncertainty and nerves turned to utter excitement! I had basically signed up to hang out at the beautiful Highbury Hall in Birmingham with a load my favourite wedding suppliers for a WHOLE WEEKEND…woohoo road trip! I even booked into a hotel with my girls Lucy of Lucy Ledger Designs and Debbie of DC Bouquets which further transformed the weekend from a 'business trip' into a fabulously giggly and gossipy girls weekend (and yes we did lie in bed until 3am chatting and laughing uncontrollably!) And I call this 'work' right?!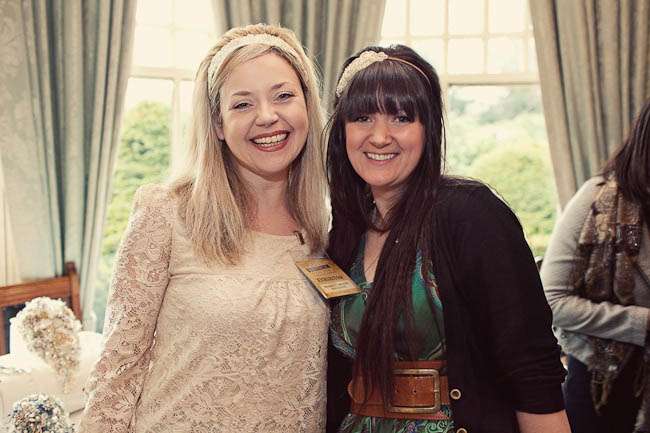 My girls, room-mates and gossip buddies – Debs & Lucy!
I literally couldn't wait to get there…especially when I was informed that a) my stand was right next to photographer Emma Case (who I love more than life itself…not just because her work is amazing but because she has fast become one of my very best friends and b) that our room was the one with the bar in. BONUS. Then, when I arrived I was informed that there was even a football table in the corner or our room (great for all the poor grooms-to-be who weren't so interested in all the vintage prettiness.) Also in the bar area were the super rad It's a Wind Up, vintage 78 DJ's who constantly kept us entertained us with their classic record collection (and they even played some Elvis just for me!)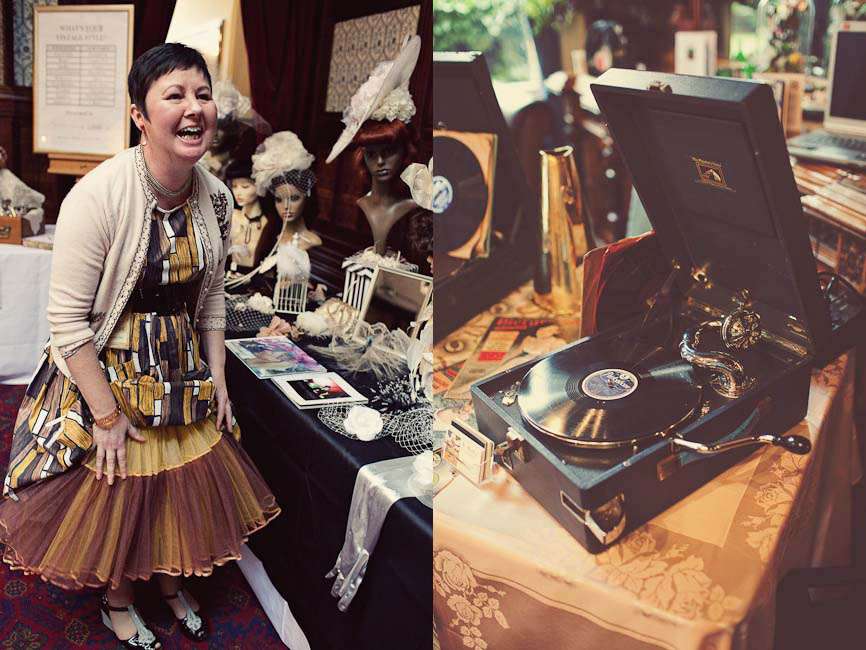 I'm not one for the fancy-pansy, superficial and fakely-gushy kinds of posts…I'm too honest and blunt for that (!)…but sometimes, just sometimes, it really does have to be said just like this – The Designer Vintage Bridal Show was awesome awesome AWESOME!
The atmosphere was both chilled-out and electric all at the same time, and I even overheard some brides excitedly whispering to each other that it was the best show they'd ever been to! What I loved so much about the weekend was that it was completely different to any other show I'd hung out at. Don't get me wrong, I love to go to a lot of the other wedding shows too, but when you get hit with a £10 bill for a sandwich and the men on the door in suits looking you up and down because you're hair is neon and your arms are illustrated, you don't half wish everyone would just be a bit more…well….genuine. And The Designer Vintage Bridal Show was exactly that – full to bursting with genuine, down to earth and utterly lovely LOVELY brides and suppliers.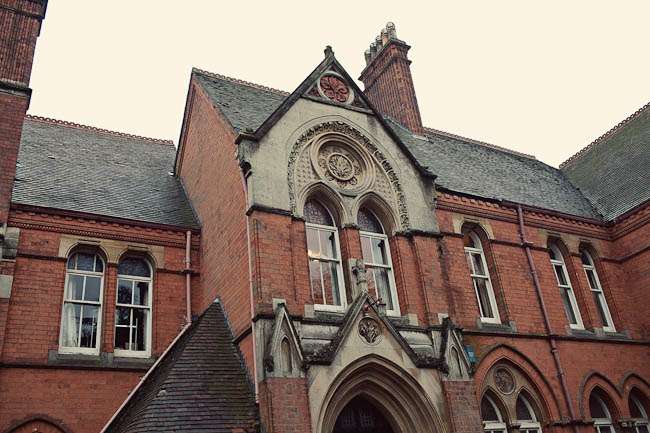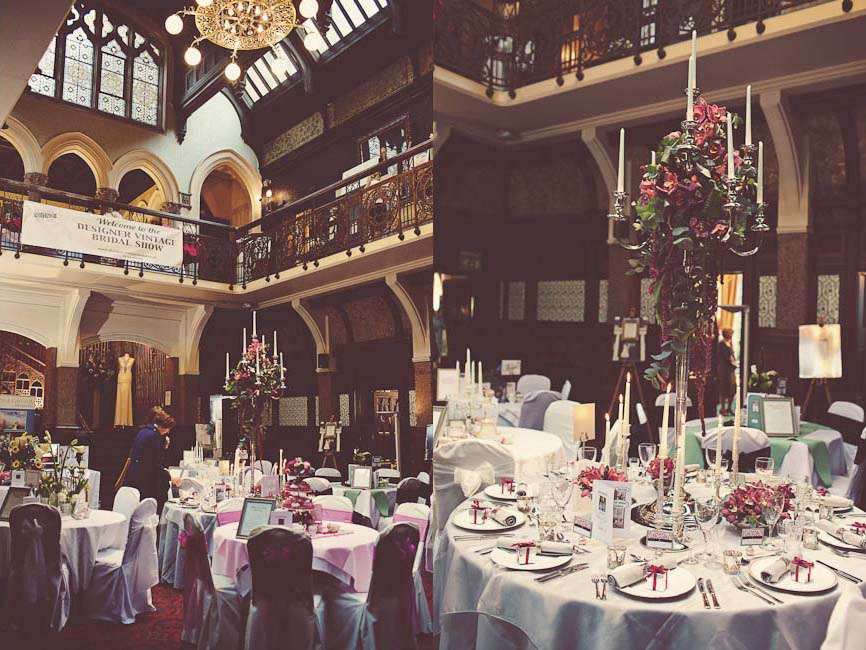 The fair was held at Highbury Hall, a beautiful building that I was surprised to hear is actually owned by the council. I got chatting to some of the guys who worked there (who were also lovely I might add) and I was more than a little bit shocked to discover that the price to exclusively hire the venue for a wedding started at just £1100 (to put that in to context, when we were planning our wedding one venue quoted us £20,000 for the same deal!) The venue provided the perfect eclectic and interesting backdrop for such an event. There was not a boring plain white or soulless supplier stand in sight. The venue literally made the show come to life.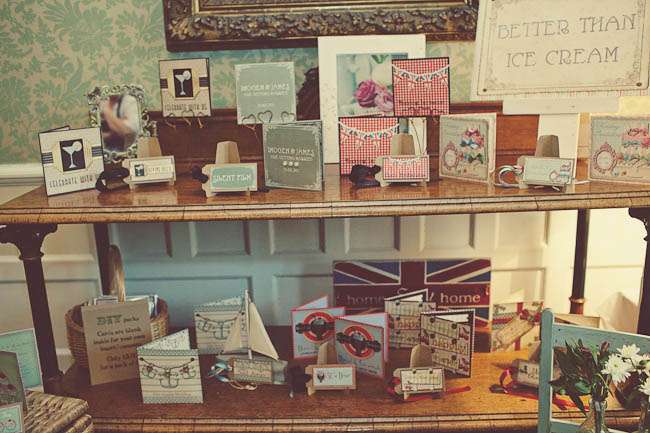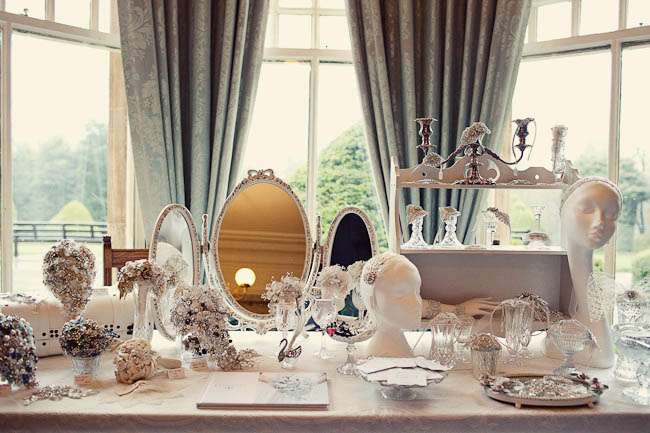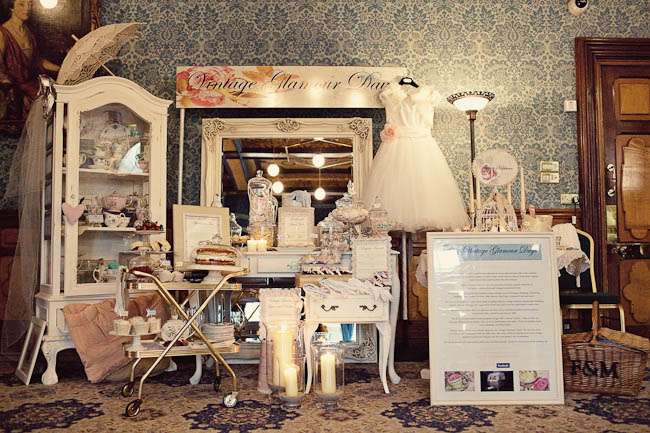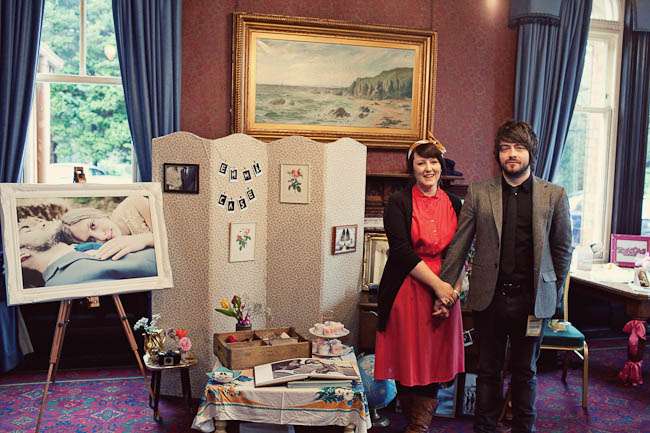 Top to bottom: Lucy Ledger Designs, DC Bouquets, Vintage Glamour Days, Emma Case Photography (last photo by me, aren't I brilliant?! ahem…)
All the exhibitors had made such an effort with their stands. Mine looked positively bare in comparison to so many of them (it pretty much consisted of some magazines and sweets in jars) but even so, people were very complimentary and by the end of the day on Sunday I actually had no business cards left (and I'd brought along over 300 – so welcome along to all my new readers!)
As you walked into the main hall, you were greeted by a number of round tables laid out, all styled by Bonne Fete and Little 'a' (wedding styling and flower geniuses respectively) where brides and their guests could sit down and enjoy some tea and cake, served in mismatched vintage crockery (of course) by The Boutique Baking Company. I got chatting to the lovely Amanda of Bonne Fete and Amy of Little 'a' who were both keen to tell me that their aim for the event was to show that 'vintage weddings' don't have to just mean pearls and garden roses. They certainly achieved that and I really enjoyed eavesdropping on people's conversations about which style they liked the most.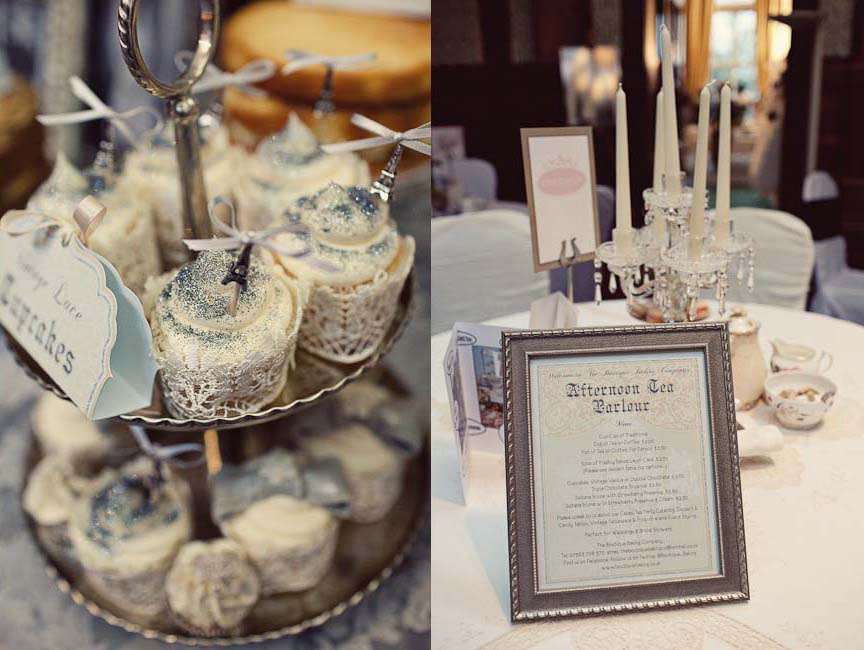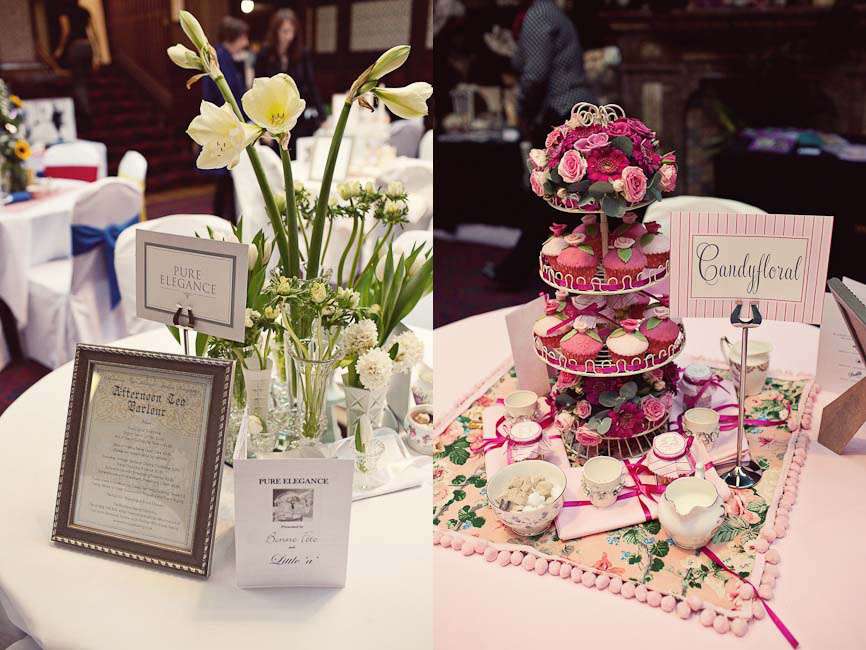 The ambiance in this room was one of a chilled out, afternoon tea party and there was not a single Bridezilla to be found (who can characteristically be see at wedding fairs stomping around – disheveled Mother/bridesmaid/fiance in tow – ticking things off a 'to do' list on a clipboard…often with a fluffy pink pen!)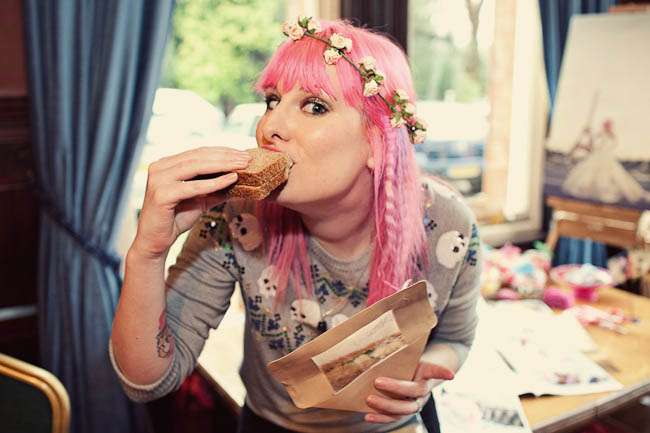 I on the other hand, am not so elegant!
After the show closed on the Saturday, most of the exhibitors headed to a local bar that
Emma Case
had hired out, for a much needed drink. This was actually one of my favourite parts of the weekend (well there was wine involved!) It was so great to just sit and chat and generally share the love with each other. I even brought my Fuji Instax camera with me to document some of the love-in.
SO. MUCH. FUN.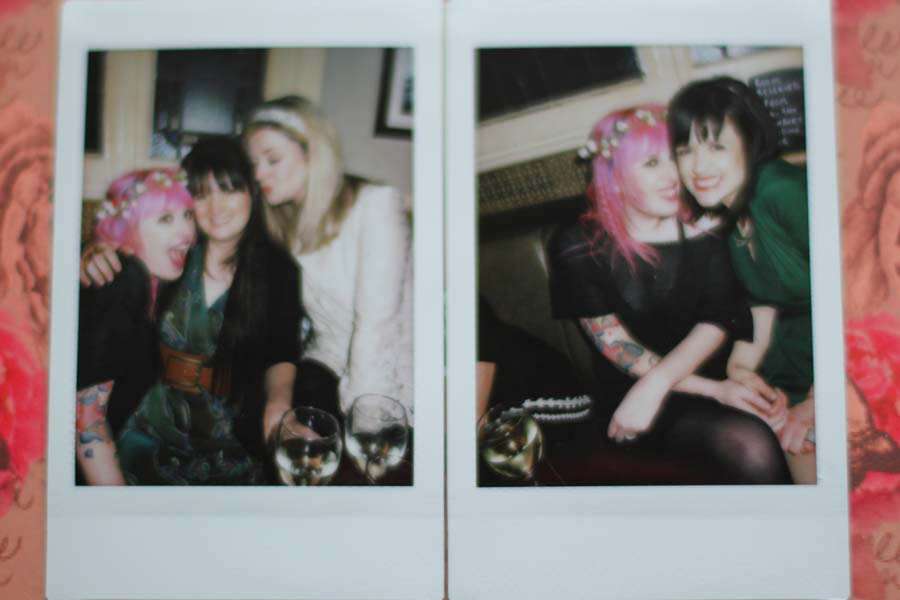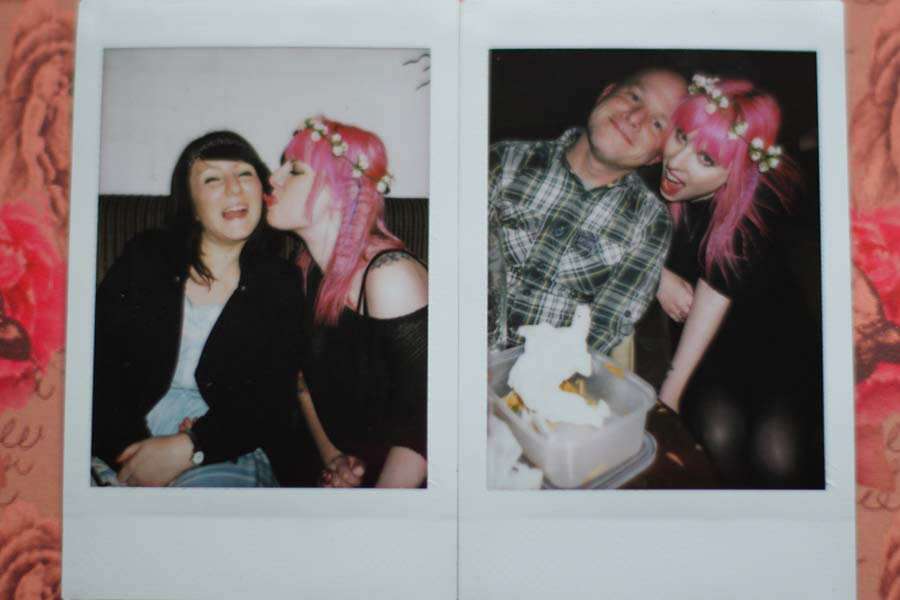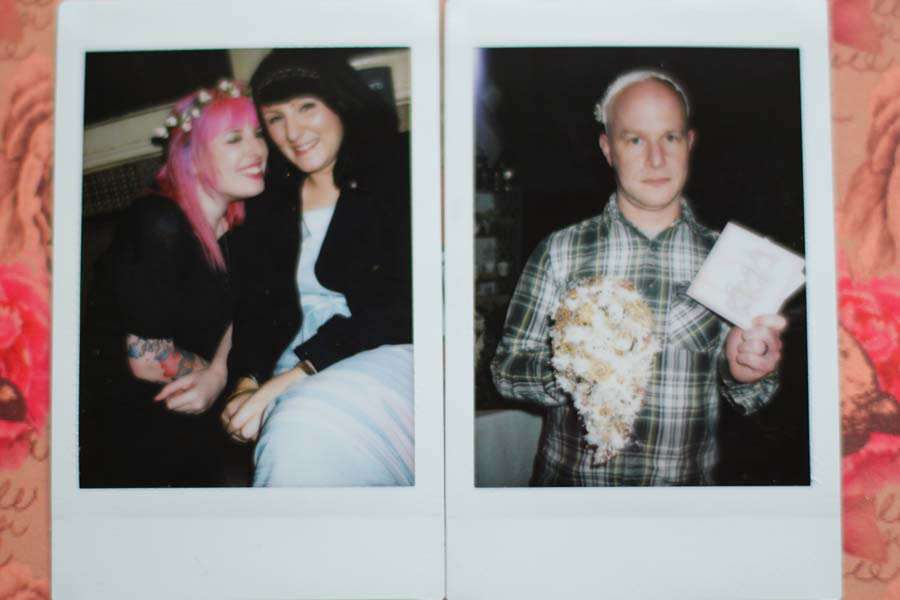 Apologies for the poor image quality, my scanner is broken so I had to take photos of the photos. Oh and I bought my floral headband from Primark last week for just £2. Bargain-tastic!
I also really wanted to share with you my ultimate favourite moment of the weekend (apart from the after-show wine of course!) and I'm hugely grateful to bride-to-be Aneesha for letting me do so. Aneesha is getting married in August and is lucky enough to be having her wedding shot by Emma Case (don't worry, I've already laid my claim on having the images to blog afterwards and the wedding hasn't even happened yet!)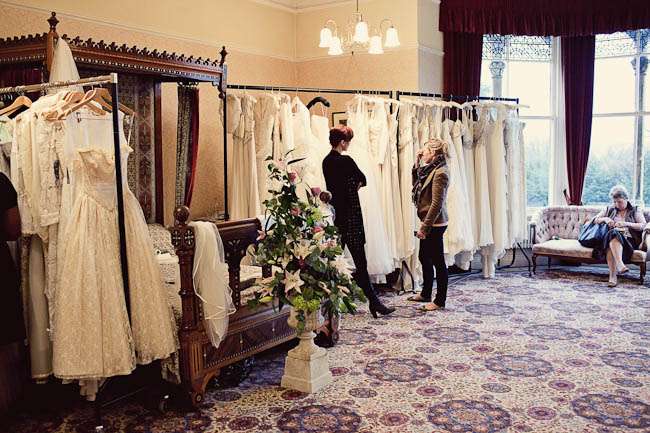 Well Aneesha was there with one of her bridesmaids and was looking to find her wedding dress at the show. I was lucky enough to walk into the dress room just before she was about to try it on. She was super nervous that so many people were in there watching her but I'm there was no way I was going to miss this moment. As soon as I saw the dress I knew it would be beautiful on her and I couldn't wait to see it on.
When she came out of the changing room, the look on her face when she realised it was 'the one' was nothing short of magical. Seriously. As you all well know I'm not ususally one for all that soppy stuff, but it nearly brought an actual tear to my eye…and it literally did to Emma (haha sorry, had to share that bit!)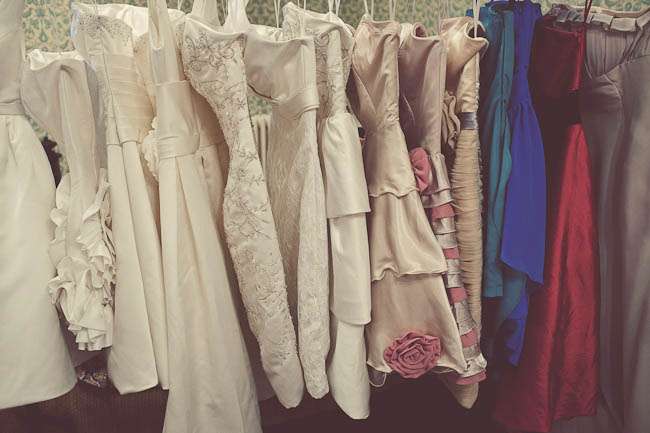 When Aneesha decided she was going to buy it she even came up to me and gave me a giant hug and thanked me for helping her make the decision. "I had the most amazing time. It was full of tears of happiness, laughter and massive smiles!" Aneesha emailed me yesterday. "The fair had such a lovely atmosphere! You guys helped me make my decision on the dress and I'm really thankful."
It was a really exciting moment and I'm so honoured that I was able to be a part of it. Anyway, to Aneesha, you looked truly stunning in your gorgeous dress. Your fiancé is one very lucky dude indeed.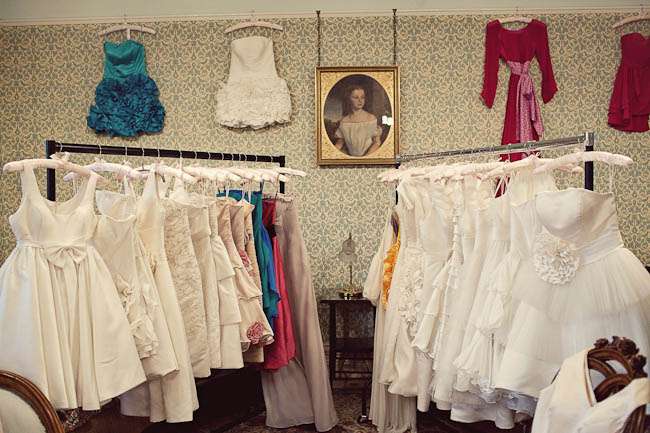 Finally (and most importantly I might add) It was so amazing to meet so many of my readers. I know I said I wasn't one to gush, but oh.my.god. I love you guys. I've lost count of how many brides came up to me to tell me they loved the blog or that I had inspired/helped them with their wedding planning so far. I even got to meet some other wannabe bloggers who had been inspired by Rock n Roll Bride to start blogging themselves and a whole load of photographers and other suppliers who had come to the show to meet me and who has got wedding bookings after being featured on these pages. Blown Away.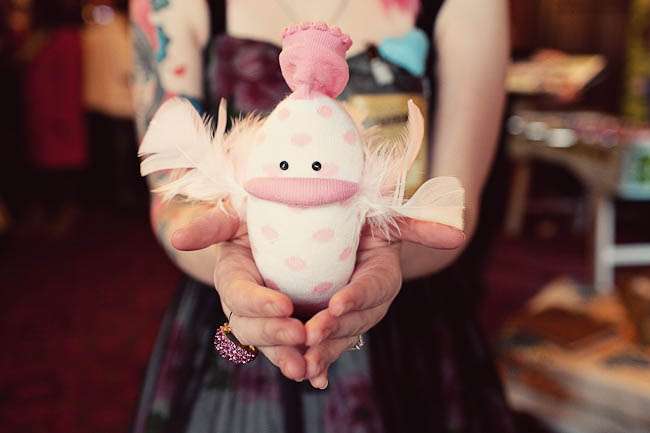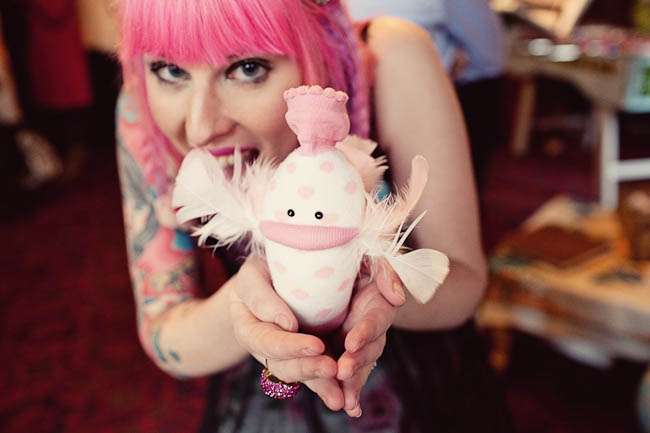 Big love and thanks to Rock n Roll Bride reader Cass for my little gift! Cass is making these for her cake toppers for her own wedding in Oz later this year. So cute!
When I called Gareth afterwards and told him all about it, he actually said to me: "Aww well done baby, I guess we'll have to buy you a convertible now… to hold your big head!"
Yeah Gareth…hilarious! But you guys do give me a big head sometimes…and I love you for it.
I've quite frankly rattled on for quite a while now, so I'll leave you with a whole bunch of exclusive (daaarling) photographs from the event taken by the official photographer for the show, the one and only Emma Case (some are featured in the body of this post already and some are not, so do click through the gallery to see the rest). God damn it I love this girl.
I know I've said it already, but I really reeeeeeeeeeally enjoyed this weekend and I'm already looking forward to the next one! Even if you weren't able to make it, you also must check out some of my favourite vintage suppliers who were there for your own big day. I literally didn't have time to visit all the stalls I wanted to, and I didn't get to chat to everyone I should have, but these were just some of the guys that truly did make this weekend a great one:
Emma Case Photography (photographer)
Lucy Ledger Designs (stationery)
DC Bouquets (vintage brooch bouquets & vintage-inspired headpieces)
Emily Jayne Phillips (make up)
Rachel Simpson Shoes (shoes)
The Wedding Club (bridal fashion)
Vintage Frocks & Crocks (vintage fashion)
Lindsay Fleming Couture (bridal fashion)
Vintage Glamour Days (vintage china & accessory hire)
Passion for Flowers/Wedding of my Dreams (flowers/wedding table décor)
Steve Gerrard Photography (photographer)
Sharper Millinery (hats and headpieces)
Bonne Fete/Little 'a' (wedding stylists/flowers)
It's a Wind Up (vintage gramophone hire)
The Boutique Baking Company (cakes and dessert table)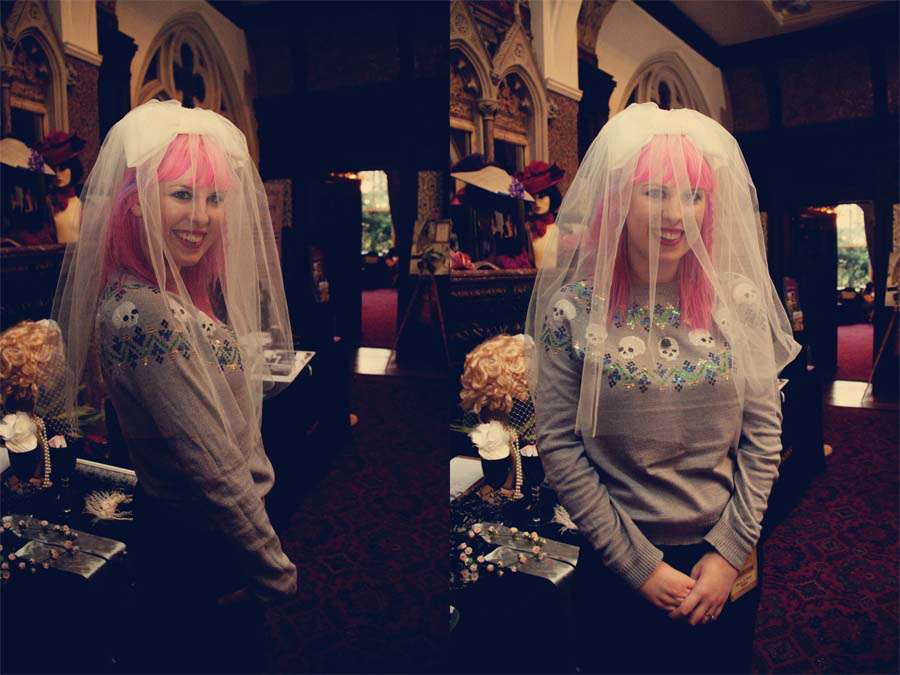 Photography Credit: Assassynation
Oh how much did I love this bow/veil combo from Sharper Millinery? Answer – a lot! Watch this space as the lovely Sally maaaay just have lent it to me for a new project I'm working on. Yey!
And a final, a HUGE thank you has to go to Shoe Queen Rachel Simpson, Fashion Icon Clare Guest, PR Princess Bran Cook and Graphic Design Genius Matt Simpson for coordinating the whole shebang. As well as them all being organisational geniuses and super ace to hang out with, I literally do feel like I've just gone and made myself a whole bunch of brand new friends for life… and that makes the whole weekend an even more successful one doesn't it?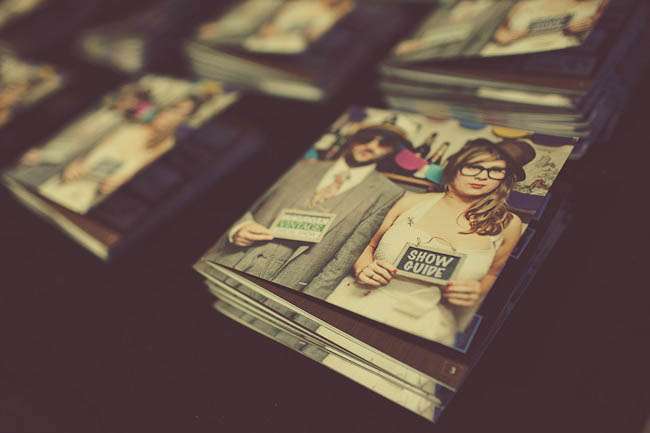 The fabulous program, created by Matt Simpson using a photo by Emma Case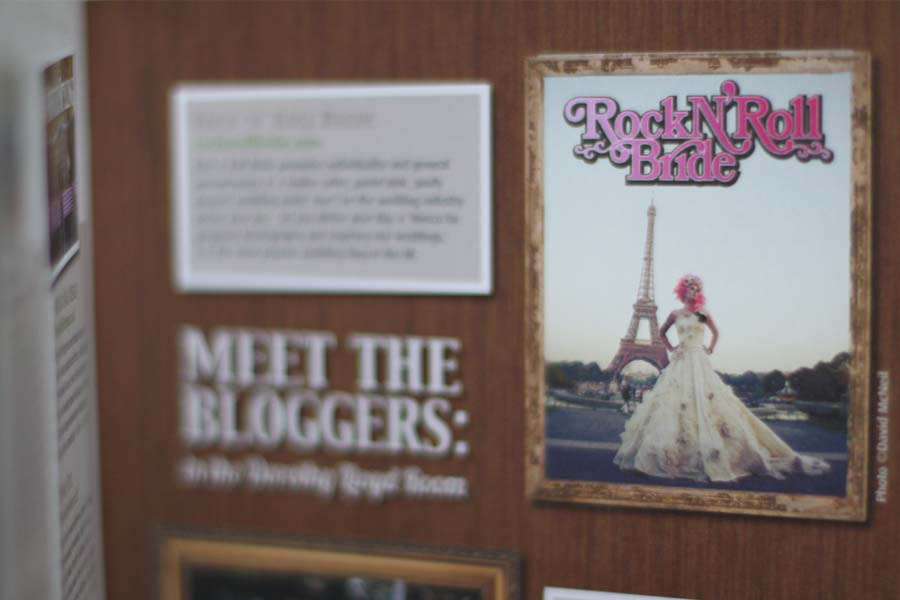 My 'bit' in the program – Meet the Bloggers! (photo by moi)
The lucky Miss Case even got to take the models away for a bit to do an impromtu fashion shoot…how gorgeous?!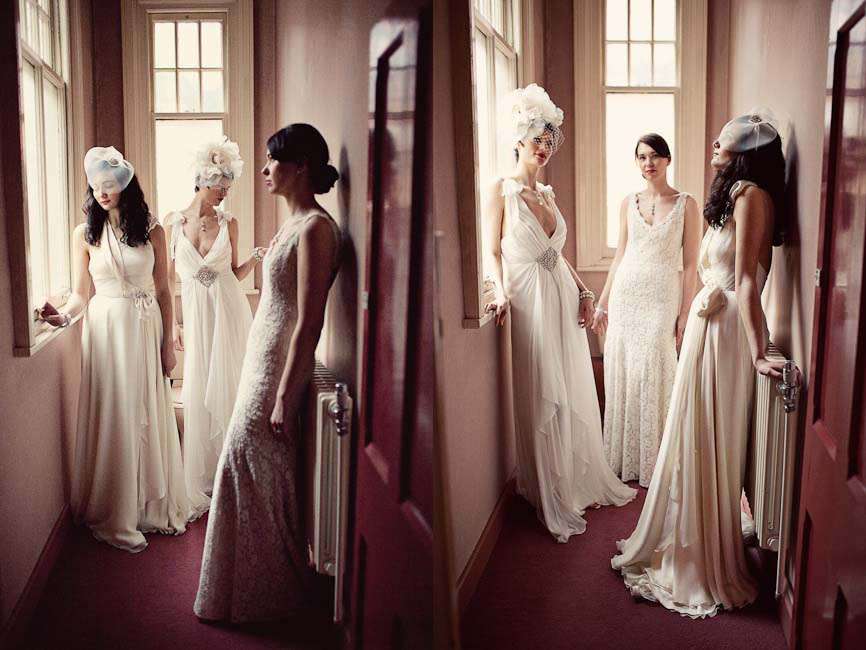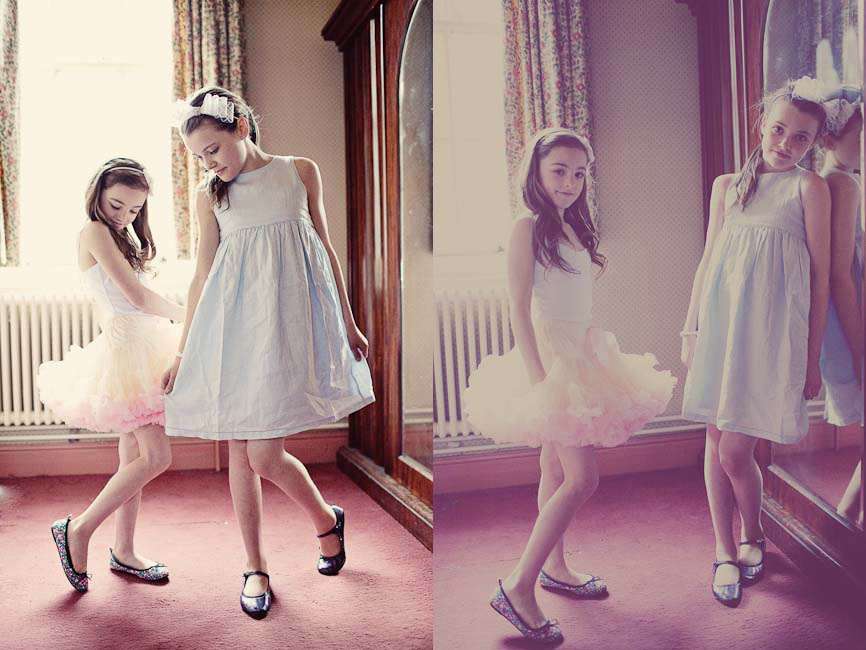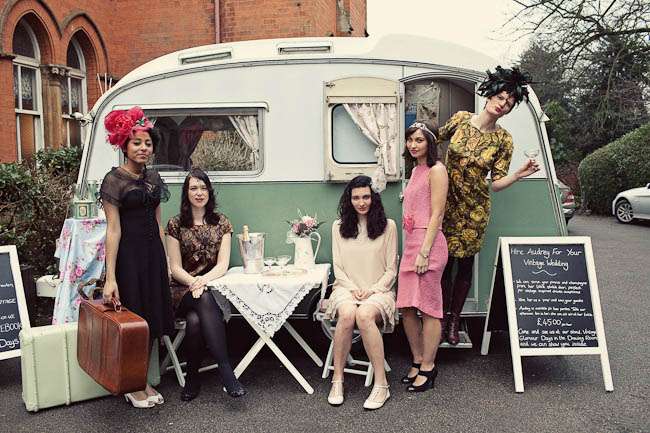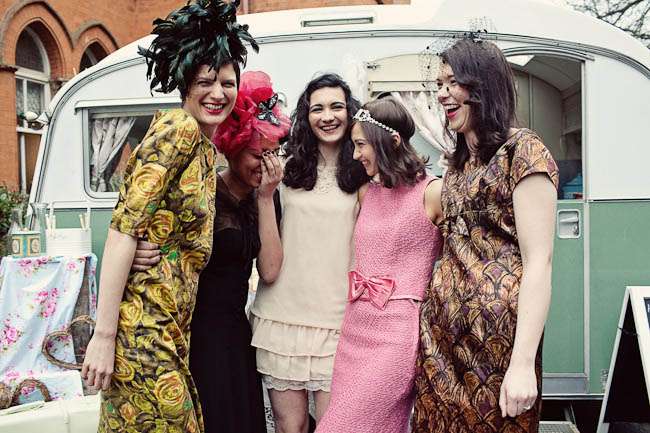 I was in love with 'Audrey' the little vintage caravan – available for hire for just £45 an hour from Vintage Glamour Days. How cute would she be for an engagement shoot or hen do?!
Oh..and talking of engagement shoots, Emma also got to take a photo of me and Pete (her boyfriend/designated helper for the weekend) too…the lucky thing. Another classic pose at the ready…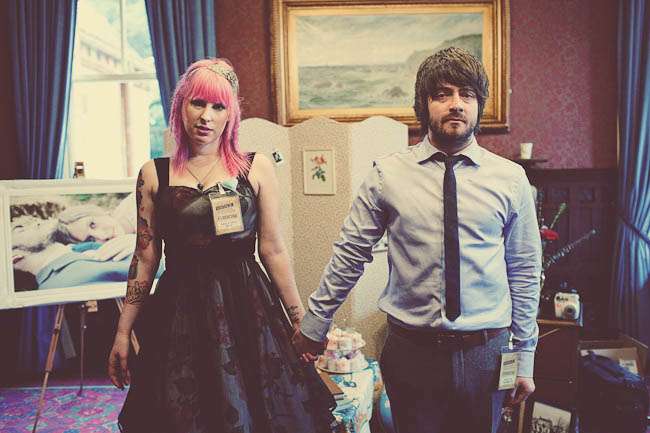 All Photography Credit (unless otherwise stated): Emma Case Photography