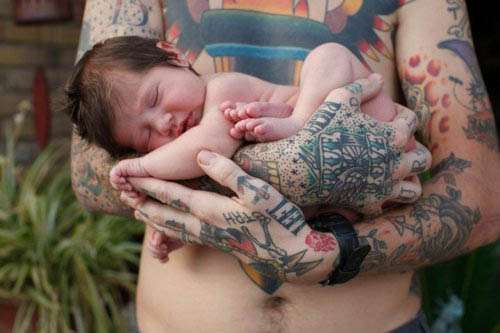 Credit: Hampton Morrow Photography via We Heart It (Thanks to Meahgan & Vanessa for the info)
Hi Kat,
Thank you thank you thank you for your amazing website!
We're getting married in August on a farm in Derbyshire and I have got so many wonderful ideas from your site! We are currently DIY-ing bunting and lanterns with many other things on the way! Our budget isn't grand by any stretch of the imagination but the site has made it possible to know our wedding can still be very us and very unique without the massive price tag!
The theme is village fete – country- vintage ish! Hay bales, bunting, lanterns, wild flowers mis match china, vintage marquees etc! My other half has a vintage 3 piece tweed, I have a 1950's lace fishtail gown that I love and can't wait to wear! The bridesmaids are Vivien of Holloway but I'm so stuck with flower girls… Have you ever come across vintage style flower girl dresses? Everything seems so puffy and bridesmaidy (technical terms) and its not really right for the rest of it! Any ideas would be most appreciated!
Keep up the good work, you're an inspiration!
Nichola xxx
♥  ♥  ♥
What a great question from Nichola this week. However, let's be honest (and anybody who knows me can vouch for this!) babies. scare. me. Therefore I didn't exactly think I was the right person to answer this dilemma…but I knew someone who was – the fabulously chic and stylish, and recent Mummy to the gorrrrgeous Reuben, Tiffany Grant-Riley of Grant-Riley Weddings. Oh and can I just take this opportunity to Tiffany for letting me hold her little Reuben at The Designer Wedding Show yesterday. When I said "yeah sure…just so you know this is the first time I've held a child by the way" she did look a little terrified. Sorry about that!
Hi Nichola!
Your village fete themed wedding sounds absolutely gorgeous-and you're right, the majority of flower girl dresses are rather frilly and white to boot. Nothing wrong with that of course, but as you're a bride looking for something a little more fun and less traditional it can be disheartening when you can't find what you're looking for.
I've chosen a not-so-obvious route and looked on the high street for you for affordable and gorgeous little dresses that can be dressed up on your wedding day and worn again afterwards too. To try and match your 1950s country theme I've looked for ballerina style tea dresses with bold and quirky prints. Team these with a cute pair of ballet pumps and a hair band or some pretty clips and you really can't go wrong. I hope I've helped make your search a little easier and inspired you along the way!
Credits – Clockwise from Top:
Light blue and white Little Joules Kathy Farmyard Print Dress:
John Lewis
£42
Marina Spot Vintage Dress:
Boden
£30
Pink Vintage Rose Dress:
Boden
: £30
Heritage Rose Print Dress:
Monsoon
: From £38
Yellow Daisy Dress:
Boden
: £26
Green Floral Vintage Dress:
Boden
: £30