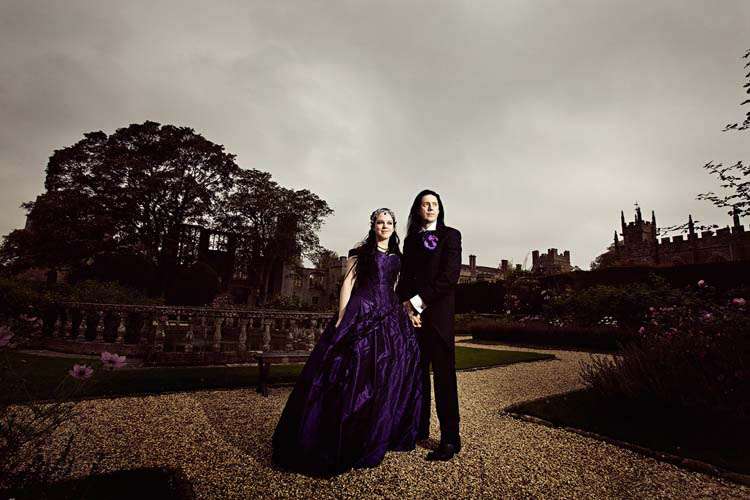 Victor & Tori's dramatic, slightly gothic – totally fabulous British wedding totally hits the nail on the Rock n Roll head. As soon as these landed on my desk I was instantly smitten with Tori's wicked deep purple, handmade gown by Janice Whitehorn of Uptight Clothing, "My bridesmaid sent me the link to Janice's website and I loved her styles," explained Tori. "I went for a consultation and I told Janice what I liked and didn't like, and she came up with the most amazing dress/corset that made me feel like a princess, along with the headpiece which was modified from her original design and all the jewellery."
The couple were married in October at Sudeley Castle in Gloucestershire and the deep purple theme was carried throughout the day and the details. Victor and his groomsmen wore a tailed morning suits with brocade waistcoats hired from Moss Bros, but their cravats were also handmade by Janice from the same material as the dress to match.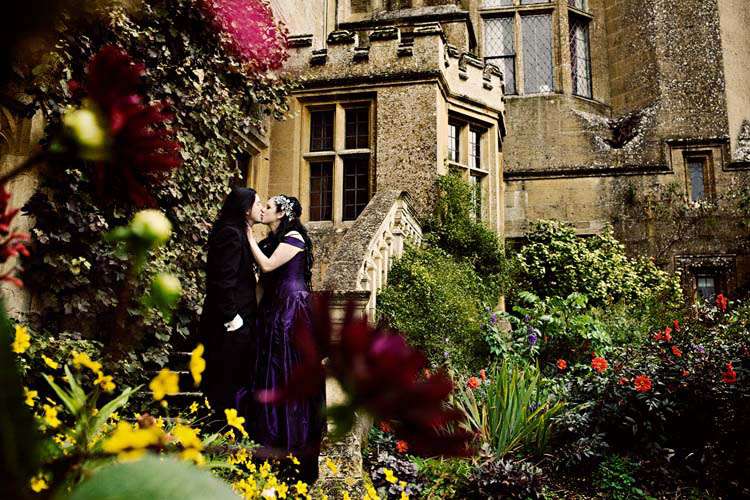 "We always knew our wedding was going to be different – neither of us have worn white since our teens so we knew there'd never be a white dress" concluded the bride. "We wanted a romantic and private setting, and we felt a castle would really fit this idea.  We always knew we'd end up having a friend DJ so there was music at a wedding we actually liked, and we wanted a visual treat to remember, so we asked everyone to wear purple and black to fit in – and it really worked! It wasn't stressful at all, we had so much help along the way, especially from my mum.  We also couldn't have found better suppliers, all were amazing."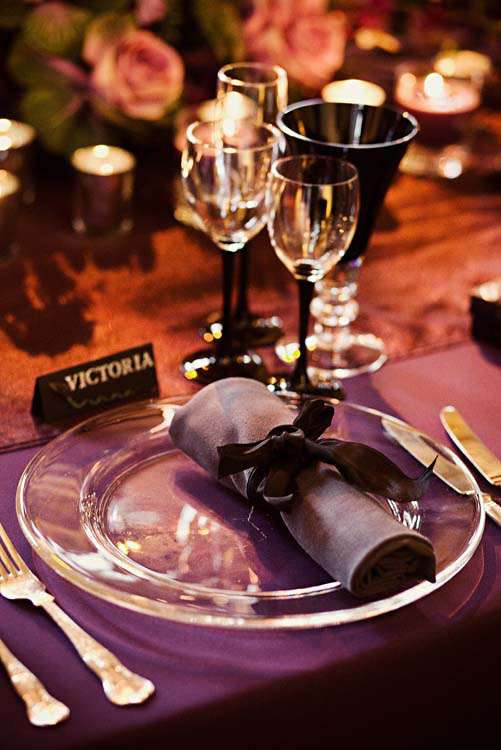 Huge thanks to Victor & Tori for sharing their wedding details with us and of course to Steve Gerrard for sending over his fabulous photos of the day.
Photography Credit: Steve Gerrard Photography
Venue: Sudeley Castle in Gloucestershire
Bride's Dress: Uptight Clothing
Bride's Shoes: New Look
Bride's Headpiece: Uptight Clothing
Bride's Jewellery: Uptight Clothing
Groom's Suit: Moss Bros
Cake: Sugar Celebrations, Gloucester
Flowers: Copeland's florists, Gloucestershire
Bridesmaid Dresses: Dessy
Hair: Sheena's Wedding Hairstyles
Make Up: Elle Hitchens
Invitations: Fairy Stationery