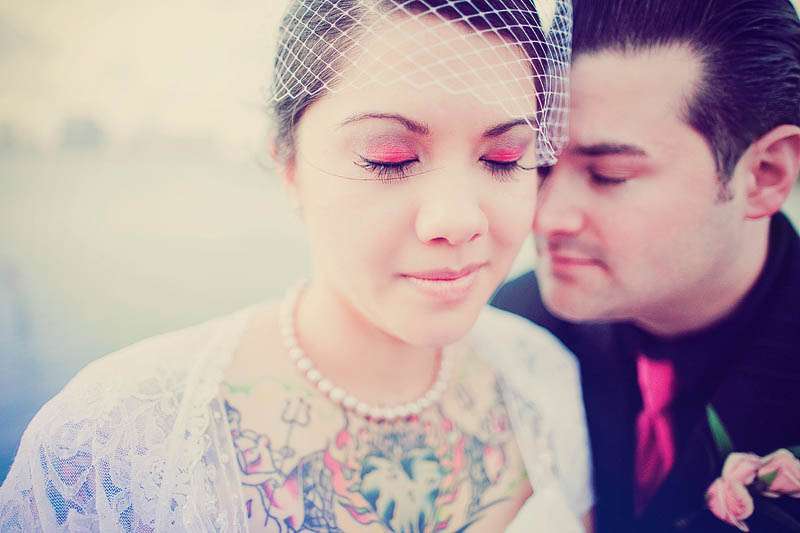 Crystal & Chip's pink and white themed wedding gave me actual goosebumps as I looked at the photos. Seriously.
The couple were married in October at The Rusty Pelican in Miami and had one of my all time favourite Rock n Roll photographers, Matt Miller for  Our Labor Of Love, shooting the wedding. "Being half Filipino I have always loved Asian art and culture, so I wanted it to be part of the wedding" Crystal told me when I asked about their wedding day inspiration. "So it was a pink and black Asian themed wedding. When I was younger, I had a hard time being half Filipino. I grew up in a very small town where kids weren't always nice about people being different. So over time I learned to embrace and be proud of my culture, and who I am."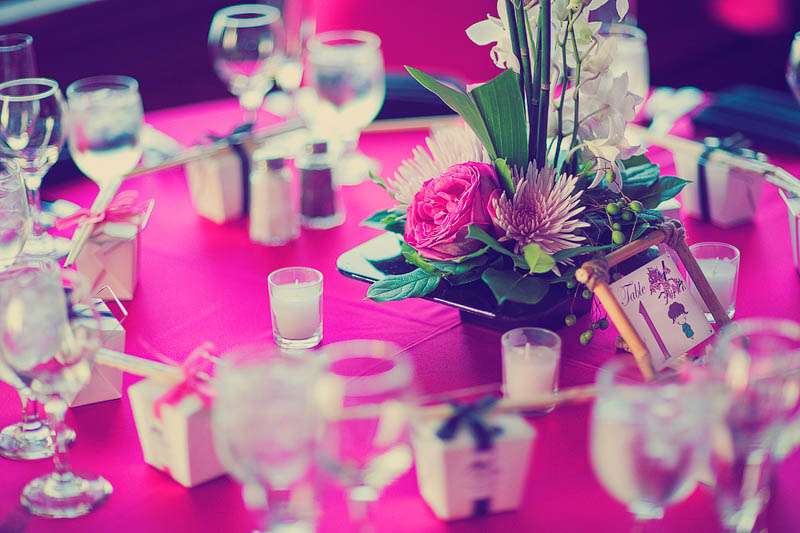 "The decorations and flowers were all in tune with the Asian inspiration. We used large garden roses and orchids. We wanted to used peonies but they were not in season at the time. Garden roses were the closest that we could find. The wedding favors were take-out boxes with cherry blossom chopsticks, and of course inside there was Japanese candies called Hi-chews and chocolate dipped fortune cookies. The wedding aisle had pink and black paper lanterns on Shepard hooks all leading to large planters that had bamboo and flowers where the ceremony took place. Also our cake toppers were unique. I have a great love for the brand Tokidoki. So we used 2 of their vinyl figures named Adios and Ciao Ciao as the toppers."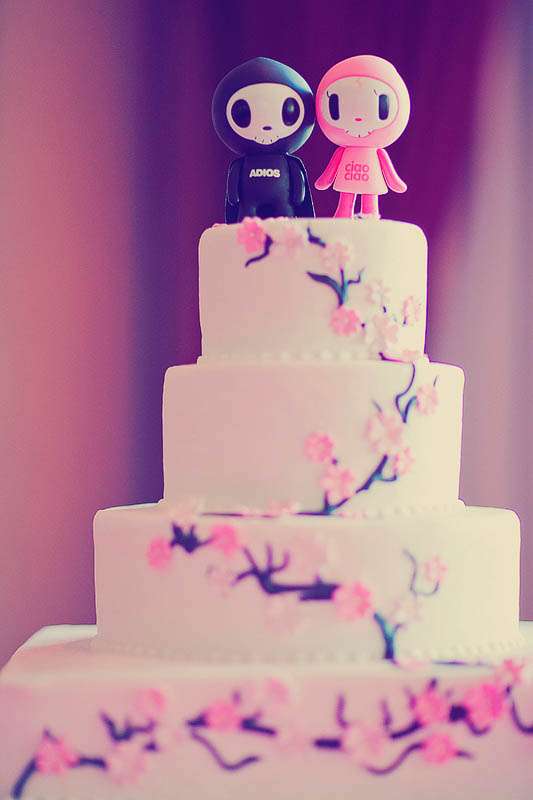 "So all in all, my husband and I wanted friends and family who are from all walks being tattooed hooligans, lawyers, doctors, straight edge kids, band mates, conservatives, etc. to have an amazing time. I think that we were able to pull it off and everyone had a good time. Both my husband being creative in our own ways, him being music, with many bands and dj-ing, mine being more crafty and artsy, we wanted our personalities to be shown throughout the wedding. With that we feel we succeeded."
"I had a major hand 98% of the crafty stuff from the wedding. I personally handmade my birdcage veil with kanzashi flowers, the bamboo table number signs, all the invitations, name cards, favors, card box, and many more things that are currently slipping my mind. Many of these were made from scratch. I take pride in how well things turned out."
It turned our fabulously I say!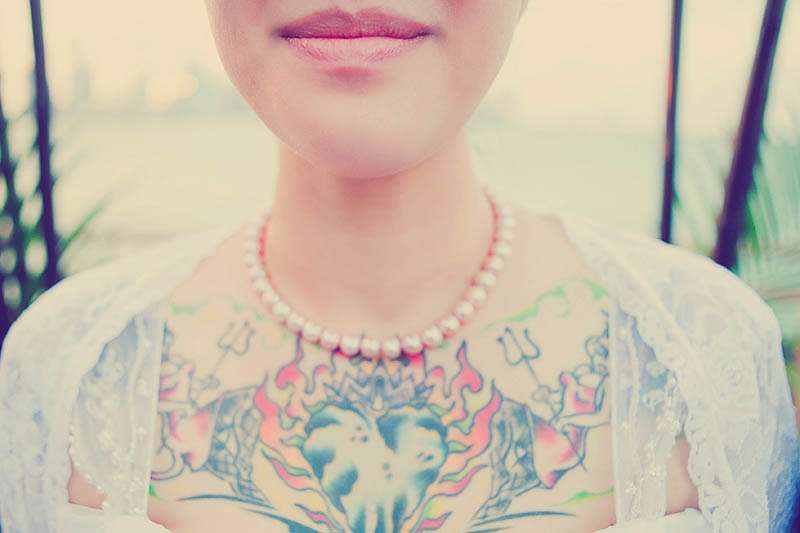 Love and thanks to the happy couple and of course to Matt Miller for sharing his wonderful photographs.
"If you hire Matt Miller or anyone else at Our Labor Of Love, do yourself a huge favor and splurge a little and get the Smilebooth concluded the bride. "It is seriously amazing. It was a great hit at the reception. There are thousands of pictures to prove it."
Photography Credit: Matt Miller of  Our Labor Of Love
Venue: The Rusty Pelican. Miami
Bride's Dress: Oleg Cassini bought from David's Bridal
Bride's Veil: DIY
Bride's Jewellery: Borrowed
Groom's Suit: Ralph Lauren from Men's Wearhouse
Groom's Shoes: Airwalk slip-ons hand designed by the bride and screen printed by Damage Ink, Miami
Bridesmaid dresses: David's Bridal ( Chose their own)
Cake: Edible Creations, Pembroke Pines Florida
DJ: DJ Leroy, Homestead Florida
Make Up: Brittany "Bee" Walbert
Hair: Tracey Wooster at Salon Trio, 12515 South Dixie Highway, Miami