When I (used to) hear the words 'wedding stationery' I automatically thought of either a) plain and overpriced stationery that you can get on the high-street or b) the hand-made versions I used to make whilst kidding myself I was good at art in school.  And quite frankly, I don't know which is worse! Looking back on the 'pre-stationery enlightenment' Alice I just nod my head sadly… if only I knew then what I know now!  After getting stuck head (and heart) first into exploring various wedding stationery options I feel like the ultimate authority on the subject, and this is largely from the lessons I have learnt along the way. So this is what I'm going to share with you today in this little column, so that hopefully at least one person feels less helpless in the sea of wedding stationery options!I started thinking of my wedding stationery options a couple of months ago, so around seven months before the wedding day itself. And I say 'stationery' because it is not just an invite you need to consider. This was my first mistake: not doing any research into appropriate timings for sending out various wedding-related information to guests.  For example, I didn't send out save the date cards.  Having never been to a wedding myself I had never even heard of save the date cards!  Essentially being a way to let everyone know the date of the wedding (helpful for booking up hotels etc in advance, and planning time off work) a save the date is also a great way to give your guests a glimpse of the theme that's running through your wedding (and getting everyone talking excitedly about your big day!!)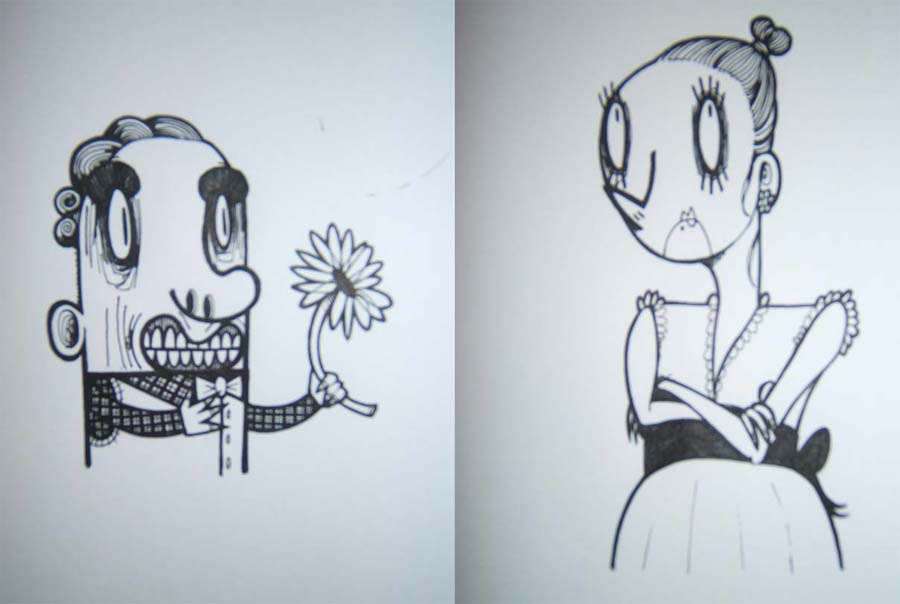 I only realised that it might be time to look into wedding stationery when Graham and I were talking about our Honeymoon-gift list (more on that topic next month…) and how the deadline for contributions was the middle of March. March! As in, 10 weeks away March! It was only when I read a post on Rock n Roll Bride by guest blogger, and stationer-du-jour Lucy Ledger that I saw all my options clearly for the first time.  Firstly I had to decide: DIY option, or get a company to design it?  My man is an illustrator so he was immediately keen to go down the DIY route, and designed a header that he planned to screen print onto each invitation individually.  This would have been perfect, had it not been for the time scale involved in said production. As we realised how long this would take we had to sadly knock this idea on the head. Graham was gutted, and I felt as if I had failed as a bride-to-be, by not knowing and researching our options at an earlier date.
I then took to my twitter profile and posted a generic question about wedding stationery to my followers. This got a great response, with other brides/industry workers/Mrs Rock n Roll Bride herself all offering their advice. Getting a stream of information on tried and trusted wedding vendors is always reassuring and I immediately got stuck into research. We realised that there was no point in sending out a save the date this late in the game, so decided to go straight for the big-boy: The Invite.  After searching many websites and companies I came across a familiar name… Lucy Ledger.  Following a personal recommendation from the pink lady I contacted her, asking all about the process of ordering one of her pre-designed invites to going down the custom made (or bespoke) route. Her reply was amazing – I have never had such a friendly email from ANYONE! She explained that one option is to order directly from her website any of her main designs (options range from nautical to cherries to a cool-Britannia theme, all with a vintage-chic finish).  I looked into her prices (all advertised clearly on her site-no hidden charges on this one!) and was amazed to see that beautiful and quirky stationary was within our price range.
She also told me that for a fee she could design something completely unique for me, all based on my own theme and ideas. Another great option: You can also carry this custom design through to any other stationery you need, such as RSVP cards, menus, table plans, even mounted poster-boards to adorn the venue!  So I was happy I had found the perfect wedding stationer… but nothing's ever that simple right?!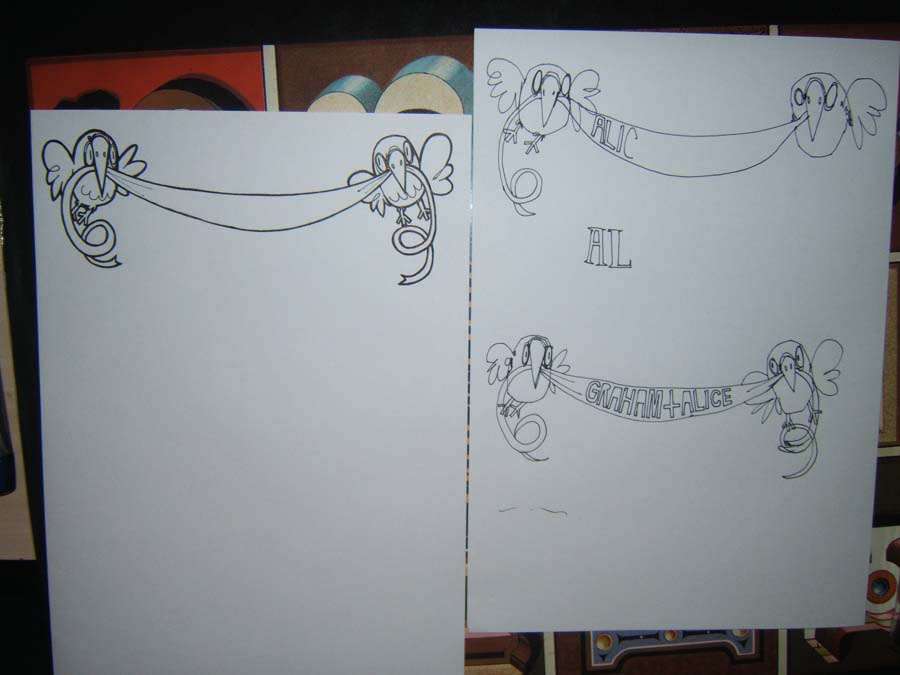 For a custom design you are looking at around a three to four week turn around period, which is pretty darn impressive for an entirely bespoke design. But after consulting with my Mr we sadly realised we needed to get the invites out asap, and just couldn't wait any longer then was entirely necessary.
I was desperately google-ing 'quick wedding invites' and the corporate website Vistaprint came up as an option.  I clicked through, and saw that there was an option for wedding stationery. Within 15 minutes I had chosen a template I was happy with, and had added my required text. For an extra £10 we could have the order express processed, and guaranteed delivered to us within 7 days.  By paying a bit extra we got better quality card, and we ordered 10 extra invites and inserts, for any 'just in case' situations that may arise!  Although it wasn't my dream stationary experience, it got the job done and the invites sent out quickly. And I made a spelling mistake! Yep, that's right, I spelt 'generosity' wrong, and the website DOES NOT have a spell-check option.  So pleeaaassee learn from my massive mistake and get someone to double check your invite content before sending it to get printed onto dozens of invitations!  We did discuss having them all re-printed but the time and money factor involved ruled that one straight out of the equation.  Now I can see it's quite funny (Graham loves telling everyone how 'typically Alice' an action it was), but it did annoy me big style at the time.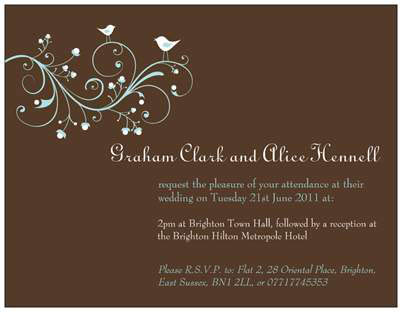 But what about my dream wedding stationer, especially now that I'd finally found her?  Well, I was determined to have an original Lucy Ledger at my wedding, and have since found a capacity in which to do this.  Lucy will be custom designing a welcome board for my reception, with our married names, the date and location written on it, along with a design that her and I are currently coming up with. The best bit is that it will be mounted on a 5mm board, so after the wedding we can pop it on the wall in our home!  I also have my eye on one of her poster boards from her website for my upcoming engagement shoot, and at less than £40 each, they are an affordable way for me to get back a bit of the vintage stationery feel I was feeling that I'd missed out on.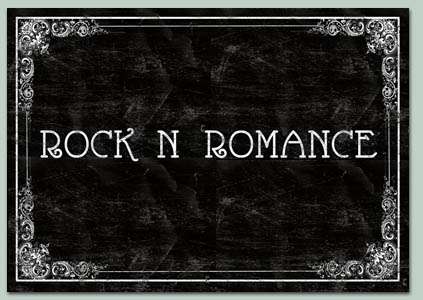 So after a pretty turbulent stationery journey, I hope you're still with me!  I must say, that even though things haven't turned out as 'perfectly' as I would have once hoped, I don't think I'd change our stationery even if I could.  The money I saved by having simpler stationary is now going on an A2 poster board custom designed by a super talented wedding stationary wizard, and the lessons I have learnt I got to share with you guys: so all in all, it could have gone a lot worse, non?!
You can see the rest of Alice's adventures in weddingland here.
Be sure to also keep up to date with her on her blog, Petticoats & Poisons.