Unless you've been living under a rock recently, you won't have failed to notice that a certain Prince William and Kate Middleton are getting married next April. Now, whist I have to admit, the whole thing doesn't excite me as much as a lot of wedding -obsessives (will their wedding be Rock n Roll? I think not!) I do love a good royal theme. I love crowns so much I have one tattooed on my arm and I actually own a number of things on this list already! I love ostentatious tiaras and I actually wore the Butler & Wilson skull tiara to my Rock n Roll party. The Evans Litchfield cushions adorn my sofa  and the crown ring can regularly be spotted on my finger! I even wore a version of the Irregular Choice shoes for the Mad Hatter photo shoot.
This week, the lovely blogger and wedding stylish Charley of London Bride fame tackled the tricky task of sharing some royalty inspired loveliness…not forgetting the ever-so-important punk rock edge. Now this is one royal wedding I can get excited about!
The Rock n Royal Wedding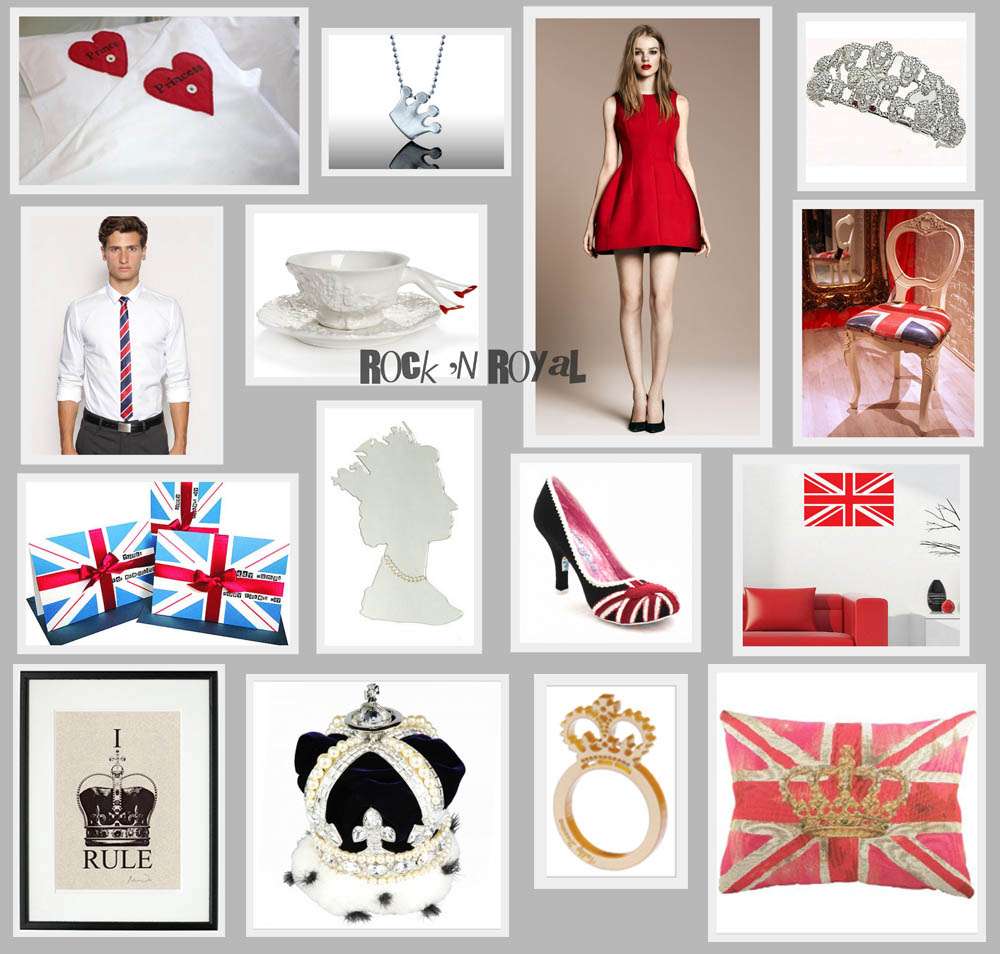 Now we certainly aren't all princesses and can't exactly feast like a King but these touches of rock n royal will add a bit of class to any wedding.
♥ There's no chance of Princess and the Pea happening with these cute as a button pillowcases.
Polly and Prince (£28.99)
♥ Tell your bridesmaids you value them like royalty with these tiny crown pendant necklaces.
Alex Woo ($148)
♥ Be the lady in red not lady in waiting with this sassy tulip skirt dress.
Zara (£99)
♥ Can't afford the real diamonds? You'll still shine like one with this Swarovski crystal skull tiara.
Butler & Wilson (£128)
♥ Everyone royal needs a throne, and you'll feel like one when sat on this signing the register.
Foxbat Boutique at Not On The Highstreet (£210)
♥ Add a subtle bold statement as a backdrop for photographs with this union jack wall sticker.
Leonora Hammond at Not On The Highstreet (£35)
♥ Everyone will be worshipping your shoes with these patriotic vintage heels.
Irregular Choice (£49.90)
♥ You wouldn't catch Peggy looking in this Queen's Head mirror but it makes fab decor.
Juno Design Shop (£33)
♥ It wouldn't be a true British wedding if there wasn't a nice cuppa involved, especially from such an elegant cup.
Blaue Blume from Lifestyle Bazaar (£42.00)
♥ Smarten your man up with stylish stripes in blue red and white of course.
Asos Shirt and Tie (£22.00)
♥ Flag the save the dates with these colourful invitations.
Made with Love at Not On The Highstreet (£5.50)
♥ Add a bit of fun and sense of humour to any room with this fantastic print.
Juno Design Shop (£49)
♥ You'll certainly be Queen for the day in this incredible Vivienne Westwood crown.
Hervia (£1250)
♥ This unusual crown ring would make the perfect gift for a bridesmaids (or yourself!)
Tatty Devine (£15)
♥ Be the master of all you survey with these gorgeous Union Jack Pink Crown Tapestry Cushions.
Evans Litchfield (£9.99)
Charley x
Check out more of Charley's style and wedding tips over at her blog
London Bride