Following the popularity of the first The Rock n Roll Bride Venue Guide, written by wedding planner and stylist Mary Herrington of Forever & Ever Events, I was keen to ask her if she'd be willing to do a bit of travelling for us and do some venue guides for the rest of the country. This month, Mary visited Manchester to bring you her reviews of the most kick ass venues for your Rock n Roll wedding!
♥  ♥  ♥
Following the great response to my first venue post on London's Rock n Roll reception venues, I now take you up north to Manchester, where the city and surrounding areas offer a truly eclectic mix of inspiring venues for a Rock n Roll wedding.  As I did in my London venues post, my approach here is to recommend a variety of venues across the spectrum of budgets and aesthetics, from very cool historical architecture to vintage modern interior design to contemporary and modern dance halls.  Remember that no matter where you have your wedding, if you put your personal stamp on it, the venue will come alive.
So here are 10 Rock n Roll venues in Manchester that I highly suggest you check out:
Any Mancunian with an interest in live music will already know of The Deaf Institute.  What they may not know is that this music hall and café can be hired for a wedding reception and that the summer months – when most couples are wanting to get married – are the slower months for this music venue and therefore the time when they have greater availability for weekend hire!  This isn't some smoky dive pit of a music venue – rather, The Deaf Institute is known for its extremely stylish interior: damask and Dolly Parton wallpaper, cuckoo clocks, parrot-patterned walls, velvet seats, chandeliers and vintage modern furniture.  The Music Hall has a huge disco ball, its own bar, stage, sound equipment, glass balcony, and theatre seating area. The Basement Bar is great for more intimate weddings and can also be hired out for private parties – great for hen night karaoke or a private cocktail bartending class.  Prices vary depending on the date, but you can either hire out individual rooms (from about £1,000 for weeknights to about £2,000 for weekends) or hire out the entire venue at about £2,850 and host up to 600 guests!  And being fans of Rock n Roll Bride themselves, they will offer a free meal to couples interested in booking their wedding reception – simply email info@foreverandeverevents.com for more information.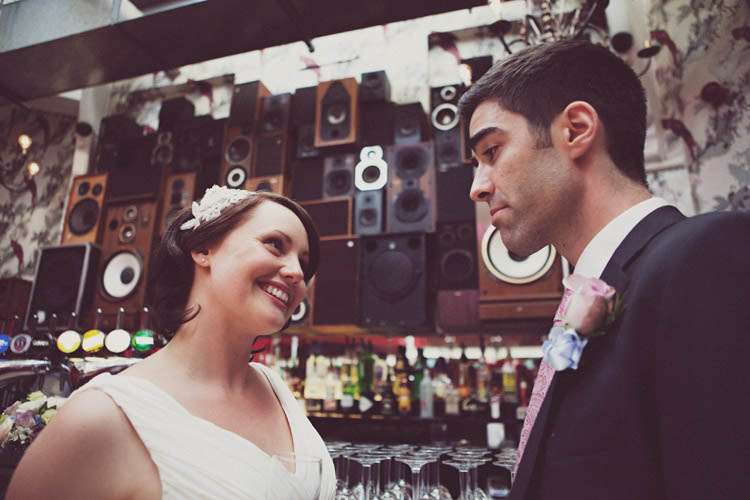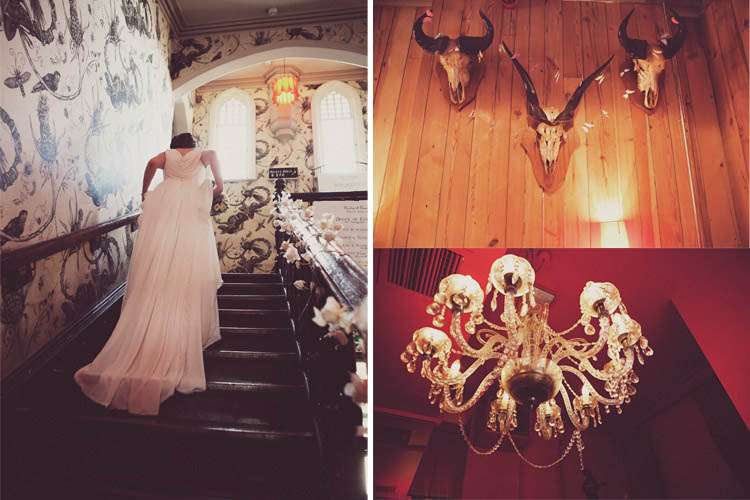 The Deaf Institute, 135 Grosvenor Street, Manchester M1 7HE, 0161 276 9350.
Located in the centre of Manchester, this stately hotel offers a wide range of venue options, all with its characteristic opulent décor and stunning chandeliers.  The Alexandra Suite can seat up to 550 guests, while the ornate Trafford Room can seat up to 200.  For smaller weddings, the Midland also offers the Derby and Chester Suite, ideal for weddings up to 100 guests.  They also include a Master of Ceremonies to guide the flow of the day and offer complimentary stay for each set of parents as well as your honeymoon suite on the wedding night.  They are also flexible and can provide specialist catering options, including Asian and Jewish traditions.  Also licensed for civil ceremonies.
Midland Hotel, Peter St, Manchester M60 2DS, 0161 236 3333.
Looks can be deceiving!  This Edwardian building is more than 100 years old with 40-feet high arched ceilings and chandeliers, but don't assume by that description alone that it will be yet another country house venue with old walls and fixtures.  This is a party venue through and through, which you may also know as The Cinnamon Jazz Club for live music events.  Because it is also a live music venue, the Bowdon Rooms come with all of that party equipment built-in – PA, lighting and your own sound engineer.  As a privately owned building, the management only reserve one wedding per day, so that you can have their entire attention just for you.  Located in South Manchester, just 7 miles south of the city centre, it is also licensed for civil ceremonies.  Room hire rate is only a flat £1,200 (including VAT).  Any Rock n Roll Bride reader who books a service with Forever & Ever can receive a 30% discount from this venue – to learn more, simply email info@foreverandeverevents.com.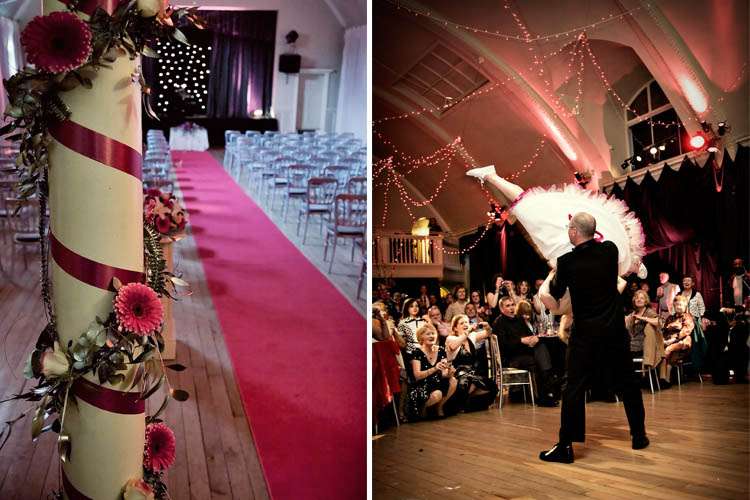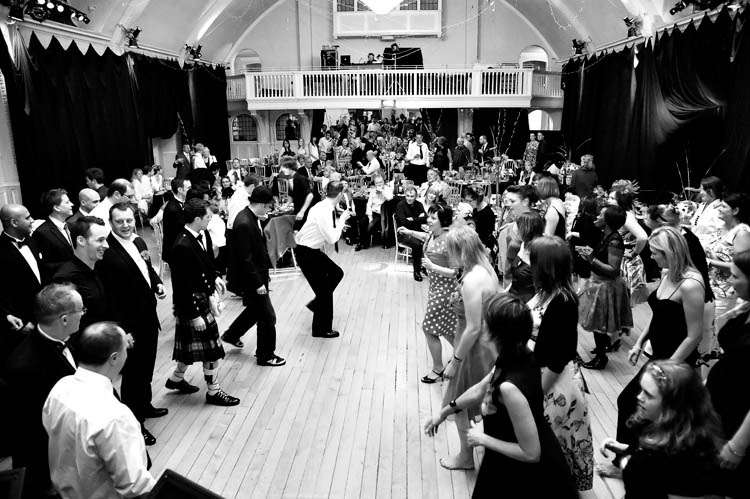 The Bowdon Rooms, The Firs, Bowdon, Altrincham, Cheshire WA14 2TQ, 0161 926 8992.
While a masterpiece of Victorian architecture on the outside, the Manchester Art Gallery on the inside is modern and contemporary.  Start with cocktails in the glass atrium and grand entrance hall, then make your way to the stylish café where the décor combines both Victorian architecture and modern simplicity.  For your evening celebration, a dance floor can be set up in the Entrance Hall.  And with prices at £33/head and room hire at just over £1,500, this venue is quite a steal for such a chic venue. And it being an art museum and all, you can even arrange for private tours for your guests to see the various galleries.  Also licensed for civil ceremonies.
Manchester Art Gallery, Mosley Street, Manchester M2 3JL, 0161 235 8866.
How much do you just love boutique hotels with distinct character?  Great John Street Hotel is like a New York townhouse-turned-loft combined with vintage chic. This former Victorian school house can accommodate up to 200 guests.  For your wedding, you can hire this townhouse exclusively, which includes everything from the oh-so-chic Oyster Bar to the Roof Top Terrace with its own hot tub!  Live music can run until 11pm on the Roof Top Terrace, where your guests will have panoramic views of the Manchester skyline.  Also licensed for civil ceremonies (including the Roof Top Lounge).
Great John Street Hotel, Great John Street, Manchester M3 4FD, 0161 831 3211.
The Whitworth is situated at the University of Manchester and overlooks Whitworth Park – so you can imagine opportunities galore for gorgeous outdoor portrait shots of you dressed in your wedding finery.  As an art gallery should be, the interior is clean and contemporary, offering you a blank canvas to create your perfect wedding décor that won't be dictated by the venue.  The South Gallery overlooks the park and the modern Worthington Room is perfect for a larger wedding.  The gallery also offers its own catering company that prepares all organic and locally sourced food for your wedding.
The Freemason's Hall, 36 Bridge Street, Manchester M3 3BT, 0161 832 3775.
Did you know that the architect Alfred Waterhouse created both the Natural History Museum in London and Manchester Town Hall?  Well, one look at both and you won't be surprised.  This towering feat of Victorian neo-Gothic architecture is located on Albert Square facing the Prince Albert Memorial and right in the thick of the city centre and bustling tourist area.  In this vast building, you will have your pick of rooms, from the Conference Hall and the Lord Mayor's Parlour, both with oak canopy and walls, to the Reception Room and Banqueting Room, the latter which boasts stunning oak paneled ceilings and gold corners.  Perhaps the most famous room is the Great Hall, which houses a gallery of Ford Maddox Brown murals.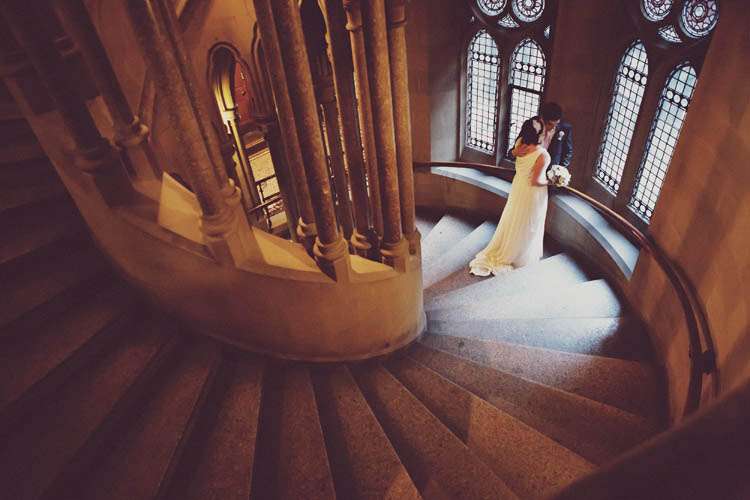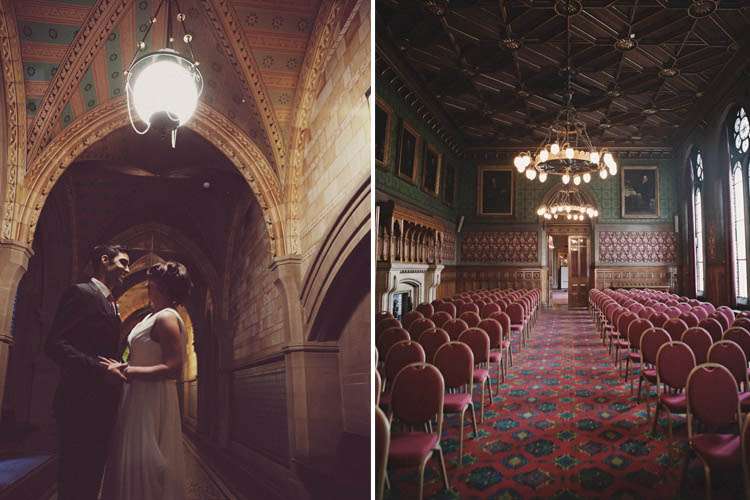 Manchester Town Hall, Albert Square, Manchester M2 5DB, 0161 234 4343.
8.  The Lowry
Not many venues can boast a waterside location in central Manchester with direct views of the city's most iconic buildings.  If your wedding is held in the Lowry's Compass Room, a circular room at the very top, your guests will have dramatic panoramic views of Manchester from its floor-to-ceiling windows and its own private balcony.  This contemporary space is like a blank canvas, where you can transform it to suit your design and décor elements for a seated reception for up to 160 guests.  For a more intimate celebration, the Lowry's Hexagon Room provides waterside views (with its own bridged walkway) for up to 60 guests at a seated reception.  Also licensed for civil ceremonies.
The Lowry, Pier 8, Salfrod Quays, Manchester M50 3AZ, 0161 876 2106.
9.  The Orangery at Heaton Hall
This neo-classical building is located just 5 miles north of Manchester's city centre and surrounded by luscious gardens.  For those of you planning a more intimate celebration, the Orangery can accommodate up to 80 guests for a seated reception and up to 150 for your evening soiree.  This is the antithesis of dark and dank Britain – rather, the Orangery's interior of pastel blue walls is lit entirely by natural light streaming through its many tall windows.  With 600 acres surrounding you at this country house, you are pretty much guaranteed (weather permitting) beautiful outdoor wedding photos.  Also licensed for civil ceremonies.
Heaton Hall, Heaton Park, Manchester, M25 5SW, 0161 773 2581.
10. Belle Epoque
If you're all about high style, then look no further than Belle Epoque in Cheshire, about 30 minutes from Manchester's city centre. The building itself is a local icon, famous for its reclaimed materials from local churches, with church pillars suspended from the building, as well as materials from Italy.  The interior of this higher-end venue is eclectic, with French boudoir red walls, velvet chairs, and gold and aubergine accents.  More of an intimate and stylish venue than an open hall, the venue offers the Garden Room, the Paillards Room (both of which can be used together or stand alone for your wedding) as well as a roof top garden open year round.  The roof top garden can also be used for your civil ceremony, though the signing of the registrar bit would then be moved inside to meet its legal requirements (but who actually likes to watch the signing of the registry anyway?  That's right – nobody.).  Downstairs on the ground floor is the lounge, dance floor and bar.  They only reserve one wedding per day and can accommodate 120 for your seated reception and 160 for your evening party.  On top of all this stylish goodness, you will also have award-winning food and a chef who will create a bespoke menu for your wedding day.  For any Rock n Roll Bride reader who books with Forever & Ever , the venue is happy to provide a complimentary hotel room plus a bottle of champagne on ice, simply email info@foreverandeverevents.com for more information.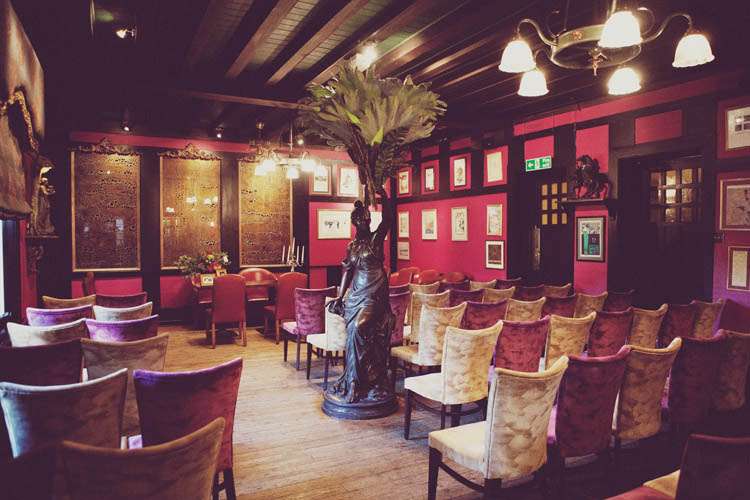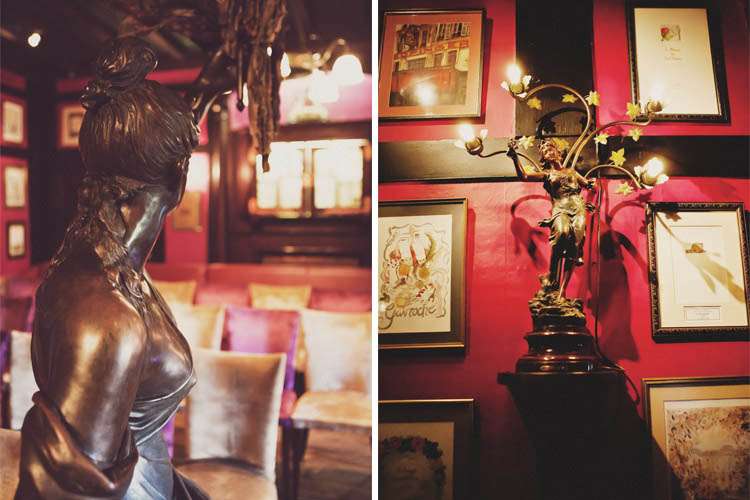 The Belle Époque, 60 King Street, Knutsford, Cheshire WA16 6DT, 01565 632661
Until next time,
Rock on, Brides!  MLH x.
♥  ♥  ♥
Huge thanks to Mary for sharing her favourite Manchester venues with us today. If you're curious for more Rock n Roll tips on wedding planning or styling, drop Mary an email at info@foreverandeverevents.com or visit her website at http://www.foreverandeverevents.com. Also massive thanks to the sensational Manchester based photographer Anna Hardy who took all the photos.