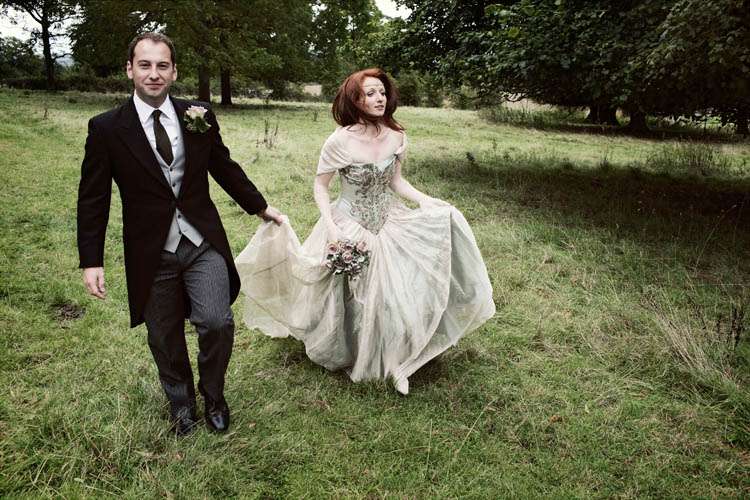 Sarah & Chris got married at Croft Castle, Herefordshire followed by a Tipi reception in Sarah's Father's field. I have a serious wedding crush on this 'venue'!
The whole wedding was a locally-sourced and handcrafted affair as this was very important to the couple. The tipi was decorated top to toe by Sarah and her Mother (her Mum is the lady wearing the fabulous handmade patchwork coat!) "We wanted our wedding to have a handcrafted feel and it was important that our friends and families were as involved as they could be" Sarah explained. "My inspiration for the feel of the day came from that, from getting those peoples input and spending time with them. My mother made the amazing patchwork coat that you can see her wearing, from thousands of small squares of lovely fabric, and she announced just after we got engaged that she was going to turn it into a quilt for our first baby after the wedding – this pretty much encapsulates the feel I wanted of the wedding."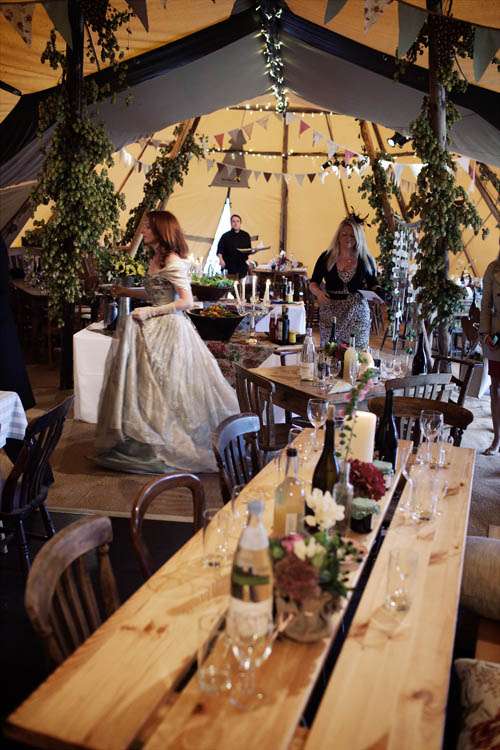 "I wanted to make as much as I could myself and took immense pleasure in spending hours stitching and crafting, using old family photos or random things picked up over the years to make everything as unique as it could be – it was so important to me that it all came, well, from the heart. Is that too cheesy? I don't care, it was my wedding day and I loved every second of it."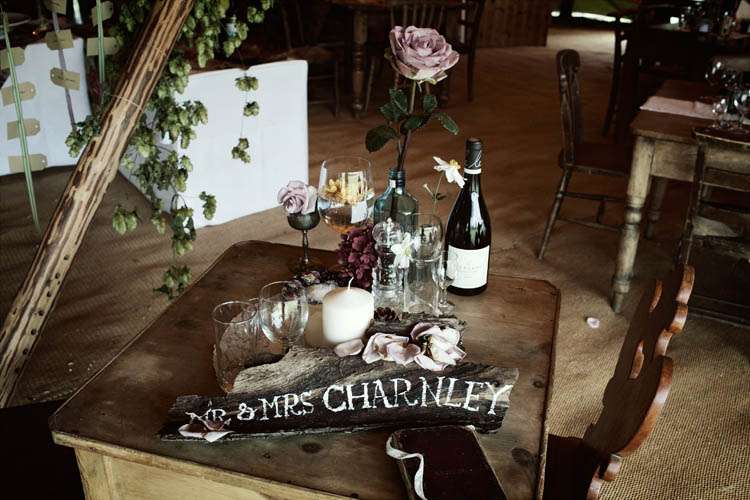 The flowers were all picked from the surrounding fields and local gardens (with permission of course!) and the bride made the bunting and 100 pots of jam! The linens and lace table runners were all found at local charity, antique and vintage shops and Chris built the campfire which everyone gathered round at the end of the night.
The bride made all the stationary and paper goods from the invites – which were little books made from wallpaper and hand stitched together, to the  save the dates, the table plan – which was made with ribbon and luggage labels and service sheets – which were hand printed and hand stitched. Sarah has since decided to start her own wedding stationary company and I can't wait to see what she comes up with. This is some seriously gorgeous and creative stuff!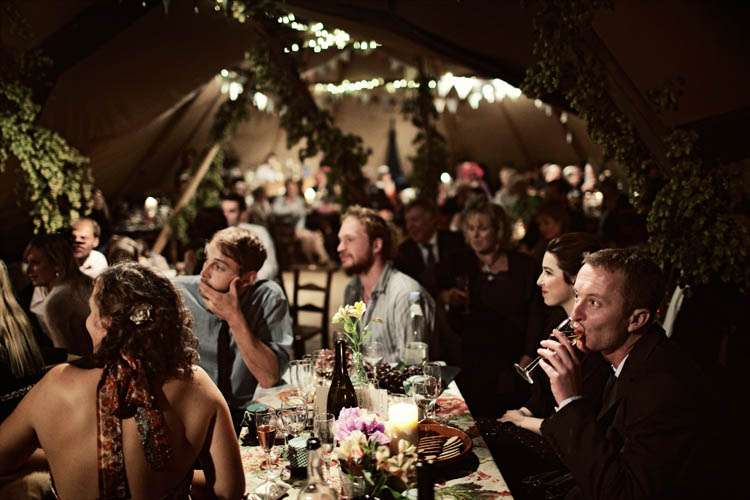 Another thing that was really important to the couple was charity. After dinner, they held an auction to raise funds for ZAMCOG. They included included art from the brides art gallery www.blackrat.com, a hamper from Scotland and a dance with the bride. For their honeymoon, the pair plan to cycle across Africa, also in aid of this charity.
"For our not so romantic honeymoon we plan to cycle across Africa, from coast to coast – starting on the East coast of Tanzania, biking through Malawi, Zambia, Botswana and ending on the West coast of Namibia," Sarah told me. "This covers about 5,000 km and we aim to do it in 30 days. Given that we haven't done much cycling before (not counting the 12 minutes it takes me to get to work, and the 12 minutes it takes to get back) this could be quite a challenge!"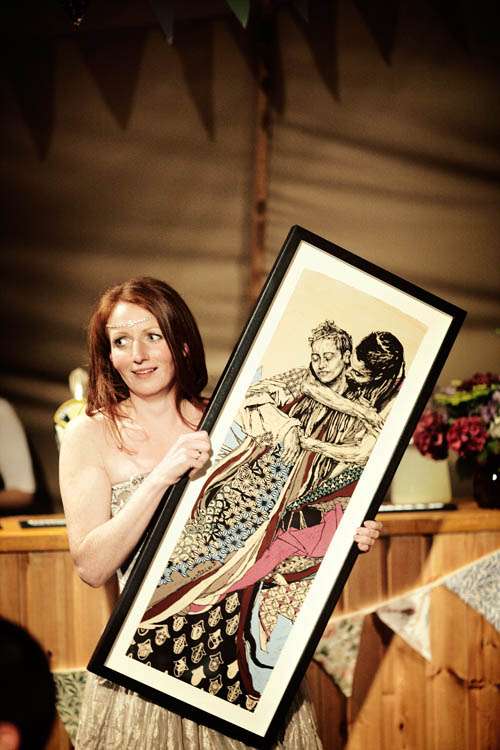 "Chris and I are fundraising for a school in Zambia that provides education, care and shelter for orphans, street kids and other vulnerable children. Through a stable and caring environment Shitima school aims to build a self sustaining route for children to create a better future for themselves and their community. There are at present 230 children in the school and it costs approximately £300 a year to feed, clothe and educate a child. The charity that funds the school also runs a feeding programme at a nearby drop in centre for street kids. The website explains it all in full but in short its a wonderful place where children are cared for and given new opportunities. We are aiming to raise £25,000 to contribute towards new facilities that would mean that the school could take on more pupils and which would also create more jobs within the local community."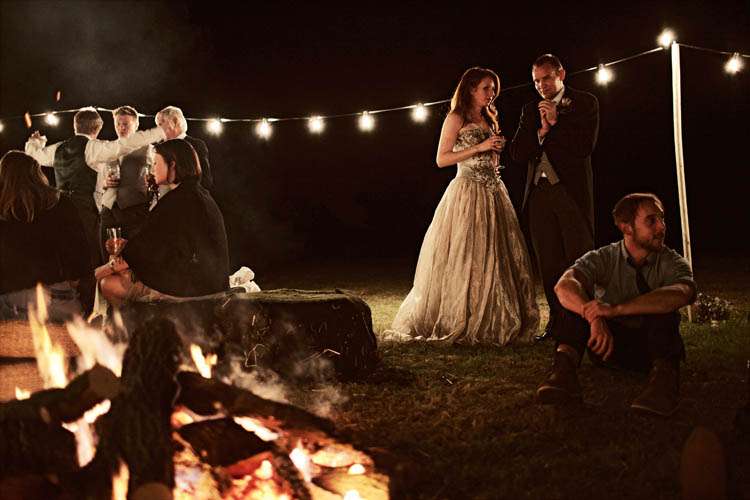 If anyone wants to donate to help Sarah & Chris, their charity site is: http://www.justgiving.com/africacoast2coast
HUGE thanks to Sarah & Chris and their photographer Nick for sharing this awesome awesome awesome wedding with us today
Photography Credit: Nick Tucker Photography
Ceremony Venue: Croft Castle, Herefordshire
Reception Venue: Tipi in Sarah's Father's Field
Bride's Dress: Custom Made by Cocoa Designs, Cheltenham (vintage silk and bodice)
Bride's Acessories: All vintage
Bride's Shoes: Vintage
Groom's Suit: Horace Barton and Sons, Cheltenham
All Decor: DIY
Flowers: DIY
Stationary: DIY
Cake: DIY