A few weeks ago myself and the lovely Rock n Roll Bride intern, Alice, headed to The Designer Wedding show. I asked her if she'd like to write the report for me as I felt that her opinion on the show (as a bride-to-be) would be much more interesting for you..especially those of you who might be a little afraid of the whole 'bridal show experience.
I'm not going to lie, the big shows can be hella scary – but this smaller and more intimate wedding show is actually very pleasant- there are no scary brides running around with clipboards (give me strength!) or manic and desperate suppliers trying to shove leaflets in your face. Think champagne reception, clean white stalls and super friendly and creative wedding suppliers.
Alice wrote about some of her favourites. Photos by us both (although we were a bit rubbish and didn't take nearly enough…we were having too much fun to work!)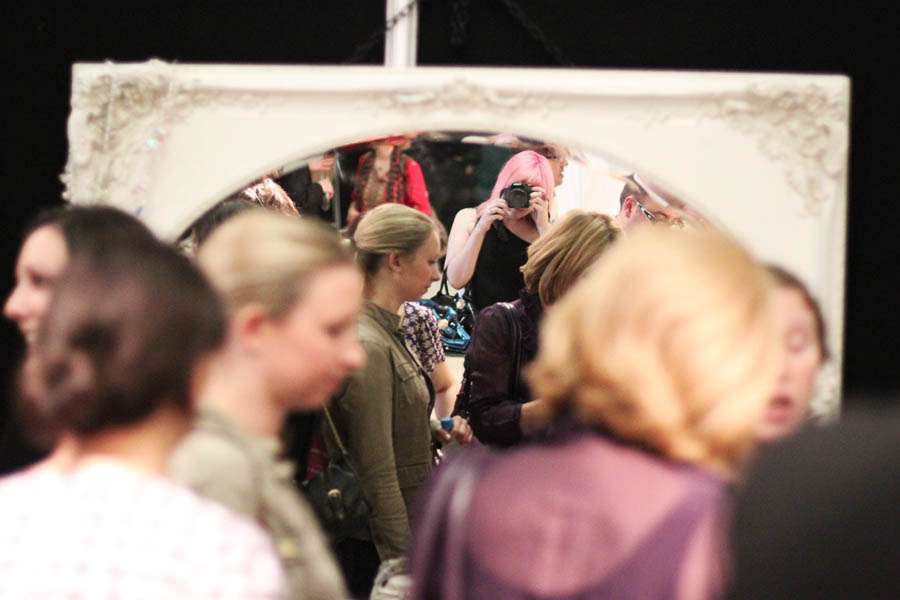 ♥   ♥   ♥
So when Mrs Rock n Roll Bride asked me if I was going to the Designer Wedding Show, I was forced to face my biggest wedding fear; the bridal show.  To make matters even more complicated this was no ordinary bridal show-this was the designer version.  Sloany girls with their pushy mums immediately jumped into my head, along with the worry of disapproving looks from snobby vendors as a scruffy tattooed bride to be stopped by to have a look.  Needless to say, I was doubtful that I would fit in, and that in turn there would be nothing there to tempt to (or within my price range!)  However I bit the bullet and told Kat I'd be there.  I bought my ticket online, and booked the day off work.  The countdown was on until D-day; Designer Wedding madness day!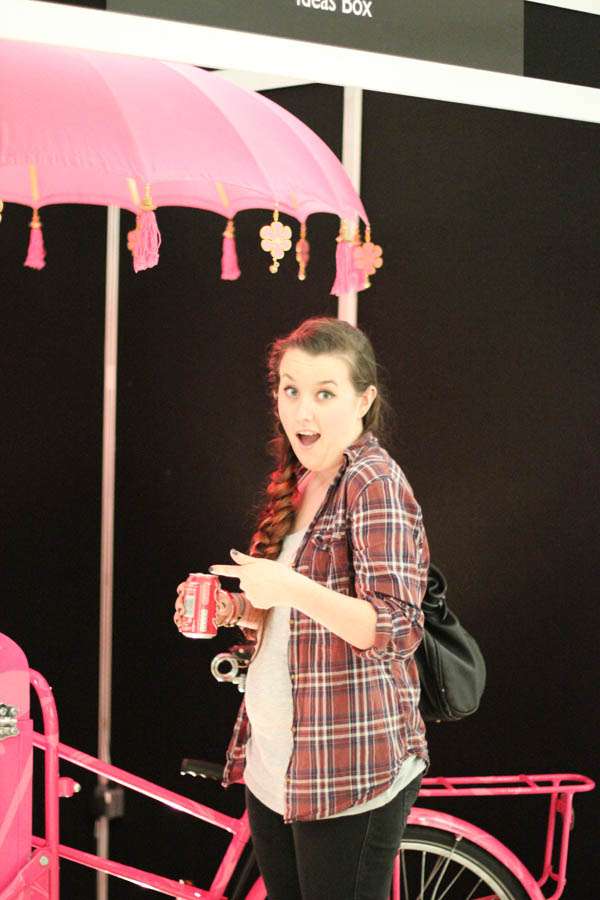 The day started smoothly with the complimentary shuttle bus picking me up from Sloane Street station.  I was pleasantly surprised by the other brides on the bus..aside from the odd exception decked out in their Joules finery, most of them seemed, well, normal. A very pleasant surprise!  The show was being held in Battersea Park, and so a quick journey across the river and we were there.  The first thing that hit me was the pleasant sound of an opera-singing pianist performing, well, I'm not quite sure what exactly what it was, but suffice to say it was along the lines of a jazzed-up Kaiser chiefs style number!  Ha, it was a brilliant start to the day!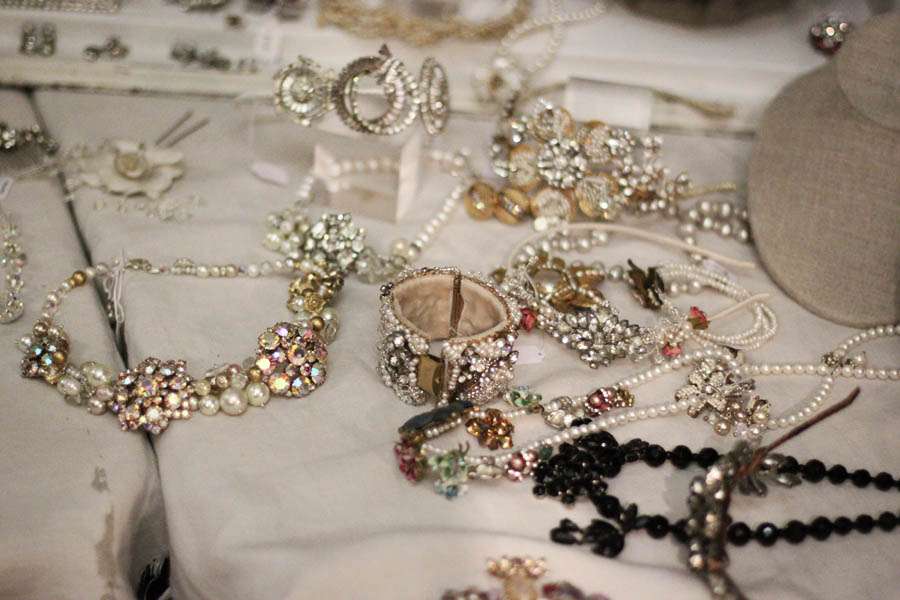 The overall impression of my first ever wedding show was "wow, everything's so…perfect".  Perfect door attendants opening the door for me (I'm not going to lie, I quite liked that little touch), perfectly dressed stalls and perfectly groomed staff manning them.  However, when I saw a big smile attached to some bright pink hair I relaxed!  Kat met me, and made it her mission to introduce me to all her fave industry friends. First up were the beyond lovely ladies from Magpie Vintage, a brilliant company that source vintage jewellery (think cameo brooches and pearl necklaces) and then construct something entirely unique from them for their brides.  A glittering selection of hair ornaments, sparkly bracelets and chunky floral-inspired necklaces were dangled in front of me…I was very happy to be a bride-to-be right then!  Being able to havea totally unique (and handmade may I add) piece of jewellery is a real luxury, and there's no better time to indulge in a piece like that than on your wedding day.  I had a great time playing dress up, and had to literally be prised away by Kat at one point!  If you've never seen any of their pieces for yourself then don't just take my word for it, check them out yourself.  They also supplied some of Kat's bling from her recent Paris photoshoot, so you can see some of their finery by looking at the shots from that also.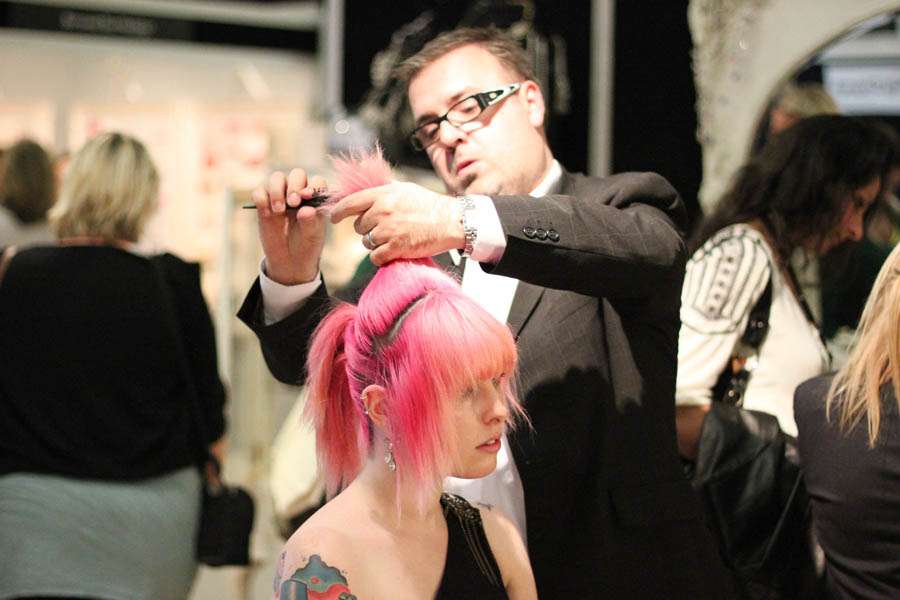 Also at the Magpie Vintagestall was the super-talented Sev from The Hepburn Collection.  All that needs to be said it that this man is a genius!  He made a flawless faux-hawk hairstyle for Kat in less then 10 minutes, and managed to tame my mane (seriously, my hair is so long I can almost sit on it!) into a Heidi-esque fish tail French plait.  Absolutely stunning, I got so many compliments from complete strangers that I will definitely be checking him out to do my wedding hair.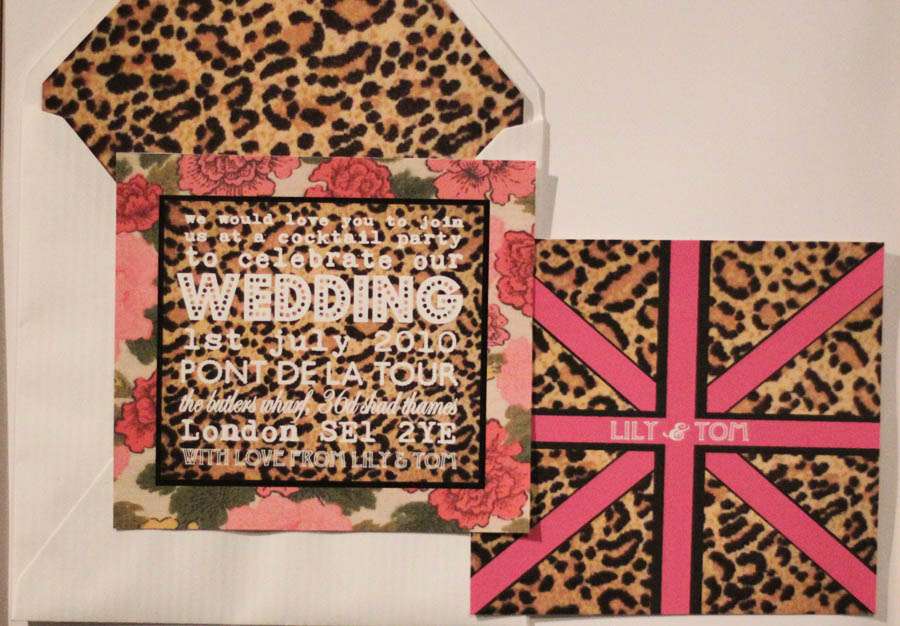 Much more intimate then the National Wedding Show I am told, the Designer Wedding show showcased the crème-de-la-crème of the wedding world, and I was really excited to meet more lovely wedding vendors.  If you were going to go down the having of a wedding planner route I would have to recommend Tigerlily weddings, or rather the very endearing Penny who is the brains behind it.  She has planned everything from celebrity weddings to Kat's shoot in Paris, and can help you source everything from that elusive perfect dress to the finest stationary around.  It was great to meet a wedding planner who wasn't the stereotypical intimidating, "fabulous" diva who you pay to boss everyone around!  She was so down to earth and really friendly, and it made my day seeing her smiling face pop up around the place as we did the rounds at the show.  She was helping out on theSugalily stand, a really bespoke company that specialise in making unique stationary and signs for the big day.  I was really taken by the framed "Mr and Mrs" signs, which would be a great investment piece to add to your own DIY touches.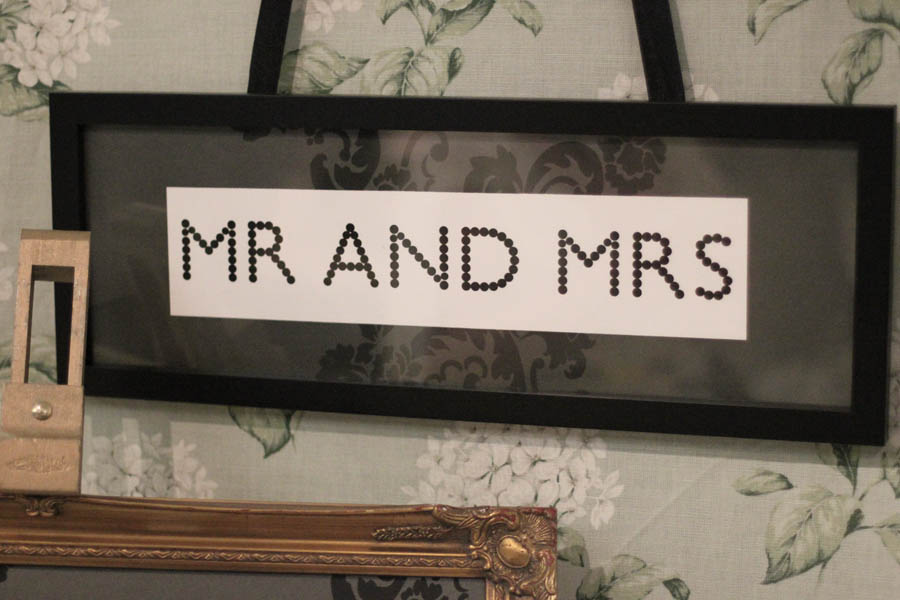 Lots of posh dress designers were there in person; Sassi Holford was spotted in the champagne bar, and my personal fave from the day Lisa Redman was also there, taking the time to talk to each and every bride that approached her stall.  I was so taken by how inviting and friendly she and her assistant were, even when I told them that going down the couture/made to measure route just wasn't an option for my budget.  Her dresses were beautiful, and I was so excited when she invited me to her studio to spend the day "researching" for my Alice in Weddingland piece on options for your wedding dress!  Lovely lady, lovely dresses, win win in my eyes!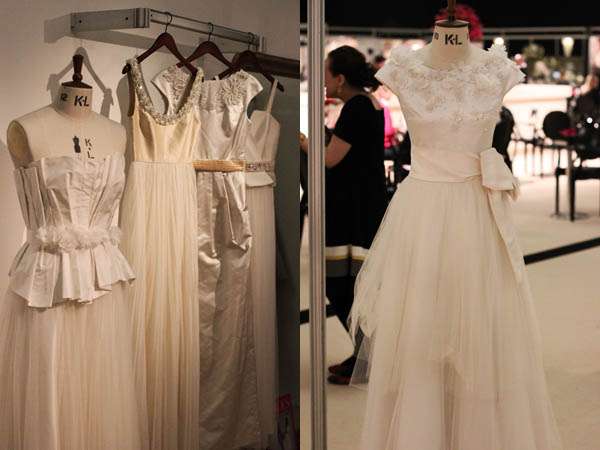 Another notable mention from the day are two of my favourite designers, Temperley by Alice Temperley (might just be because we are name twins…) andDelphine Manivet.  More like lingerie then your typical wedding dress, Delphine's collection looked show-stopping on the catwalk, and unbelievably delicate and whimsical on the hangers at her stall.  Another perk of the wedding show that I shamelessly told Kat was that most of the stalls had their catalogues/look books in beautifully presented, and very posh, bags.  I made it my personal mission to collect as many possible throughout the day.  Hell, even if I cant afford the dresses I can still enjoy the little luxuries!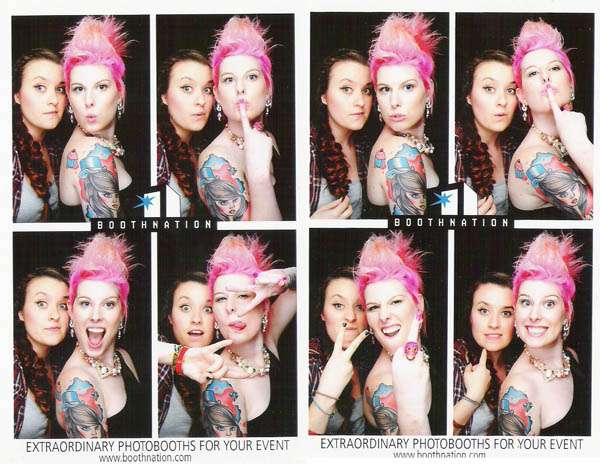 The day finished with a stint in the rather amazing photobooths from Boothnation. Yes that's right, the company's whole stall was taken up by two whopping great photbooths that print four different pictures about 30 seconds after they are taken.  There's even a mini-wind machine insidethe booth!  At £1500 each to hire for your wedding they were pricey, but I had a whale of a time inside for just 5 minutes; imagine the impact that would have on your 8 hour wedding reception!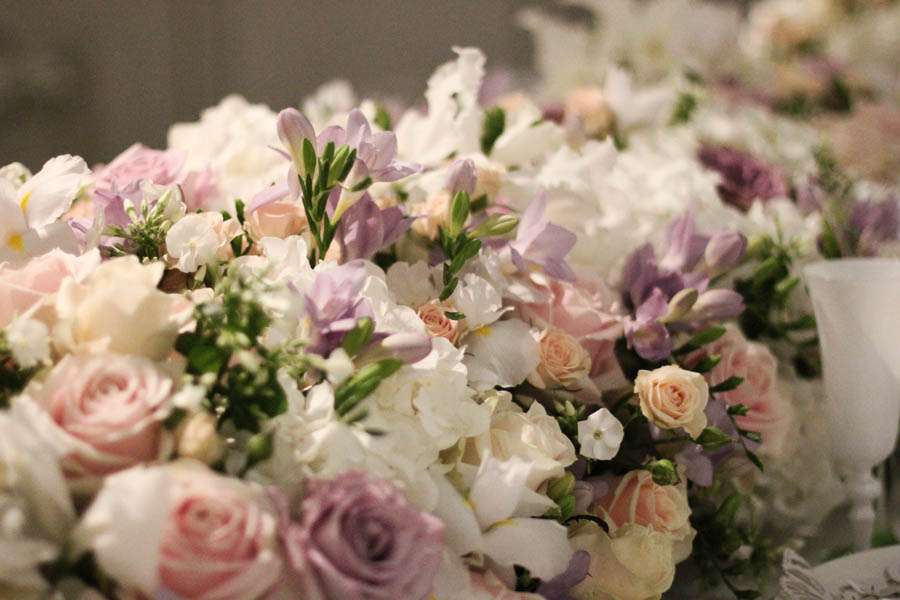 Macaroons were eaten, wedding magazines were bought at discount price from the Wedding Magazine stall (they were a steal, and they even came with a wedding flower magazine and a souvenir tote!) and awe-inspiring flowers were marvelled at.  I got so much inspiration for my day, and even if I can't afford everything that was there, I realised it doesn't matter.  If you work your budget properly you can indulge in one or two areas; a custom made wedding dress may be your dream, or having a family heirloom made my Magpie Vintage may be your little splurge.  I am so glad I went, and might even be a little bit cheeky and see if I can squeeze in a couple more before my big day