Stop number two on our whirlwind tour takes us to the windy city – aka Chicago. I have always been a massive fan of photographer Jeremy Lawson so when I saw this latest wedding, in the same antique/salvage shop that we all fell in love with from his last wedding that I blogged, I couldn't wait to get him on board for another feature!
Denise & Mark are both self-confessed quirky and creative types – she is an art director for a music and diy magazine and he runs his very own 'nerd blog' Wolf Gnards – so of course their wedding was going to be a super special one. "When it came to the wedding we wanted to create a fun, unique experience for our friends and family" the couple told me. "Our venue was an architectural salvage / loft space which ended up being the inspiration for the whole event– everything from my dress to the centerpieces took on that unique, vintage, diy feel…Expect for the cake– that was straight from the future! But it definitely was a crowd pleaser."
God, I love that Futurama cake!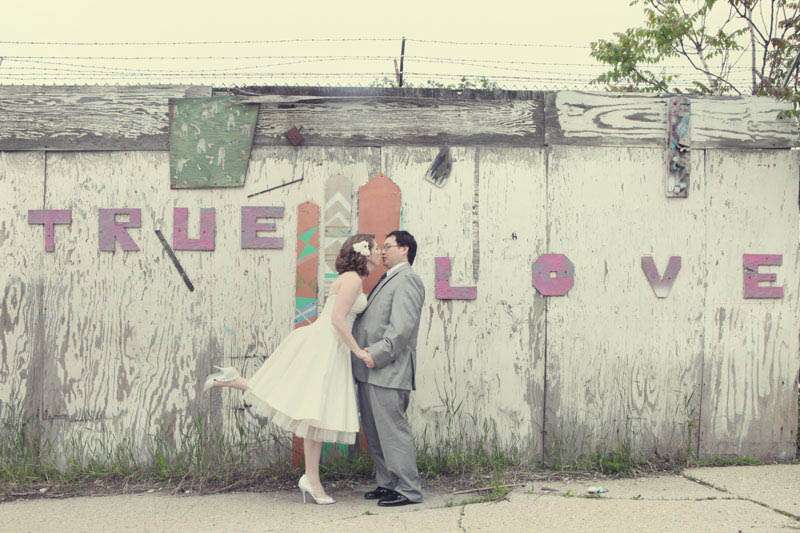 Thanks to the formidable Jeremy Lawson for sharing this wedding and to Denise & Mark for sharing all the info.
Stand by for part 3 of our magical mystery tour…next stop Australia!
Credit: Jeremy Lawson
Venue: Salvage One, Chicago
Hair: Sine Qua Non
Makeup: Janice Koch for Laura Mercier
Cake: Alliance Bakery
Catering: Limelight
Brides dress: Priscilla of Boston
Brides shoes: Zappos and DSW
Bride's hairpiece: Love, Lula Mae
Bridesmaid dress: J Crew
Event Coordinator: LOLA Event Productions
Grooms outfit: rental plus a last minute trip to Macy's for a new shirt and tie
Centerpieces: Diy – made by Bride & her mother using glass bottles/beakers/etc. from American Science and Surplus and hand sewn flowers
DJ: Style Matters