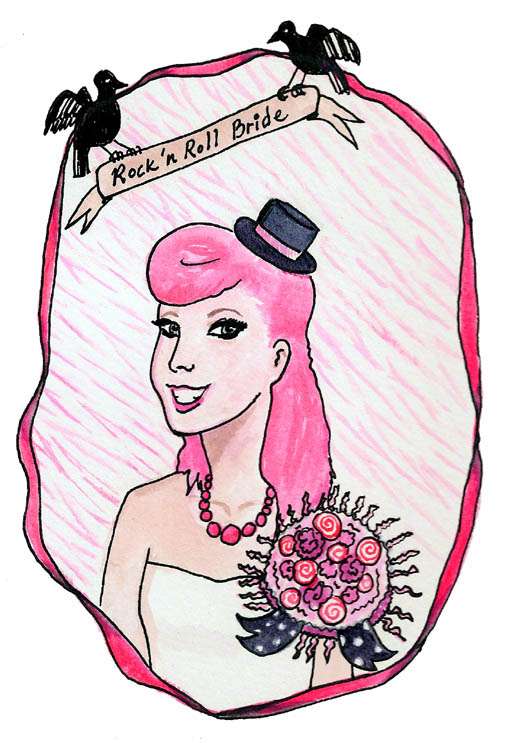 Credit: Miss Dee Ahoy
Are you kidding me? Is it actually nearly march already? C-c-c-razy! OK Thursday Treat fans..saddle up and prepare yourself for another 7 days worth of internet pretties…
♥ First up, a little 'toot toot' to yours truly – did you recognise the fuschia haired chick in today's headline image? Oh yeah baby that's ME! This lovely little drawing was sent to me by illustrator-extraordinaire Miss Dee Ahoy and I actually nearly wet myself with excitement! Thanks to Miss Dee for the utter love. Mwah!
♥ This diy wedding is awesome to the max – mismatched bridesmaids will forever be cool in my book
♥ Secret celebrity wedding!
♥ Ruffles, red shoes, big red heart – pop!
♥ Sweet, outdoor wedding
♥ Fierce engagement session (faux fur for the win!)
♥ AMAZING rockabilly style lesbian wedding
♥ Let's get colourful
♥ Fashion and home design inspired by The Red Shoes
♥ A Midsummer Night's Dream themed wedding (these shoes are Irregular Choice – I've swooned over them before!)
♥ Vertical succulent wedding decor
♥ Fairytale (and a little mad) tea party wedding
♥ Stop it with the 'wedding trend' talk already (this girl reads my mind!)
♥ More photographs of that dress I loved so much last week
♥ Top 10 ways to drive traffic to your small business blog using Twitter
♥ Dear FaceBook Friends, I'm De-Friending Most of You [It's Not You, It's Me]
♥ Evolving Influence
♥ Gorgeous vintage Valentines-inspired inspiration
♥ Pale pink brogues and faux fur – I. DIE. (and part 2)
♥ My Sister. My Muse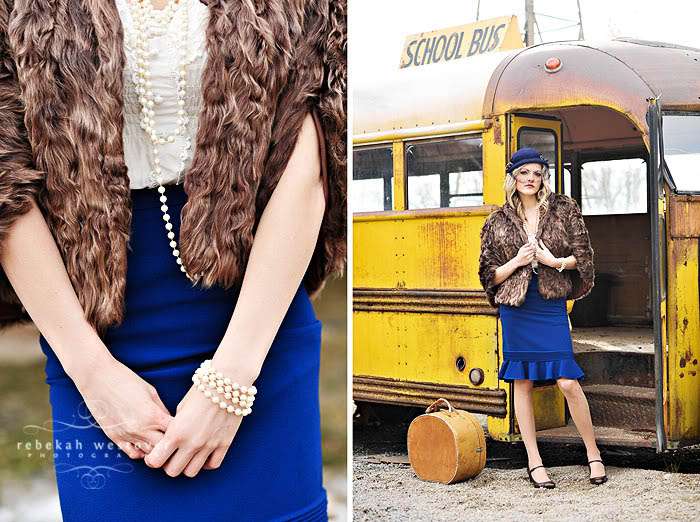 ♥ Lula Magazine preview
♥ Amazing quirky, british wedding from Polly Alexandre
♥ Red tulle under-skirt
♥ Pony Show
♥ Laid back awesome engagement shoot
♥ On Sunday 7th March, at a secret East London location, a collection of the best UK vintage-inspired vendors are coming together for a day of tea, cake and general wedding gorgeousness. If you're interested in attending, email Polly for more info.
♥ Iron Fist shoes are so damn sexy…this style would be perfect for a punk Rock n Roll Bride. Someone buy them pwwease!
♥ Super glamorous portrait session – the polka dot dress and 'lounging on the floor surrounded in light' shots did it for me!
♥ Sweet & Simple wedding/love story – and another dress to swoon over
♥ "Mari and Brendan were married at the magical place called Marvimon. This is very suiting since these two are pretty magical"

♥ Memories in France
♥ This peacock skirted, 1920s styled, jewel green dress is divine beyond belief
♥ …and if you love that dress, then you have to book an appointment with the creators, Lindsay Fleming Couture who will be travelling all over the UK in their Roadshow this Spring. It's the perfect opportunity to see their stunning dresses in the flesh so contact them for details already!
♥ Total rocker wedding! Pink hair, face piercings, green dress…oh yes!
♥ Do a happy dance – beautiful 'practical' backyard wedding
♥ Burnout and how to deal with it…I need to read these. Like now.
♥ Make a statement with the awesome pink flash on this J Crew dress
♥ Gorgeous dreamy images…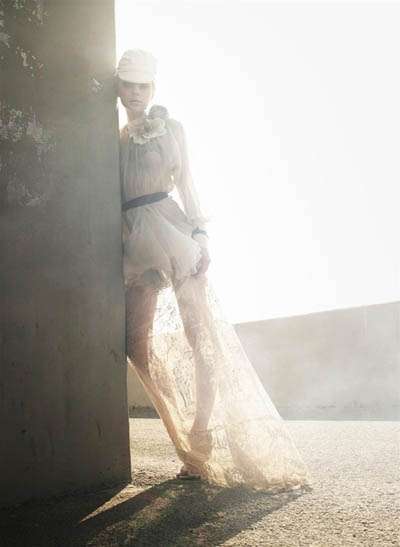 ♥ As most of you know, I was invited to attend The Designer Wedding Show 2 weeks ago (check out my report here if you haven't read it yet)…I met load of amazing people.
Em from Confetti Films on Vimeo.
HOT!

Monachetti
Sugalily
Shannon Nicole Smith
Melificent
Where to Get Engaged
Hi Fi Weddings
Steve Takes Pictures
Daniel Krieger
Emma Case (I LOVE her, such a fabulous write up)
Julia Boggio (write up on our Vintage Boudoir shoot)
♥ And finally..thanks to the lovely guys & gals at Cosmopolitan Bride for featuring me in their latest issue – as a 'wedding expert' in a feature about finding your wedding style. I'm in good company this issue, with real weddings from some of my bestest wedding buds – David McNeil, Rosie Parsons, Marianne Taylor and Nikole Ramsay! The magazine in in the shops now – what are you waiting for?!