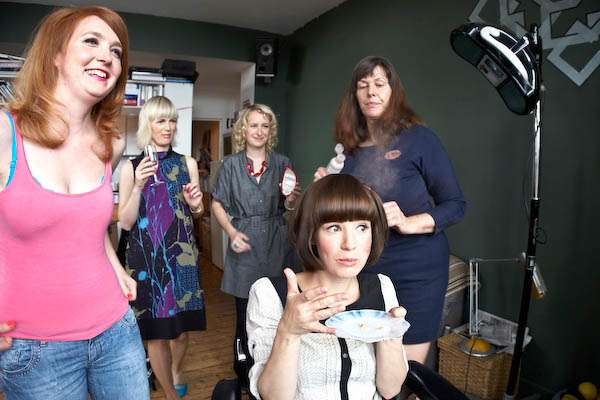 Credit: Christophe Viseux
Yeeey! Another fabulous photographer to share with you, and yet again she's from Great Britain – or more specifically Scotland – but of course she loves to travel! I fell in love with CandySnaps Weddings' fantastic, naturalistic and personal images as soon as I saw them and couldn't wait to share some of my favourites with you all. Let's get to know the girl behind the lens first shall we?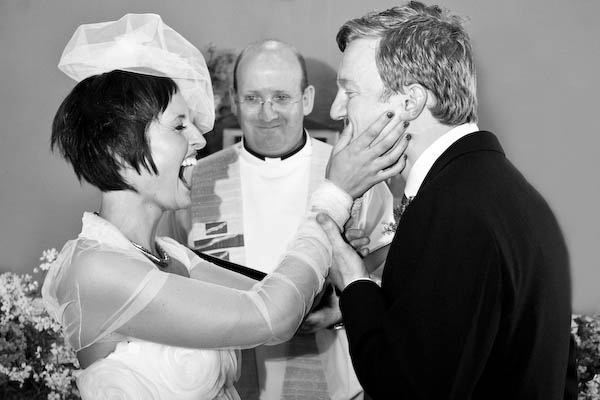 Who are you and what do you do?
I'm Caroline Weiss, the photographer behind CandySnaps Weddings.
I'm originally from Germany but have been living in the UK for the last 12 years. I am a reportage wedding photographer, which means that I blend in unobtrusively and record a couples special day rather than direct it. I will take care of the mainly always required group shots too, but I won't take my couples away for 2 hour for a photo session. I believe that there is no need for set up images and that the best pictures are always of the bride and groom enjoying themselves with their friends and family. It also means that they will look back at their photos and remember their special day how it really happened. I'm one of the few Scottish photographers who have been selected as member of the WPJA (Wedding Photojournalist Association)
Where are you based and what cities/countries are you available to for work in?
I am based in Glasgow, Scotland but am happy to travel anywhere in the UK and Europe, or in fact anywhere you will take me.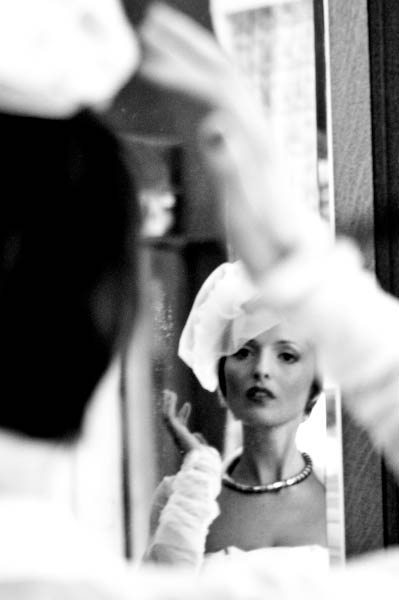 Who/what are your biggest influences? Who do you really admire?
Oh my…. There are sooooooooooo many wonderful photographers out there. One of my favourites has to be Robert Frank. I just love photographers who 'play' with photography. Black and White images always excite me – they just have such an amazing atmosphere about them and I always think that everyone looks like a film star in black and white.
What or who made you get into photography?
Photography and the idea that you can capture those precious moments, has fascinated me for a long time. I think moving to London when I was 19 really inspired me to become a photographer. It's such an amazing colourful and vivid place with so many different people. I worked as an assistant with a lovely photographer called Simon Denton who really inspired me to go and study photography and take my passion for photography further.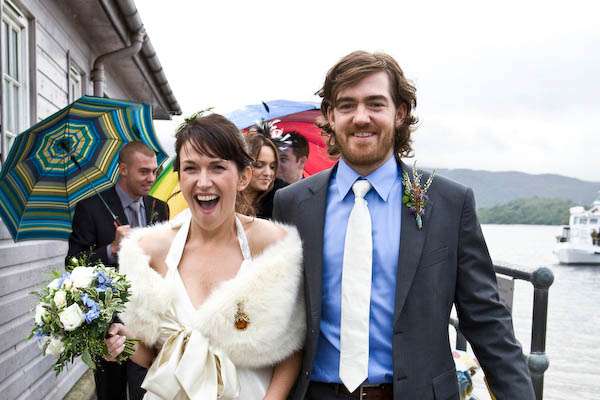 What do you love about weddings?
I love being part of a couple's happiest day of their life. I LOVE a good party and I get really excited when you can just feel the love between two people and it's my honour to capture this with my photography ( I always get a wee tear in my eye at every wedding ceremony and am the one who laughs the loudest at a good Best man speech) It's great meeting couples who stick two fingers up to wedding traditions and  just do their own thing and have a really individual wedding not following any rules. I love the excitement on their faces when I show them their wedding photos, when I get a hug and tears of joy because they love my work so much. That is the thing I love most about my job  making my clients happy!
What do you hate about weddings?
I wouldn't say I hate anything about weddings, but I'm not particularly thrilled by very traditional weddings. Thankfully, I am not photographing many of them.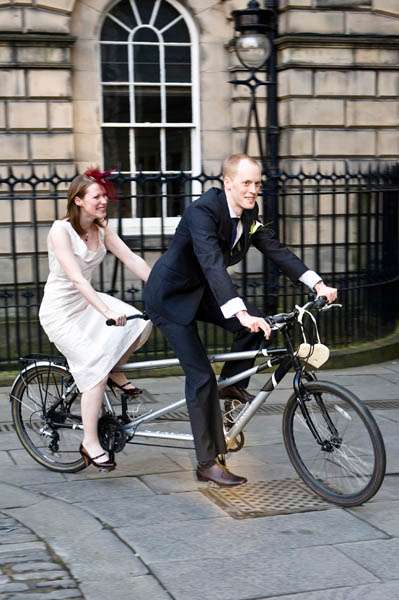 Tell me a little about your favourite wedding ever and why?
ARGH, I can't decide… I think there might be 2 wedding so far that really stood out for me. One was a very small intimate affair. The couple got married at the registry office and then went on to a wonderful restaurant. They are both really into their cycling so instead of having a wedding car, they cycled with a tandem from the registry office to the restaurant. Oh what fun…and it was a complete surprise. Their friends organized the tandem for them and decorated it with a cute 'just married' sign. The looks on their faces when they saw it was just brilliant.
The other wedding was much bigger and set in a family garden. It was a super hot day in May and the couple were just sooooo much fun to work with. Super relaxed. They held their speeches outside in the garden and it was just an amazing party with lots of wonderful people. The bride wore bright red heels and bounced on the trampoline with about 10 kids in her £3000 wedding gown. Very cool!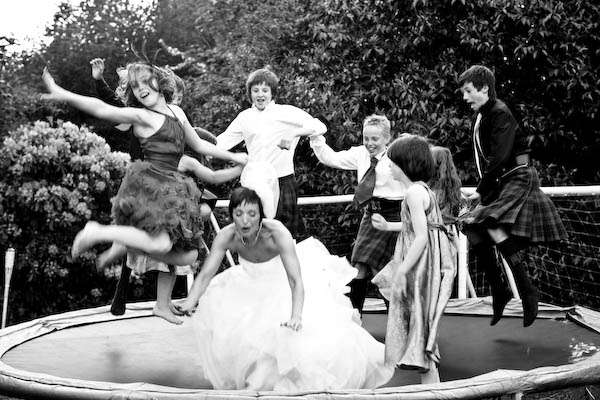 What advice would you have for couple's on the wedding photographer hunt? What is a sign of a good/bad wedding photographer?
First thing to think about is what you want from your wedding photography, as there are many different styles available. Ask your venue if there is someone they would recommend or your friends who are already married might be raving about their photographer. If wedding photography is really important to you, make sure you book your photographer as far in advance as possible. The popular photographers get booked out a year or more in advance! When a company has more than one photographer make sure you meet and see the work of the person who will take your photos. I personally think that it is important that you like the person who photographs your wedding so you feel relaxed in front of their camera. A good photographer will show you samples of full day weddings they have shot so you get a feel what your photos will be like. I would also recommend that you don't not book your favourite photographer because they are over your budget. Your wedding photos will be what is left after the wedding. The photos will be your memories and that is priceless. And last but not least, trust your instincts! I always compare choosing your wedding photographer with choosing your new house – you often know as soon as you walk through the door that this is the one.
What has been the highlight of your career as a wedding photographer so far?
Having my work published in leading Scottish Bridal Magazines. Being selected as member of the prestigious WPJA (Wedding Photojournalist Association) and collaborating with Scotland's finest hair and make-up artists Leigh Ferguson and Ainslie Currie to offer my clients a complete hair, make-up and photography package for their special day.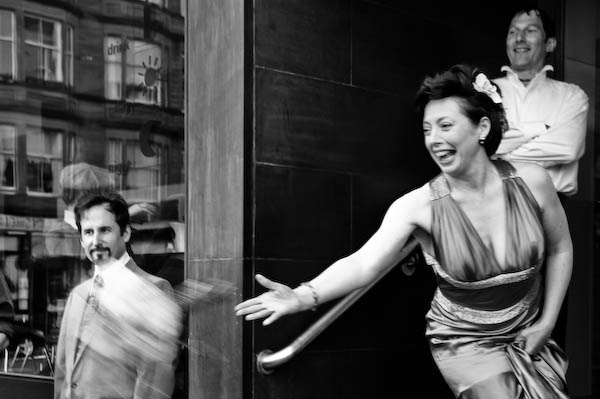 What role (if at all) have wedding blogs played in promoting you and your work so far?
This is the first time that I'm promoting myself on a blog and I'm really excited about it as Rock n Roll Bride is fantastic and being featured will be a great way to make myself known to the kind of clients I like to attract. I've been looking everywhere for a blog like this in the UK and am thrilled that Kat likes my photography and is happy to have me on board! So all you lovely brides get in touch – I'd love to hear about your wedding plans.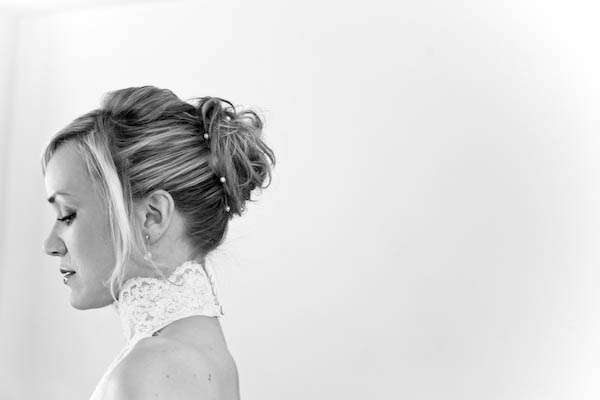 Do you have any advice for budding photographers out there who want to get into weddings?
I would say to them that wedding photography is very different to studio based work. In the studio you are in control of everything. The lighting, the background etc. With wedding photography you get rain, bright sunshine, dark venues… You just have to adapt to whatever is thrown at you. But if you find the idea of that exciting rather than nervewrecking, give it a go. I am just utterly in love with photographing weddings and can only highly recommend it.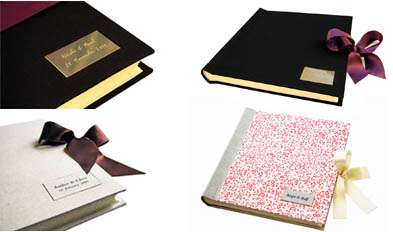 I've heard you're wedding albums are pretty special. Want to tell me a little about them?
Definitely! I don't use storybook albums but am working with a Japanese bookbinder who makes beautiful made made, bespoke albums. There are lots of different colours (bookcloths) and patterns (Japanese paper) available and they are just so different to what other photographers offer. I don't really like the story book albums because I think they are a fashion trend and in 10 years time they look outdated.I wanted to give my clients something no one else has. A totally unique album for every totally unique wedding, that will last forever and can be handed down to their children and grandchildren. The albums also contain 'real' photographic prints, so the photos aren't printed onto the page like they are in the story books.
Thanks to Caroline for sharing her wonderful words and images with us. For more infomation about CandySnaps Weddings, go check out Caroline's website. You can contact Caroline by phone on 07833 331 183 or by email to caroline@candysnaps.co.uk
If you are a photographer or wedding vendor and are interested in being featured in a future 'Under the Spotlight' post then drop me an email for all the info.