Our little country continues to astound me this week with Kate & Seb's Sussex wedding rocking it's way into by inbox today. Photographer Sarah described this wedding as "by far the funkiest I have ever shot" and therefore it's perfecto for Rock n Roll Bride!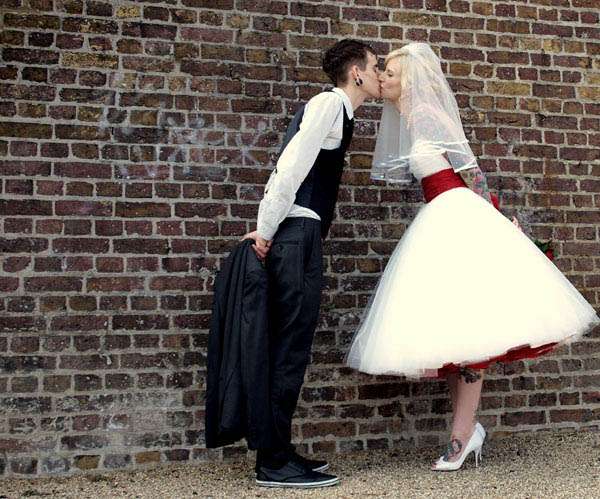 Sarah went on to tell me all the details of wonderfulness:
Kate and Seb were beyond cool and this shone through in their wedding.  Seb is a tattoo artist in Brighton and Kate is a tattoo adorned beauty.  They didn't want the conventional posed photo's more arty fashion style photo's.  This gave me a great opportunity to be a little more creative than normal.  Kate's attention to detail shone through in everything, from her Vivienne Westwood jewellery (YUM!) to her Candy Anthony dress….not to mention the Morris Minor.
Thanks to Sarah for sharing this awesome wedding with us today.  As always I am honoured to showcase it with the woooorld and am still loving the UK right now!
Edit: I have just been reminded that I actually featured their amazing super 8 film by Cine 8 in my Thursday Treats a few weeks ago! If you haven't seen it yet then go check it out. Thanks Andy!
Credit: Assassynation