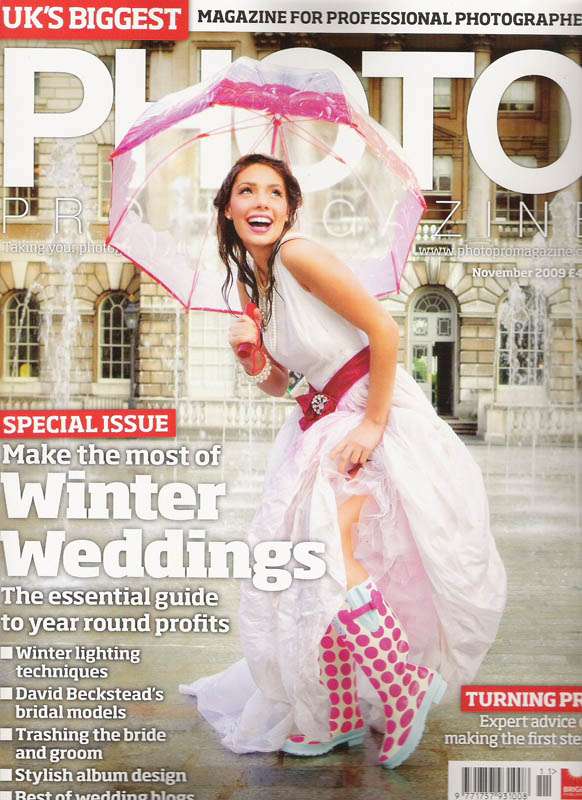 Front Cover Image by the faaaabulous Julia Boggio
OK OK excitement must been contained (although I nearly did squeal to myself in a crowded newsagents whilst on my own earlier today!) Those of you following me on Twitter or Facebook may already know but I am now a fully fledged and published writer. Oh yes how ridiculous is that! Me?! Meeeee?!!
About a month ago I was contacted by the editor of Photo Pro Magazine who had seen my blog and liked what he saw. He wanted me to write a monthly column for them entitled 'Best of Blogs' where I could not only share some of my favourite wedding photographers every issue but I could write about blogging…my two favourite subjects! So without further ado here it is – article number one. 
If you are in the UK you can pick up your own copy of the mag at larger newsagents (like WH Smiths) for £4.25. Enjoy! Now excuse me while I go run around my house some more.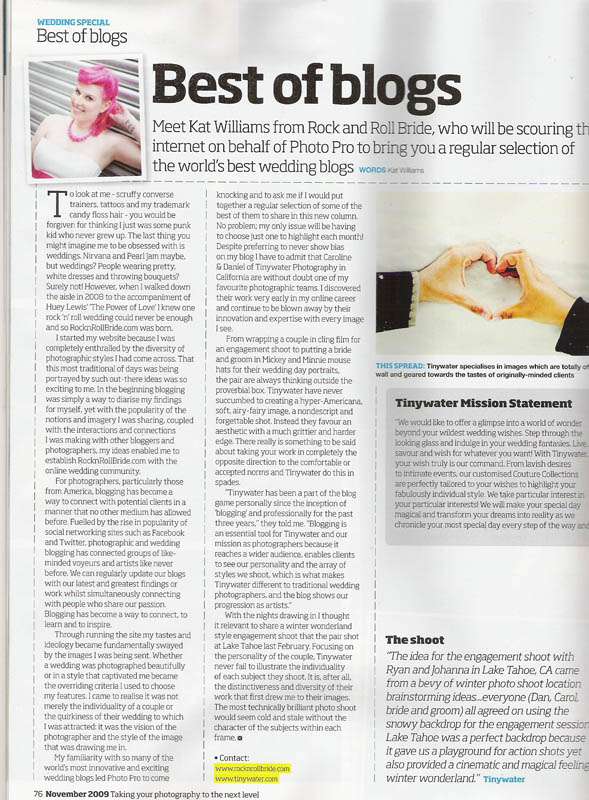 To look at me – scruffy converse trainers, tattoos and my trademark candy floss hair – you would be forgiven for thinking I just was some punk kid who never grew up. The last thing you might imagine me to be obsessed with is weddings. Nirvana and Pearl Jam maybe but weddings? People wearing pretty, white dresses and throwing bouquets? Surely not! However, when I walked down the aisle in 2008 to Huey Lewis' 'The Power of Love' I knew one rock 'n' roll wedding could never be enough and RocknRollBride.com was born.
I started my website because I was completely enthralled by the diversity of photographic styles I had come across. That this most traditional of days was being portrayed by such out-there ideas was so exciting to me. In the beginning blogging was simply a way to diarise my findings for myself, yet with the popularity of the notions and imagery I was sharing, coupled with the interactions and connections I was making with other bloggers and photographers, my ideas enabled me to establish RocknRollBride.com within to the online wedding community.
For photographers, particularly those from America, blogging has become a way to connect with potential clients in a manner that no other medium has allowed before. Fuelled by the rise in popularity of social networking sites like Facebook and Twitter, photographic and wedding blogging has connected groups of like-minded voyeurs and artists like never before. We can regularly update our blogs with our latest and greatest findings or work whilst simultaneously connecting with people who share our passion. Blogging has become a way to connect, to learn and to inspire.
Through running the site my tastes and ideology became fundamentally swayed by the images I was being sent. Whether a wedding was photographed beautifully or in a style that captivated me became the overriding criteria I used to choose my features. I came to realise it was not merely the individuality of a couple or the quirkiness of their wedding to which I was attracted: it was the vision of the photographer and the style of the image that was drawing me in.
My familiarity with so many of the world's most innovative and exciting wedding blogs let Photo Pro to come knocking and to ask me if I would put together a regular selection of some of the best of them to share in this new column. No problem; my only issue will be having to choose just one to highlight each month!
Despite preferring to never show bias on my blog I have to admit that Caroline & Daniel of Tinywater Photography are without doubt one of my favourite photographic teams. I discovered their work very early in my online career and continue to be blown away by their innovation and expertise with every image I see.
From wrapping a couple in cling film for an engagement shoot to putting a bride and groom in Mickey and Minnie mouse hats for their wedding day portraits, the pair are always thinking outside the proverbial box. Tinywater have never succumbed to creating a hyper-Americana, soft, airy-fairy image, a non-descript and forgettable shot, instead favouring an aesthetic with a much grittier and harder edge. There really is something to be said about taking your work in a completely opposite direction to the comfortable or accepted norms and Tinywater do this in spades. "Tinywater has been a part of the blog game personally since the inception of "blogging" and professionally for the past 3 years" they told me. "Blogging is an essential tool for Tinywater and our mission as photographers because it reaches a wider audience, enables clients to see our personality and the array of styles we shoot, which is what makes Tinywater different than traditional wedding photographers, and the blog shows our progression as artists."
With the nights drawing in I thought it relevant to share a winter wonderland style engagement shoot that the pair shot at Lake Tahoe last February. Focusing on the personality of the couple, Tinywater never fail to illustrate the individuality of each subject they shoot. It is, after all, the distinctiveness and diversity of their work that first drew me to their images. The most technically brilliant photo shoot would seem cold and stale without the character of the subjects within each frame.
Tinywater Missions Statement
"We would like to offer a glimpse into a world of wonder beyond your wildest wedding wishes. Step through the looking glass and indulge in your wedding fantasies. Live, savour and wish for whatever you want! With Tinywater, your wish truly is our command. From lavish desires to intimate events, our customised Couture Collections are perfectly tailored to your wishes to highlight your fabulously individual style. We take particular interest in your particular interests! We will make your special day magical and transform your dreams into reality as we chronicle your most special day every step of the way and make it truly yours."                                                                                               Tinywater
 The Shoot
"The idea for the engagement shoot with Ryan and Johanna in Lake Tahoe, CA came from a bevy of winter photo shoot location brainstorming ideas…everyone (Dan, Carol, Bride and Groom) all agreed on using the snowy backdrop for the engagement session. Lake Tahoe was a perfect backdrop because it provided a playground for action shots yet also provided a cinematic and magical feeling winter wonderland."                                                                              Tinywater