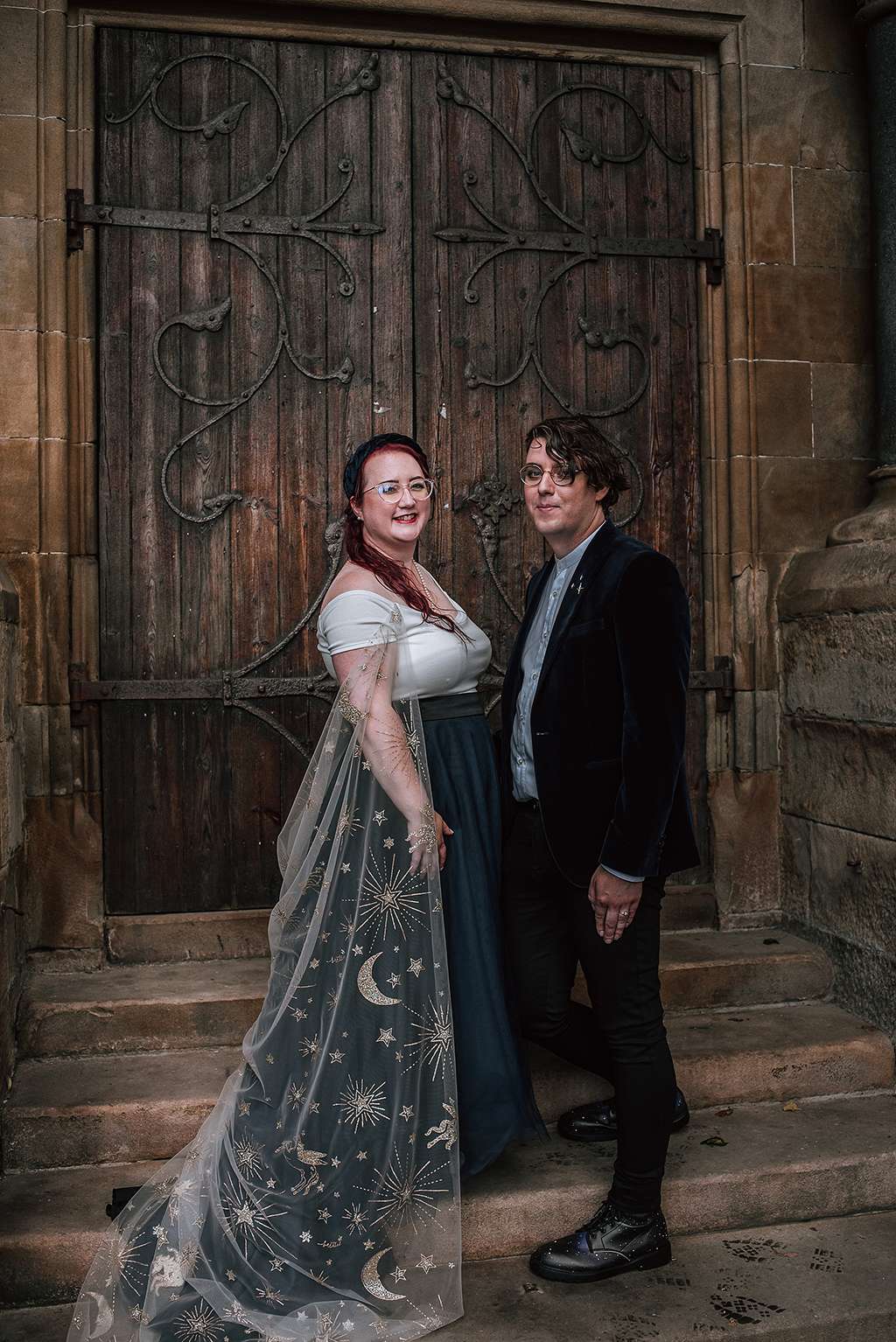 Inspired by their love of stargazing, science, geekery and our awesome universe, Emily and Alex's Friday 13th elopement was their dream party and gave them the chance to wear and be surrounded by the things they find most beautiful in the world. The couple told us; "Our styling was inspired by Alasdair Gray's zodiac night sky mural on the ceiling at the venue we chose, Òran Mór, which is the largest piece of public art in Scotland."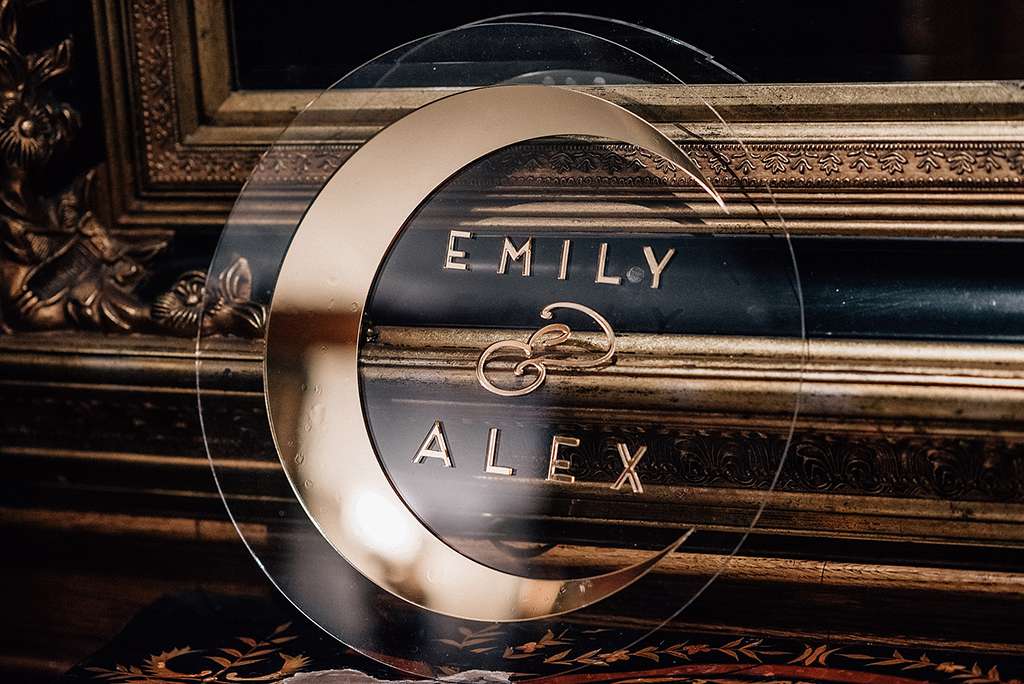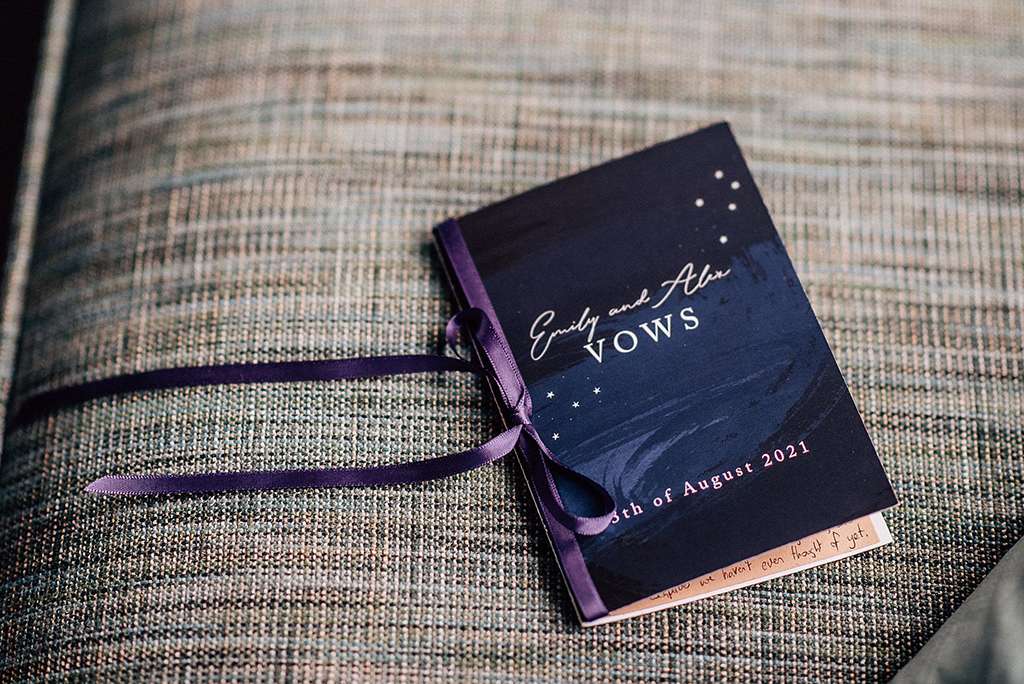 As well as choosing Glasgow for sentimental reasons, Emily and Alex wouldn't have been able to have the ceremony that reflected them in England. "Scotland allowed us to have a Humanist ceremony, and Scottish vows don't require you to refer to your new spouse as a wife/husband or any aspect of traditional marital roles. This was really important for us as an equal partnership and queer couple, with one of us being non-binary. In a Scottish wedding, there are no 'legally prescribed form of words' (i.e. required vows) other than "I take you [name] in marriage" which meant that we could keep our ceremony short, simple, and focused on affirming our relationship as it really is."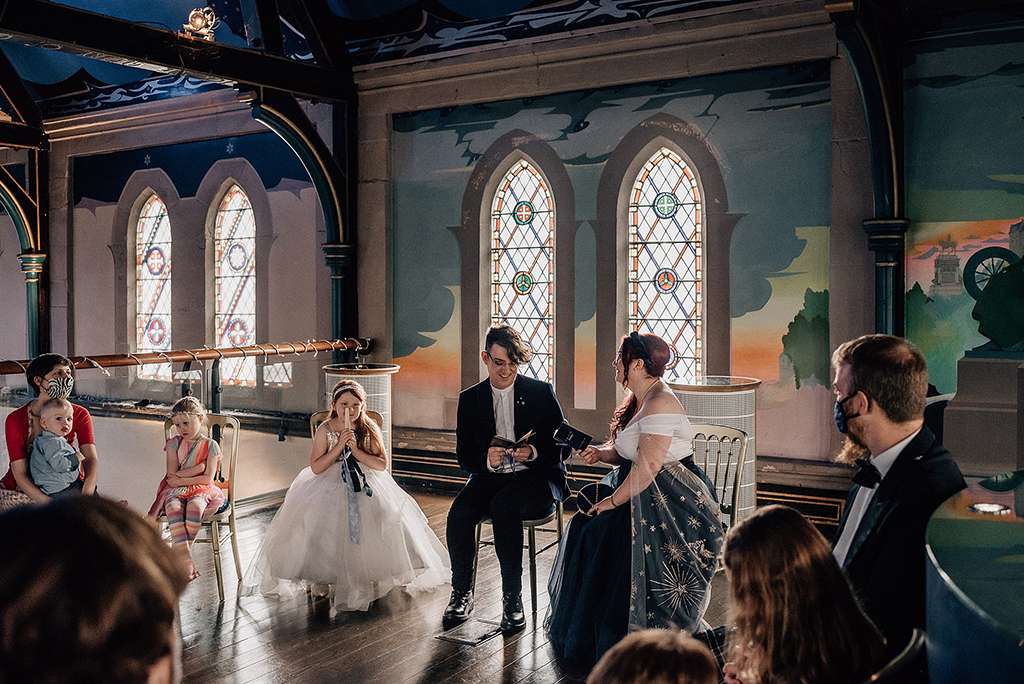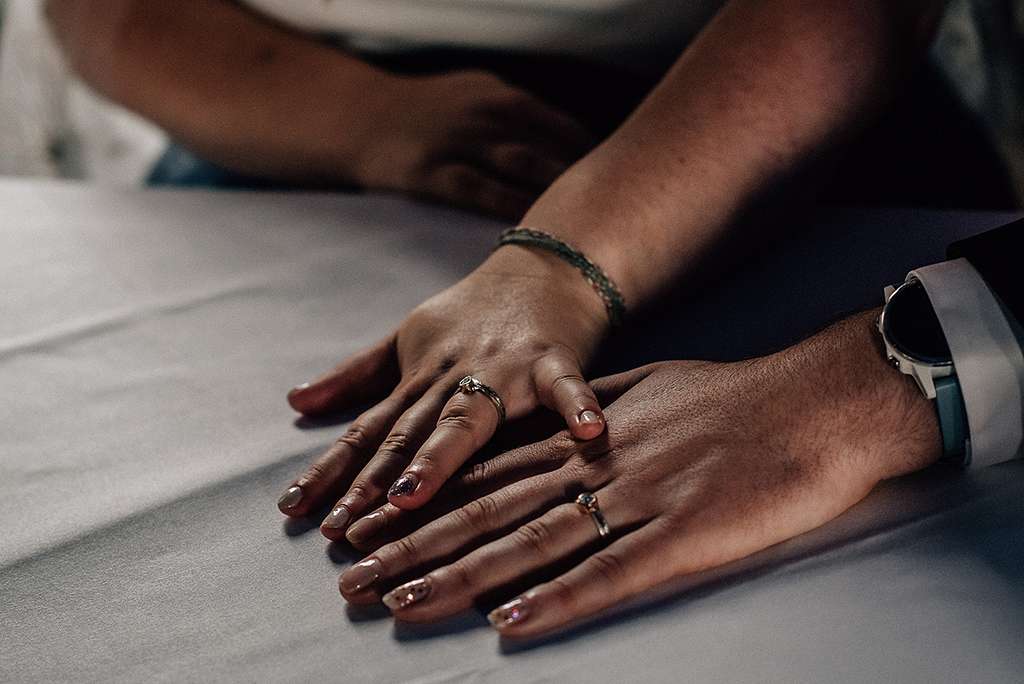 Their ceremony, crafted together with the couple by Humanist celebrant Ronit, was 75% heartfelt and 25% silly promises shared between them. "We incorporated a handfasting with a handfasting cord made from Emily's family tartan, an embroidered linen panel from Alex's family stitched with the motto 'take my hand and walk the world with me", 'and a galaxy ribbon given by our witnesses. Because of social distancing requirements during the pandemic, no one could come near us to tie the cord, so we had to tie it around our hands ourselves. It took practice in advance, but it turned out to be really meaningful to bind our own hands together without anyone's intervention or presiding."
Everyone, including the couple, stayed seated for the entire time except for their walking in and being announced at the end. Emily and Alex planned a seated ceremony to help Emily (and their friends with chronic illness) to cope with any pain on the day. Staying seated in a circle also ensured that the ceremony space felt egalitarian and intimate. It was an elopement, after all! They walked in together to the theme from The Princess Bride, signed the marriage schedule to Earthly Heaven by Rachel Grimes, and walked out to Level Up by Vienna Teng.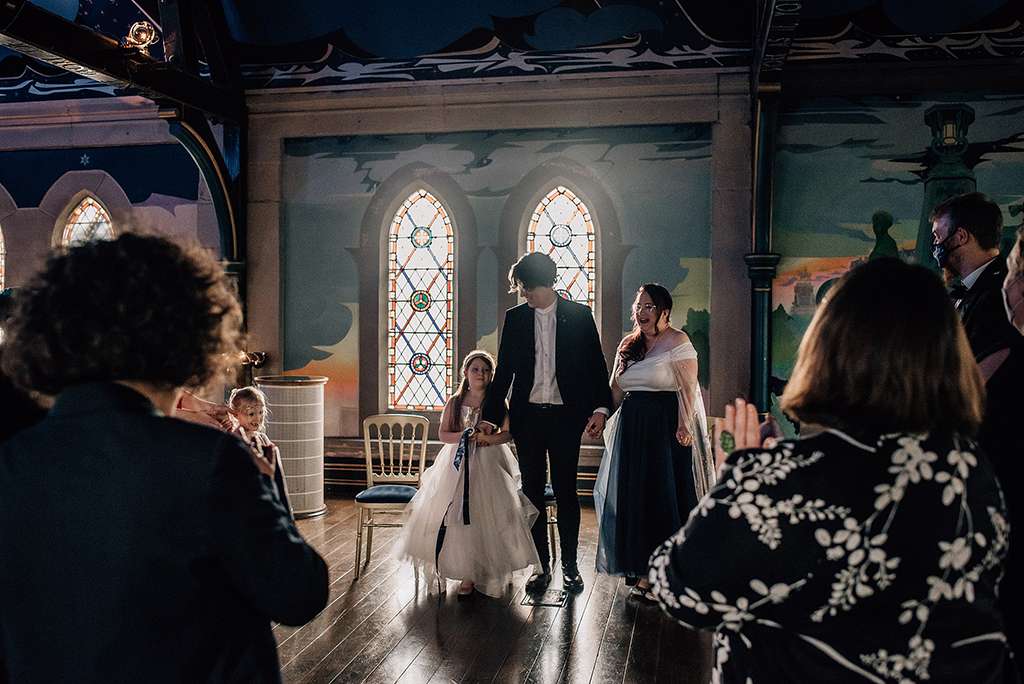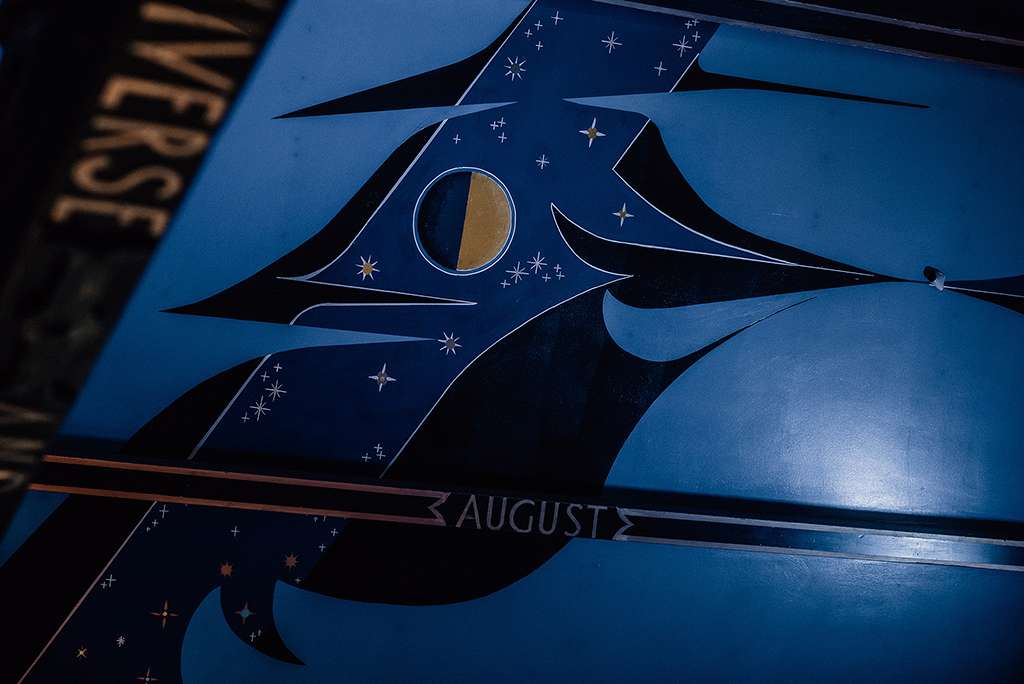 As they'd both been married once before, the couple had the opportunity to address all those "wish you'd known's" from their first weddings. They threw the rulebook out the window and focused only on things that would bring them joy. Emily styled all the outfits and ceremony and reception décor herself, using 100% reusable or repurposed items.
"Our favourite project was making our own centrepieces for the reception. We placed crystals, Lego astronaut mini-figures, air plants and LED fairy lights on blue velvet inside glass cloches for an otherworldly and sparkly focal point. Emily made a blue velvet table runner and used her crystal stone collection and vintage candleholders to scatter along the runner for a swirling night sky effect."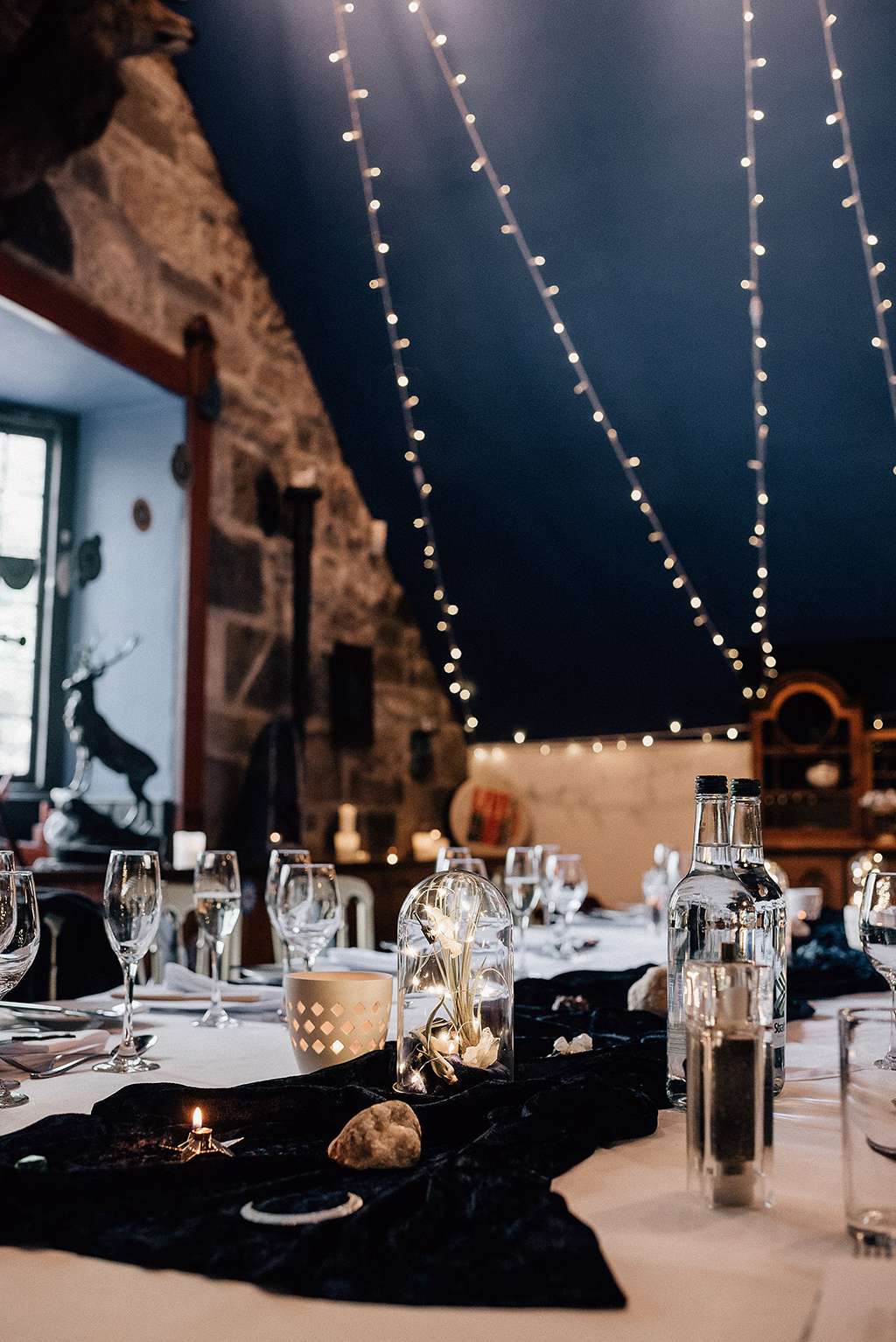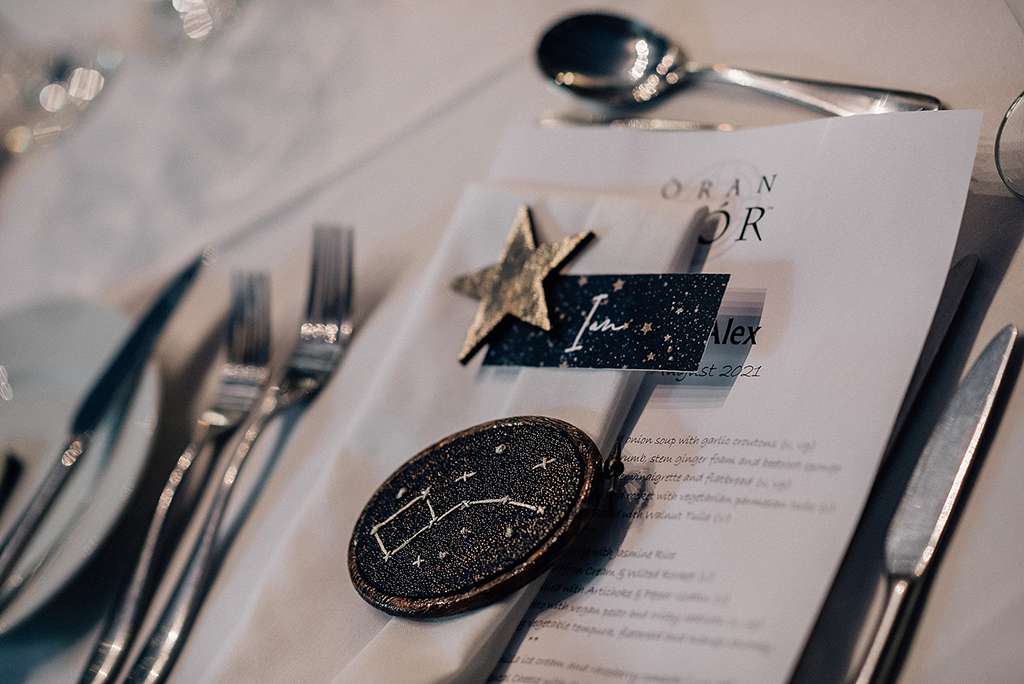 As a plus-size woman, Emily knew that there would be pressure to look different and change her body just for the wedding, but she chose to ignore bridal-related weight loss pressure and did not diet, wear shapewear, or try to hide her curves. Her three-piece outfit was a skirt, top and cape, for comfort on the day and easy transport. She chose not to have a veil, a bouquet or an all-white outfit to stay away from traditional Western 'bridal' wear. Instead her focus was on having an ethereal, dark, night sky look with soft and comfortable but delicate fabrics.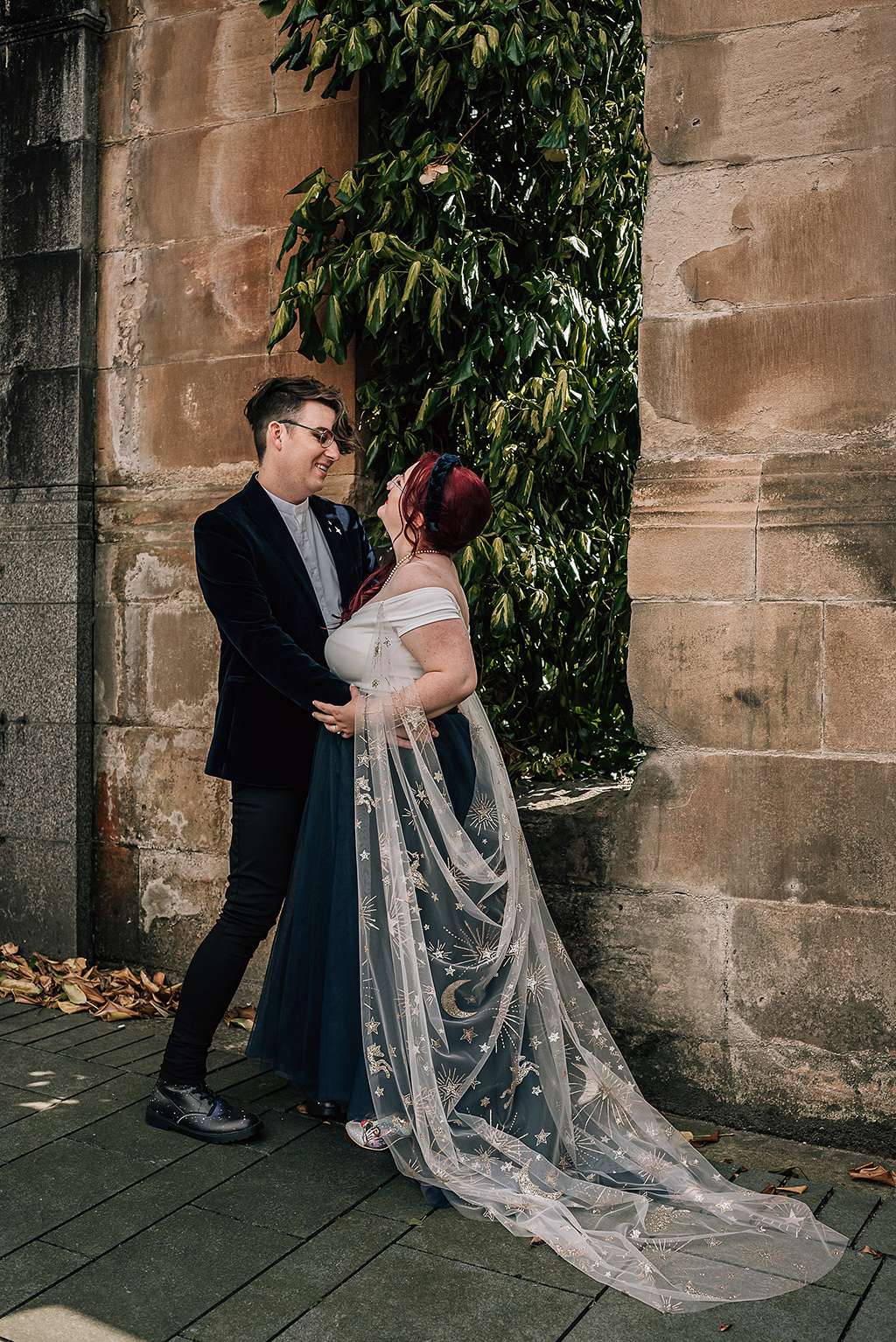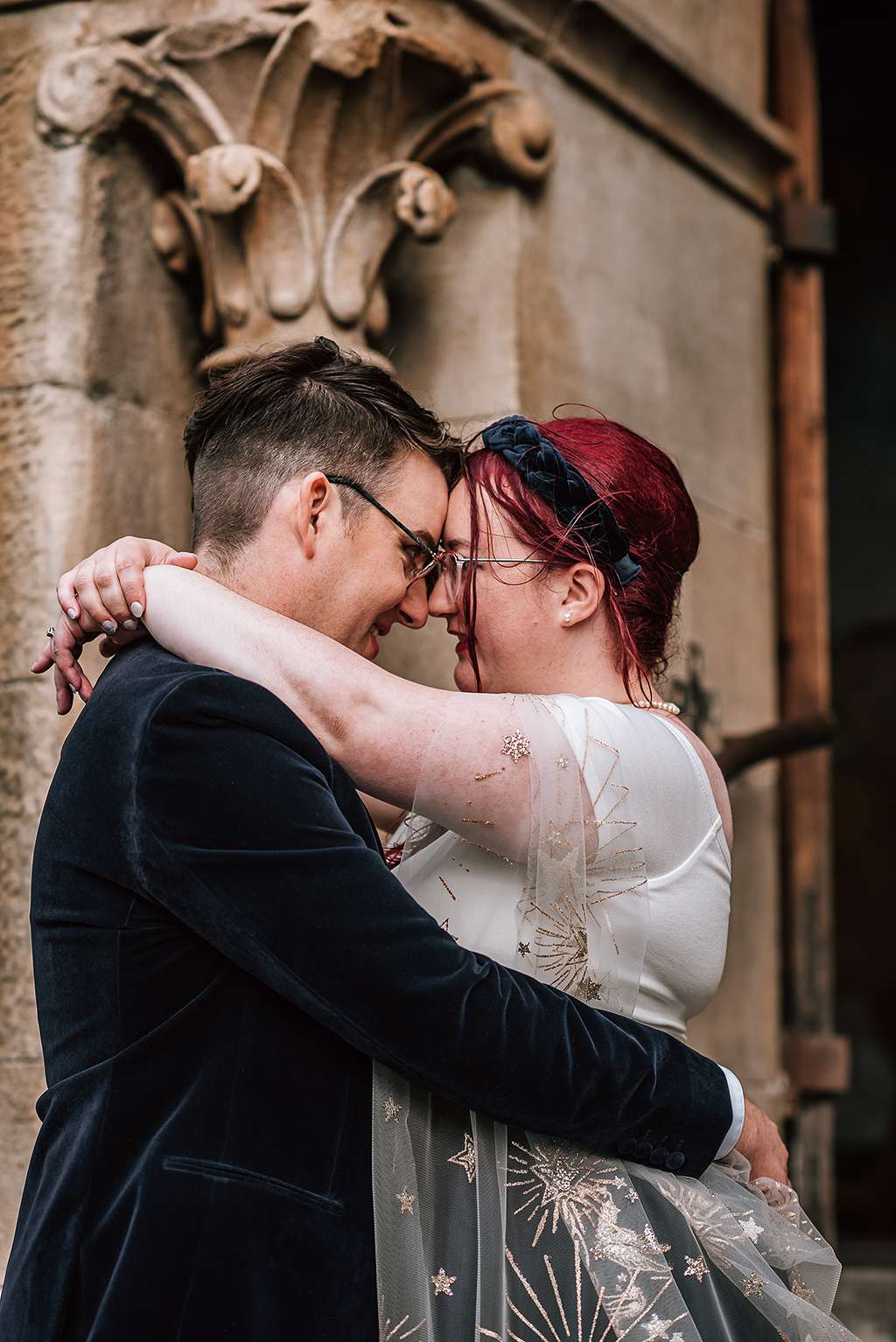 Alex's three-piece outfit was jeans, a shirt and a blazer, also for comfort and easy train transport. Everything in Alex's outfit was intended to be items that they could easily re-wear in everyday outfits for years to come. Both Emily and Alex are glasses wearers, and Alex coordinated their gold rimmed glasses with their star-themed pin jewellery.
The only bridal-party member per-se was Alex's daughter and Emily's step-daughter Persephone. Her outfit was heavily altered to make it more comfortable for her sensory triggers (she is on the autism/ADHD spectrum) and of course was as sparkly and floofy as possible to help her feel like a princess on the day! Persephone's moon wedding necklace was made from recycled gold by Pascale James. During the ceremony, immediately after Emily and Alex exchanged vows and rings, they gave the necklace to her and exchanged 'I do's' with her to commit to their new family together.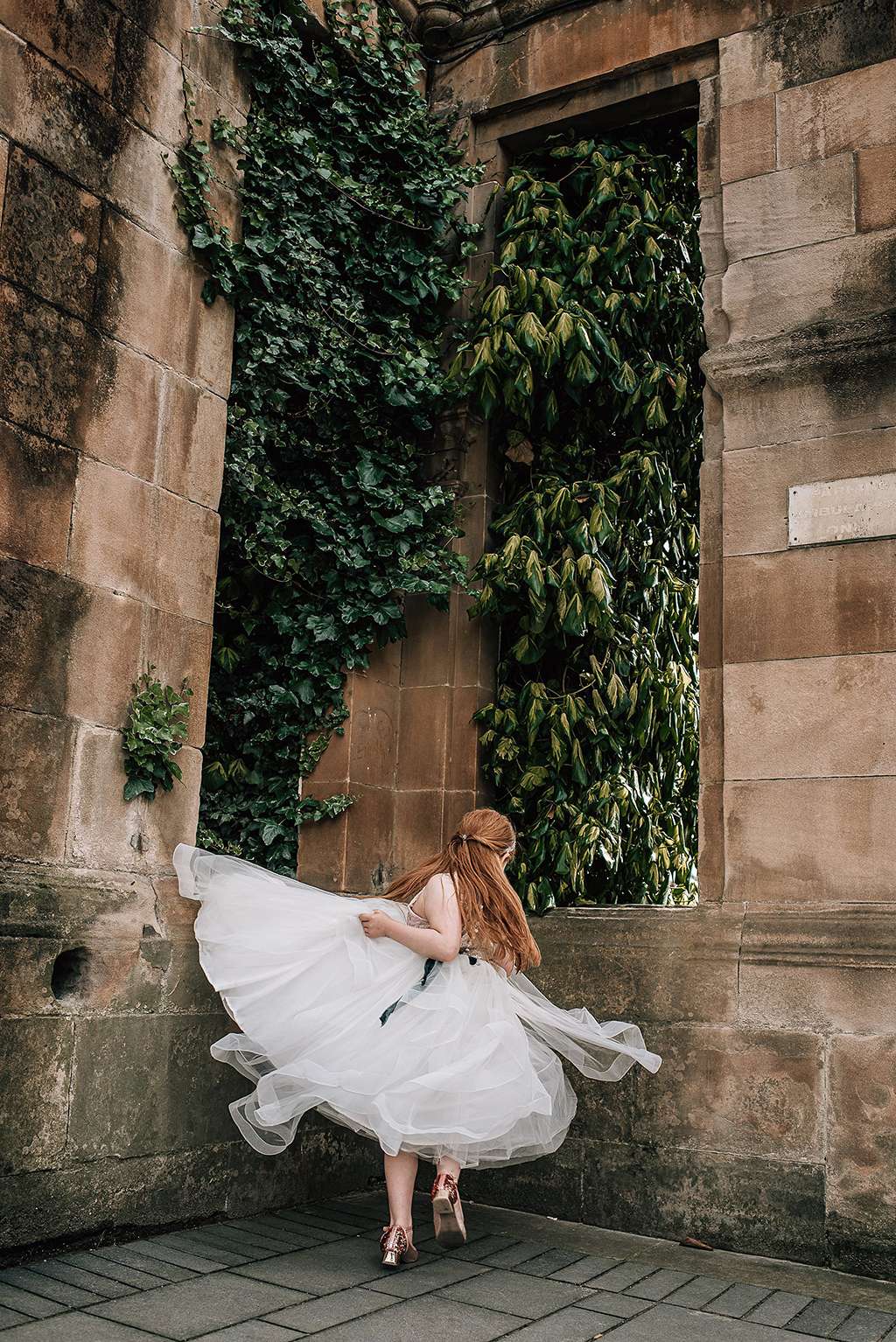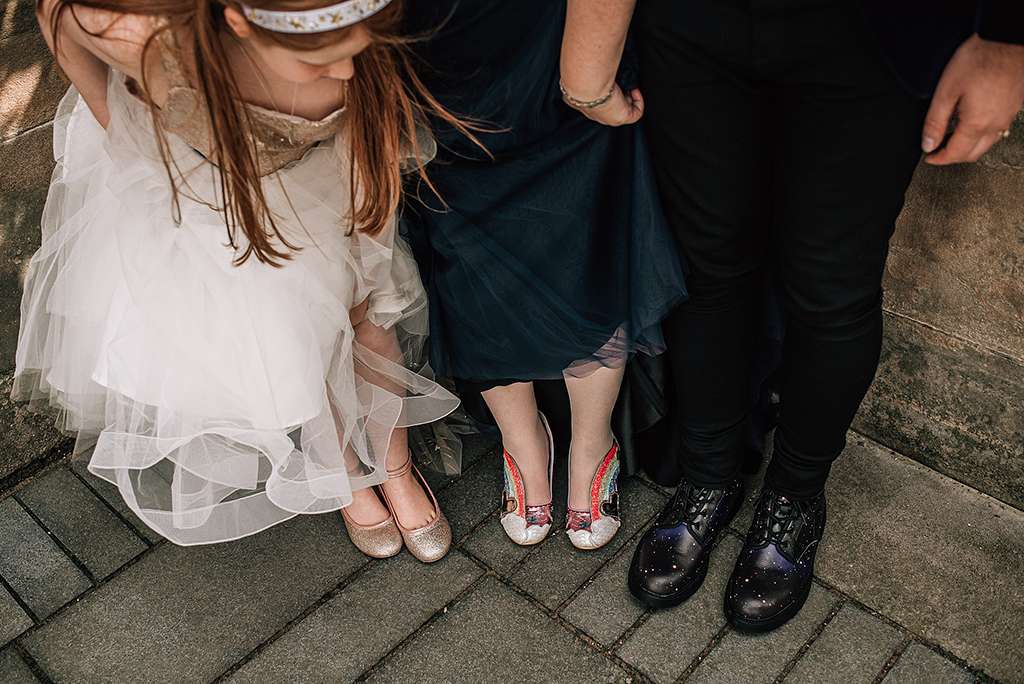 The rest of the guests were their 'found family' of friends, with no biological family present. Alex told us; "Emily's family wouldn't have been able to fly over from the US, due to pandemic travel restrictions, so not inviting any other UK-based family made it fair to everyone. It also lifted the pressure to have a bigger guest list determined by family connections. Our decision to have a friends-only elopement caused some mixed emotions in our families, and we had to find ways to graciously respond to parents' worries about not being involved. We asked our families to each send significant pieces for our handfasting cord to represent them on the day."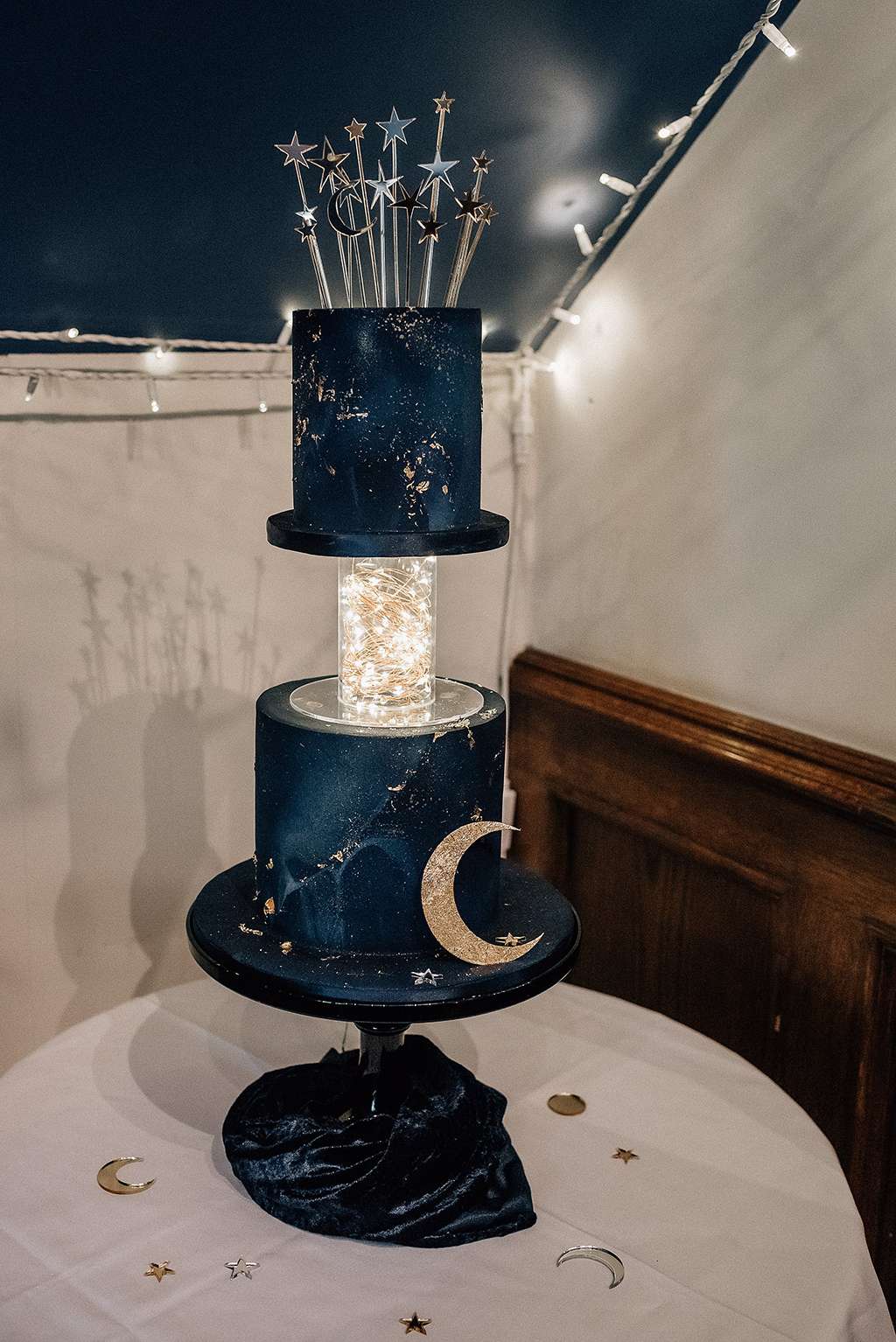 The couple also decided to invest more of their budget into photography, to make sure that there would be lots of photos of all the little moments and details. "Rhiannon also created a quick highlights slideshow for us to share with our families by the next morning, which was absolutely incredible. It really helped everyone to feel like they shared in our joy even though they were far away."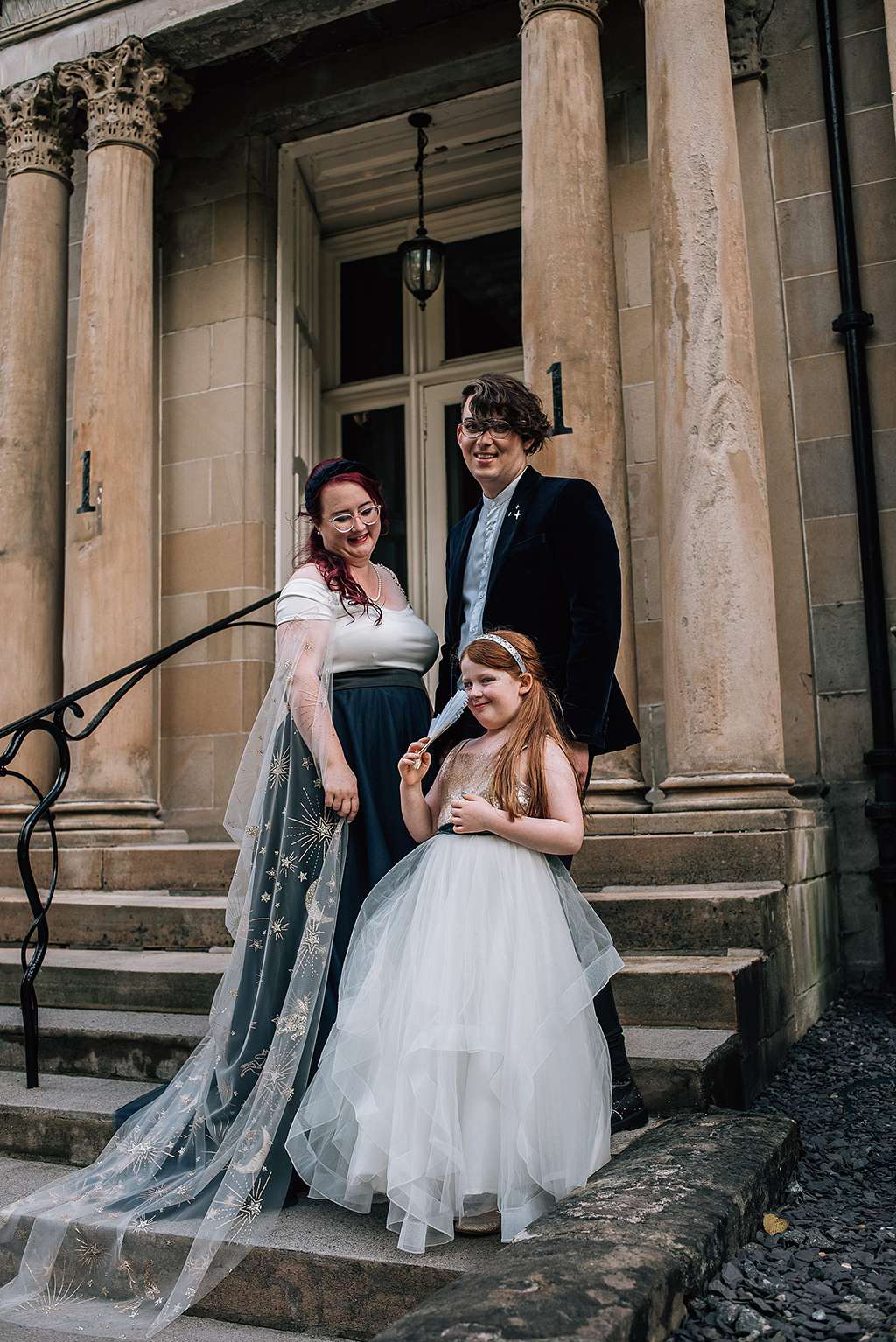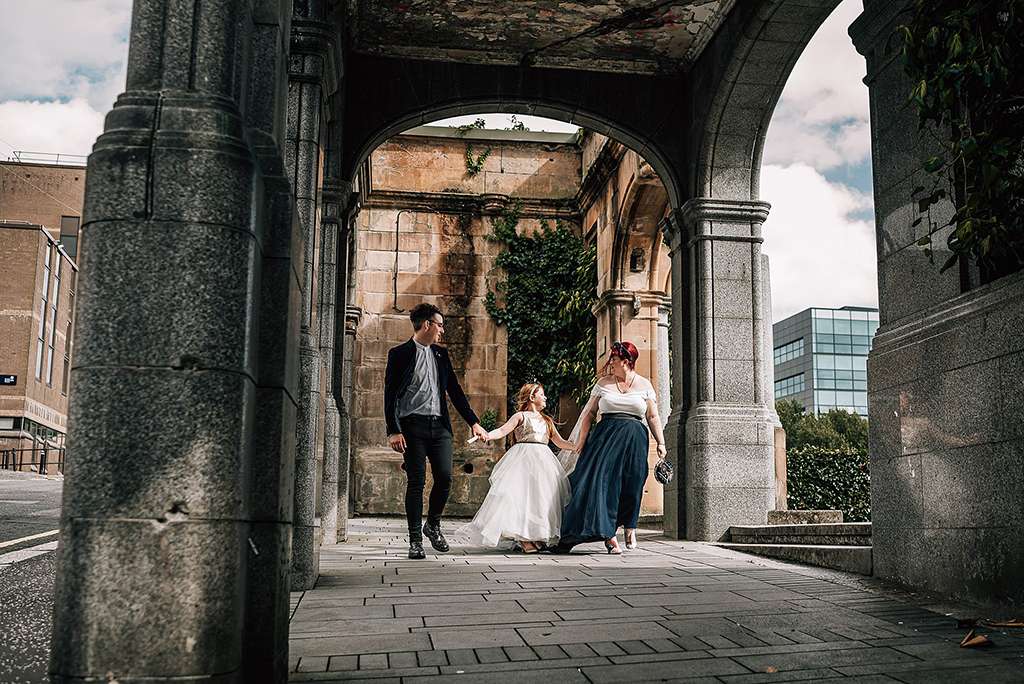 "We feel that marriages in Scotland are much more suited to queer couples than those in England and Wales," the couple concluded. "We'd advise other folks to look beyond their immediate area for wedding locations that offer more flexibility, more LGBTQIA+ friendly arrangements, and beautiful venues! We'd also say: please remember that there isn't anything you need to do at your wedding except 1) to get married and 2) to have a good day. Don't be pressured into buying and organising lots of things or looking a certain way just because you feel like that's what's expected. You deserve better wedding memories than that! Don't conform to an accepted image of what a wedding should be, just for the sake of doing the done thing. Be yourselves. Do only what makes you happy and has meaning to you as a unique couple."