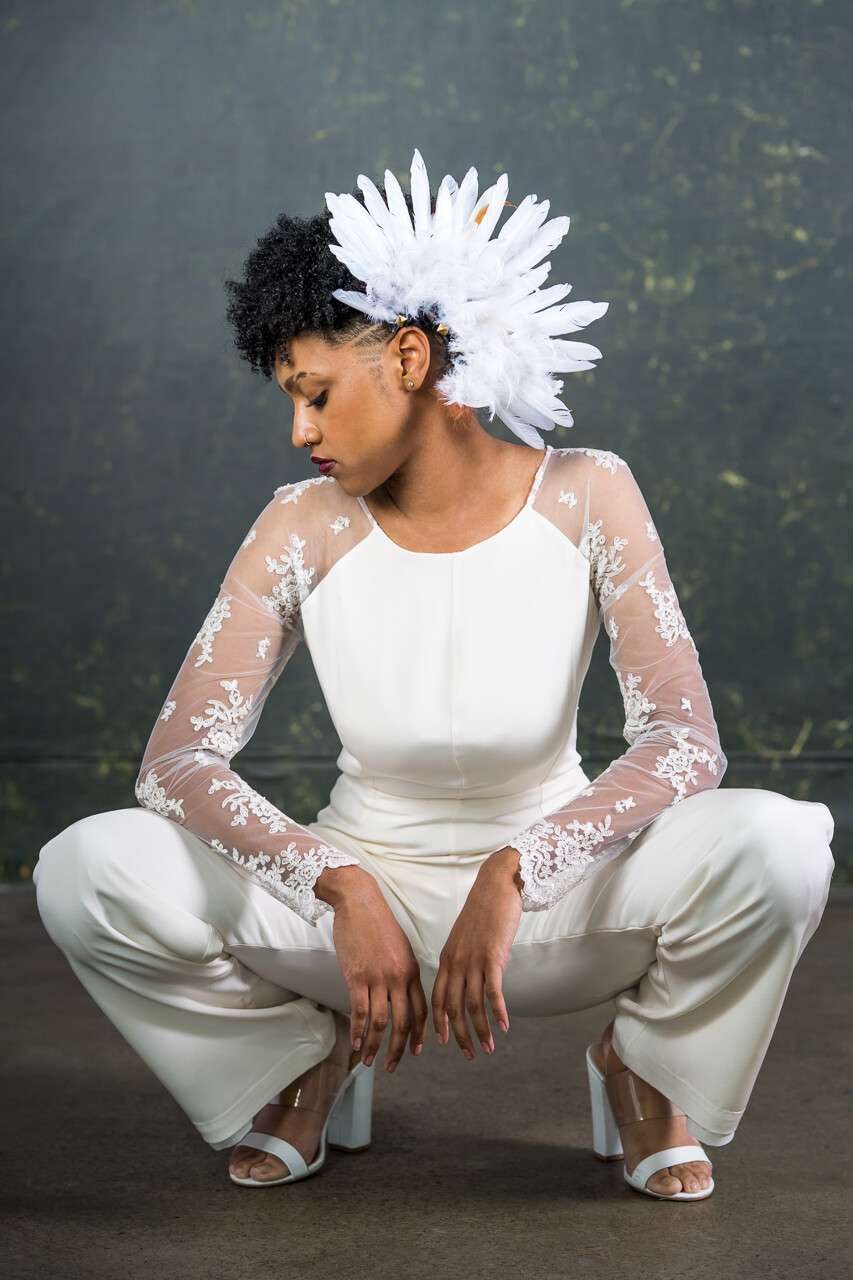 Gone are the days (thank the lord) of brides wearing what is expected of them. Dwindling is the era of big puffy dresses and five-hour wedding breakfasts. The change in bridal trends over the last few years has been rapid and fearless. But what has made us buck tradition quite so boldly? We spoke to Hannah Ollichon of iconic British bridal jumpsuit brand, House of Ollichon, all about it
There are the obvious answers to why bridal fashion is changing so much; social media's exposure to 'different' options, inspiring influencers who have encouraged us to be more 'us' and numerous celebs who have donned the trousers down the aisle like a boss – Solange Knowles, Sophie Turner and Vogue Williams for starters.
However, there are many other contributors that have encouraged the rise of the bridal jumpsuit and cemented the fact that trousers will live on in bridal fashion. And, it will come as no surprise that we are here for it!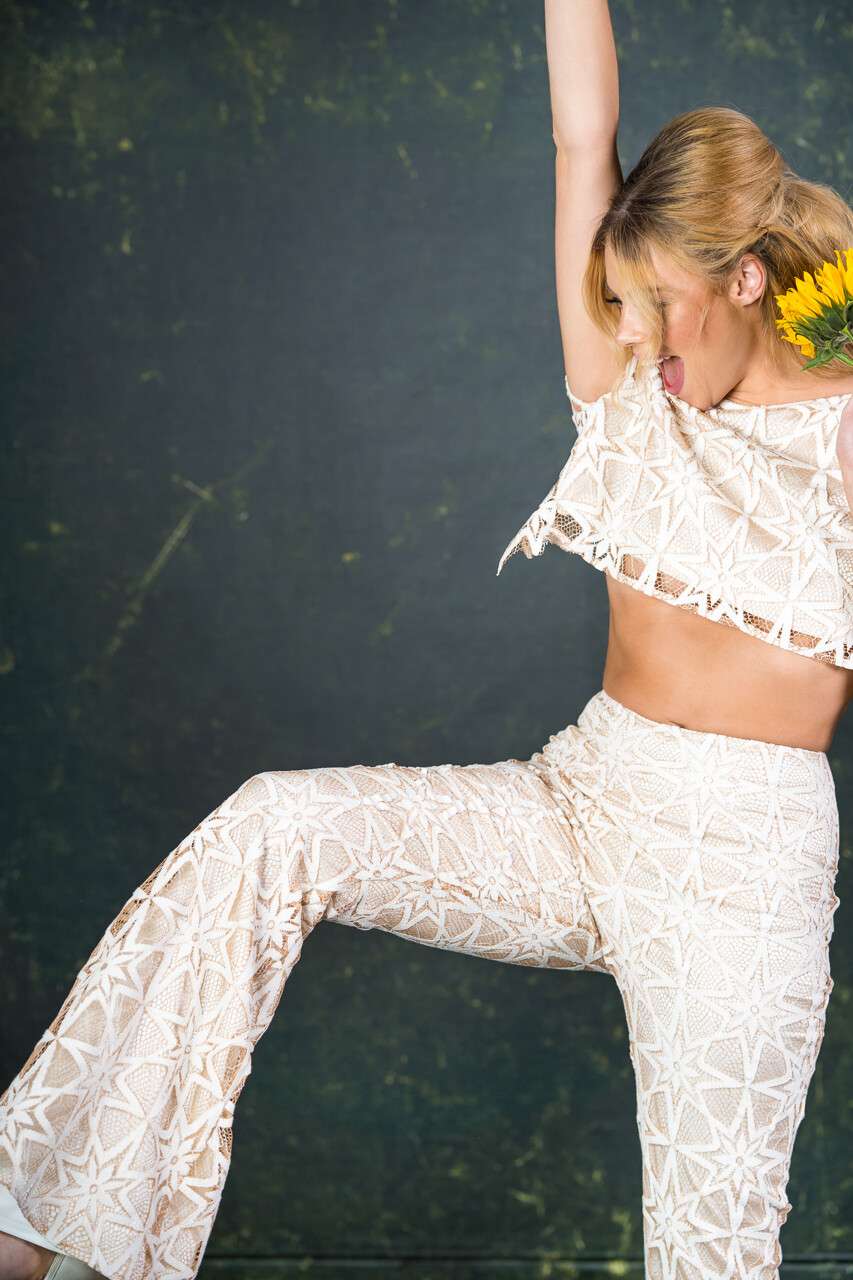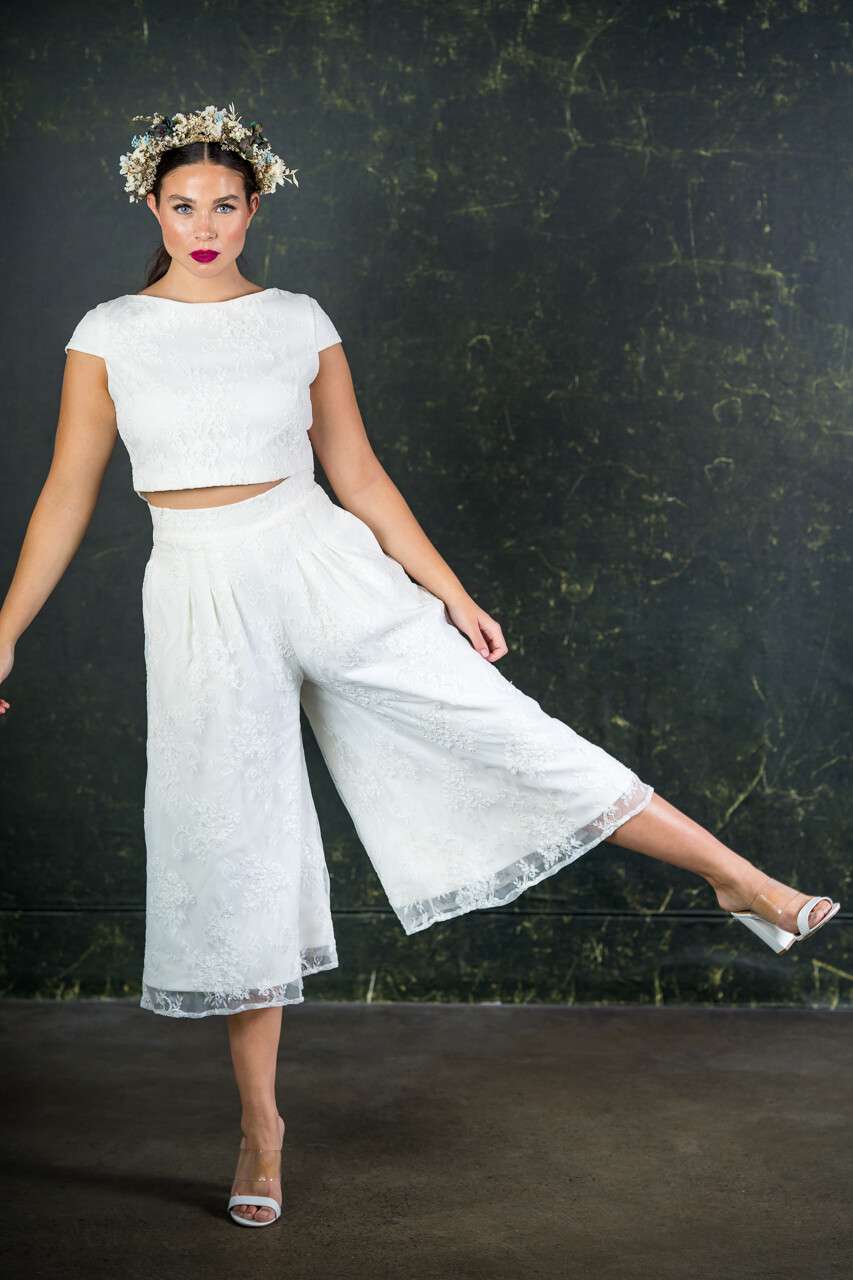 Statistically we are getting married later in life. The average age of a single woman getting married is now 30/31 years old, whereas in 1971 the average was 22/23 years**.
By the time we wed, our careers (and often earnings) have flourished. We therefore depend less on mum and dad to pay for our big day, which reduces the pressure to wear something more mum than more you.
Women are prioritising comfort and freedom in what they wear over vanity.
Marrying later may mean babies arrived before bling. Nowadays 48% of all newborns are born to parents who are not married*. Believe me, running around after a toddler (which will still happen whatever day it is) with a huge train is not easy! Another example, and something we regularly hear, is the desire to wee alone rather than having three bridesmaids hold up your train while you squat over the loo.
Our priorities have changed; lots of couples would prefer to get tipsy in the pub and have a whacking great deposit for their first home rather than a plush wedding and continue to rent a property. As of 2016, only 24% of weddings were religious ceremonies*. Move over the traditional church and make way for the registry office, garden party, restaurant luncheon, festival, boat party occasions – all far more appropriate to wear something cool and comfy over layers and layers of tulle and a restrictive corset.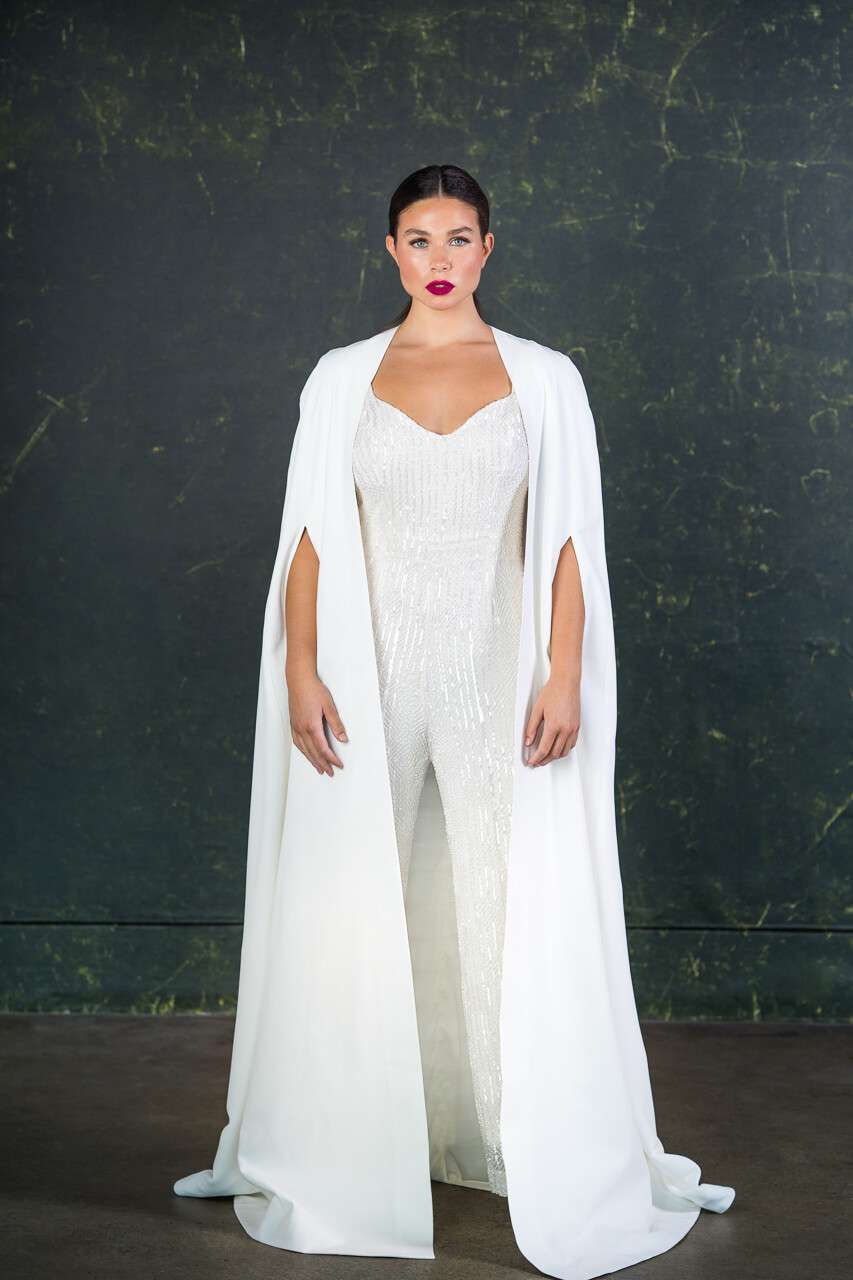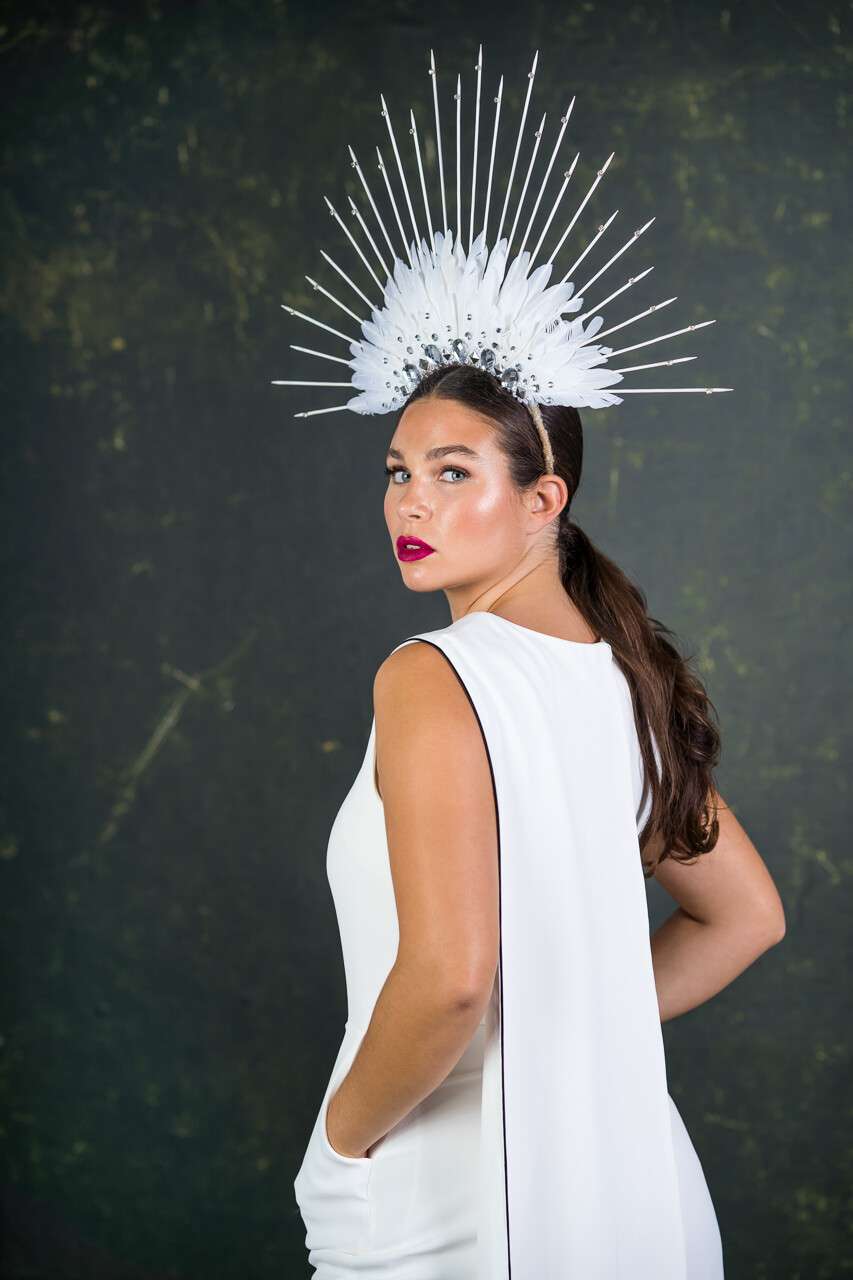 There is also the undeniable influence of same sex marriage. This became legal in the UK in March 2014 and a flurry of lesbian couples started their journey to become Mrs and Mrs. The number of same sex weddings rose by 8.1% between 2015 and 2016* (source: Office for National Statistics, 2016). In contrast, straight weddings increased by just 1.6%.
We are spoilt with the plethora of wedding blogs and magazines who are all featuring this new-ish demographic of same-sex and alternative brides. We are therefore far more exposed to different ways of styling up jumpsuits and trousers. This movement has shown all brides to be that there are many more creative choices out there.
With all this in mind, the trouser trend has become a force to be reckoned with and will continue to give the traditional dress a run for its money.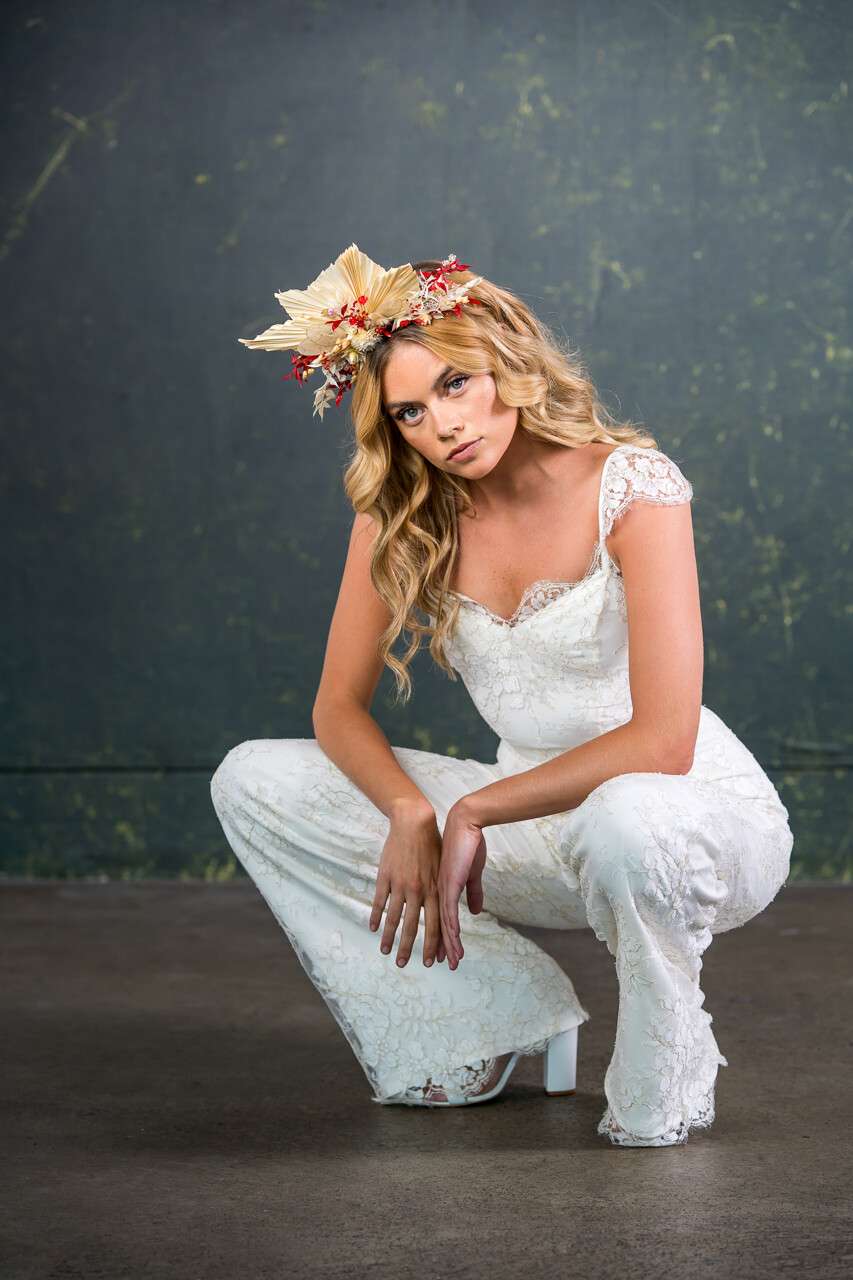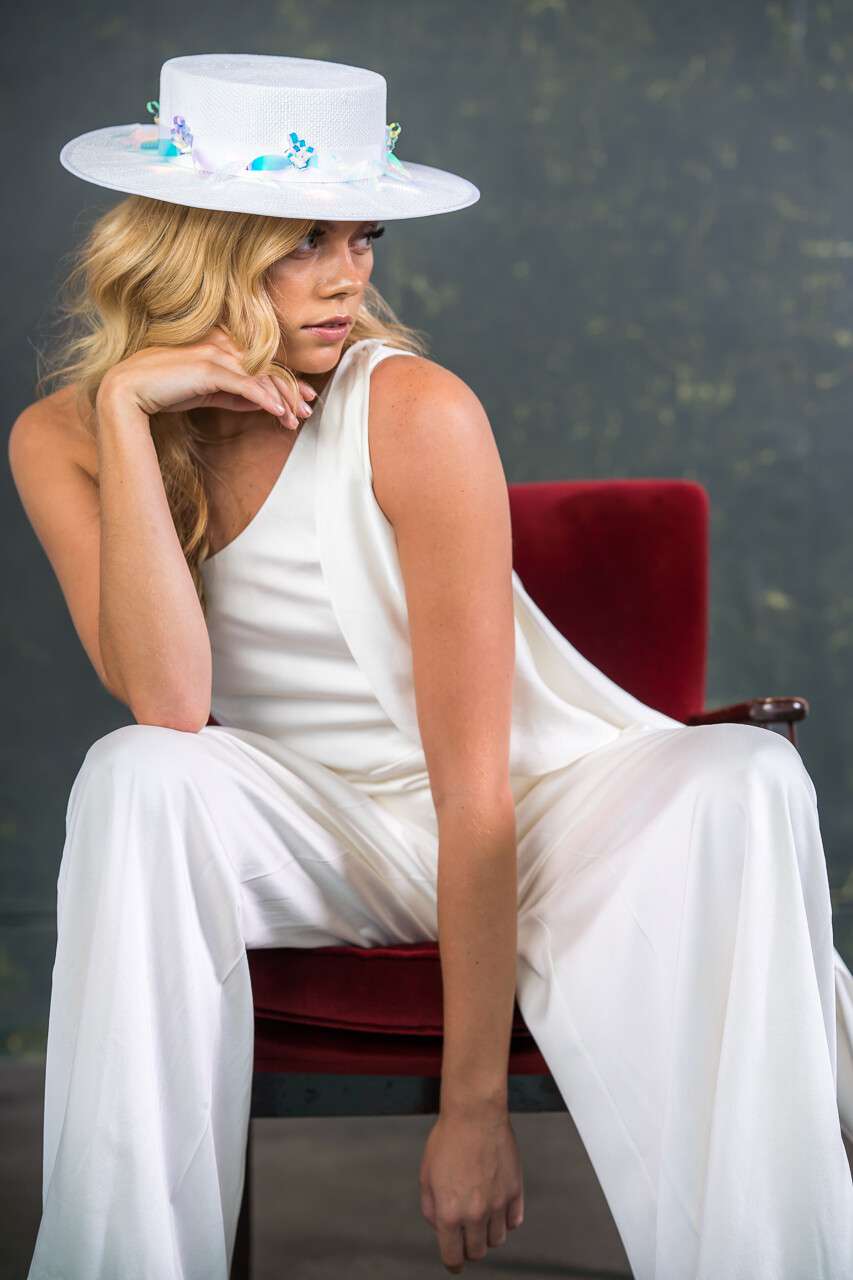 Rewind eight years to my own wedding. Deep in my heart I knew I made a safe choice. I knew I should have been bolder with my outfit but I chickened out and still live to regret it.
Needless to say, my inability to woman up led to the creation of House of Ollichon; the only dress-less bridal brand in the WORLD. Everything happens for a reason but still… I cheated myself. I wish I had worn a fierce bridal jumpsuit rather than my bog standard white high street dress. Don't get me wrong, that could be the perfect choice for you, it just wasn't for me.
We're lucky to witness this refreshingly modern bridal era. Even the statistics are sticking two fingers up to the expectations and stereotypes. More importantly, I wouldn't wish the outfit regret I still carry with me on anyone. Embrace who you truly are, be a special version of your normal self. After all, your 'normal self' is clearly very lovable.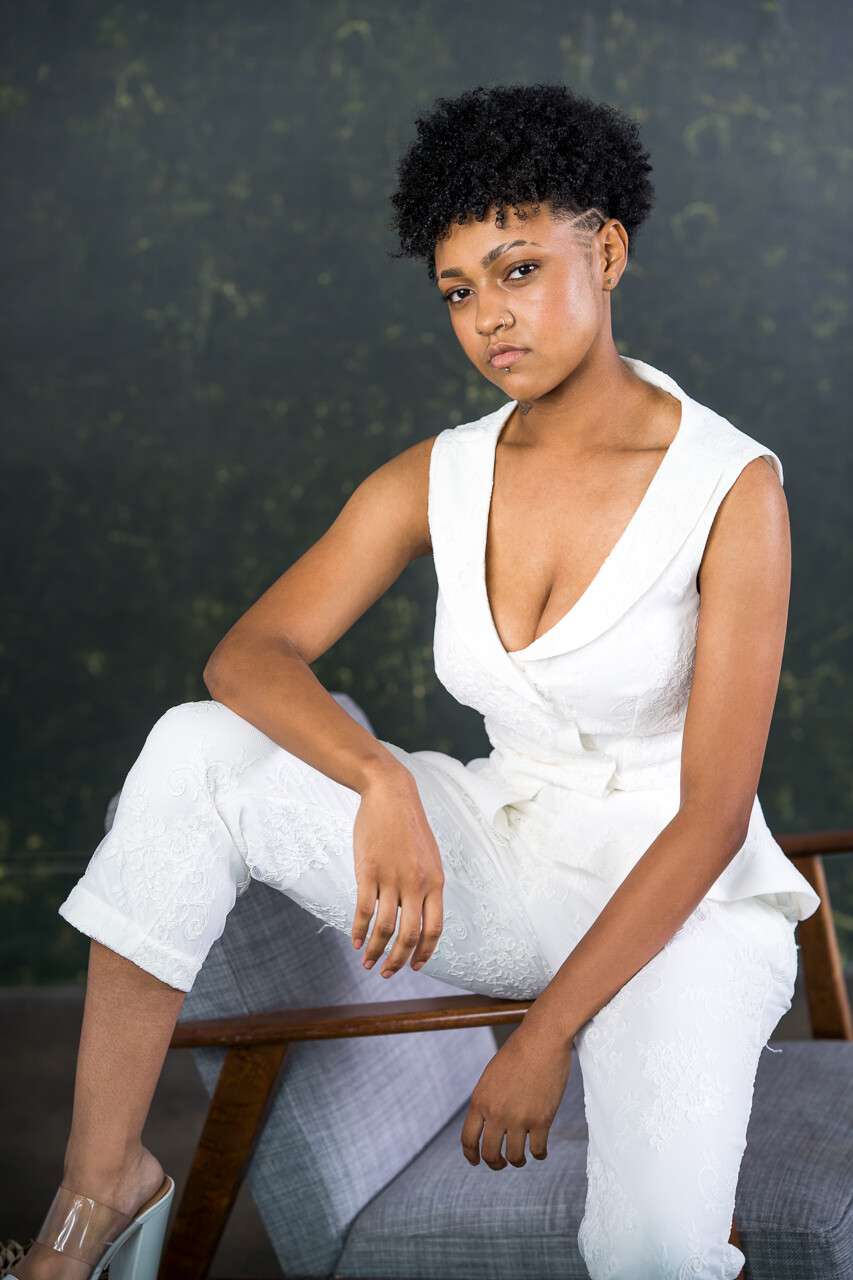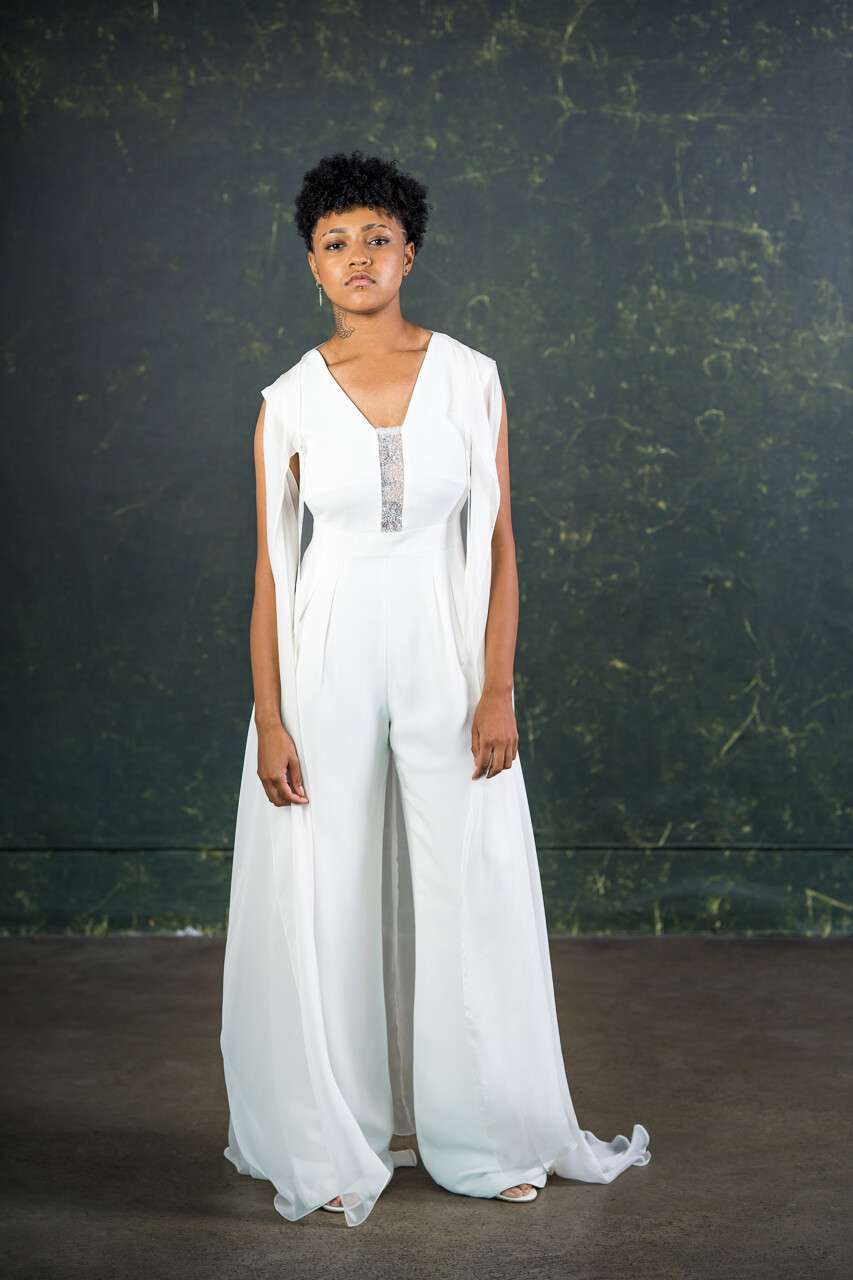 If you're considering wearing a bridal jumpsuit, trousers, or suit for your wedding, here are some things you might want to consider.
Add the wow factor
Adding a detachable skirt or bridal cape is a great way of adding a bit of oomph to your jumpsuit. The only limit is your imagination
Think about the cut
For extra elegance and comfort, go for a wide leg trouser, however if you are petite then a cigarette trouser is very elongating.
And whatever size you are, if you wear something more fitted, that cinching the smallest part of your waist, the result will be a very flattering feminine silhouette.
There is a jumpsuit for all shapes and sizes!
Trust me! If you're blessed with big boobs, then try a halter neck. If you have a more boyish figure then pleating is super flattering, and if you're plus sized or curvy then high-waisted pieces will look phenomenal on you!
*Source: Office for National Statistics
**Source: bridebook.co.uk