There was one overriding theme for George and Jordanna's big day – you've got three guesses for what it could possibly be!
"We were inspired by reading the blogs of other couples on Rock n Roll Bride and how they did exactly what they wanted," explained Jordanna. "We wanted our day to reflect our love for each other, and our other true loves; our cats Conker and Boots! However it was important to us for it not to be tacky; we wanted it to be in a sophisticated and at times, humorous way."
They paired an elegant, wintery colour scheme of red, burgundy and black with loads of nods to their favourite felines; from Jordanna's Markus Lupfer cat print sandals and her handmade cat ear headband, to her cat embroidered veil (!) and cat pins in the buttonholes and bouquets. George rocked socks personalised with photos of their cats, and even the bridesmaid dresses were from a website called Pretty Kitty Fashion!
Wherever possible, George and Jordanna went the DIY route – not only to save money, but also to make their vision come to life! They eschewed traditional flowers, instead opting for artificial bouquets that Jordanna sourced from the high street during Valentine's. They DIY'd a photo booth with cat themed props and disposable cameras. They had a basket of cosy cat socks for people to slip onto weary, danced-out feet. Their favours were cat-themed colouring therapy books, which they also made themselves. They spent a huge amount of time and effort making sure every attention to detail was covered – armed with long to-do lists and post-it notes throughout their year long engagement.
There were some elements, though, that they really enjoyed working with suppliers on, and knew it was worth going to the professionals for. For Jordanna in particular, she loved getting to take a scrapbook to dress designer to bring her dream to life.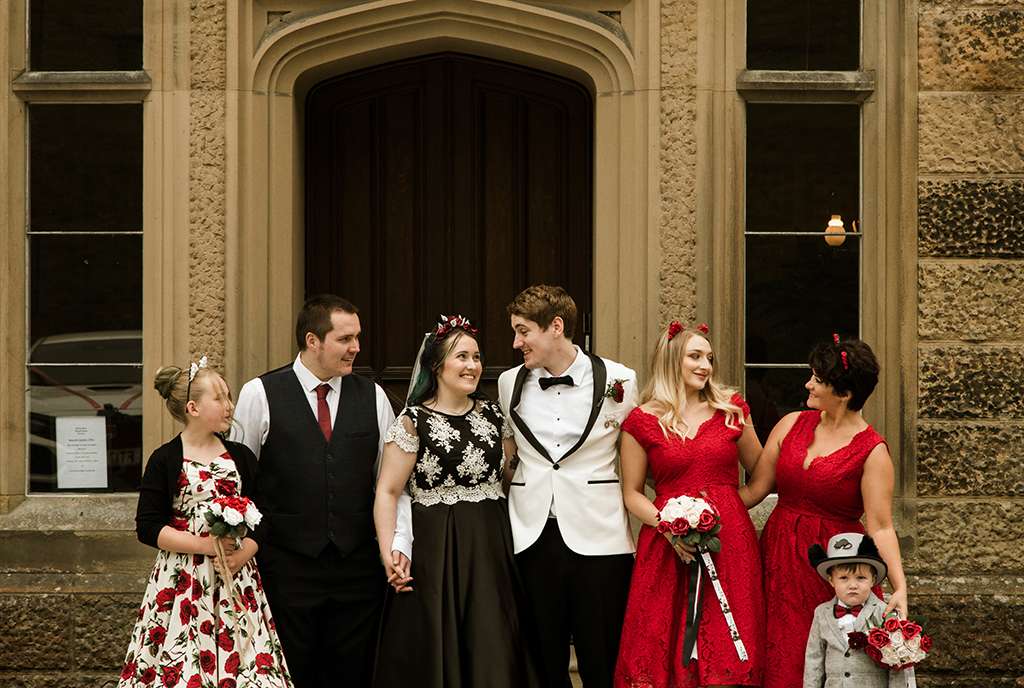 "I'd always seen myself as an 'alternative bride', and knew from day one, that white was not for me. It was so important for me to find a designer that would celebrate and support my quirkiness where the previous boutiques I'd visited shunned it! I found that in KMR Bridal. She made me the dress of my dreams, helped me build my confidence and I will forever be grateful."
Celebrating their individuality and staying true to themselves helped guide all their decision making for their big day. They ditched traditions that didn't suit, or twisted them completely; the bride wore black and the groom wore ivory. Jordanna was escorted to the aisle by her older brothers, and then walked down it by herself.
They had a man of honour instead of a maid of honour, and instead of writing vows for one another, they each made a speech later on in the day. "We did exactly what we wanted," concluded Jordanna, "during the planning, some people weren't convinced by some of our ideas, but once they saw everything come together they loved them! Stay true to yourselves and don't try to please others; it's your once in a lifetime opportunity to be 'selfish'!"