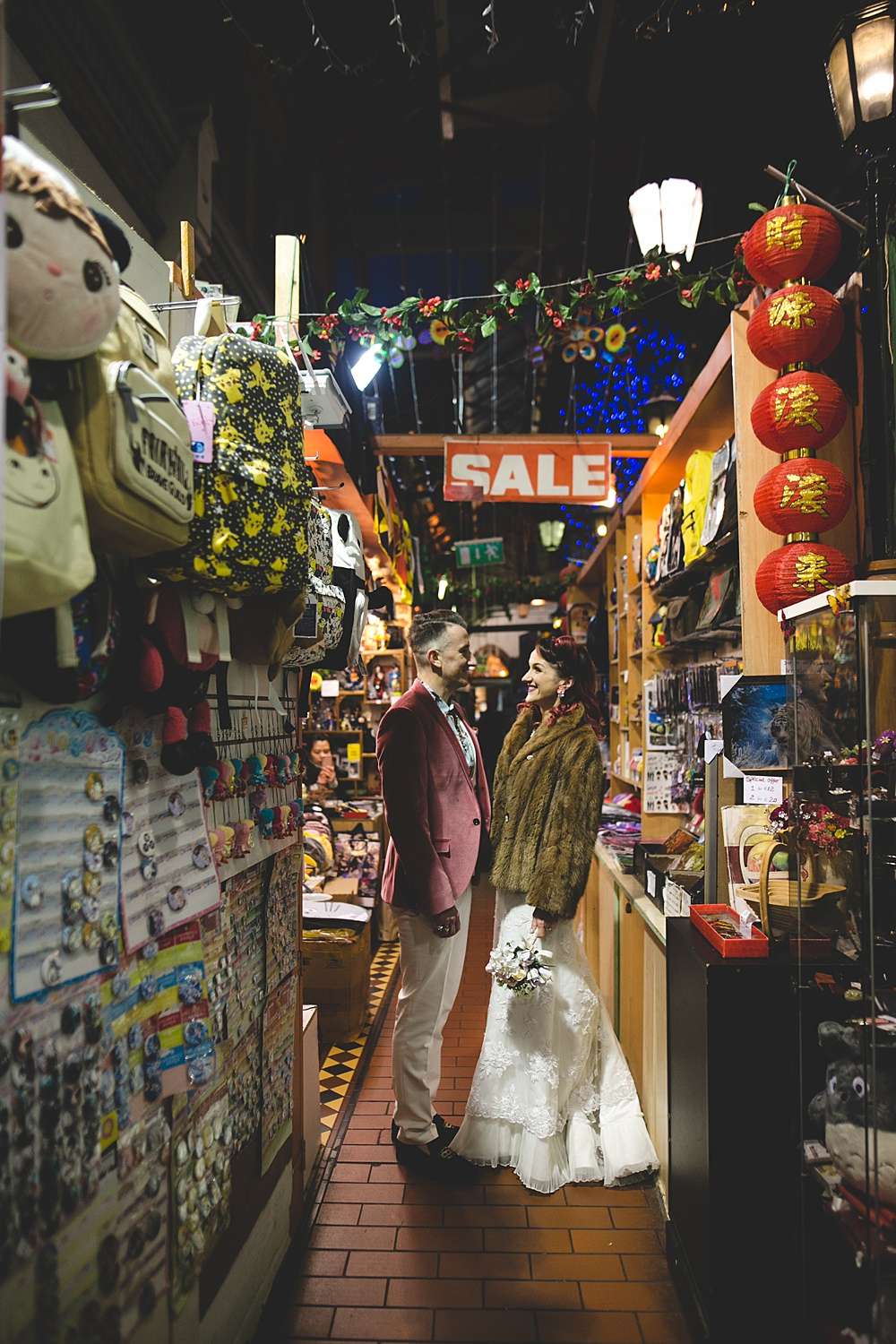 Lisa and Kieran's wedding didn't have a theme – they just wanted it to be a "Love Extravaganza" party with all of their loved ones. It wasn't very serious or formal – it was held in a beautiful little theatre, and the aisle music was the Jurassic Park theme tune – but did look like it was a load of fun!
Lisa and her bridesmaids looked super vintage in pin curls by The Make-Up Bar and candy coloured Chi Chi London dresses. Lisa's dress was second-hand, bought at a bridal fair for "peanuts" – her shoes and accessories (including an amazing clutch bag) were from the high street, and her fur coat was her something old, originally belonging to Kieran's nan.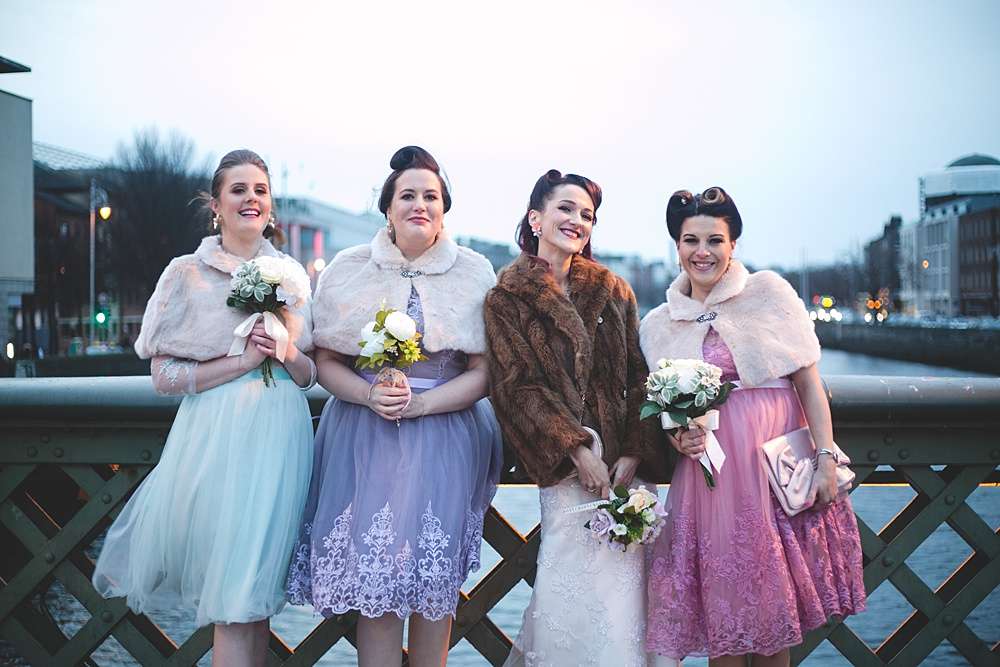 Kieran and his ushers also kept in with the pastel theme, wearing a pink velvet Noose and Monkey suit jacket and white trousers, and his ushers wearing lilac suits. One of Lisa and Kieran's favourite things about the wedding planning was, in fact, getting to style the bridal party, "It was fun to play dress up with all our friends and family!" the bride said.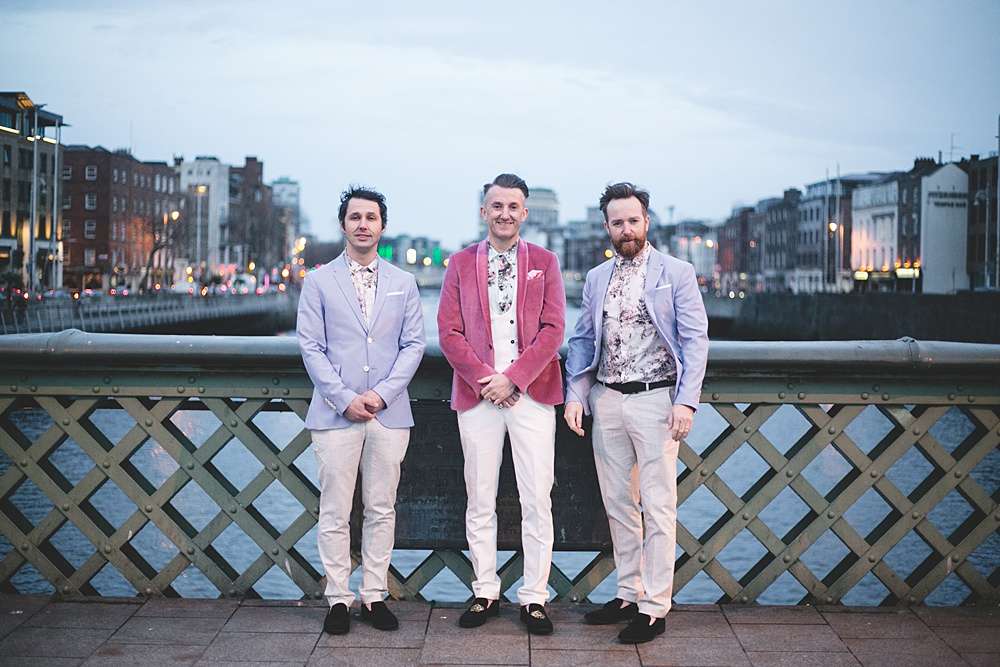 Their ceremony was held at Smock Alley Theatre, Dublin. "We held the ceremony in the theatre which had a cool entrance walking through the audience," Lisa explains. "We played the theme tune to Jurassic Park as my entrance music as it is a pretty beautiful song and set the tone of we weren't taking it very serious. Our speeches were all song lyrics from the Cure. We legally got married two weeks before on our own so we had Kieran's sister be the master of ceremonies for the exchanging of rings which was a lovely touch rather than having someone we didn't know who just says the same generic lines at every wedding." They decorated the theatre with a few coloured tealights, and fairylights wrapped around a frame for the ceremony's backdrop.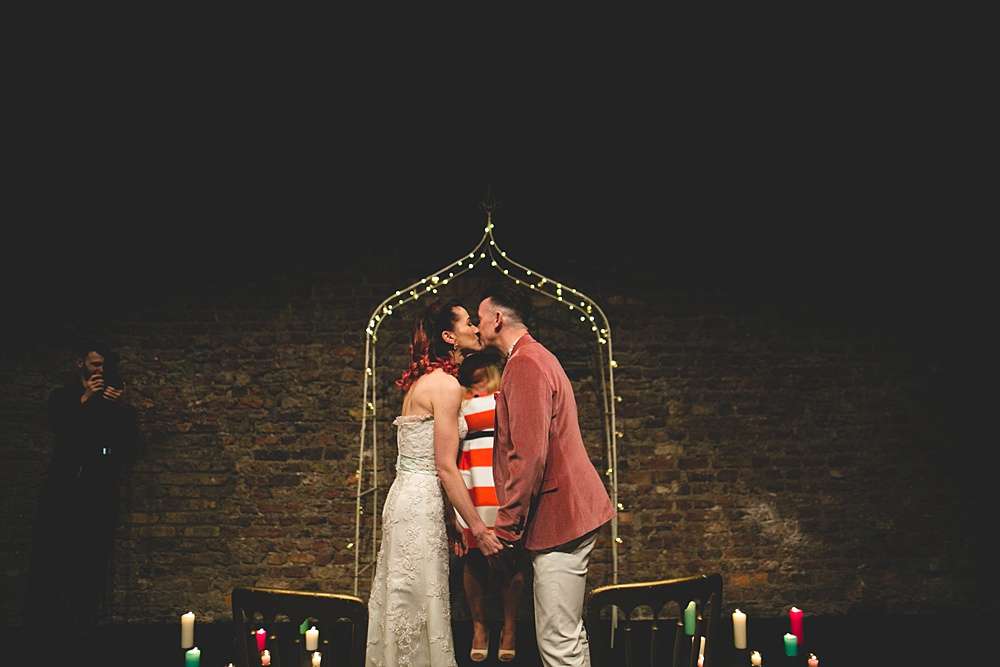 Guests then made their way to the reception, held at Fallon & Byrne, a restaurant and food hall in Dublin (hence the incredible food market shots!) "We opted for the tapas menu for our food, which was delish," Lisa continues. "We also opted to have our dessert option as our cake rather than paying for an additional one merely for cutting and photos; Fallon & Byrne whacked all the profiteroles into a tower then everyone ate it after."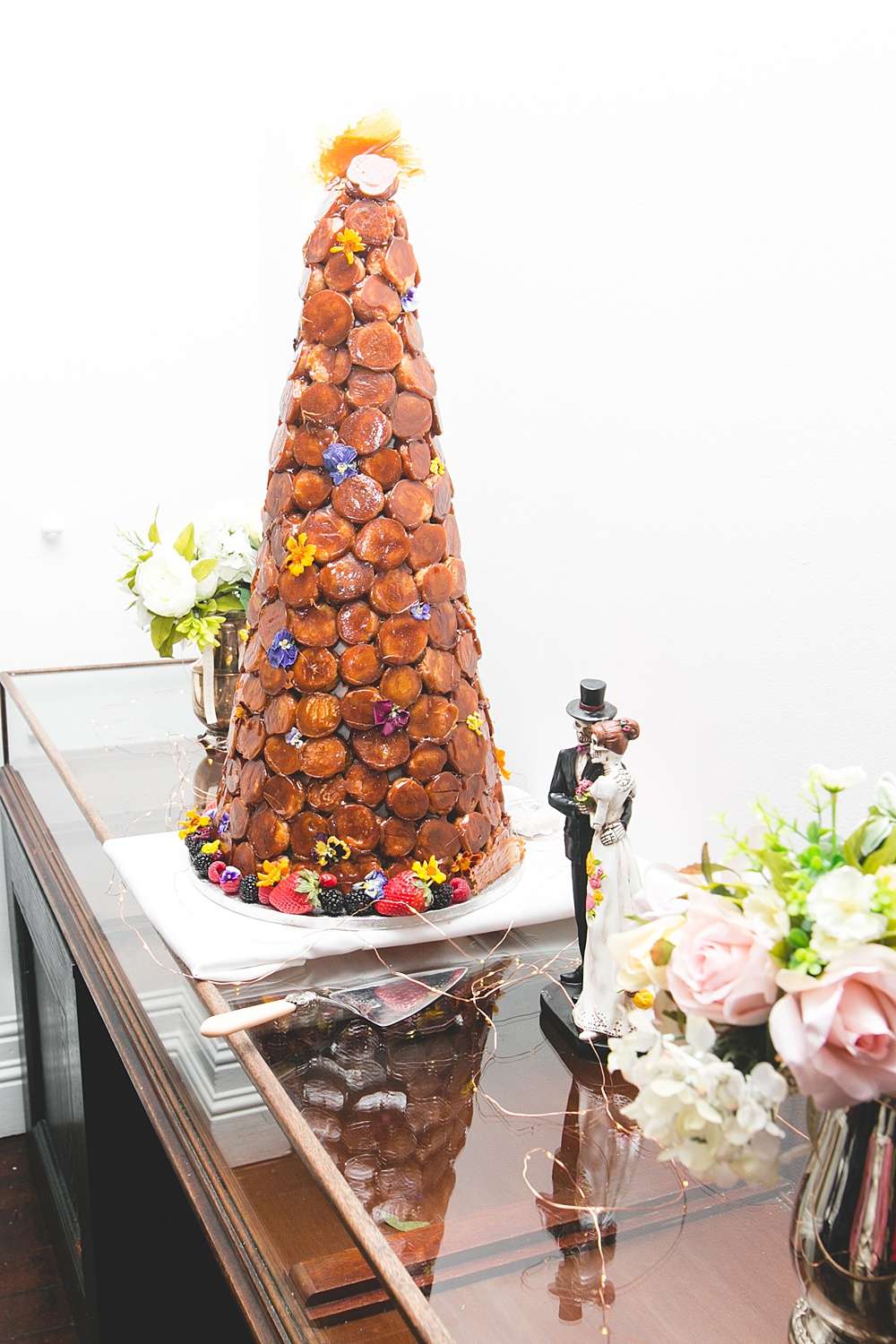 "We had a little pot of badges for people to put on as they entered the reception," Lisa says, "and little bags of wildflower seeds as our favours. Our table decorations were battery operated trees from Primark that I sprayed gold for a bit of bling. Other than that we didn't have much decor.  Both venues were so pretty that they didn't really need much jazzing up!"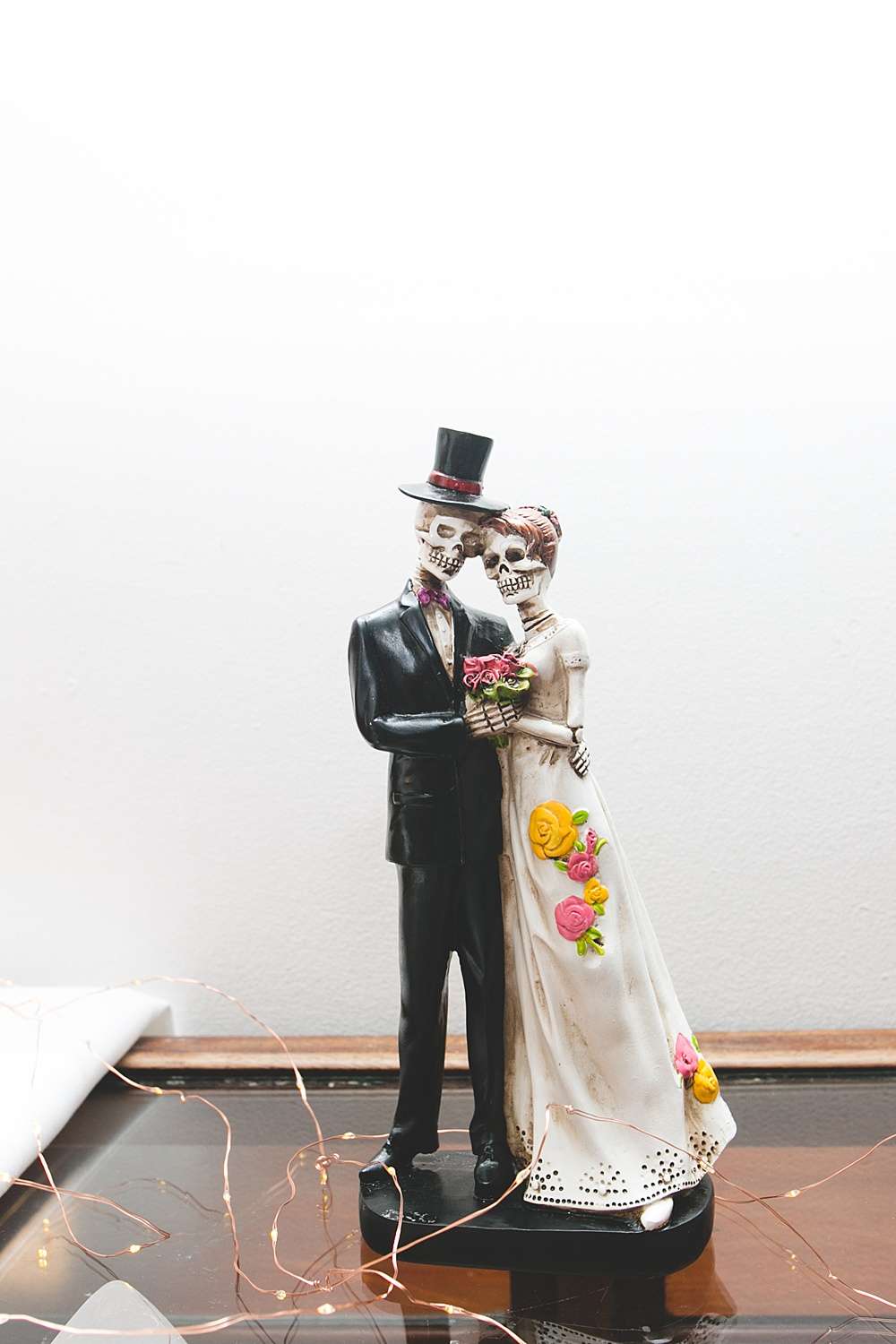 Their top priority was ensuring guests had non-stop fun at their all day party, so their biggest expense was the wedding band, Till Death Do Us Party. "It was really important that we had a band that played music we loved and everyone danced their socks off. We danced so much that I even forgot to throw the bouquet!"
And how's this for perfection? After their reception venue closed at 2am, the happy couple and their guests headed to a Japanese karaoke bar to continue the fun. As they walked in, they were playing a remixed version of Lisa and Kieran's first dance – Talking Heads' This Must Be the Place. CHILLS.