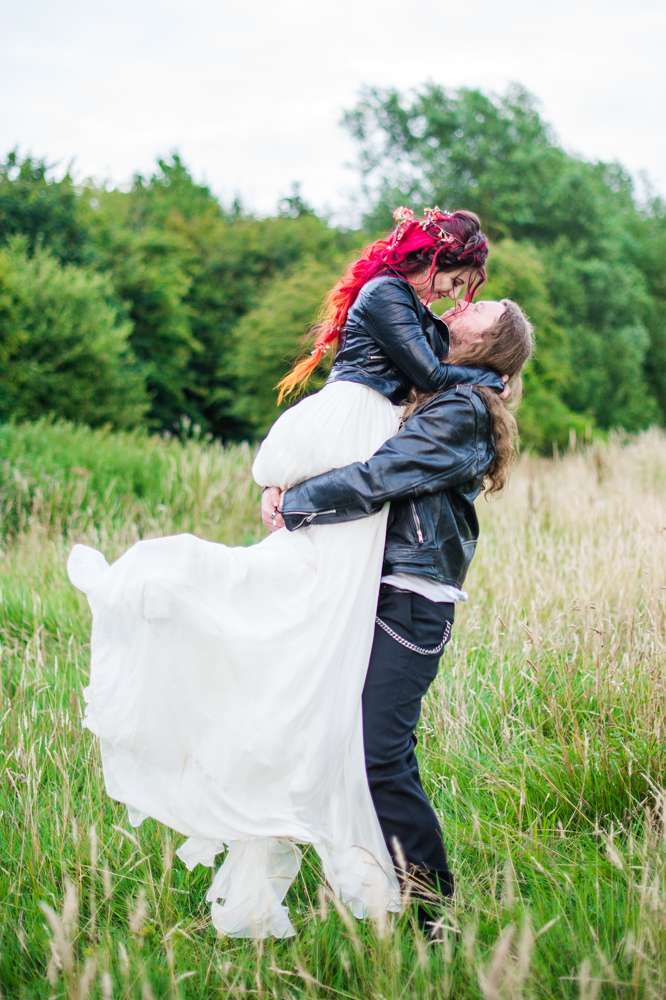 Andreea and Steve's rustic luxe tipi wedding was a perfect blend of Romanian and English cultures with a Midsummer Night's Dream feel. Read on to see the best, most ethereal bridal hair you've ever seen, and a parrot ringbearer. Yep, you read that right!
It's easy to see the Midsummer Night's Dream influence on this wedding. Andreea's hair is incredible on it's own – long and flowy and such a GORGE shade of red – but woven with flowers it's basically the fairy princess hair of dreams. Andreea's stunning wedding dress was from Natalia Vasiliev, the perfect middle ground between a fuller skirt and being able to actually move on your wedding day – just look at the movement in that skirt!  She finished her look with a necklace and earrings that belonged to Steve's late mother, and Jeffrey Campbell 'Lolita' shoes. Her bridesmaids also wore flowers in their hair to match their trailing bouquets,  and cornflower blue dresses to tie in.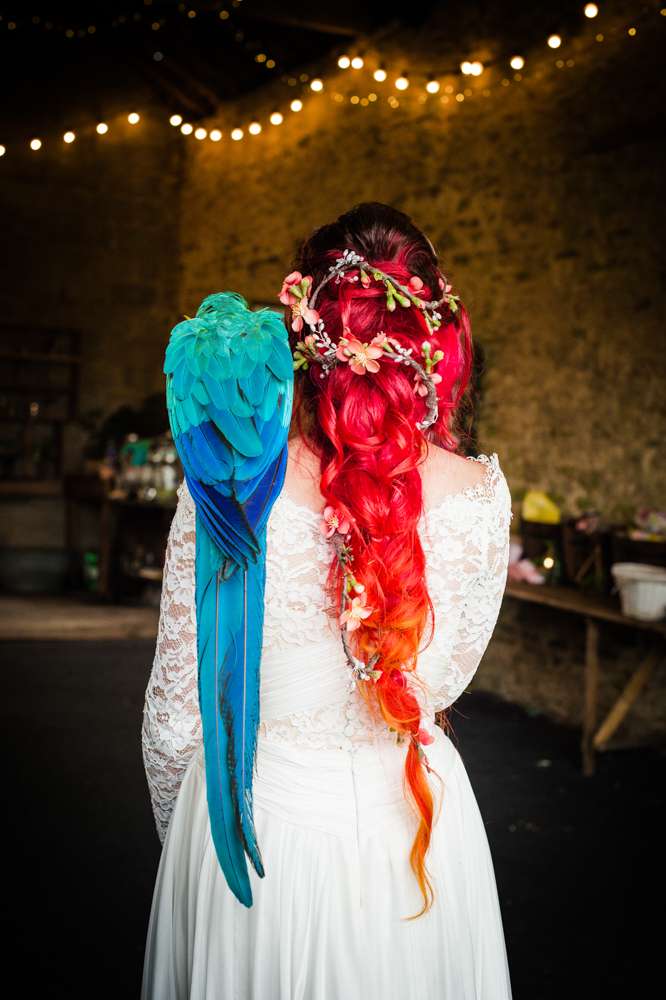 Their hand-fasting ceremony was held outside in front of a wooden frame covered with stunning blue and lilac flowers by The Luxe Design Co. After an emotional first look, Andreea's dad walked her down the aisle in his full ceremonial outfit. They were also accompanied by by Andreea and Steve's pet parrot, Jay, who came down the aisle on Andreea's shoulder!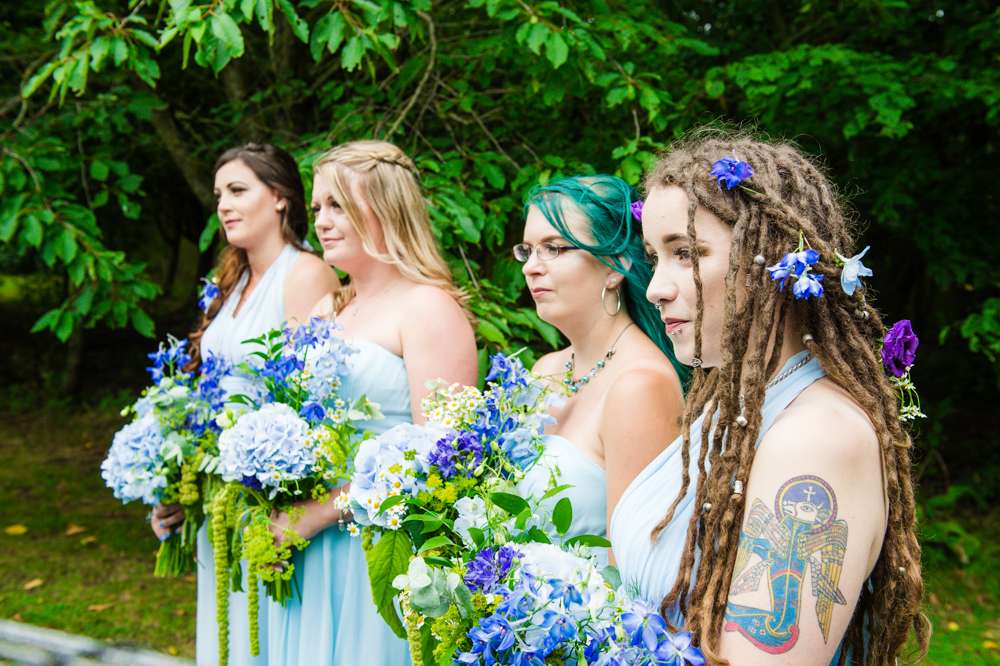 "Initially she was going to deliver the rings, but we lost our nerves with training her to fly on command or her breaking the rings, so I just walked down the aisle with her instead," Andreea says. "Not enough people have their pets at weddings, but they are part of the family so I think they should be included. I couldn't imagine not having her there!"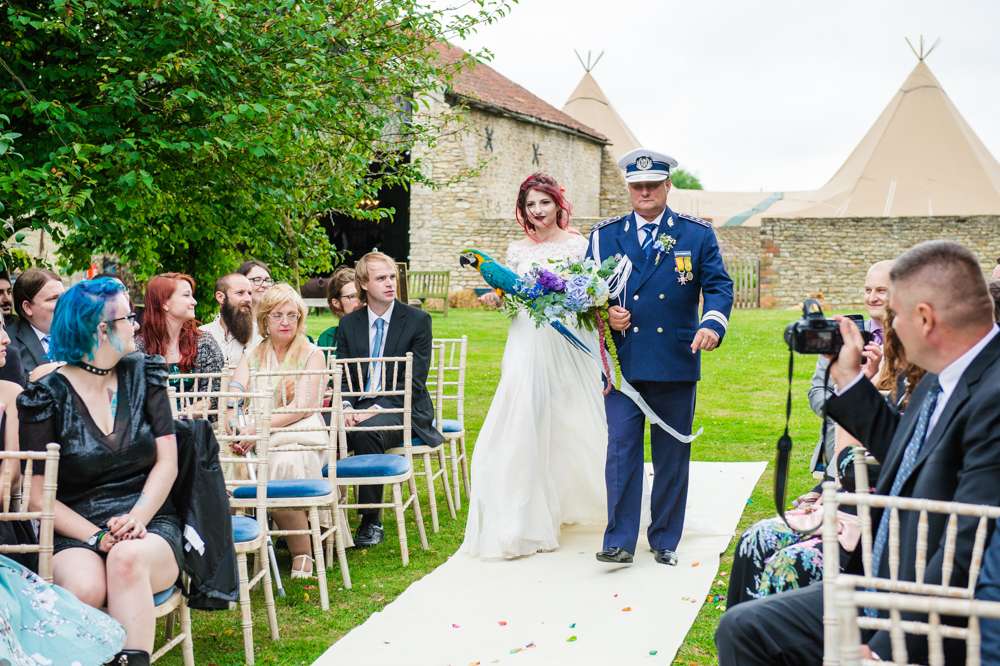 Steve gave Andreea her ring from the top of his sword and they drank mead before jumping over the sword and the axe as a symbol of cutting away from the past and starting a new life together.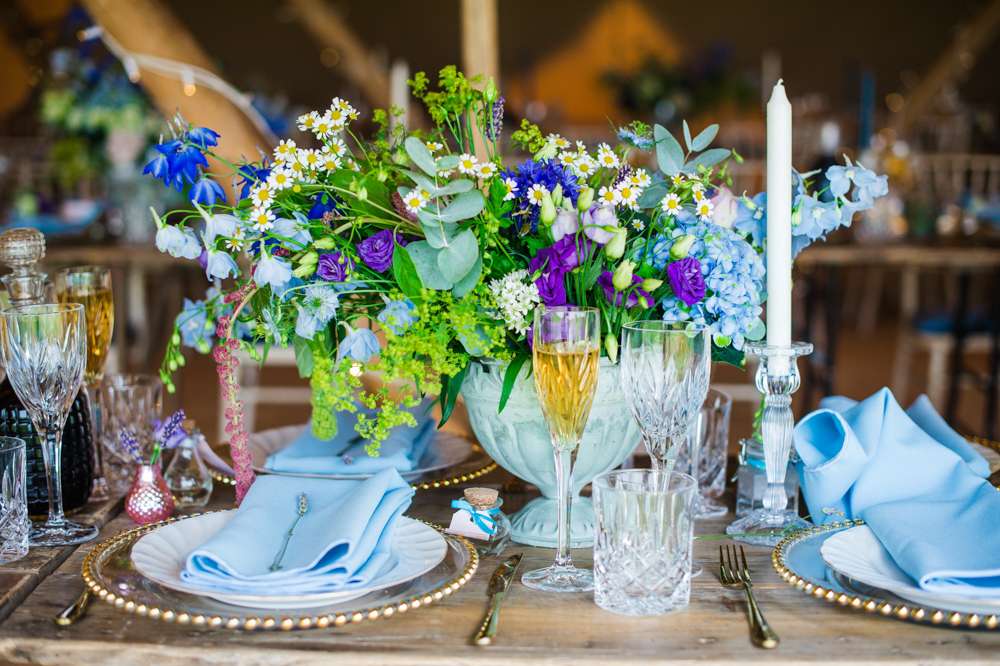 In between the ceremony and reception, Andreea and Steve had an ice cream cart from Tout Sweets serving JAGERMEISTER ICE CREAM (amongst other gorgeous flavours. But yeah, Jagermeister ice cream!) For their reception, they'd also created a sweets table which they piled high with sweets picked up from Costco and Duty Free when Andreea was on her way back from dress fittings, which she had in her native Romania. Their friend Pol also manned an open bar serving all sorts of weird and wonderful creations, whilst saving them money too.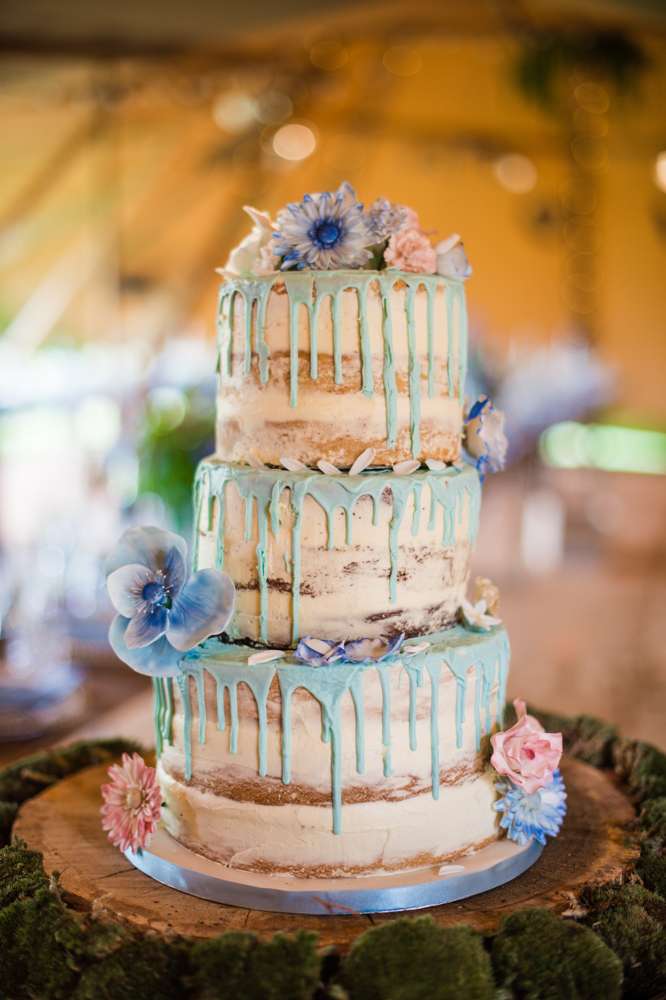 As the venue was completely dry hire, they had to decorate everything themselves, amassing objects from The Luxe Design Co., eBay, Etsy, car boot sales, Allens Hire, and South West Event Hire. Mismatched wooden props and gold tableware, fairy lights and flowers coming together in a gorgeous rustic and romantic look, and the favour bottles of Palinca paying homage to the blend of cultures.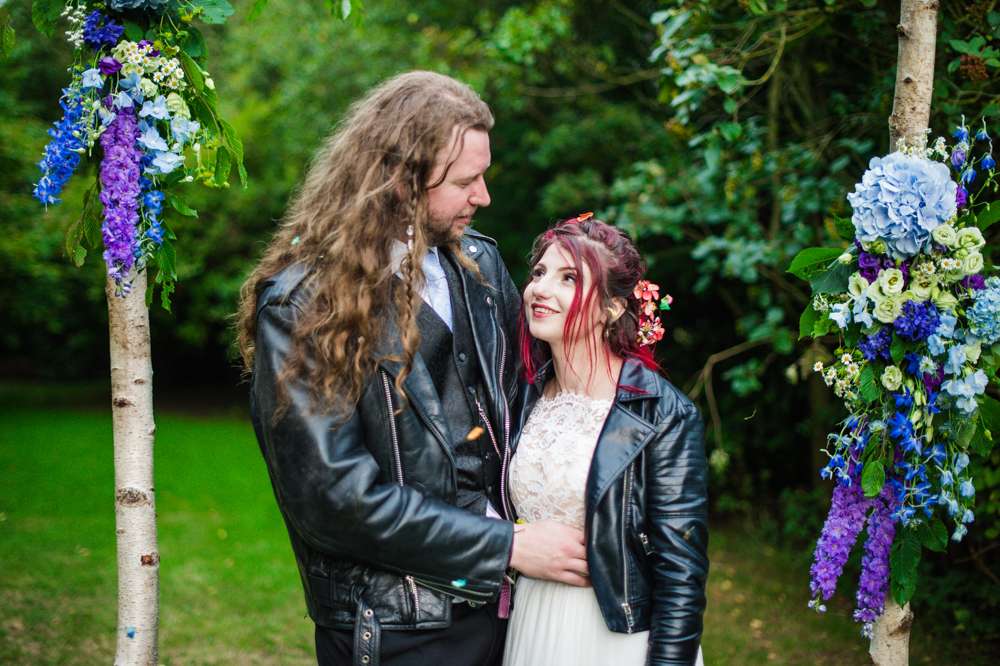 "Between the bridesmaids and the groomsmen we set up the whole venue, so it was one huge DIY task! We had to hire or buy everything from drinking straws to festoon lights to chairs, so it was a major planning challenge." In fact, this is the advice Andreea has for future couples planning their wedding: "Check with your venue thoroughly to make sure they don't have any hidden costs or aren't planning any work before your date. Knowing what I know now, we wouldn't have gone with our venue, or gone for a venue where we had to get everything from scratch – I can't stress that enough!"