Lauren, originally from the Cayman Islands, married Colin, from Huddersfield, in September. They met in Leeds when the bride was studying for her masters and the groom was working in IT. After being together for two and a half years Lauren was offered a job back home in Cayman so Colin moved with her and they got engaged!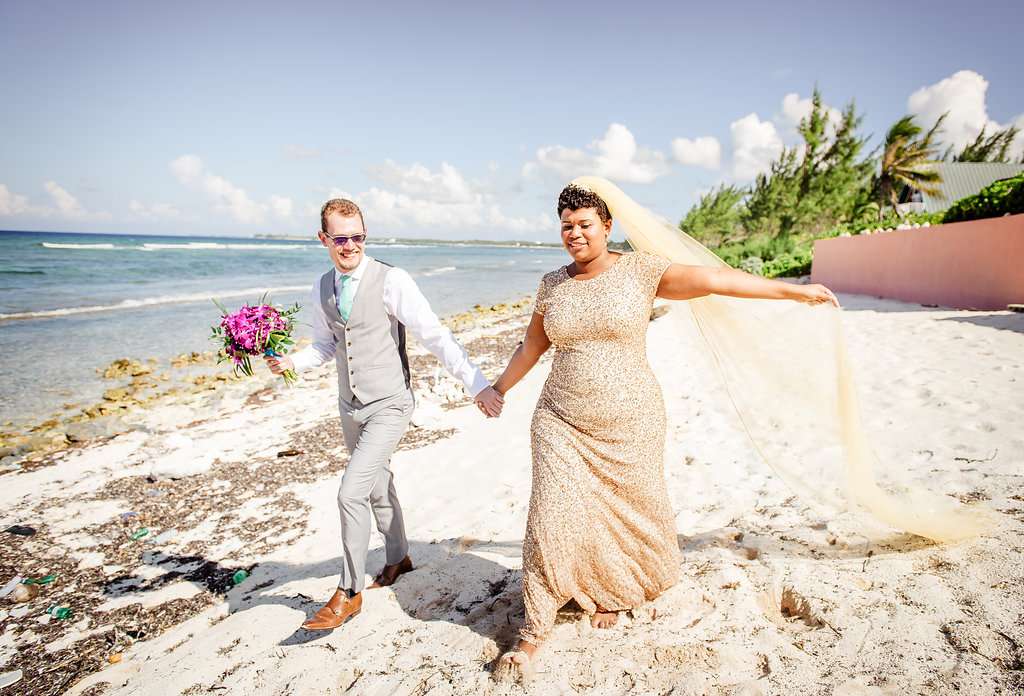 The wedding was held at Kaibo Restaurant, Beach Bar and Marina which has the most gorgeous beach backdrop. "Our wedding theme was 'Tropical Glam'", said Lauren. "The inspiration for our wedding was actually a piece of fabric. I saw this gorgeous turquoise fabric with monstera leaves on Google images and thought, 'Oooh that would make a lovely table runner', and the whole thing spun out from there. We knew that we wanted our wedding to have a tropical vibe, but as we were already having it on a beach we didn't want to go too kitschy. Instead of seashells we decided to go for bright tropical flowers and beachy greenery with décor in shades of turquoise (reminiscent of the ocean) with metallic gold for a hint of glam."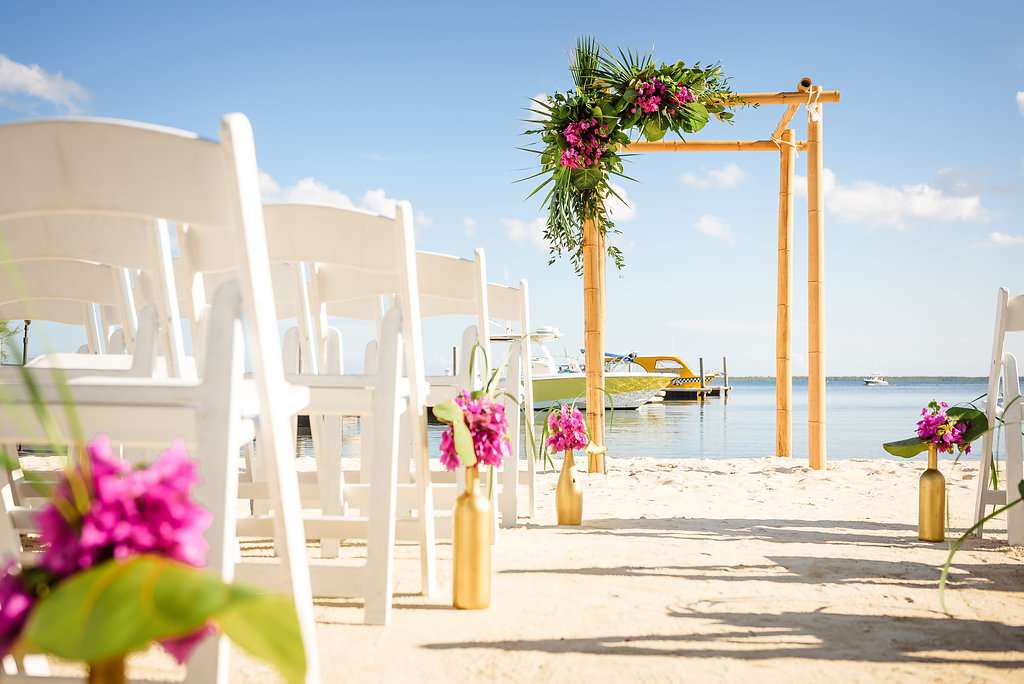 The bride wore two stunning dresses, a gold and sequinned number by Adrianna Pappel for the main part of the day and a shorter one for dancing from David's Bridal. Coln's suit came from Next and the bridesmaids, man-of-honour and groomsmen all wore assorted outfits to fit the turquoise colour scheme. Instead of traditional bouquets, the bridesmaids carried pineapples that had been hollowed out and filled with flowers.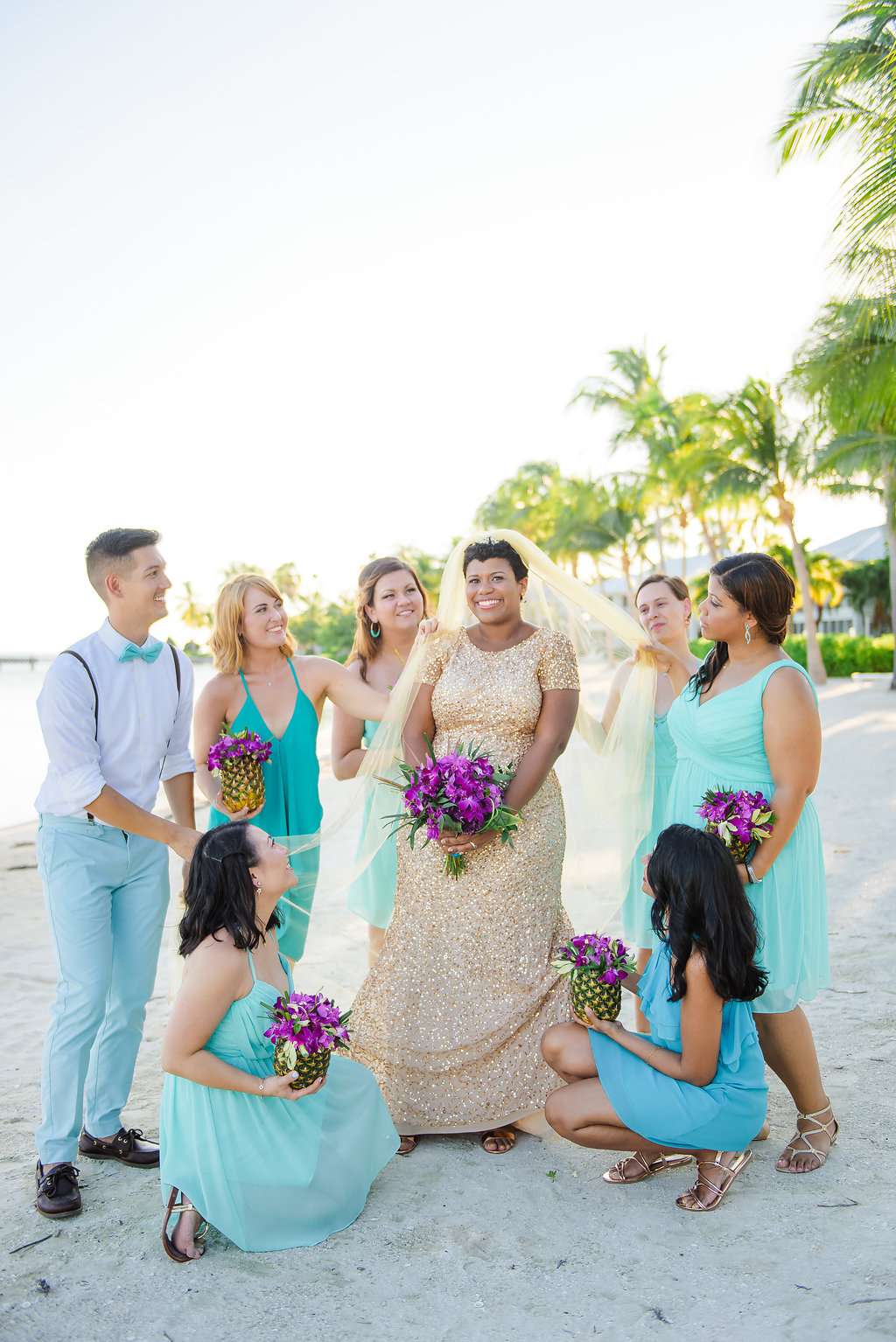 The ceremony was held right on the beach. "Our ceremony took place on the beach just before sunset and we wrote the entire thing ourselves including our vows. It was officiated by Reverend Forrester, a minister from The United Church, and I walked myself down the aisle to This Must Be The Place (Naïve Melody) by The Talking Heads. We didn't like the idea of me 'being given' away. I liked liked the idea that I was walking towards him alone and into our future together."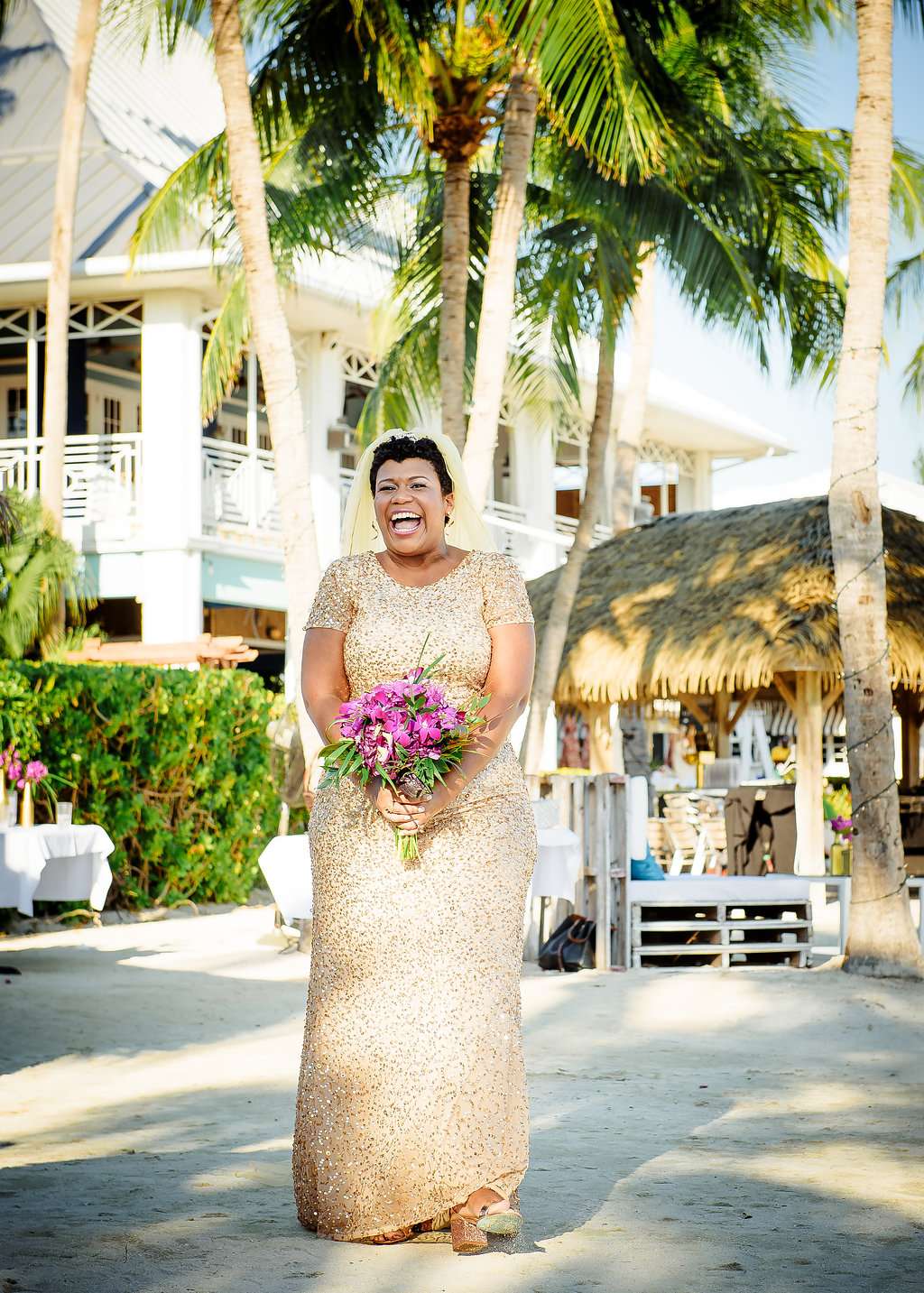 "My walk down the aisle was actually a really funny moment", she continued. "Whenever you see brides on TV they just sort of calmly glide down the aisle towards their partner with a beatific smile on their face. Calm and beatific are not words anyone would ever use to describe me – I'm more excitable and ridiculous – and because we had so many people travel from afar (some that I hadn't seen in more than five years) I just got so excited I started waving and saying hi to everyone on my walk down and by the time I finally got to Colin he was just laughing and shaking his head at me."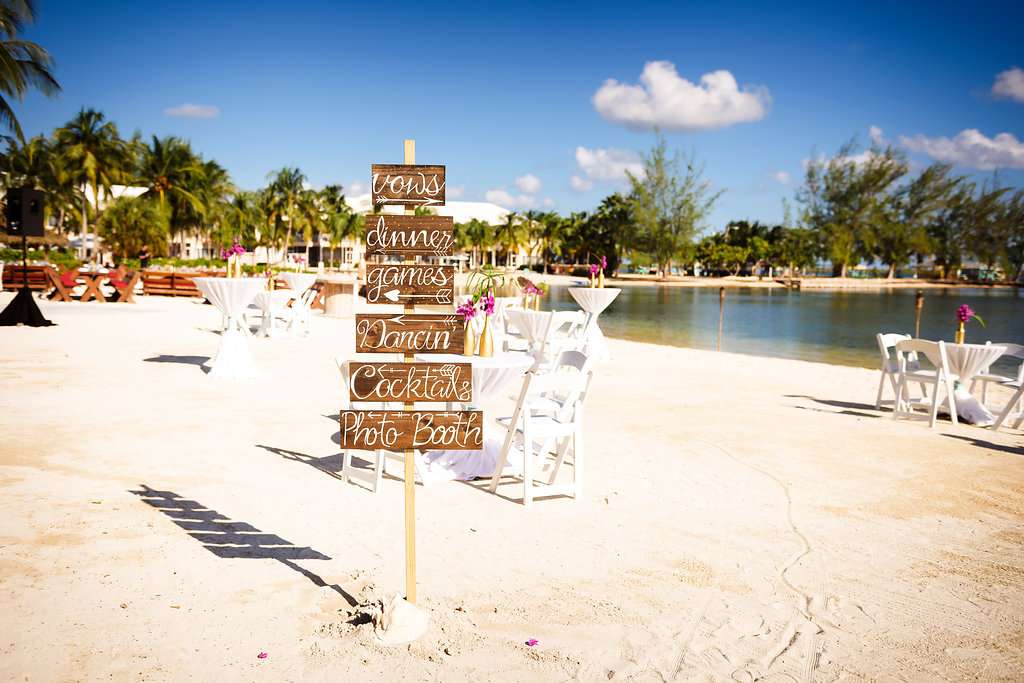 After the ceremony and their portraits on the beach they had a party vibes reception which they did all the decor for themselves. "We did A LOT of DIY projects. We and our friends made the majority of the décor including the table runners, the vases (we cleaned and spray painted more than 120 glass bottles for them) and made signs, props and we went foraging for the greenery for the vases."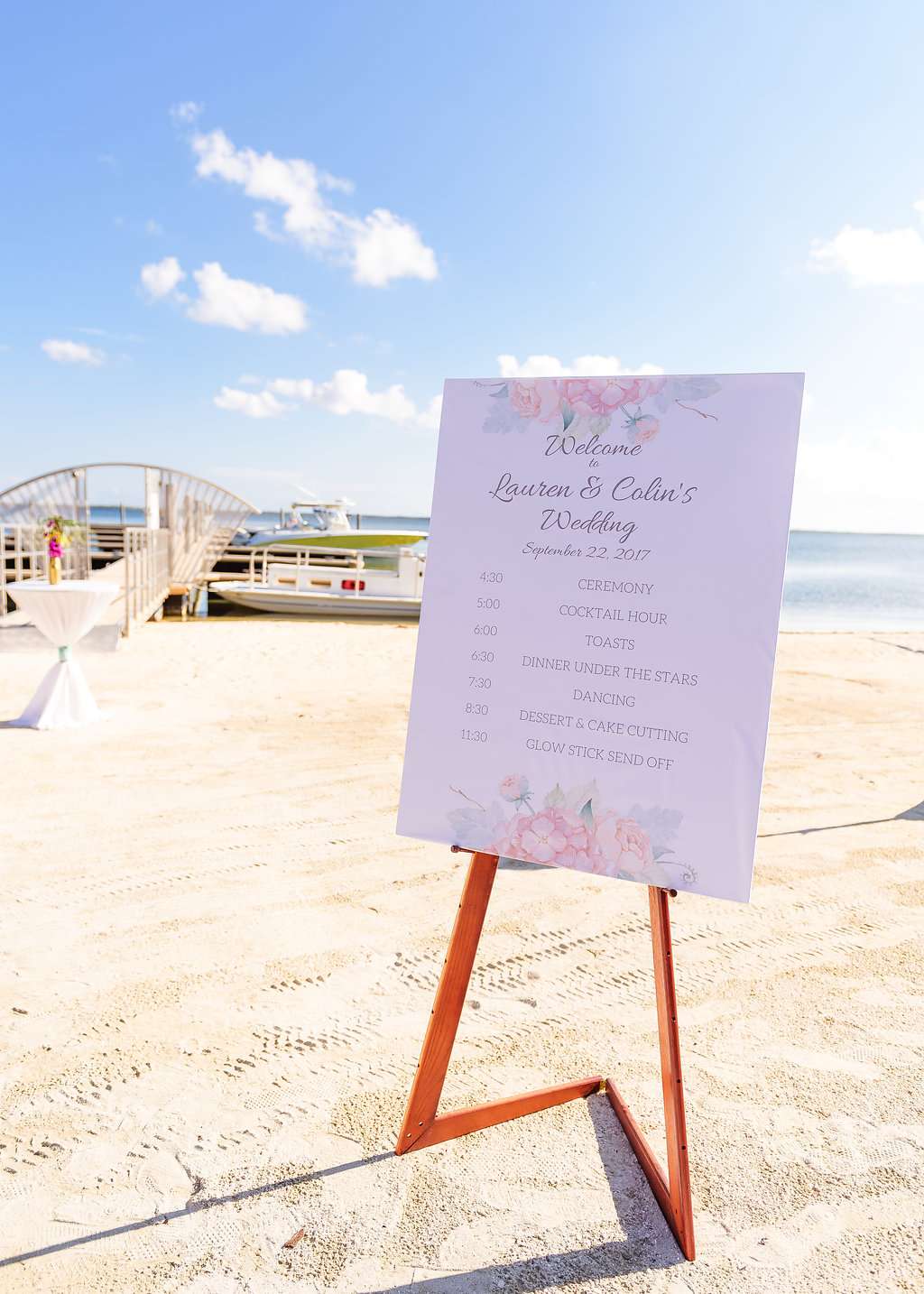 "Instead of having a massive traditional cake we went for a teeny one topped with Lightsabers (we're both big Star Wars fans so that was our little nod to the films) and splurged on a buffet of mini desserts and a gelato cart instead."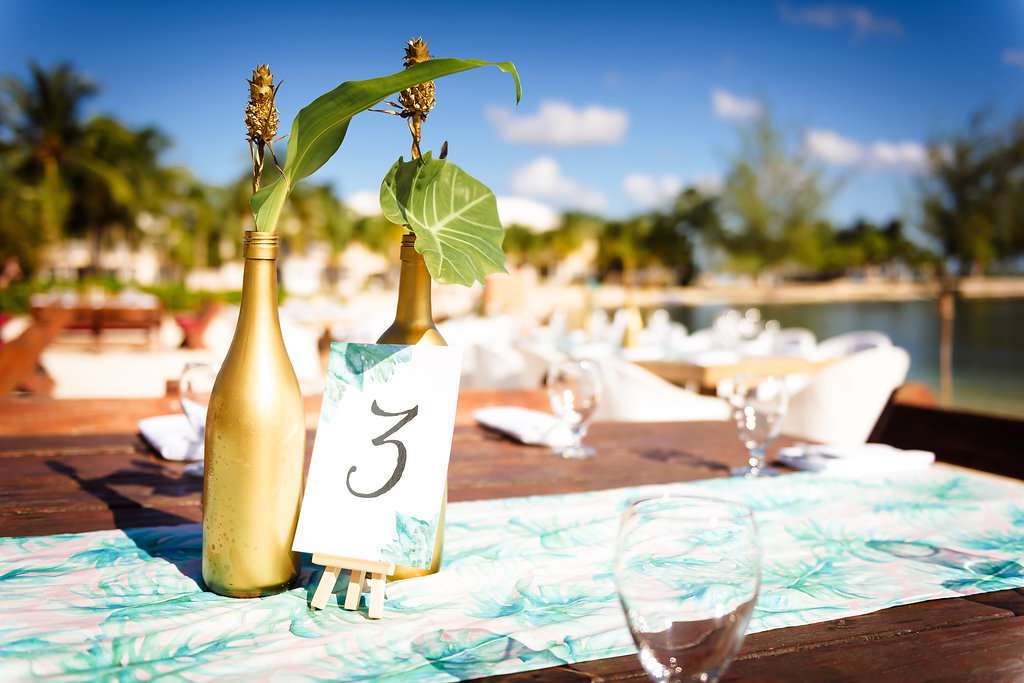 "Another unique item was our outdoor craft beer bar from our local brewery. We're big craft beer fans so it was great to be able to share four different local brews with our friends and family from abroad. We also had a section with giant board games for kids and for grownups who just weren't drunk enough to dance. It was important to us that everyone felt included and had fun on our wedding day."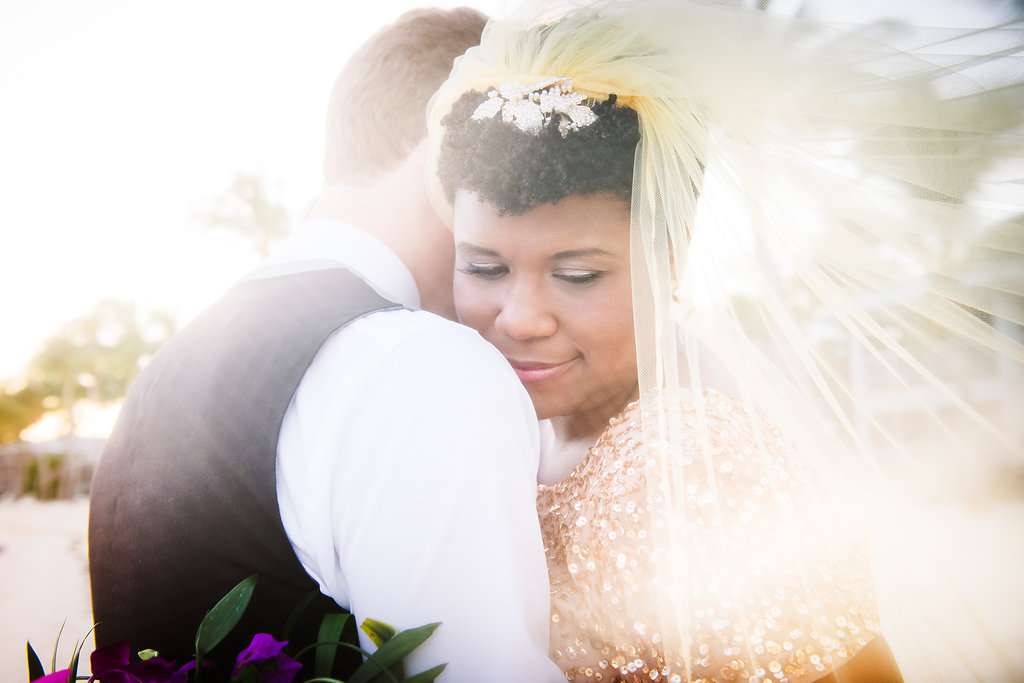 The groom's favourite part of the day was eating the gelato (!) and the bride's was their vows. "We didn't share them with each other ahead of time and he completely surprised me with incredibly heartfelt vows that he made up on the spot in response to mine. We always joke that because I'm from the Caribbean I'm the emotional one and he's the stoic Englishman, but his vows were amazing, they made everyone cry!"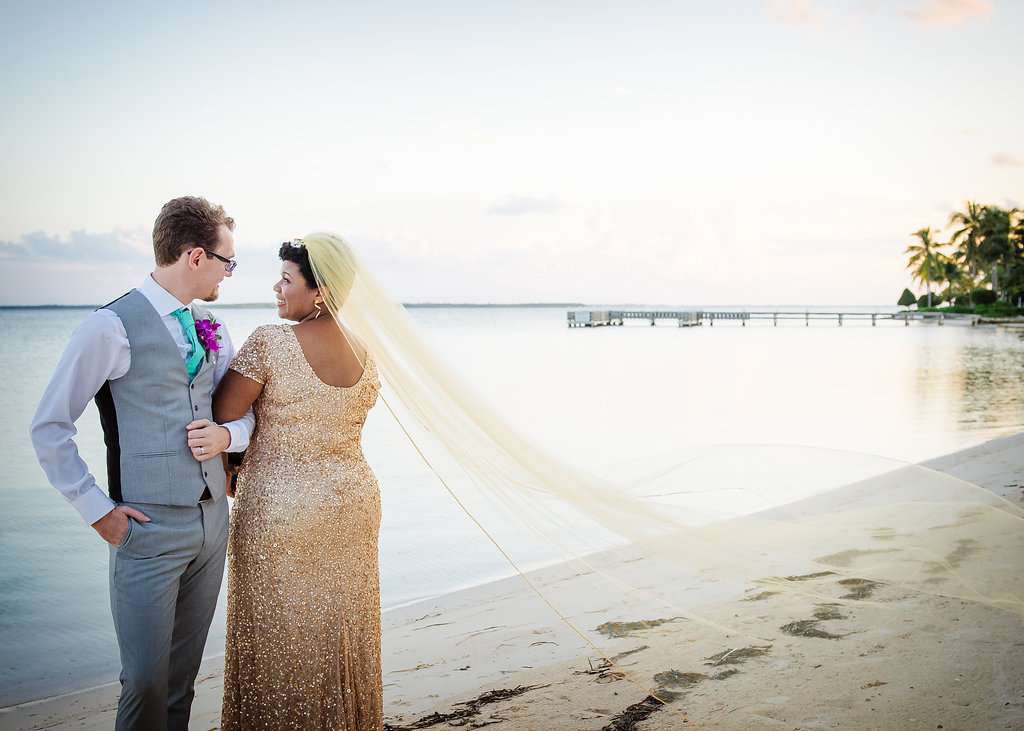 "The biggest cost of their $30,000 budget was the food and drink but they saved by doing all the DIY decor. "Colin and I spent a lot of time at Kaibo, our venue, when he first moved to Cayman so it felt like the perfect fit. We were also lucky that they are a full service restaurant and bar so they were able to do all of our catering in-house. We had a massive buffet of Caribbean comfort foods that included veggie, vegan and gluten free options as well as a mini dessert bar and a cocktail bar. Everyone was still raving about the food for weeks after. Our second biggest expense was photography and it definitely paid off. Jenna is amazing and we couldn't be happier with our wedding photos!"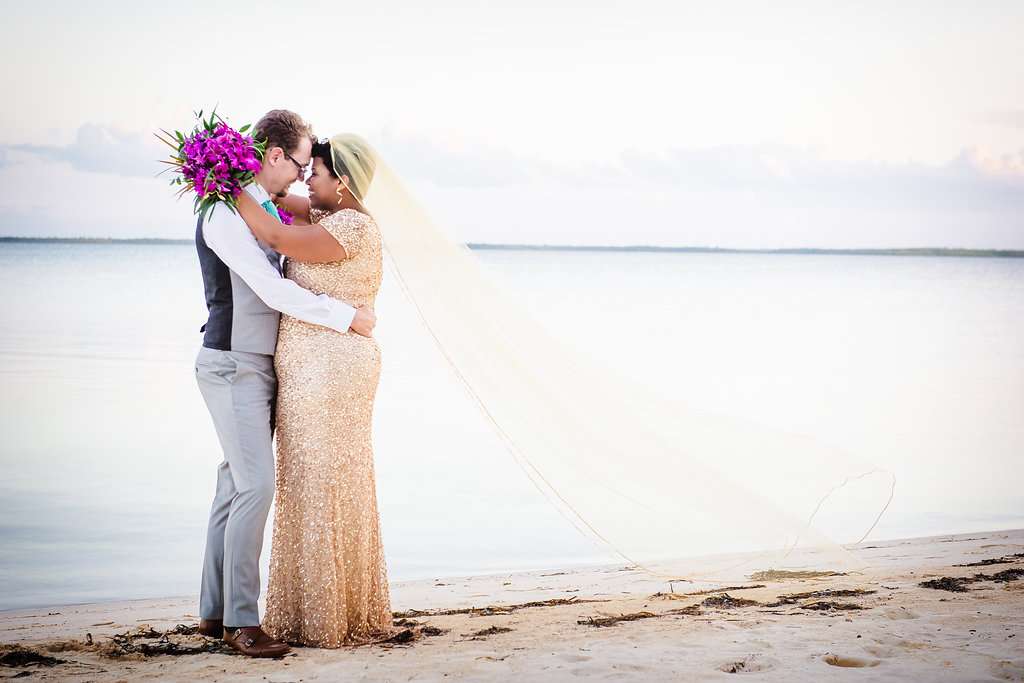 "Getting to be creative was the best thing about planning the wedding", she concluded. "I often plan elaborate theme events for our friends and family so I just saw this as another big party albeit the most expensive and important one we'll ever have!"