After swiping right, Laura and Marc had a laid back boho festival wedding, with a humanist ceremony, at Mansty Farm in Penkridge. "We wanted to try and make it a mini-Glastonbury festival as it's our favourite place," said the bride. "We tried to put our personal touch into everything. We wanted it to be an 'unwedding' wedding. No quirky love letters or anything that didn't mean something to us. From the seating plan to the log fires, everything had a bit of us in it."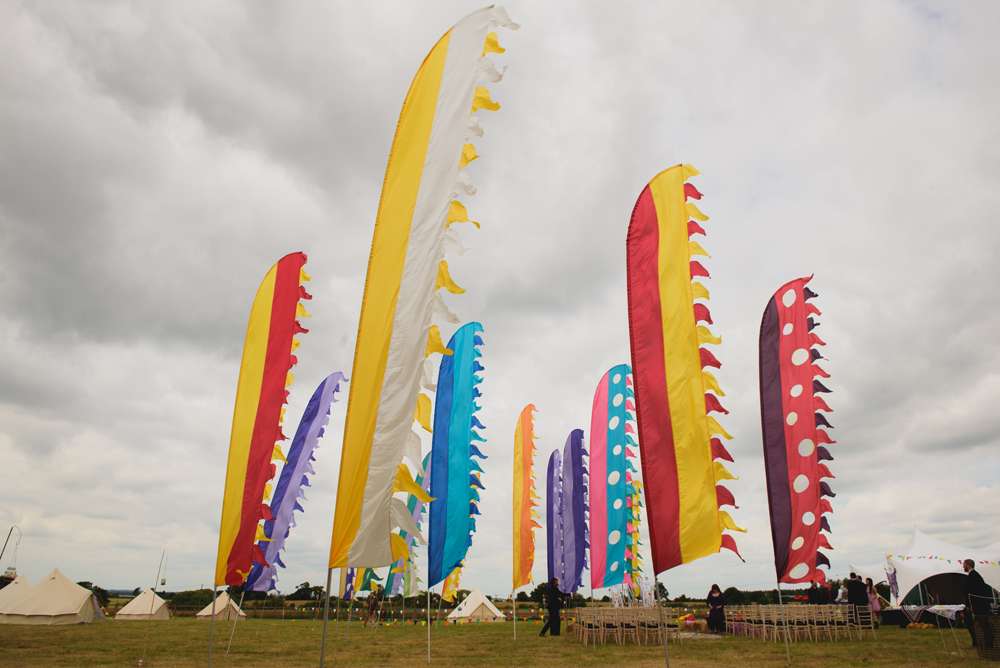 With guests camping, the outside ceremony with rugs as the aisle, the summer sunshine, marquee, and partying into the night with bands and a DJ, this is the perfect festival wedding vibe. And as with many festival marriages, the couple picked their own vows and promises and had a handfasting ritual.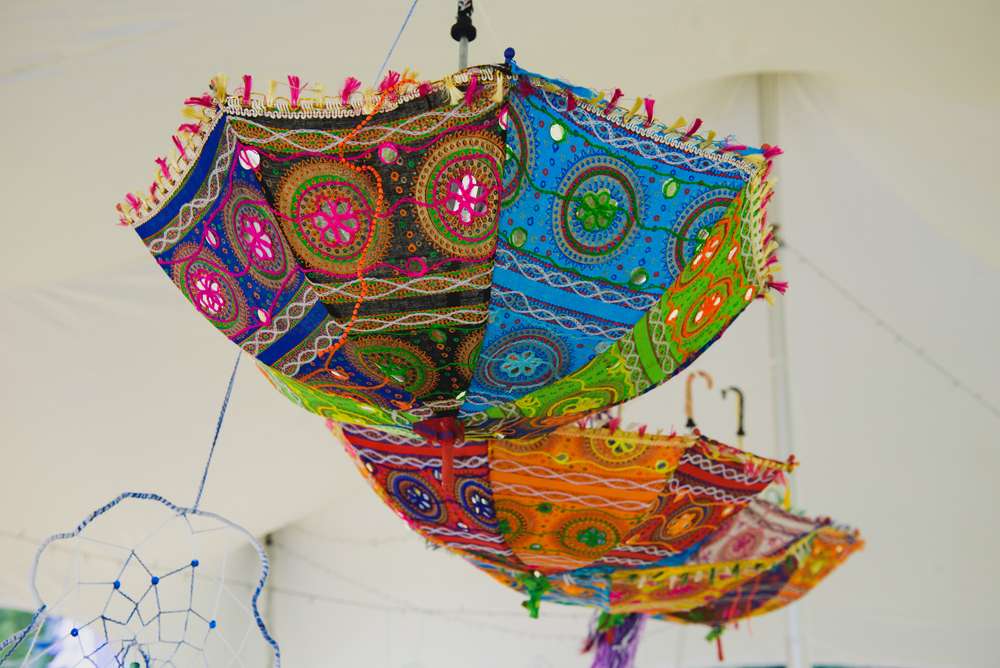 Making an entrance in the couple's own VW camper van, the bride looked every bit the boho queen in her dress designed and made by Elizabeth Ayers, teamed with bare feet, bespoke wedding dreadlocks by Indy Angel and colourful make-up. The groom wore a checked suit, a Pretty Green neck scarf and Ted Baker shoes. He added the romantic gesture of wearing the hat he was wearing when they got engaged. The bridesmaids wore floral kaftans/ dresses/ playsuits and flower crowns, as Laura had asked them to find whatever they'd be comfortable in.
The cake was made by a work friend of the bride's called Charlotte Hankin. The flowers were bought online, "And my mum made them look nice", she explained. "We wanted it all to look rustic and ramshackle with wild flowers and ribbon."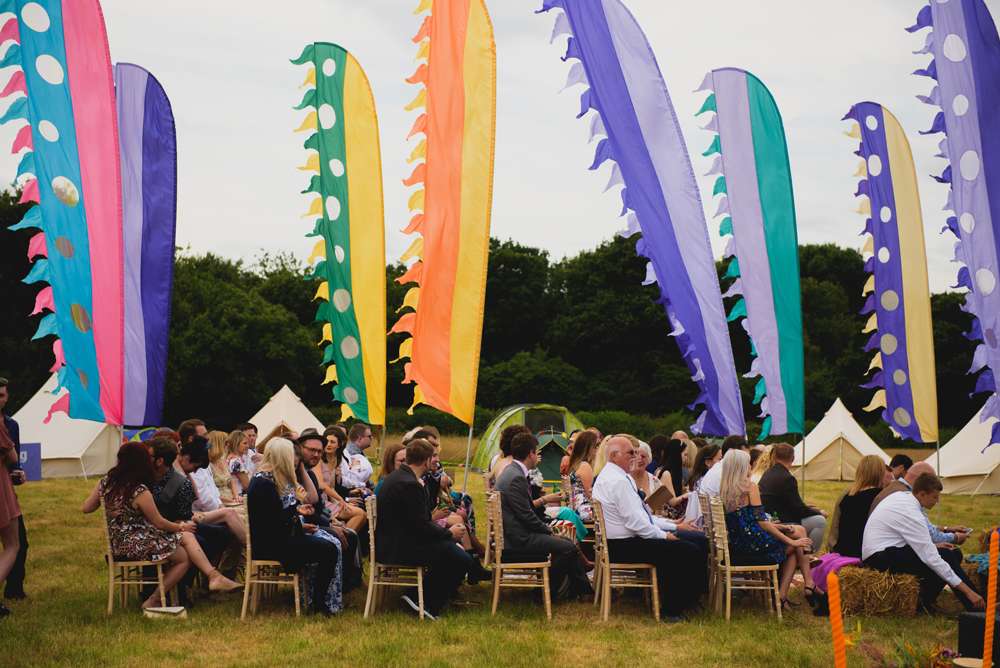 Guests enjoyed a vegetarian Indian feast, catered by Chana Catering, followed by speeches, including one where the best man made a video as part of it, which got a standing ovation! Then they moved on to dancing to High Horses and Skabucks bands, followed by DJ Audiohead Events who Marc described as, "A non-cheesy wedding DJ with experience working with bands like Kasabian, New Order, Kings of Leon and more recently DJ'ing at Glastonbury Festival." Other entertainment came in the form of an inflatable penalty shoot-out game!
Keeping this incredible wedding to a £15k budget was helped by doing much of it themselves. Laura said, "Almost everything was a DIY project. From the save-the-dates, dream catchers, to the hangover survival kit favours We made everything." One bridesmaid even made over 600 paper flowers for the garlands! They managed to save even more money on the booze. Marc explained, "We did a booze cruise to Calais and got so much beer, prosecco, wine, and sangria. We also did our own evening food, including an amazing cheese board." In fact, the most expensive thing was Laura's wedding dress, which was a present from her mum.
When asked about funny stories from the day, Marc recalled how Laura was an hour late, which he jokes "Is early in Laura-land, so everyone tucked into the sangria and ended up a little bit tiddly by the time she arrived. We were all up around the campfire until 5am drinking the leftover sangria (there really was a shitload of sangria)."
Marc said that the one thing they wish they'd known about planning a wedding before they began was that, "You will agonise over the smallest things whilst planning, and on the day things will go wrong, but you wont care because you'll be having too much fun. We also completely overestimated how much décor we needed. We had so, so, so many candles and jars and not all were needed."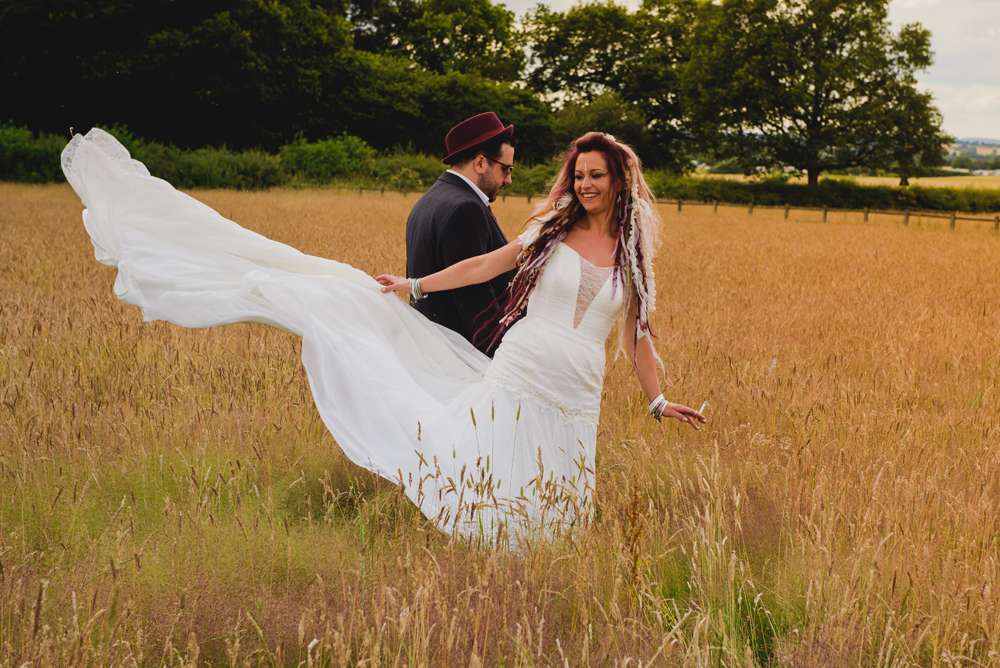 The best thing about planning their wedding, the couple said, was the crafting and the planning with the bridesmaids, and the worst thing was, "Agonising over marquee quotes and caterers; we really wanted to showcase how good vegetarian food can be, so the caterer was really important to us."
For Marc, his favourite part of the wedding was when Laura walked down the aisle and was standing at his side. "She looked absolutely beautiful, and I had trouble reading my vows off the cue cards because I was taken aback", he said. "Also, staying up around the campfire with all our friends until the sunrise was very special, and something we'll never forget, plus dancing in the sun to ska tribute band Skabucks with our fez hats on (which the band insisted we wear)."
Their advice for future brides and grooms would be that, "Music is hugely important to the day, so don't underestimate getting a DJ or a band. They provide the entertainment, and that is a massive thing that guests remember. Don't leave things to the last minute. Also, try and set time apart during the day to see each other because it's so easy to get separated and not see each other for ages. Everyone will tell you to enjoy it because it goes so quick, and it really, really does."