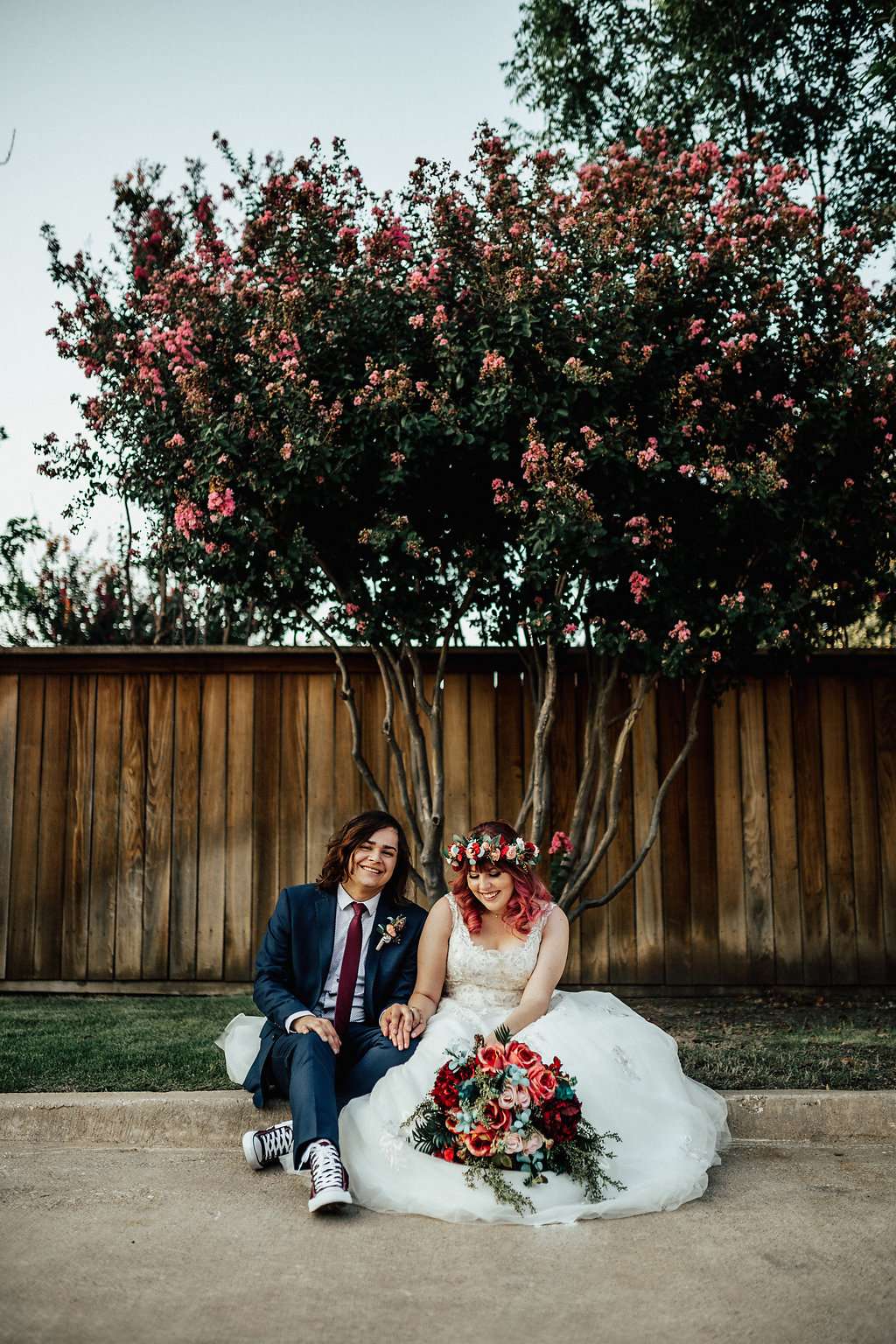 Well this is something you don't see everyday – a bride and groom with exactly the same name! But the unconventional aspects of this couple's big day don't end there, their Texas wedding was packed full of quirky and unique details.
"Our theme was an an enchanted bohemian fairy garden meets dramatic Rock n Roll wedding", said the bride. " The song and aesthetic of Kari Jobe's The Garden album was the biggest inspiration to us."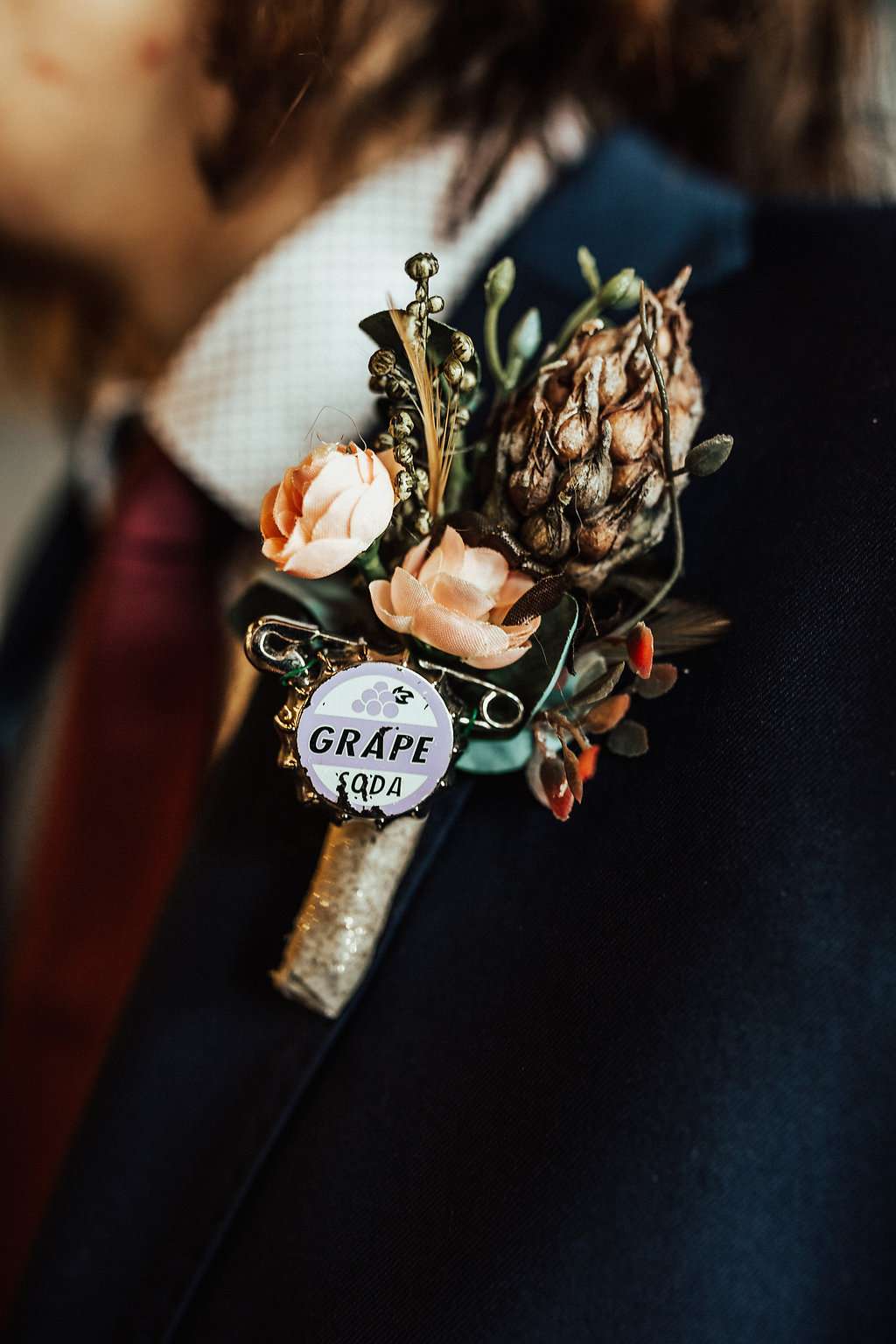 They hosted both their ceremony and reception at their church which is also where they first met in 2012! " My uncle performed the ceremony and wrote personalised vows for us", the bride continued. "Our ceremony was lighthearted and fun. Everyone thought the groom was going to pass out though! During communion, we played the lyric video for Kari Jobe's The Garden and utilised the growing ivy aesthetic to complement our décor."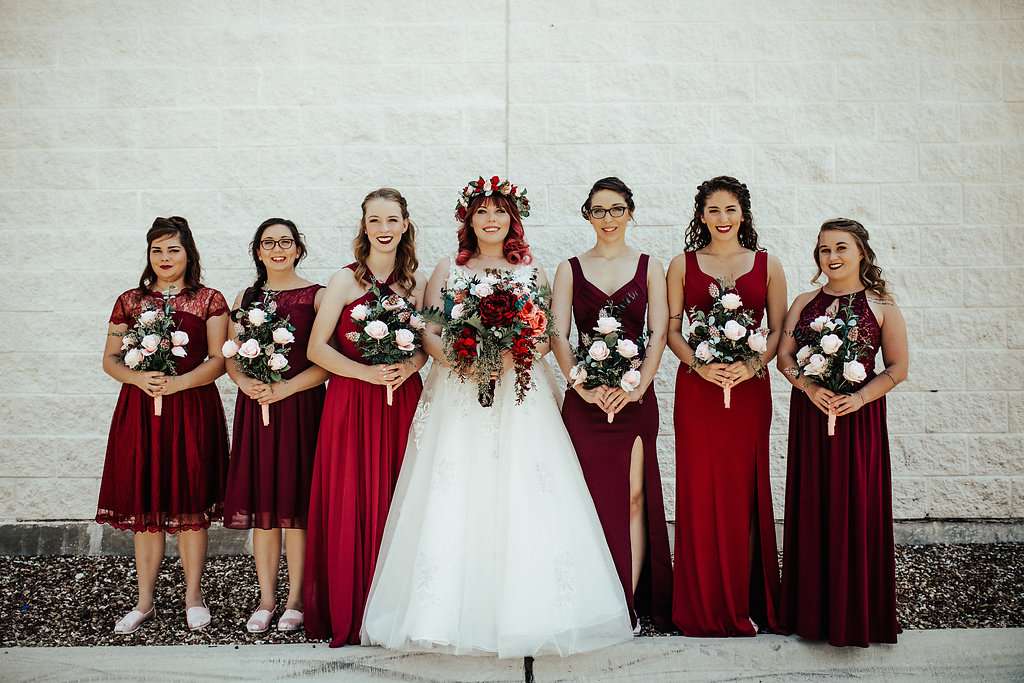 "The best part of the day for me was once we were pronounced husband and wife. Our exit song was Electric Love by B0RNS. We had really fun club-like lighting and our bridesmaids and groomsmen danced their way down the aisle. It really transitioned the moment from serious and beautiful to fun and lighthearted, and that was the moment when I felt all the wedding stress finally leave my body."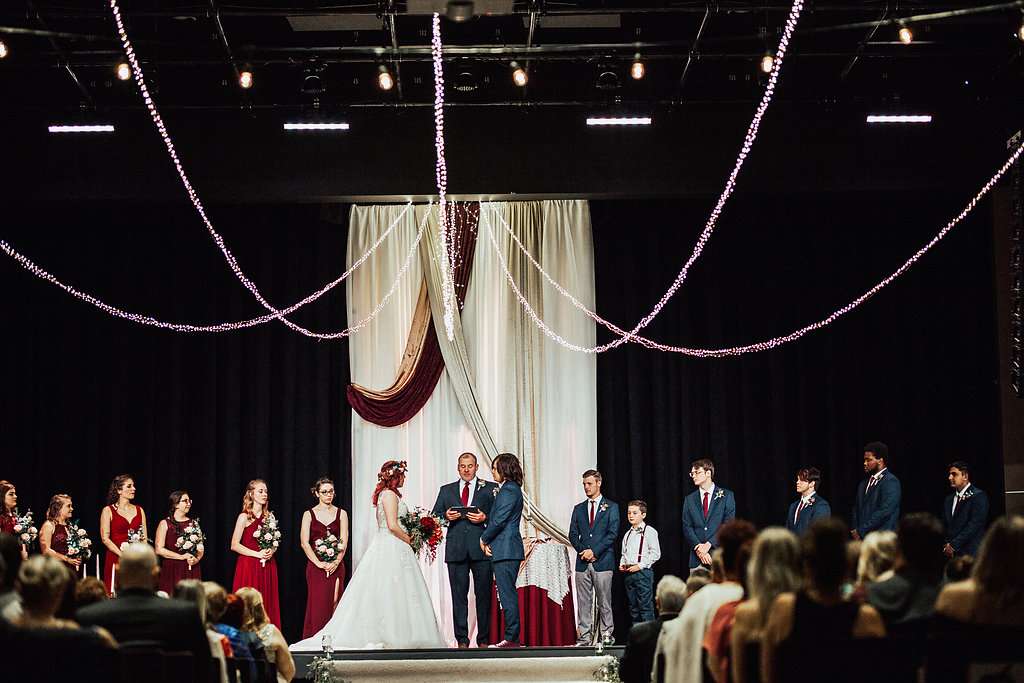 "A funny moment was right after our ceremony when we went out to take sunset photos with Lindsey, our photographer", she continued. "I was sitting on a curb and I started feeling little stings on my arm and I said 'I think I'm getting bitten' I stood up to walk to the next photo location and my husband says 'Babe, you are getting bit. You've got welts all over your back!' I am extremely allergic to mosquitoes and the bites swell up into big red welts and they were all over my back in my backless dress! I started freaking out and called for my father-in-law, who I am convinced can solve any problem. He ended up crushing up Benadryl tablets and making a paste to put on my bites. I had a team of about eight people around me putting Benadryl and makeup over the bites and my wedding coordinator calming me down. Looking back on it now, it was a pretty hilarious moment!"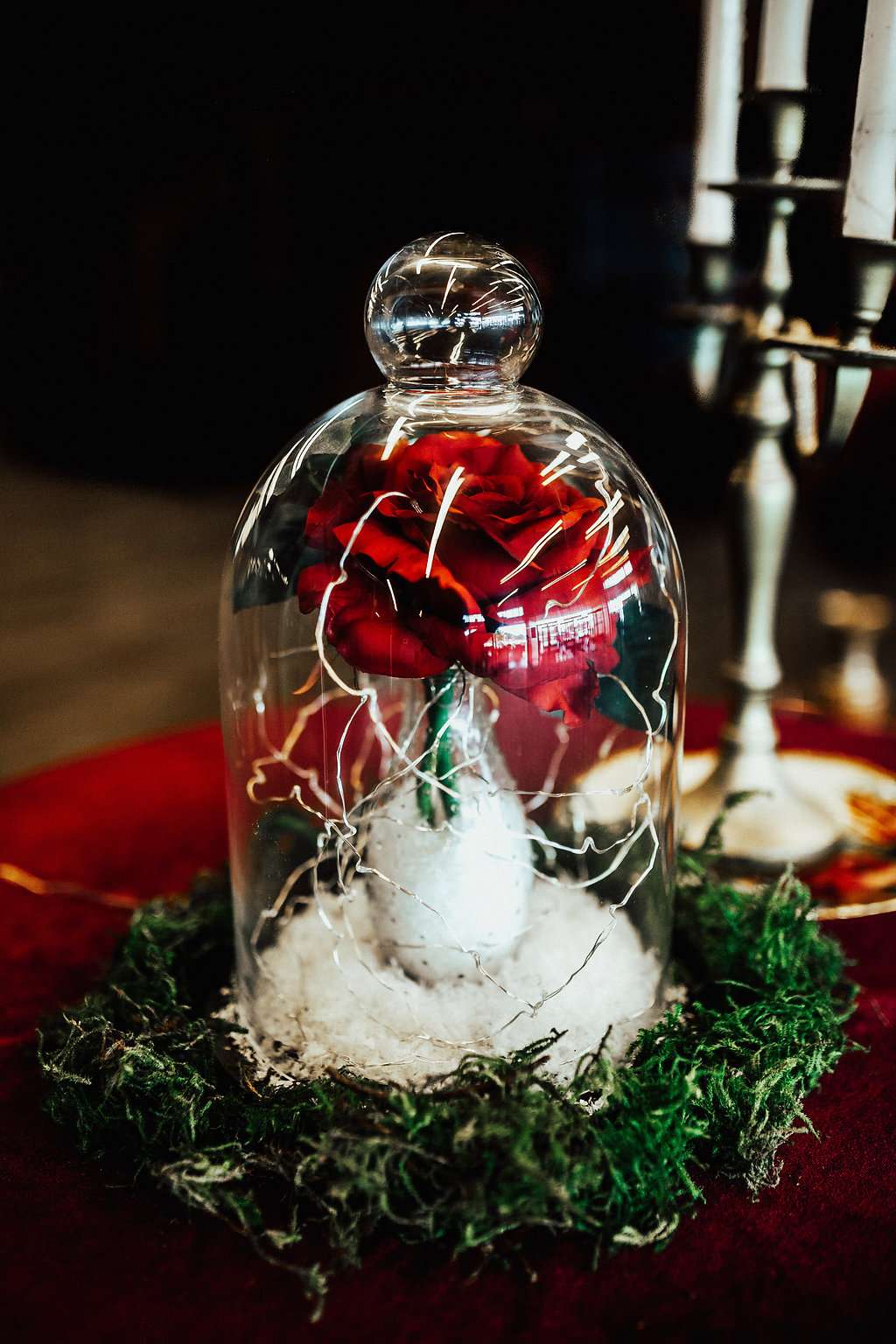 They created their own centerpieces and did most of the reception decor themselves. As they're huge Disney lovers (they had their engaged shoot there and they headed back for their honeymoon!) they also had a few detail nods to Disney such as the grape soda pin from Up! on the groom's outonnière, Beauty and the Beast inspired ceremony and reception decor, and their Mickey and Minnie ears as they exited their reception into a sea of bubbles!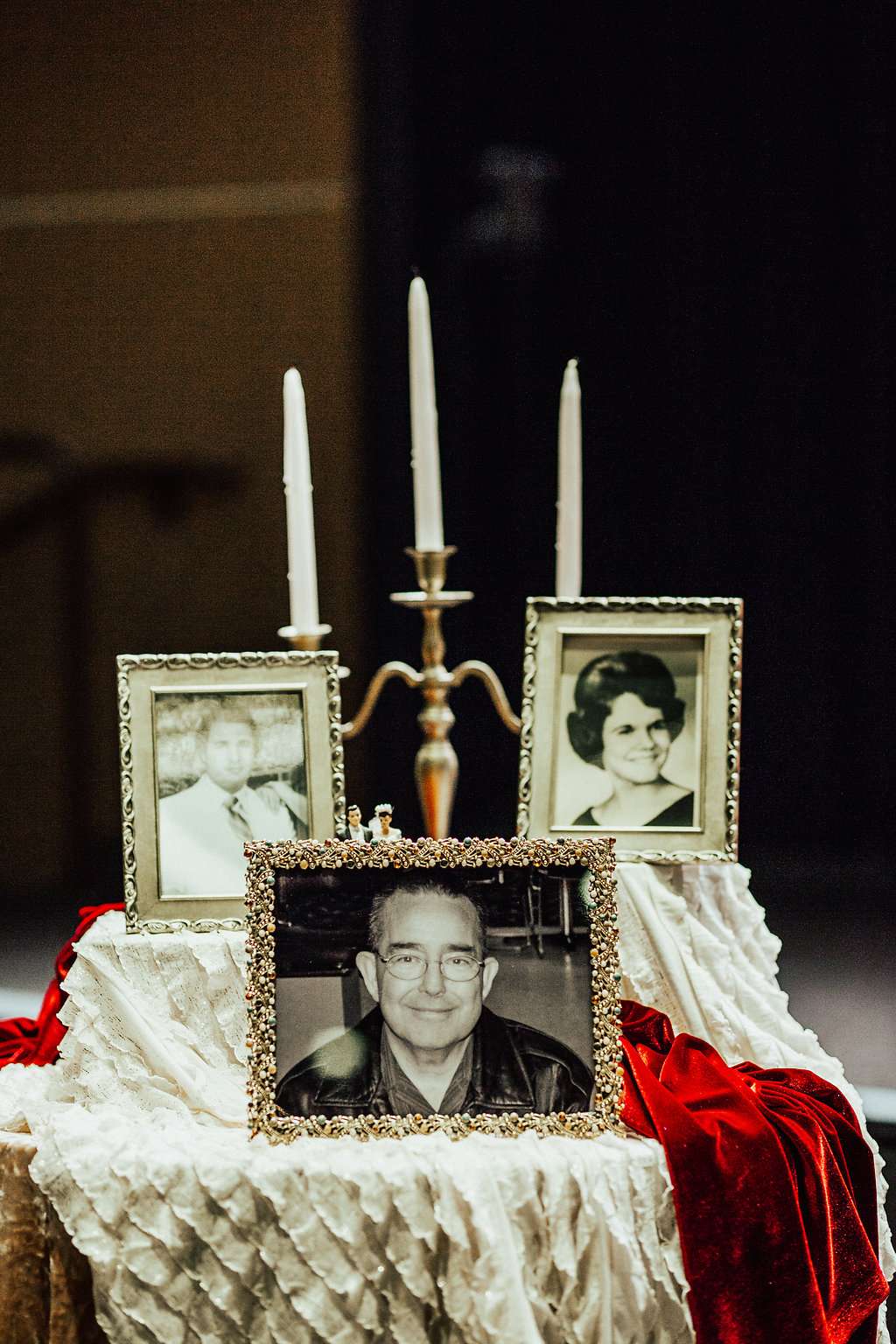 "All the centerpieces were DIY", she explained. "The most fun project we did was when my mom had the idea to melt the taper candles so they would have drippy wax details and look more romantic. Several of my bridesmaids were torching candles at the venue, even our photographer helped out! My favorite DIY that I did personally was draping the different fabrics over the tables, especially the memoriam table which featured portraits of our late grandparents."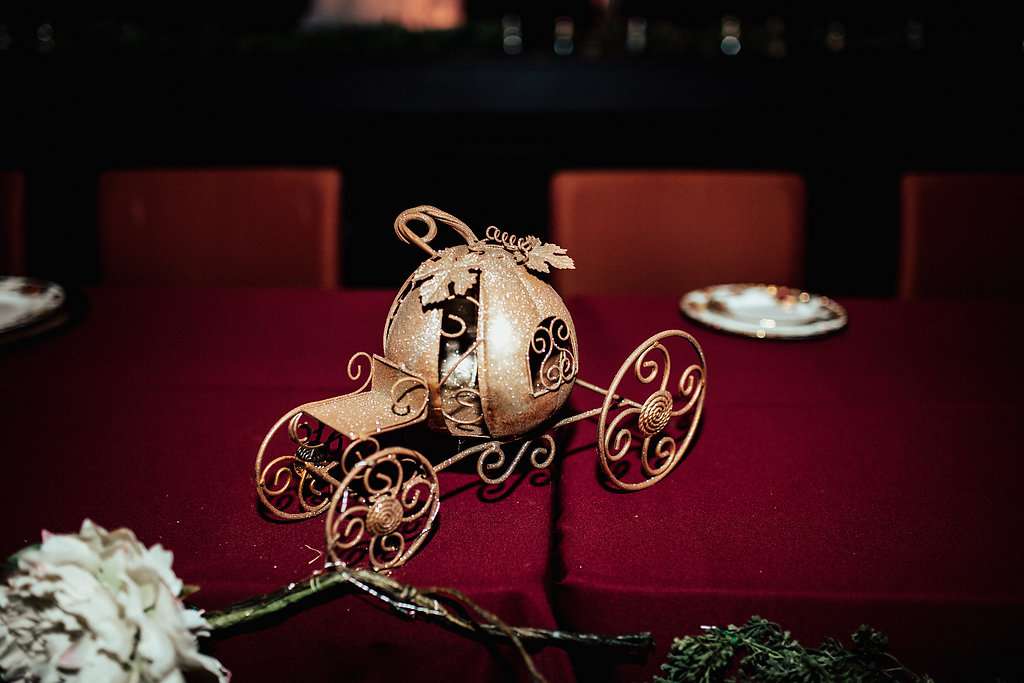 The best part of wedding planning for the Jordans' was creating a world of their own imagination. "Coming up with a vision that really expressed our style and who we are as a couple was the best thing about planning the wedding. Also, putting together the wedding playlists and picking the most important songs was a lot of fun for us since we are both huge music nerds."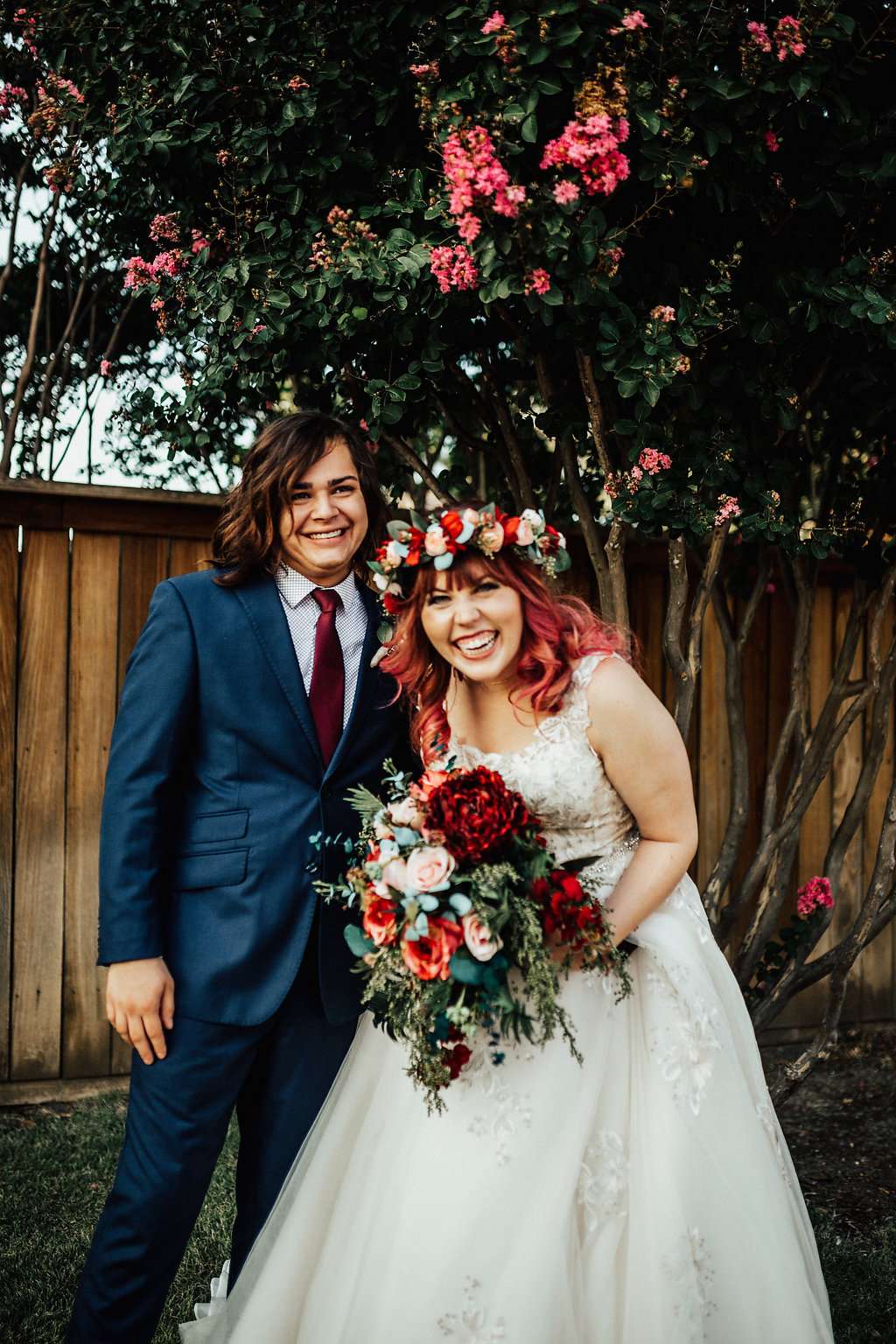 "The only thing I'd now change is to have enjoyed the process more instead of hating it and being stressed out all the time. I would have learned to rely on friends and family more instead of taking on everything by myself too. I just wish I hadn't allowed myself to get so stressed out. I was anxious all the time and crying so easily. I was so worried about money and how everything would work out. I wish I had learned to enjoy the process more and to not let worry steal my joy. If you're wondering how everything worked out, I really don't know… all I know is that it DID work out and like everyone told me when I wanted to give up the wedding altogether, it really WAS worth it!"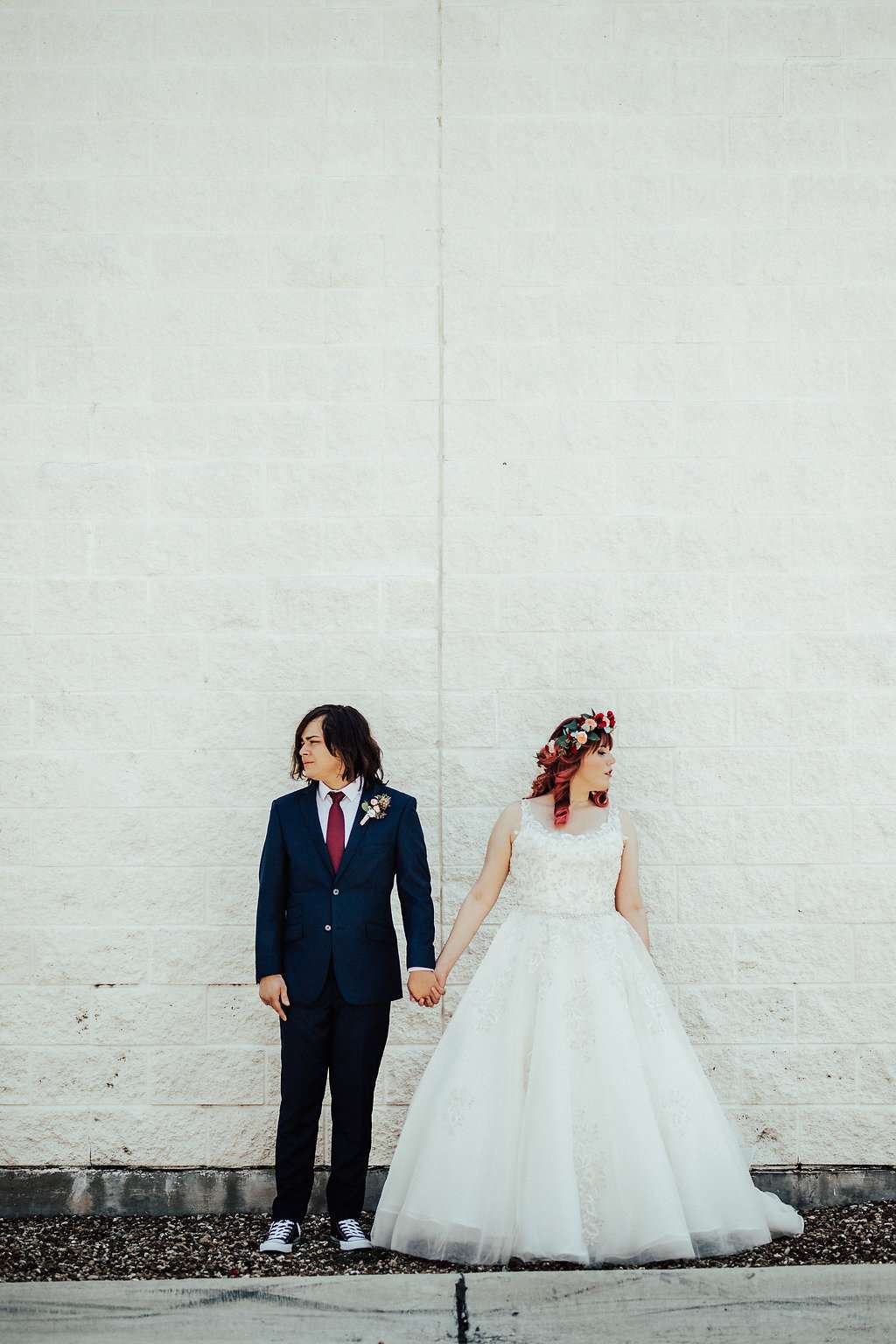 The bride's advice for other couples is, "To communicate about EVERYTHING. Even the things that seem small or insignificant. Also enjoy everything about your wedding day. Soak it all up and take it all in. There is so much time and effort leading up to it, and then the day gets here and it goes by so fast. Make sure you hire a photographer who will capture your day exactly as it was so you will have those memories to cherish forever. Also, don't be surprised if you get a case of the post-wedding blues when you get back from your honeymoon. After planning and planning and being on a high for months, coming back and adjusting to normal life can be difficult. Give yourself grace."