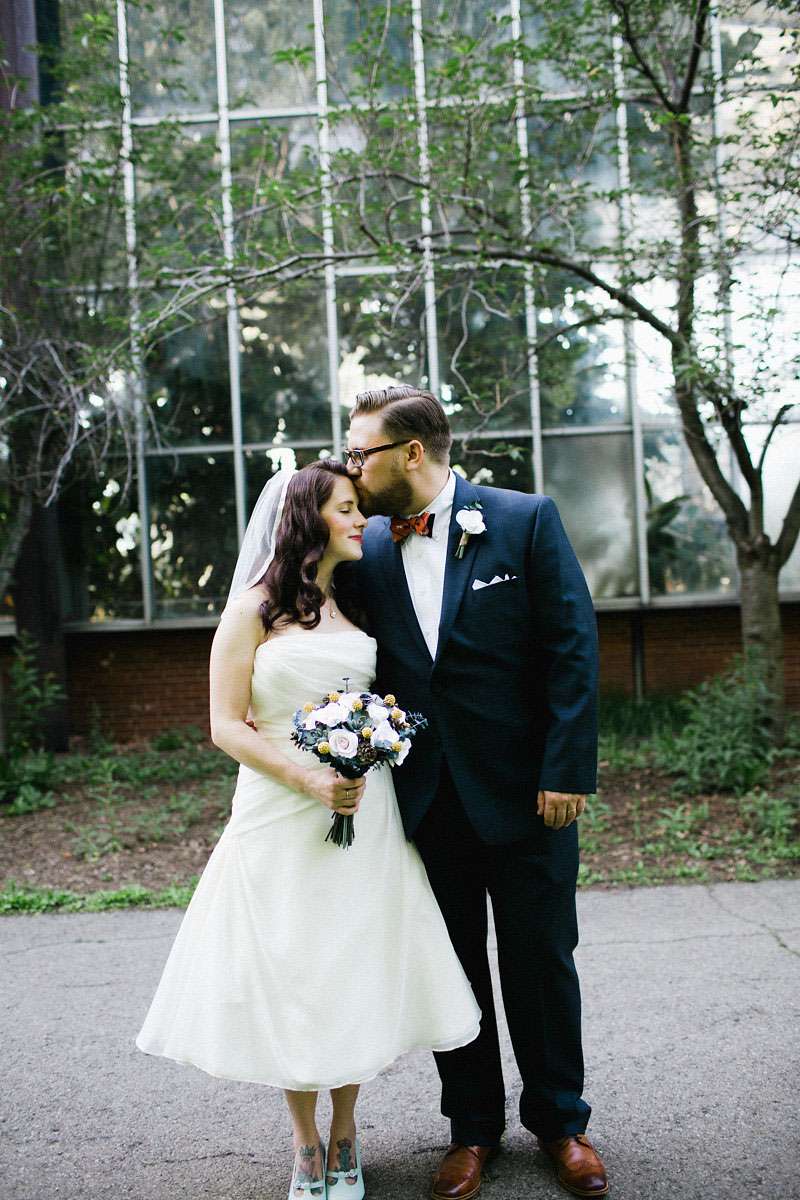 Maggie and Dean's wedding was inspired by their love of the great outdoors, so much so that the bride's sister-in-law dubbed it as a Moonrise Kingdom themed wedding!
"Our wedding was kind of a fusion of a couple of things that were important to us", explained the bride. "One aspect was our love of the outdoors, and all the camping and fishing we do. We blended that with our enjoyment of vintage style."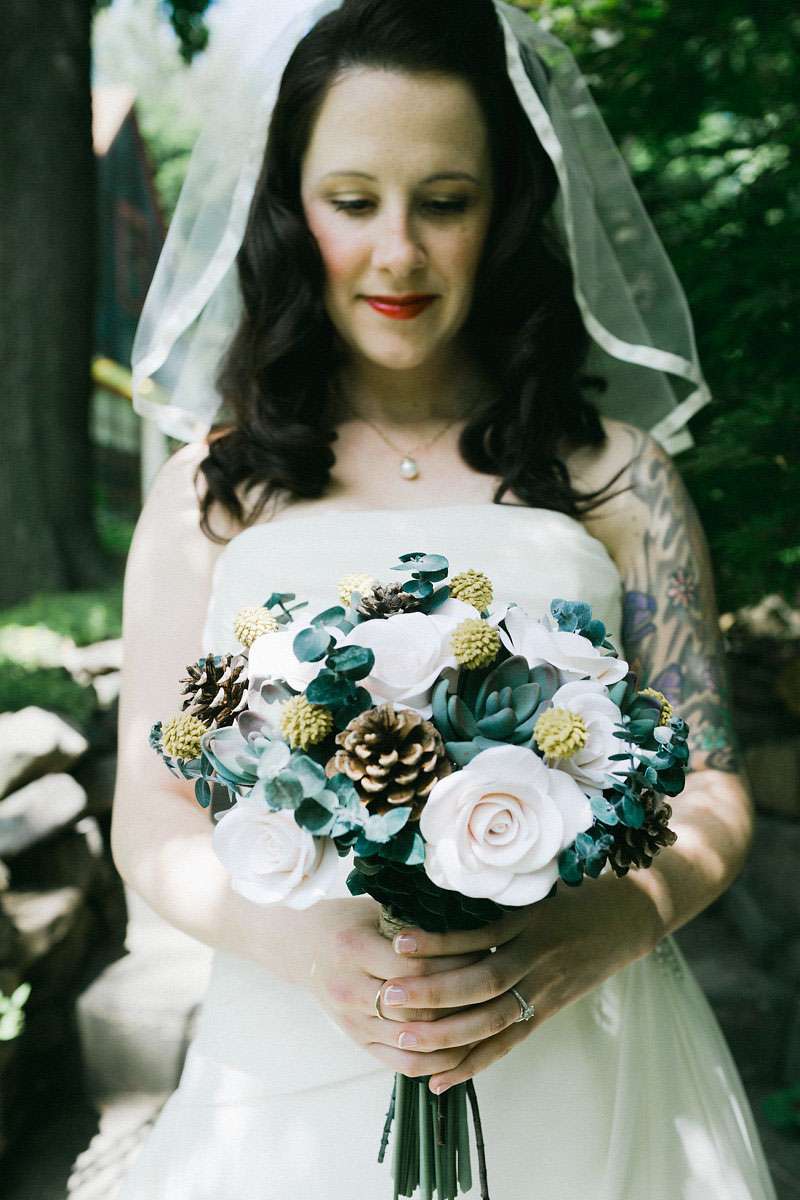 "A lot of our bonding as a couple was done while spending time outdoors, so we wanted to make it feel like 'camp' for all our guests. Also, for our second date, Dean took me to a dive bar that had a dance party, fuelled by a DJ playing all vinyl records from the 50's and 60's. DJ Junior, better known as Jeff Roberts, held those dance parties once a month but he eventually moved from Pittsburgh to Nashville. When we got engaged, we asked if he would drive to Pittsburgh, with his record collection, and DJ our wedding. To our shock and delight, he agreed. We wanted to relive that date at our reception, and let all of our guests enjoy the great party that comes with dancing to music from that genre."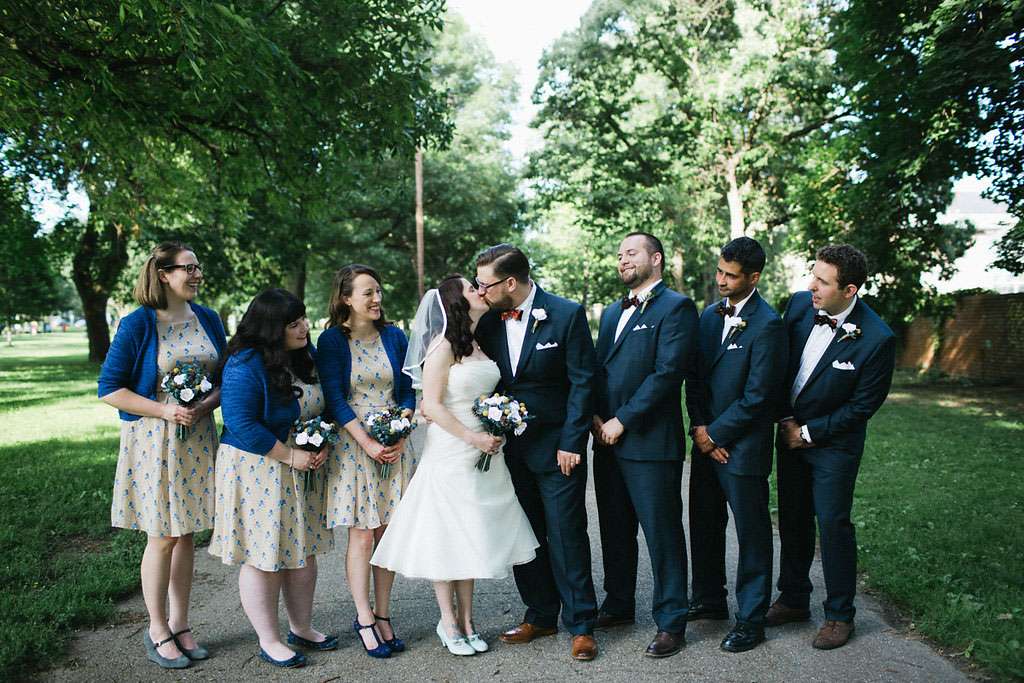 The couple didn't want their wedding to be too traditional, so even though they had their ceremony in a church, they only included the things they care about at the reception. "We ditched the traditional wedding food and cake, and had Pittsburgh BBQ do the catering", Maggie continued. "Instead of cake, myself and my mother-in-law made about 120 'hand pies' that we gave out to guests. Our wedding cake was a pie too!"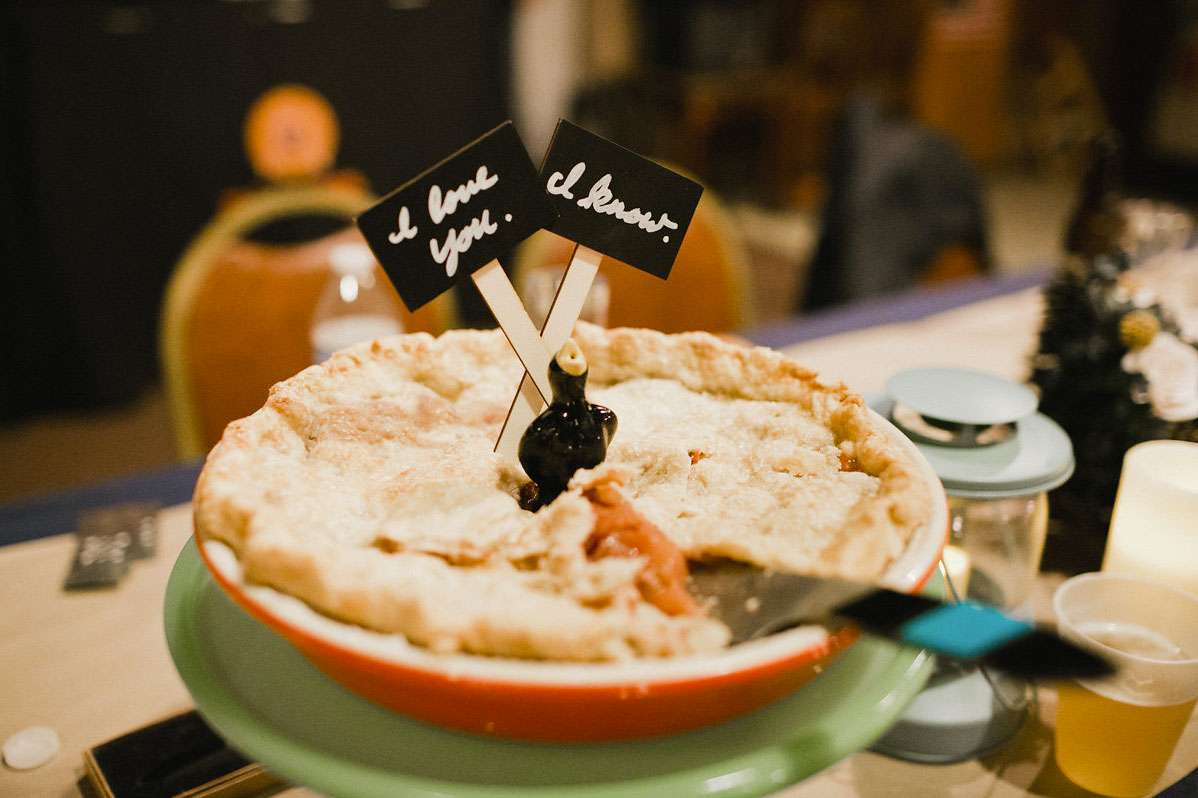 "I also hired a jazz quartet and surprised my husband and our guests by singing At Last by Etta James to him to start off the dancing. For our first dance, we skipped the slow song, and danced to Chuck Berry's You Never Can Tell (we stole some moves from John Travola and Uma Thurman's scene in Pulp Fiction). But more than anything, we can't emphasise enough how different it was to dance to vinyl rock records. We still have family and friends making comments about the 'best wedding music ever'.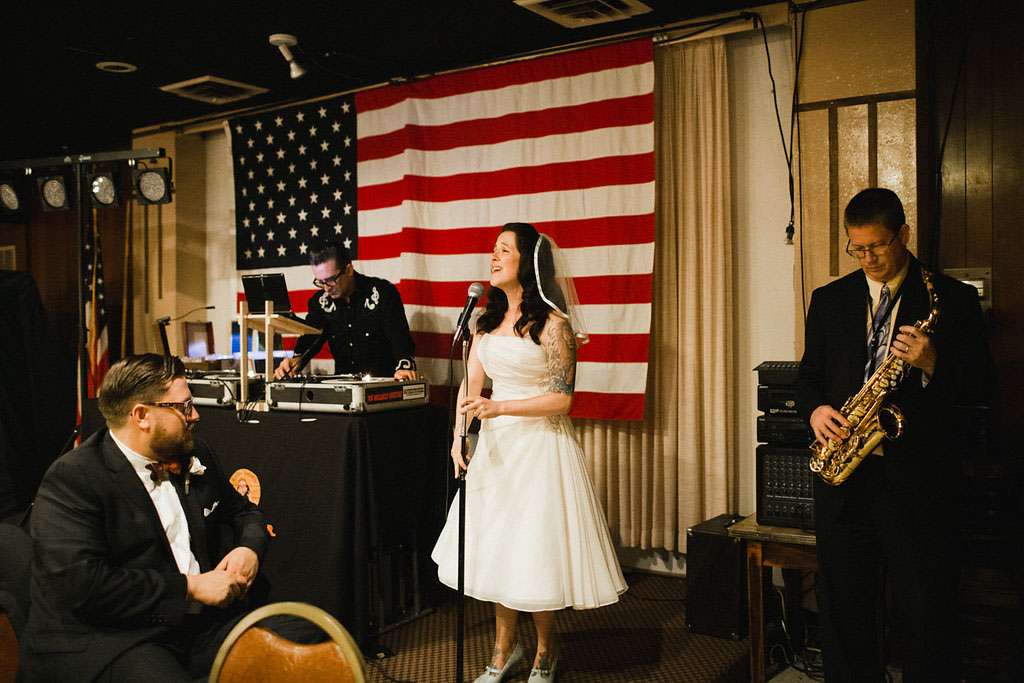 A lot of the details were handmade and/ or a little quirky. "Dean and his dad made a 'card tent' instead of a box, complete with a mini-campfire", she said. "We made our own centrepieces by assembling faux succulents. My sister wood-burned our table markers and we used paper table runners, which we wrote each person's name on in calligraphy. My flowers were handmade by Ainurs Florals and still look flawless, as she made them with clay!"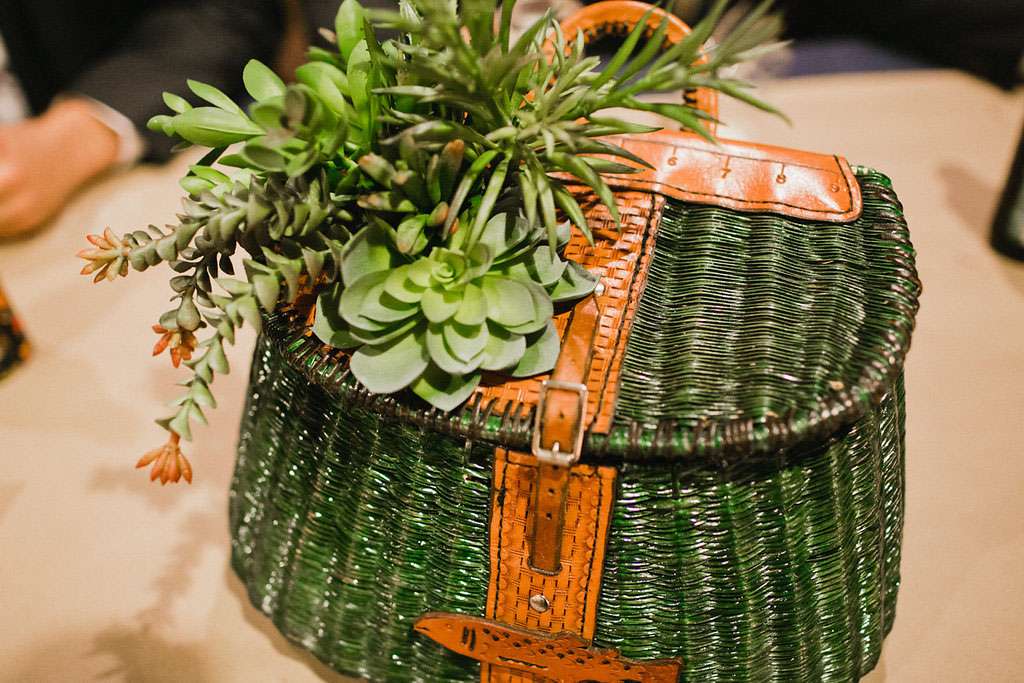 "Nearly all of the cookies were baked by family and friends and the centrepiece at our head table was a fishing creel. Dean had refurbished it and stamped 'Will you marry me?' into when he proposed!"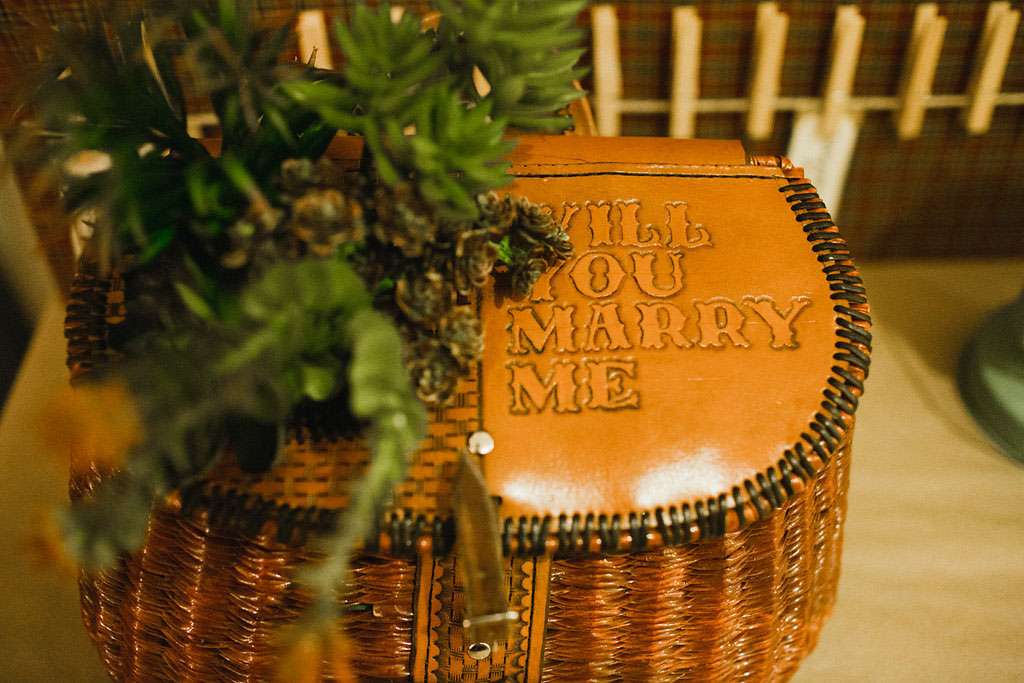 The bride's dress was one of the biggest savings of the whole wedding because she found it on sale. "My dress was only $200 and I found it in a clearance sale at  MB Bride – I was one of those women standing outside the door the morning it started! According to the original price tags, I saved about $1600! It was actually a full length dress, that I paid about another $150 to have altered to a tea length."