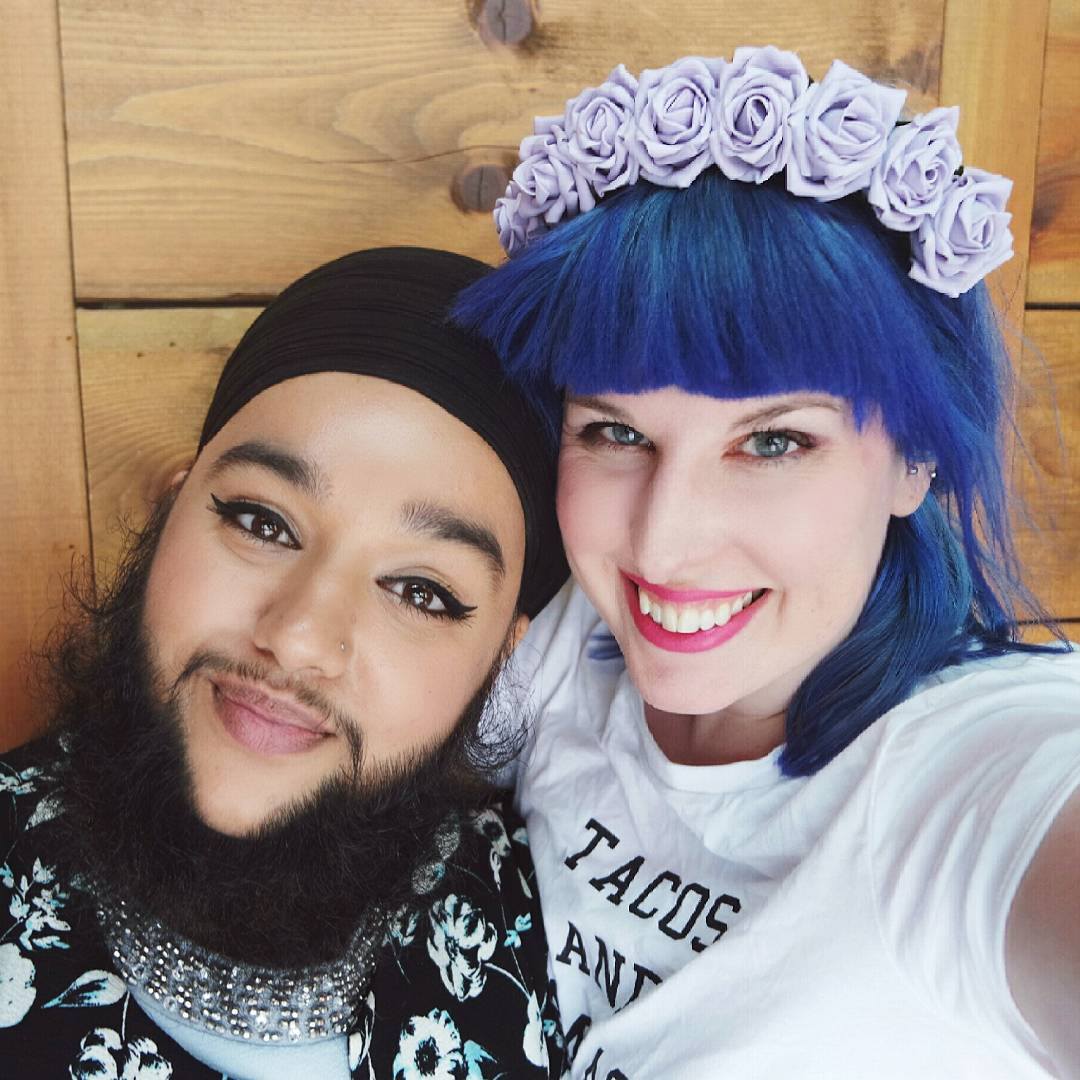 Guess who I hung out with this week?! The amazing Harnaam Kaur aka the Bearded Dame aka the flower beard bridal lady aka my new best bad ass friend! After I featured her shoot and I realised she lived in Slough, which is literally 20 minutes from where I live in Reading, I emailed her almost demanding that we meet for coffee. Well, that quick coffee turned into a four hour gossip sesh, shopping marathon and lunch date! Now only is she hella inspiring — I could listen to her talk for hours — but she's totally hilarious, humble and just flat out lovely!
But the excitement didn't stop there, in other news this week my baby sister Rachel got engaged!!! I'll be honest, I've already been sending her links and ideas every single day and have started booking her wedding dress appointments with gusto! I'm trying not to get carried away but it's hard not to. This is going to be the coolest, most awesome wedding ever!
Congratulations Rachel and Jamie! (Here they are modelling at the Photography Farm a couple of years ago – totally bride and groom material right!?)
Photo by Lisa Devlin
Gosh, what a week! It's a short and sweet edition of Thursday Treats, but that's OK! All these links are definitely work checking out…
Weddings & Weddingy Things
♥ Polka dot wedding cake DIY
♥ Epic Star Wars themed pre-wedding shoot
♥ Patriotic courthouse wedding
♥ 30 unique guest book ideas
♥ Bohemian love shoot in the woods
Discounts!
♥ Irregular Choice are offering 10% extra of ALL sale items for Rock n Roll Bride readers only! Simply use the discount code RnRBrides10 at the checkout. Discount is valid for just 24 hours, until 3pm GMT tomorrow so hop to it!
Business Bites
♥ How to take the shame out of self-promotion
♥ The top 8 pitfalls of shooting weddings and how you can avoid them
♥ Studio tour of the Branch offices. Yep, my designer is just as stylish in real life and she is online!
Best of the Rest
♥ House goals!
♥ This rainbow tunnel will forever play tribute to Robin Williams